In the Mid-Summer issue, we reported that N. M. Paterson & Sons Ltd., Thunder Bay, had let it be known that the advent of its new bulk carrier, ordered from Collingwood Shipyards, would mean that its steamer PATERSON would never again operate for the fleet. We had hoped that PATERSON would find a buyer who would operate her, but the ship's small size rendered such a sale almost impossible. It is with considerable sadness that we now report that PATERSON has been sold to Shearmet Recycling, the firm that recently purchased the former Western Metals Corporation Ltd., a Thunder Bay shipbreaker, and it is anticipated that PATERSON will be broken up at the Lakehead. The ship, C.179590, was built in 1954 as Hull 113 of the Port Arthur Shipbuilding Company Ltd., 560.5 x 59.2 x 27.1, 8618 Gross and 6180 Net. She was powered by three steam turbines built by John Inglis & Company Ltd., and steam was supplied by two Foster-Wheeler watertube boilers. PATERSON was an extremely handsome ship but, due to her size, was always something less than a success. She was built just before the advent of the maximum-sized Seaway laker, and it is very doubtful that she would have been constructed to such small dimensions had her owners realized what lay in store for the Canadian lake shipping industry. As it developed, however, PATERSON was too expensive to operate considering her small capacity, and although we are shocked by her premature demise, we can readily understand why it has been inevitable. PATERSON has not operated for the last two seasons, and her final voyage will now be one of short duration, for the Thunder Bay scrapyard is not far along the Kaministiquia River from her present lay-up berth.
One idle laker that faces a promising future is the Misener Shipping Ltd. steamer JOHN O. McKELLAR (II), which has not operated in 1984 and has remained in lay-up at Owen Sound. She has now been sold to P. & H. Shipping Division of Parrish & Heimbecker Ltd., with the sale to become effective on October 15th. The McKELLAR (C.194831) was built in 1952 at Port Weller, 660.4 x 68.3 x 32.2, 13884 Gross, 9697 Net. She will undoubtedly be a welcome addition to the P. & H. fleet, and she will be its most modern vessel. We understand that she will be renamed (b) ELMGLEN (II), and that she will be in service by early November. Unfortunately, her purchase by P. & H. will mean the retirement of CEDARGLEN, which will be due for survey and inspection next year. It seems likely that CEDARGLEN will become a grain storage barge at Goderich, although this is not confirmed as yet. BIRCHGLEN, which is due on the drydock in 1986, will likely be laid up and held in reserve as spare boat once ELMGLEN (II) is in commission.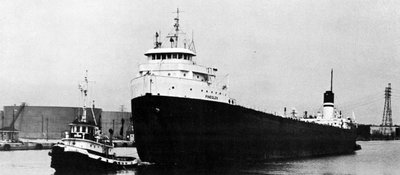 PINEGLEN, in tow of GLENEVIS and GLENSIDE, leaves Toronto en route to Port Maitland for scrapping, September 27, 1984. Photo by Bill Wilson.

As previously reported, the former P. & H. steamer ELMGLEN (I) was towed from Toronto on May 2, 1984, for scrapping at Port Maitland. Through the rest of the spring and summer, we were waiting for tugs to fetch the remaining two idle P. & H. boats which have been lying in the Leslie Street slip off Toronto's turning basin. It was not until September 27 that the McKeil tugs GLENEVIS and GLENSIDE arrived for another of the retired steamers. At about 3:30 p.m. on the 27th, they towed out PINEGLEN, (a) SAMUEL MATHER (III)(25), (b) PATHFINDER (II)(64), (c) GODERICH (II)(80), (d) SOO RIVER TRADER (82), clearing the harbour via the Eastern Gap with the 78-year-old bulk carrier. They took her up the Welland Canal on September 28 en route to Port Maitland. The vessel has since been renamed (f) NEGLEN, this unusual name (just a shortened version of her old name) apparently being used to free up the old name, perhaps for future re-use. It is not known when FERNGLEN may follow her old fleetmates to the scrapyard.

The tentative date for the launch of Collingwood Shipyards' Hull 225, being built for Canada Steamship Lines, is Thursday, November 1st. No name has yet been announced for the ship, whose keel was laid on February 16, but we understand that the name already cut into the hull plating reads HON. PAUL MARTIN. No doubt there will be a large crowd on hand to watch the launch, despite the typical November weather that can be expected. But what would a Collingwood launch be without a raw wind blowing in off Nottawasaga Bay?

It would appear that the end of the line has come for the small fleet operated by the Erie Sand Steamship Company and the Erie Navigation Company, of Erie, Pennsylvania. The fleet's five motorships, namely JOHN R. EMERY (1905). LAKEWOOD (1903), NIAGARA (1897), DAY PECKINPAUGH (1921) and J. S. ST. JOHN (1945), are all said to be for sale, and it would seem extremely unlikely that any of them, and particularly the older ships, will be able to avoid going to the scrapyard. The sixth member of the Erie fleet, the 8217-ton self-unloading steamer CONSUMERS POWER (III), (a) GEORGE M. HUMPHREY (I) (45), (b) CAPTAIN JOHN ROEN (48), (c) ADAM E. CORNELIUS (II) (58), is actually owned by the American Steamship Company of Buffalo, and we understand that she will revert to operation by American. It has even been suggested that she might be repowered using the stern of the idle SAGINAW BAY, earlier plans to repower JOHN T. HUTCHINSON with SAGINAW BAY's stern having been vetoed by the U.S. Coast Guard. BoCo apparently needs an additional vessel of CONSUMERS POWER's size, and her future thus appears to be relatively secure. It will, however, be sad to see the colourful Erie Sand ships disappear from the scene, for they have become familiar sights, particularly on Lake Erie, during the many years of the fleet's existence.

Last issue, we commented upon the apparently imminent disposal of the idle vessels in the fleet of the Cleveland-Cliffs Steamship Company. There are now additional developments to report. On September 4th, Cliffs absorbed the affiliated Seaway Lines Inc., which was formed several years ago with the intention of operating a container service down the lakes and through the Seaway, plans that never came to fruition. The present intent of Cliffs management is that the combined fleet's idle vessels be disposed of before the end of 1984. Despite her fire damage, WILLIAM G. MATHER may become a museum ship at Cleveland. CLIFFS VICTORY had been offered to the City of Toledo for use as a museum, but it now appears that she may become a storage barge for Cargill Grain. The sale of PONTIAC to Marine Salvage Ltd. became official on September 17, and she will be broken up at Ramey's Bend, presumably as soon as the breaker's crews finish off E. G. GRACE. It also seems likely that WILLIS B. BOYER and WILLIAM P. SNYDER JR. will soon be sold for scrap. CADILLAC and CHAMPLAIN may survive as Ro-Ro vessels, but this would seem to be unlikely. If all of these various vessels leave the Cliffs fleet, the company will be left with only two ships, the self-unloading steamers WALTER A. STERLING and EDWARD B. GREENE.

A serious accident occurred on Thursday, August 23rd, when the American Steamship Company's self-unloading motorship ROGER M. KYES ran aground in the Trenton Channel of the Detroit River, just off the McLouth Steel plant. It took four lighterings of the KYES* cargo into RICHARD J. REISS, and the efforts of no less than ten tugs to free her, and she was not refloated until 6:45 p.m. on August 25. The tugs called to the scene were BANTRY BAY, BARBARA ANN, GALWAY BAY, OLIVE L. MOORE, NEBRASKA., NEWCASTLE, SHANNON, TIPPERARY, WICKLOW and WYOMING, and it was only by virtue of having all ten of them working on the KYES at once that she was finally floated free. KYES suffered more than one million dollars in bottom damage in the accident, and she was taken to Bay Shipbuilding at Sturgeon Bay, Wisconsin, for repairs.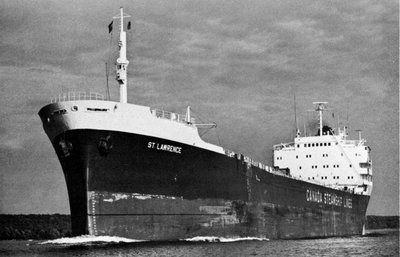 ST. LAWRENCE, recently sold for scrapping, is upbound in the St. Mary's River in this July 18, 1976 photo by J. H. Bascom.

Last issue, we mentioned that Canada Steamship Lines Inc. was said to be considering the sale for scrap of some of its idle intermediate-size ships. The first to go is the motorvessel ST. LAWRENCE, (a) SKAUSTRAND (73). (b) GAUCHO TAURA (76), (C.370514), which C.S.L. acquired and brought to the lakes in 1976. 622.3 x 75.0 x 45.9, 17952 Gross, 11920 Net, she was built in 1962 as Hull 1539 of Mitsubishi Zosen at Nagasaki, Japan, and was powered by two Sulzer seven-cylinder diesels. ST. LAWRENCE has been laid up for several years at Thunder Bay and C.S.L. has considered ways to salvage at least her power, possibly by using her stern to repower one of its steamers. Instead, however, it has been decided to sell her for scrap, and the purchasers are Taiwan breakers. ST. LAWRENCE will fit out during October and load a cargo of scrap. A Canadian crew will take her to Quebec City, where she is to be taken over by a Taiwanese crew for the long voyage to the scrapyard.

Early in 1984, the Huron Cement Division, National Gypsum Company, was operating only three of its ships, the motorvessel PAUL H. TOWNSEND and the steamers J. A. W. IGLEHART and S. T. CRAPO, although plans had been made to run other vessels as barges in the event of labour problems that were anticipated. In early August, however, Huron fitted out a fourth boat. The 80-year-old J. B. FORD, (a) EDWIN F. HOLMES (16), (b) E. C. COLLINS (59), sailed from Green Bay on August 8 for St. Joseph and Waukegan, and then headed to Charlevoix to haul cement for the Medusa Cement Company. J. B. FORD last ran in 1981 and apparently was chosen over E. M. FORD to operate because of her slightly higher cargo capacity and lower fuel costs.

Another veteran steamer that fitted out for service during the month of August was the 74-year-old MERLE M. McCURDY, (a) WILLIAM B. DICKSON (69), of the S. & E. Shipping Corporation (Kinsman Lines Inc.). The McCURDY was at Toledo on August 25, loading coal on her first trip of the season. In entering service, McCURDY joined KINSMAN INDEPENDENT and WILLIAM A. McGONAGLE, which have operated under their own power for Kinsman this year, as well as ALASTAIR GUTHRIE, which has operated intermittently as a barge in the grain trade, being towed by the G-tug OHIO.

At long last, the Hyman-Michaels Company has begun to dismantle the long-idle former tinstacker WILLIAM B. SCHILLER at Duluth. By late August, her after cabins had been removed and the cutting of her hull had begun at the stern. Also awaiting scrapping at the Hyman-Michaels yard are JOSHUA A. HATFIELD, B. F. AFFLECK and AUGUST ZIESING, which were towed there during mid-July. Meanwhile, it appears that three more idle U.S. Steel ships may soon be sold for scrap. The steamer HOMER D. WILLIAMS and the motorships EUGENE W. PARGNY and EUGENE P. THOMAS have been stripped out and seem likely to be the next to go the way of so many of their former fleetmates. If so, then WILLIAM A. IRVIN, THOMAS W. LAMONT and RALPH H. WATSON will be the only pre-war straightdeckers remaining in the "Steel Trust" fleet, and it will not likely be long before they are sold for scrapping as well.

In the Mid-Summer issue, we reported the final trips down the Seaway of CONALLISON and GEORGE M. CARL, both of which were towed to Quebec City by the McKeil tugs GLENEVIS and GLENSIDE. The two veteran lakers cleared Quebec in tandem tow behind the deep-sea tug KORAL on August 25th, and are reported to have arrived safely at an as-yet-unidentified Spanish port on September 15th. No doubt we will soon receive a report of the dismantling of the vessels, in which the port of their demise will be identified.

In recent years, the Canadian Dredge and Dock Company Ltd. has disposed of many of its idle tugs and dredges that were lying at its Kingston yard, not only because it had become evident that the boats would never again be used, but also because the City of Kingston has expressed such a complete aversion to having any part of its harbour used for commercial shipping, and the company's boneyard, while interesting to marine historians, was hardly a local beauty spot. Most of the long-term denizens of the C.D.D. yard have long ago been scrapped, but a few of them still remain. Until recently, one of the survivors has been the DREDGE PRIMROSE (C.134269), which was built in 1915 at Welland by Matthew Beatty & Sons Ltd., 136.5 x 42.0 x 10.2, 767 Net Tons, and which was last used in 1967. Lying derelict ever since, and in sad shape, she was recently sold to Acton Marine Salvage of Oshawa, and was to be scrapped at the latter port. On the evening of September 19, however, whilst being towed away from the boneyard and en route out of Kingston, PRIMROSE ran aground near the entrance to Anglin's Bay. She then sank, with only the top of her superstructure visible above the water. Fuel oil stored aboard the dredge escaped and caused a substantial slick on the bay. At last report, the oil was contained and plans were being made for the raising of the big dredge and the clean-up of the mess that her sinking caused. It is to be assumed that she will eventually be able to resume her voyage to the breaker's yard, despite the unexpected interruption of that final trip.
Surrounded by small boats, BRITANNIA, with H.M. The Queen aboard, arrives at Toronto, September 29, 1984. Photo from TRILLIUM by the Editor.

On the morning of Saturday, September 29. H.M. Queen Elizabeth arrived at Toronto to help celebrate the bicentennial of the Province of Ontario and the sesquicentennial of the City of Toronto. She sailed into Toronto Harbour aboard the royal yacht BRITANNIA, with the destroyer H.M.C.S. ANNAPOLIS as escort. BRITANNIA was greeted by a large number of excursion boats and private yachts, all dressed for the occasion, and the fireboat WM. LYON MACKENZIE (recently returned from drydocking at Whitby) saluted her with a display of water sprays. Ferry service across the bay was suspended during BRITANNIA'S arrival, and the entire fleet of Island ferries, including the steamer TRILLIUM, was out in the bay to celebrate the occasion. (The only ferry not on hand that day was SAM McBRIDE which was on drydock at Whitby.) This was only the second visit of BRITANNIA to Toronto, the first having occurred twenty-five years ago when the Queen came to Canada to celebrate the opening of the St. Lawrence Seaway. For her 1984 visit, BRITANNIA stayed in port until the evening of October 2, when she left to take the Queen on a lake cruise. She returned on the morning of October 4, and remained in port until her final departure (without the Queen) on the morning of October 6.

Readers will recall that we have attempted to keep up with developments at the bankrupt Upper Peninsula Shipbuilding Company's yard at Ontonagon, Michigan, where lie the partially completed tug and barge that were originally intended to replace the old Ann Arbor carferries on Lake Michigan prior to the abandonment of that service. The tug and barge have been rusting in solitude while Michigan taxpayers contemplated the more than $40,000,000 of their money that was sunk into the project, and two U.P.S.Co. officers were indicted for fraud. In the meantime, the bankruptcy courts have been trying to dispose of the yard and the ships, but that has not been an easy job. Two prospective purchasers emerged, the Superior Shipbuilding Company of Neenah, Wisconsin, and the Wedtech Corporation of New York. The bidding war between these two firms was acrimonious in the extreme but, by late August, it appeared that Wedtech had emerged the winner, for a federal judge in Marquette approved its bid and the deal for $5.27 million was closed in bankruptcy court at Grand Rapids. At last report, Wedtech was hiring workers to clean up the long-idle shipyard and prepare it to resume construction. What is still unclear is what will be done with the tug and barge when they are completed (if ever), and what else the new owner of the yard may be intending to construct there.

Each summer in recent years, the U.S. Navy has sent one of its destroyers into the lakes to show the flag and aid in recruitment. For many years, this duty was carried out by the veteran U.S.S. WILLIAM C. LAWE, which normally was based at New Orleans. In 1983, however, with the LAWE having been sold, the U.S.S. EDSON was sent into the lakes. She returned again in 1984, and was upbound in the St. Mary's River on July 23rd. She visited a number of U.S. and Canadian ports during her stay on the lakes. Another warship that came to the lakes in 1984 was H.M.S. BRISTOL, the British cruiser that is best known for the role she played in the famous Falklands "War". BRISTOL was docked at the York Quay of Toronto's Harbourfront Park from June 28 until July 3rd.

Port Weller Dry Docks has been hurting for business ever since the completion of the last two major jobs on its orderbook, the conversion of the two U.L.S. Inc. "ugly ducklings" CANADIAN EXPLORER and CANADIAN RANGER. As a result, it was with much happiness for the St. Catharines work force that, during the month of August, the yard was awarded the contract for a major refitting of the Canadian destroyer-escort H.M.C.S. HURON. The contract is allegedly worth some two million dollars, and the work is to be completed in time to get the vessel out of the lakes before the closing of the canals for the winter.

The Selvick Marine Towing Corporation, of Sturgeon Bay, has purchased yet another tug, the most recent addition being RODERICK McALLISTER, which was brought in from the east coast. She has since been renamed CARLA ANNE SELVICK.

The Buffalo citizens' group that is hoping to be able to restore, and perhaps some day even to operate, the former excursion steamer CANADIANA, achieved one of the first steps in its project when, on September 17, the decrepit remains of the once-beautiful steamer were towed from Ashtabula to Buffalo by the G-tug OHIO. If nothing else, this move gets CANADIANA away from the scrapyard at Ashtabula, for she was too close to it for comfort and many observers felt that she would likely wind up as one of its victims. The Buffalo group continues its efforts to raise funds for the restoration of CANADIANA, a project that will undoubtedly cost many millions of dollars.

The veteran MARQUIS ROEN, (a) ROBERT W. E. BUNSEN, which operated for many years on the lakes, first as a steamer for the Pittsburgh Steamship Company and later as a combination crane and self-unloading barge for the Roen Steamship Company, has been living for more than a decade on the Mississippi River below Baton Rouge. There she serves as a transfer barge, moving cargo with her cranes between river barges and salt water vessels. She is rather scruffy-looking, with her grey hull badly rust-streaked, and with all of her upperworks removed except for the cranes and the after deckhouse. The ROEN, however, still serves a useful purpose, and it appears that she will continue to do so for many years to come, for during April 1984, she was taken to the Todd Shipyard at Algiers, Louisiana (across the river from New Orleans), for repairs to her hull and cranes.

Our spy that observed MARQUIS ROEN at Todd's in April also spotted the canaller KOBA at New Orleans. She is the former TROISDOC (III) and looks much as she did in her Paterson days, except that the 'P' on her stack has become an 'R'. Also observed at New Orleans in early April was MAZAHUA, the former CAPE BRETON MINER. This vessel was all painted up and looked quite good, but it is interesting to note that her self-unloading boom had been removed, although the frame from which it hung was still protruding from the bridge and the elevating machinery was still in place. MAZAHUA's basic stack colours are still red and black, but the white Upper Lakes Shipping diamond has been replaced by a light blue circle with a thin white edge. Inside the circle are two back-to-back right-angled triangles, placed so that they look like the sails of a single-masted yacht when seen in profile; they are painted white.

Two of the Upper Lakes Shipping steamers that we reported, in our last issue, as being laid up, soon went back into service. CANADIAN MARINER had arrived at Toronto on July 31, and was back in service in mid-August. RED WING had arrived at the same port on August 4, and cleared again on September 9. Meanwhile, the self-unloader JAMES NORRIS, which underwent repairs at Toronto in early August and then went back in service, arrived back in the harbour on September 22 and tied up in the Leslie Street slip alongside FRANK A. SHERMAN. She remained there only until September 24, and we do not know whether an intended lay-up was suddenly cancelled, or whether NORRIS was fetching from the SHERMAN some piece of equipment that she required.

In the Mid-Summer issue, we reported that the small cement carrier ROBERT KOCH had been operating intermittently in the cement trade this summer, with the tug R. & L. NO. 1 pushing her. We erred, however, when we stated that she was being used on her usual run between Clarkson and Buffalo. Instead, she has been carrying cement between Clarkson and Oswego.

The U.S., Steel self-unloading steamer PHILIP R. CLARKE went to Fraser Shipyards at Superior, Wisconsin, in mid-July for the fitting of two additional bulkheads in the cargo hold so that she can carry a greater variety of loads.

J. W. Purvis Marine Ltd. of Sault Ste. Marie, Ontario, regularly operates the tugs W. J. IVAN PURVIS, MOUNT McKAY and ROCKET in the Soo area. Early in 1984, the firm purchased a fleet of fifteen small tugs from the Marathon Paper Company Ltd., Marathon, Ontario. At about the same time, Purvis sold its small tug DUCHESS to operators in the Parry Sound area of Georgian Bay.
---
Previous
Next
---
Return to Home Port or Toronto Marine Historical Society's Scanner
---
Reproduced for the Web with the permission of the Toronto Marine Historical Society.