Featured as our Ship of the Month No. 145 in the April 1986 issue was the small wooden steamer J. H. JONES, a combination passenger and freight propellor which was built in 1888 at Goderich. She was severely damaged in collision with the steamer PACIFIC on September 17, 1898, and she was lost on Georgian Bay under particularly tragic circumstances on November 22, 1906. In our narrative, we mentioned that we had several questions concerning the vessel. Accordingly, we were pleased to hear from George Ayoub, Gordon Wendt and R. H. Webb, all of whom have provided additional material with reference to J. H. JONES.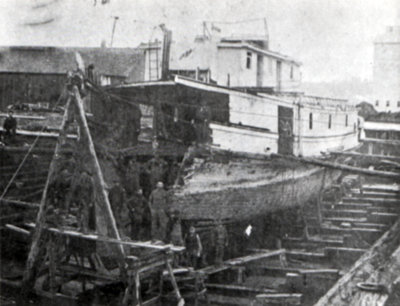 The severely damaged J. H. JONES undergoes repairs on the Owen Sound drydock after her 1898 collision with PACIFIC.

The steamer was registered at Goderich on May 14, 1888, and her owner at that time was James Clark (fish merchant) of Goderich. Her original dimensions were 107.0 x 21.4 x 9.5, and her tonnage was 152.41 Gross and 97.70 Net. Her simple one-cylinder steam engine was built in 1888 by John Doty, of Toronto. The cylinder was 18 inches in diameter and the engine had a stroke of 20 inches, producing 100 r.h.p. Our 1892 "Inland Lloyds" shows that a new engine was fitted in 1891, but it now appears that this report is in error. "Lloyds Register", from 1889 through 1896, shows the same machinery throughout and there is no indication that she ever received a new engine .

J. H. JONES' registry was closed on 12th December, 1906, three weeks after she foundered in heavy weather somewhere off Cove of Cork Bay, with the loss of all thirty of her crew and passengers.

To augment the fine photos of J. H. JONES which appeared in the April issue, we are please to include in this month's photopage an interesting view, provided through the courtesy of Gordon Wendt, showing J. H. JONES undergoing repairs in the drydock at Owen Sound after her nearly-fatal 1898 collision.
---
Previous
Next
---
Return to Home Port or Toronto Marine Historical Society's Scanner
---
Reproduced for the Web with the permission of the Toronto Marine Historical Society.