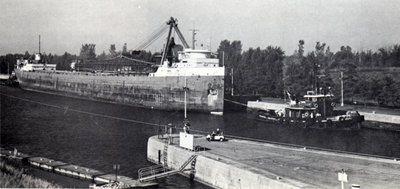 SALVAGE MONARCH, W.W. HOLLOWAY and M. McALLISTER are downbound at the Iroquois Lock in this August 31, 1986 photo by Ron Beaupre.

The 80-year-old Columbia Transportation self-unloader W. W. HOLLOWAY, (a) HENRY A. HAWGOOD (12), (b) C. RUSSELL HUBBARD (37), has now left the lakes en route to an overseas scrapyard. Purchased by Marine Salvage Ltd. after several years of inactivity at Toledo, HOLLOWAY was brought into Port Colborne by the tug SALVAGE MONARCH on August 21. She waited at the wall there while the MONARCH, assisted by several McKeil tugs, towed Marine Salvage's PHILIP

D. BLOCK from Ramey's Bend to Quebec City. The BLOCK arrived at Quebec on August 26. SALVAGE MONARCH and HELEN M. McALLISTER then went to fetch HOLLOWAY, and they were downbound with her at the Iroquois Lock on August 31st. The Polish tug JANTAR (a veteran of many scrap tows) arrived at Quebec City on September 11 to take the BLOCK and HOLLOWAY out to sea in a tandem tow.
JOHN E. F. MISENER, in tow of GLENSIDE, GLENEVIS, and STORMONT, is downbound at Port Robinson. Photo by the Editor, September 8, 1986.

Last issue, we reported the sale for scrapping (to the Ziff/Union Pipe and Machinery/Corostel Trading interests) of the Misener Shipping Ltd. 35-year-old straight-decker JOHN E. F. MISENER, (a) SCOTT MISENER (II)(54), which last operated in 1982. The steamer departed her berth at Port McNicoll on the afternoon of September 2nd in tow of the McKeil tug GLENSIDE, and she was downbound in the Huron Cut on the morning of September 5. She was down at Detroit that evening (assisted by TUG MALCOLM), and anchored off Port Colborne late on September 7th. She went to Wharf 16 the next morning and, after a brief stop for Seaway inspection, she was taken down the Welland Canal that day by GLENSIDE, GLENEVIS and STORMONT. The very slow tow was interrupted on September 11 and 12 as the MISENER lay at anchor off Prescott, waiting for weather. She eventually reached Quebec, and departed there at 1600 on September 29, in tandem tow with GOLDEN HIND behind the Polish tug KORAL, bound for a scrapyard at Cartagena, Colombia.
The Editor's camera captured GOLDEN HIND on September 9, 1986, bound out of Toronto's Eastern Gap on her last trip.

GOLDEN HIND, (a) IMPERIAL WOODBEND (54), was sold during the summer months by Groupe Desgagnes Inc. (Desgagnes Transport Inc.), and her buyer was the Ziff group of Montreal. She had operated in 1985 but did not see any active service during 1986. For her final trip, she fitted out at her berth at the foot of Sherbourne Street, Toronto, during early September, and she cleared Toronto's Eastern Gap at 11:35 a.m. on September 9th after the tug BAGOTVILLE had moved the idle CHICAGO TRIBUNE away from her starboard side. GOLDEN HIND proceeded to Quebec and then went on drydock at Lauzon for survey. As previously noted, she was towed away from Quebec on September 29, along with JOHN E. F. MISENER, bound for Cartagena breakers.

Another Desgagnes vessel has recently been sold out of the fleet. On August 21, the firm's small coaster MONT ST. MARTIN, which had been laid up for several years at La Malbaie, Quebec, left under her own power for St. Joseph de la Rive. On September 9, the same day that GOLDEN HIND set out on her final voyage, MONT ST. MARTIN sailed from St. Joseph de la Rive, bound for Halifax and delivery to buyers whose identity is not yet known to us.

Last issue, we mentioned the sale for scrapping, allegedly in Brazil, of the idle ULS vessels FRANK A. SHERMAN, RED WING, WHEAT KING and MELDRUM BAY. We now have more details of their final trips. SHERMAN was down at St. Lambert on June 11, arriving at Quebec on June 12. RED WING was downbound at St. Lambert on June 12 and put in at Quebec City later that day. They let down steam and later were towed across the river to Lauzon. (Both had left Toronto under their own power on June 10.) WHEAT KING was towed from Toronto on July 15 and went to anchor on July 20 off Grasse Island so that her four tugs could join the efforts to free BEECHGLEN, which had grounded in Lake St. Francis near St. Anicet. WHEAT KING was down at St. Lambert on July 23 and arrived at Lauzon the same day. MELDRUM BAY left Toronto under tow on July 2k, passed down St. Lambert Lock on July 28, spent two days fogbound off Trois-Rivieres, and arrived at Lauzon on 1st August. She was then drydocked at Lauzon for inspection. At last report, none of the four ULS boats had left Lauzon, and it is said that the Brazilian sale has fallen through. Only time will tell...

In the Mid-Summer issue, we commented upon the last trips, under their own power, of the retired Hanna steamers GEORGE M. HUMPHREY and PAUL H. CARNAHAN, both of which had been sold to unidentified shipbreakers. The HUMPHREY was downbound at St. Lambert on August 16 and arrived at Lauzon later that day. CARNAHAN was down at St. Lambert on August 24 and arrived on the same date at Lauzon. The two big lakers left Lauzon in tandem tow behind the Dutch tug SMIT-LLOYD 109 on September 2nd, but as yet we have no word as to their final destination.

It has been confirmed that, when Corostel Trading Ltd. sold DETROIT EDISON and SHARON for scrapping in Brownsville, Texas, the final purchasers of the two self-unloaders were Goldwils U.S.A. Inc. Surprisingly, the "Journal of Commerce" reported that this company was also a Canadian concern.

The saga of SAVIC, the former CLIFFS VICTORY, continues. At our last report, she was swinging on her hook at the Lanoraie Anchorage in the St. Lawrence River below Montreal. Nevertheless, SAVIC left Lanoraie under her own power on September 11th, and the following day was downbound past Sept-Iles, en route to New York. It is known that SAVIC was acquired by the Ziff/Union/Corostel interests during July, and they were said to have removed from the ship the crew that had been aboard her since October of 1985 when she fitted out for her ill-starred final trip, originally destined for a Far East scrapyard. What is not known, however, is the current final destination of SAVIC, or why she sailed under her own power instead of on a towline. Could she possibly be taking herself to a U.S. yard, such as the one at Brownsville, Texas, to which Corostel dispatched DETROIT EDISON and SHARON? We will keep our readers advised as more information becomes available.

The International Marine scrapyard at Port Colborne has made considerable progress with the dismantling of the former tinstacker AUGUST ZIESING since her arrival there on August 18th. An early morning fire on August 23 burned out part of her after end, and by early September, much of the stern section of the steamer, including her machinery, had been cut away. It is said that the yard will shortly take delivery of three other ships, these being the former tinstacker B. F. AFFLECK (whose scrapping International Marine will take over from the Azcon Corp., which was to dismantle her at Duluth), the Cleveland-Cliffs steamer WILLIAM P. SNYDER JR. (whose sale is presently under U.S. MarAd consideration), and the 807-foot ARTHUR B. HOMER (which the Bethlehem Steel Corporation has left laid up at Erie, Pennsylvania, for many years). We will present more details concerning these steamers when their sale to International Marine is confirmed.

Kinsman Lines Inc. is allegedly in the course of selling for scrap one of the last three ships in its fleet. MERLE M. McCURDY, (a) WILLIAM B. DICKSON (69), was part of the "Steel Trust" fleet for the first 59 years of her life, having been built by the Great Lakes Engineering Works at Ecorse in 1910. She was idle for much of the last decade of her U.S. Steel years, but was returned to service after the Kinsman interests purchased her in 1969. One of the last of the tall-stacked, traditionally-designed steamers remaining on the lakes, and still a coal-burner, she recently has been laid up at Buffalo, and it is said that she will go either to Ashtabula or to Port Maitland for dismantling. (Ashtabula has broken up numerous Kinsman steamers, such as CHICAGO TRADER, C. L. AUSTIN and FRANK R. DENTON, while the yard at Port Maitland recently cut up the fleet's ALASTAIR GUTHRIE.) The departure of the McCURDY from Steinbrenner colours will leave the once-grand fleet with only KINSMAN INDEPENDENT (II) and HENRY STEINBRENNER (IV).

Hull 75 of Port Weller Dry Docks, the passenger and freight ferry NORTHERN RANGER, built for east coast service, was christened at Port Weller on Saturday, September 6th. Sponsor for the new ship was Mrs. John Crosbie, wife of the federal Minister of Transport. In time for the ceremonies, NORTHERN RANGER was painted up in the dark blue, yellow and white colours of CN Marine, which will operate her under charter from ULS (Atlantic) Leasing Inc.

Reports indicate that the self-propelled dredge ESPERANCE III, which has been idle for several years at Lorain, Ohio, has been sold by the American International Dredge Corp. of New York, N.Y., to a firm identified as the B & B Dredging Corp. The new owner is said to be a non-U.S. company, but we do not know where it hangs its hat, nor what use it will make of ESPERANCE III.

With record grain crops being produced on the prairies in 1986, things looked good for the Canadian lake shipping industry this autumn, and much U.S. tonnage was being used for the carriage or storage of grain. Many Western Rivers barges were being taken for grain and available U.S. bottoms (such as JOHN SHERWIN, idle at Superior) were booked for storage. As well, the Algoma Central and ULS fleets obtained a large number of grain cargoes to be shipped out of the U.S. Lakehead. Shipments out of Thunder Bay were expected to burgeon, but things went sour when a dispute between grain shippers and grain handlers came to the boil as a consequence of a long-standing contract disagreement. Talks between the parties broke down on September 2nd, and the following morning the grain handlers struck the Saskatchewan Wheat Pool, largest of the six elevator operators at Thunder Bay. The five other operators then locked out their workers, claiming that a strike against one of them was a strike against all. Grain shipments from Thunder Bay ground to a halt, with no back-to-work legislation possible until the autumn sitting of the House of Commons. The only alternative was to rail the grain to the St. Lawrence River for loading in ships there, but on September 16 the port of Quebec was shut down by a lockout after employers and longshoremen failed to conclude a new collective agreement. This was unfortunate in that Quebec is the only deep-water St. Lawrence port capable of handling grain-laden unit trains. It was then suggested that coal and potash docks at Thunder Bay might be used to load grain, but only one experimental cargo was so loaded (into VANDOC on September 30) to the time of this writing. On September 29, a federal mediator was appointed in an effort to resolve the dispute, and in the early morning hours of October 5, tentative agreement on all points was achieved under the threat that back-to-work legislation would be imposed.

With the upturn in the grain market (despite labour problems), three of the ships laid up in Toronto Harbour have returned to service. BEECHGLEN went back into operation on September 20, and on the 21st, LAKE MANITOBA, which had been laid up in the ship channel with an unsold load of transit grain since 8th July, sailed for the St. Lawrence. CANADIAN MARINER, which had been lying on the north side of Pier 35 since May 31, also with a "spec" cargo of transit grain, left Toronto on September 25 to deliver her load.

BEECHGLEN spent considerable time on the Port Weller drydock undergoing repairs necessitated by her July 19 grounding at St. Anicet. When the work was completed, she made one trip and then laid up on September 5 on the wall between Parliament and Sherbourne Streets, Toronto. As mentioned above, her stay in Toronto was fairly brief.

Strangely enough, for the first time in many years, both McAllister lighters were active at the same time in July, for while MAPLEHEATH was working on BEECHGLEN, the Montreal-based P. S. BARGE NO. 1 was at Oswego, helping McAllister crews salvage the wrecked ROBERT KOCH, which had been purchased by McAllister in the hope that she could be refloated. Indeed, KOCH was freed on July 24, and was towed to Kingston the same day. She left in tow for Sorel on July 25, was down at St. Lambert on July 26, and arrived at Sorel on the 27th. She was then drydocked by Marine Industries and any salvageable equipment was removed. KOCH was towed out of Sorel on August 22, bound for Contrecoeur, where her cement cargo was to be unloaded. It is anticipated that she will be broken up there by Gondel International.

Meanwhile, the St. Lawrence Cement Company Inc. (former owner of the KOCH) has purchased from Saudi Arabian owners a barge, 345 x 76, which was built in 1980 at Singapore, has two outboard units for manoeuvring, and can carry 4,800 tons of cement. She apparently has sported several names, the most re cent being AL-SAYD 7, and St. Lawrence Cement has renamed her CLARKSON CARRIER. She departed Middle East waters on September 11, bound under tow for her new duties on Lake Ontario. To handle CLARKSON CARRIER, Wakeham & Sons Ltd., Hamilton, has purchased a large tug in Saudi Arabia, and it likely is she that is bringing the barge to Canada. The tug, built in 1969, is 118 x 31 x 12 and can put out 5,000 b.h.p. She has been re-registered in Bermuda and renamed PETIT FOUR. The new tug and barge will be able to handle all of St. Lawrence Cement's requirements on the lakes and the coast, and will render the chartering of DHAN and PORTLAND CARRIER unnecessary.

On August 28, Toronto witnessed a very unusual event, when the Texaco Canada Inc. tankers TEXACO CHIEF (II) and TEXACO BRAVE (II) both tied up at the company's dock on the north side of the ship channel, just inside the Cherry Street bridge. This was most peculiar, not only because never before had the two fleetmates been in Toronto together, but also because all shipping by water to and from the Texaco plant was discontinued several years ago and most of the Texaco tank farm was dismantled in the interim. In the early morning hours of September 1st, both tankers sailed for Montreal, and a few days later, the reason for the unexpected visit became known. Effective September 1, Texaco leased both ships to the Societe Sofati/Soconav on a long-term basis, thus relieving Texaco of operational responsibilities and giving Sofati/Soconav the chance to handle all of Texaco's shipping needs "at advantageous rates". TEXACO CHIEF and TEXACO BRAVE arrived at Montreal on September 2nd, and were immediately renamed (b) A. G. FARQUHARSON and (b) LE BRAVE, respectively. Within a few days, however, the name LE BRAVE had been painted out again and TEXACO BRAVE reverted to her old name, but it was anticipated that the renamings would become official later in September. Meanwhile, both tankers were given Sofati funnel markings.

In August, the Sofati/Soconav tanker HUBERT GAUCHER was given new stack colours. It will be recalled that the previous funnel design used by the firm was little more than a simple adaptation of the old Branch Lines stack. Now, the GAUCHER sports a blue stack with a black top and white base, and a stylized 'S' in white on the blue band. This may well have something to do with the fact that a reorganization of the company is in the works. We hear that the firm is likely to be renamed Sofati Ltee., and it may even go public.

The 1986 season has seen a change in the assignments of ferries operating across the St. Clair River. The new passenger and auto ferry WALPOLE ISLANDER was launched at Wheatley, Ontario, on May 14, and has since taken over the ferry service between Algonac and Walpole Island. The former ferry on that route, the 40-year-old LOWELL D., is now held as spare boat, operated only in times of heavy traffic. Both are owned by the Grant B. Dean - Walpole -Algonac Ferry Line. Meanwhile, the U.S. Customs office at Roberts Landing has been closed as an economy measure, meaning that the ferry service from Port Lambton to Roberts Landing could no longer operate. As a result, Bluewater Ferry Ltd., owned by Lowell Dalgety, has moved the ferry ONTAMICH to the Sombra - Marine City crossing, where she serves as back-up to the larger DALDEAN. The two remaining cross-river ferry services provide a scenic and restful alternative to the frenetic crossing of the St. Clair River via the Bluewater Bridge between Sarnia and Port Huron.

In our last issue, we reported the arrival of the tug GEORGIAN STORM (the former RENE SIMARD) at Toronto during early August, and her subsequent departure for her new home on Georgian Bay. We have now learned that GEORGIAN STORM was towed from her long-time home, Sorel, by the McKeil tug STORMONT on August 4. Assisted by ARGUE MARTIN, the tow stopped at Montreal that night and sailed for Toronto the following day. To say that GEORGIAN STORM appeared to be in rough shape during her stay at Toronto would be an understatement of major proportions, for the tug definitely showed the effects of her many years of idleness at Sorel.

Upbound at the St Lambert Lock in the Seaway on July 29 was the 173-foot, 208-ton sailing vessel VICTORY CHIMES, which was assisted in the canal by the tug CLARA. The three-masted schooner, built in 1899, was bound for Buffalo and Detroit before continuing on up the lakes, and she stopped at the Michigan Soo on August 22-23. The schooner was purchased in September of 1985 by banker Jerry Jubie of Floodwood, Minnesota, and she will be used for excursions in the Duluth area. She had sailed from Florida late in June and was at New York City for the July 4th/statue of Liberty celebrations, subsequently calling at Halifax before entering the lakes.

The J. W. Purvis Marine Ltd. tug AVENGER IV, which came to the lakes late in 1985, is venturing far away from her home port of Sault Ste. Marie. In mid-September, she was in Toronto to pick up the barge McASPHALT 201, and the pair has since been all the way to the east coast.

The Yugoslav salty JABLANICA seems to be dogged by ill-fortune in her travels into the Great Lakes. Back in 1979, she was involved in a St. Lawrence River collision which caused substantial damage to the Soo River Company's steamer PIERSON DAUGHTERS (now sailing for P & H Shipping as BEECHGLEN). Then, on August 20, 1986, the 620-foot salty, bound from Chicago to Duluth, struck and sank the 40-foot fishtug RAZEL BROS. in northern Lake Michigan, near Whiskey Island off Charlevoix, and all three men aboard the fishtug were killed. JABLANICA proceeded to Duluth where she loaded grain for Tunisia, and she passed downbound through Sault Ste. Marie, Michigan, on September 7th. There, the master of the ship was served with warrants charging him with two counts of negligent homicide. A cash bond was posted and the ship was allowed to depart. A third negligent homicide charge was in the works, but the Yugoslav master is unlikely to be extradited to the U.S. to stand trial, for such extradition was banned by a 1901 treaty between the U.S.A. and Serbia (which became a republic of Yugoslavia in 1945).

The St. Clair River was the scene of a grounding on August 20 when, about 7:30 p.m., the American Steamship Company's 1,000-foot self-unloader INDIANA HARBOR lost power and went ashore near Marine City, Michigan. The vessel was freed the following day with the assistance of three tugs.

Starting about the beginning of August, the Halco Inc. bulk carrier MAPLECLIFFE HALL, which has recently been idle at Montreal, was put to an unusual use. She was opened to public visits, with half-hour guided tours being offerred. It is said that this arrangement was actually planned to start much earlier in the summer, but that the opening of the ship to visitors was delayed by problems in obtaining liability insurance for this unusual venture.
---
Previous
Next
---
Return to Home Port or Toronto Marine Historical Society's Scanner
---
Reproduced for the Web with the permission of the Toronto Marine Historical Society.