Since Yours Truly took over the job as Editor of this publication in October 1969, we have received many enquiries about various ships and we have tried to do our best to answer all of them. At least two of our members have written to us asking about a large two-funnelled Canadian tug which they had seen on the upper lakes during the 1940's. We were able to identify the tug as BELLECHASSE and to tell our correspondents something about her, but until recently we were lacking much of the detail necessary to write a comprehensive history of the ship and to feature her in these pages. Fortunately, we have now been able to remedy this situation and to dig up an excellent photo (a rarity indeed) of the vessel.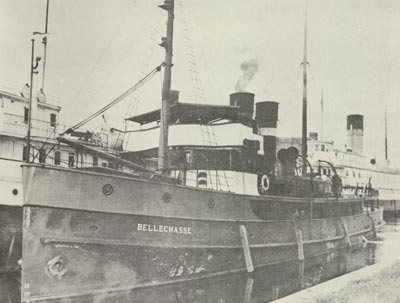 In 1942 BELLECHASSE went to Owen Sound to help in the raising of HIBOU. She is seen here in port, moored alongside CARIBOU, with MANITOULIN in the right background. Photo courtesy Robert Ireland.

C.G.S. BELLECHASSE (C.133935) was built in 1912 for the Dominion government by the Kingston Shipbuilding Company Ltd. and was especially designed for service in the channels of the lower St. Lawrence River. She was launched at Kingston on May 15, 1912 and was christened by Mrs. E. Grimason, aged 90, who was presented with a loving cup by the builders for sponsoring the new vessel. BELLECHASSE probably took her name from Bellechasse Bay and from rocky Bellechasse Island which are situate on the south shore of the St. Lawrence River below the Isle of Orleans and off the village of Berthier. A light station was established in Bellechasse Island back in the 1860's.

BELLECHASSE was a steel-hulled steamer with a length of 142.2 feet, a beam of 27.0 feet and a depth of 12.0 feet, her tonnage being registered as 417 Gross, 302 Underdeck and 216 Net. She was a twin-screw vessel, her engines and boilers having been built at Collingwood by the Collingwood Shipbuilding Company Ltd. Steam was supplied at 180 p.s.i. by two single-ended boilers which were oil-fired and equipped with four Morrison corrugated forced-draught furnaces. Nominal horsepower of 183 was developed by two triple-expansion engines, each having cylinders of 12 1/2, 21 and 34 inches and a stroke of 21 inches. Bunker tanks were placed longitudinally on either side of the boiler room and carried enough oil to give BELLECHASSE a cruising range of 2,000 nautical miles.

The tug was built to Lloyds 100A1 class and was given a straight stem, an elliptical counter stern, a five watertight bulkheads. She was specially strengthened forward and along the waterline for service in a light icebreaking capacity. The construction of BELLECHASSE for the Dominion Department of Marine and Fisheries was done under the superintendence of Capt. F. M, Duguid, Naval Constructor to the Marine and Fisheries Department.

BELLECHASSE was completed in November 1912 and was a particularly handsome double-decked tug with two tall stacks in tandem and two very tall raking masts. Her hull was built with a delightful sheer to its lines. She was specially designed and outfitted as a survey and inspection vessel for service in the St. Lawrence River below Quebec City in the employ of the Superintending Engineer. Her deck windlass was designed for channel sweeping operations and on her foremast she carried a searchlight of 16,000 candlepower. Like most Canadian government vessels, her port of registry was Ottawa.

Her accommodations provided for a total complement of 22, including staff, officers and men. The crew's quarters were placed forward on the lower deck, the staff's quarters on the lower deck aft, and on the main deck were the staff dining saloon, officers' cabins, mess room, galley and pantries, baths and wash houses. A special draughting room was provided in a large teak deck house aft of the enclosed pilothouse and chartroom. The ship was fitted with cold storage rooms forward on the lower deck and in addition to the usual lifeboats she carried on the boat deck a motor launch capable of a speed of 10 m.p.h.

BELLECHASSE saw about thirty years' service for the federal government. When the Department of Transport took over operations on the St. Lawrence River from the Department of Marine and Fisheries, BELLECHASSE was transferred to the new operating agency.

In 1942 BELLECHASSE was sold to the United Towing and Salvage Company Ltd., Montreal and Port Arthur, an affiliate of the Sincennes-McNaughton Lines Ltd., Montreal, and Marine Industries Ltd., Sorel. She was refitted the same year as a salvage vessel for her new owners and her registry was transferred to Montreal. Apparently it was at this time that her foredeck was plated in to make her more suitable for salvage operations on the open lakes. Her tonnage was altered in the rebuild to 389 Gross and 100 Net.

One of the first jobs given to BELLECHASSE by her new owners was to participate in the raising of HIBOU in the summer of 1942. The motorship HIBOU (see Ship of the Month No. 44, Vol. VII, No. 3, December 1974) had overturned and sunk off Owen Sound in the early morning hours of Saturday, November 21st, 1936. BELLECHASSE spent the summer of '42 working at Owen Sound but she did not get to share in the glory of the moment when on October 2nd the superstructure of HIBOU at last broke the surface of Georgian Bay. Instead, BELLECHASSE was down on the St. Clair River where the previous day she had freed the stranded steamer MANITOU (of the same line as HIBOU) at Courtright, Ontario. MANITOU had been retired by the Dominion and Owen Sound Transportation Company Ltd. in 1942 and was on her way to Sorel, having been purchased by Sincennes-McNaughton. She was never used by the line and was broken up at Sorel in 1944. MANITOU was on her delivery voyage to Sin-Mac at the time she grounded and had to be assisted by BELLECHASSE.

BELLECHASSE remained in service for United Towing and Salvage until 1948 when she was laid up at Sorel. She was really too big for her duties as a lake salvage tug and, despite the fact that she was one of the best-looking tugs ever to sail the Great Lakes, she was uneconomical to operate in that she required such a large crew. After lying idle for six years, she was finally broken up at Sorel in 1954 by Marine Industries Ltd.
---
Previous
Next
---
Return to Home Port or Toronto Marine Historical Society's Scanner
---
Reproduced for the Web with the permission of the Toronto Marine Historical Society.