At Cardinal, Ontario, downstream on the St. Lawrence from Prescott, is located the plant of the Canada Starch Co. Ltd. Today, most of the corn brought to the starch mill by water arrives in the small motorships of the Paterson fleet, but it was not always so.
In fact, at the time of the company's formation, Cardinal was not even known by that name. The town was called Edwardsburg and the firm was known as the Edwardsburg Starch Co. Ltd. Although much corn has been brought to the mill over the years in chartered bottoms, the company has ventured into the ship operating business at various times.
In 1904, the company purchased its first vessel, the wooden sidewheeler MAYFLOWER. She was renamed CARDINAL and served for seven years, apparently in transfer service as she was far too small to operate on a long haul. For a short period during the early years of the century's second decade, Edwardsburg Starch operated the schooner barge FLORA CARVETH, also presumably in some sort of transfer service. Upon the retirement of CARDINAL in 1911, the company purchased the typical wooden lake bulk freighter RALPH T. HOLCOMB and this steamer served well for a period of twenty years.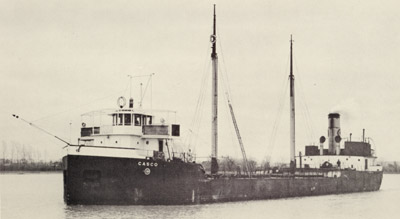 CASCO is shown downbound at Port Weller, November 21, 1954. J. H. Bascom photo.

By the mid-Twenties, the company had become known as the Canada Starch Co. Ltd., Montreal. It had become obvious that more modern means of transporting the corn from the upper lakes would be needed and a subsidiary company, Lakes & St. Lawrence Navigation Co. Ltd. was formed to operate the new steamer CASCO which had been ordered from a British shipyard. Her name, of course, was an abbreviation of the parent company's name.

The colours under which the earlier vessels operated are not known, however CASCO, for her entire career with the company, wore a black hull with white forecastle rail, white cabins, and a buff stack with a black smokeband and a green ball on which appeared in buff the letter "C". The same circle and "C" appeared in buff and green on the bow below the ship's name.

The company's venture into ship owning ended in 1955 when CASCO was sold to N. M. Paterson & Sons Ltd., Fort William. Thereafter, chartered tonnage was used exclusively.

CARDINAL, (a) MAYFLOWER (04). Can. 92681. Wooden sidewheel steamer built 1875 at Montreal. 118.0 x 23.6 x 9.8. Gross 392. Acquired by company 1904. Retired 1911. Subsequently sold to Alphonse A. Larocque, Montreal, and cut down to barge, 238 Net. Operated by Sincennes MacNaughton Lines Ltd., Montreal. Out of documentation by 1918.

FLORA CARVETH, Can. 71167. Two-masted schooner built 1873 at Mill Point, Ont., by William Jamieson for Joseph Carveth. 115.0 x 23.5 x 8.9. Net 190. Rebuilt 1882. Latterly used as tow barge. Owned in 1911 and at least through 1914 by John McLellan, Bowmanville, being operated by Edwardsburg Starch Co. Ltd. Owned 1918 by William Q. Stobo, Quebec.

RALPH T. HOLCOMB,(a) ISAAC LINCOLN (05), U.S.?. Can. 116400. Wooden steamer built 1898 at Marine City, Michigan. 133.5 x 30.2 x 9.2. Gross 375, Net 165. Owned 1902 by Price Lumber Co., Freemont,Ohio. Sold Canadian 1904. Purchased by Edwardsburg Starch 1911. Rebuilt 1921. Retired c.1930 and abandoned near mill at Cardinal where remains lie buried.

CASCO (55), (b) THORDOC (II)(62), (c) CHEMBARGE NO. 2. Can. 160046. Steel bulk carrier built 1927 as Hull 670 by Earles Shipbuilding & Engineering Co. Ltd., Hull, England. 252.7 x 43.2 x 17.8. Gross 1831, Net 1153. Last operated as steamer 1961. Stripped of cabins and machinery winter 1961-62 at Humberstone and used as barge for several seasons. Used to form part of last owner's dock at Point Edward, Ont., 1966. Hull still visible. Owners: (l) Lakes & St. Lawrence Navigation Co. Ltd.,(1927-55). 2) N. M. Paterson & Sons Ltd. (l955-6l). 3) Marine Salvage Ltd. (1961-62). 4) Tank Truck Transports Ltd.. Sarnia (l962- on).
---
Previous
---
Return to Home Port or Toronto Marine Historical Society's Scanner
---
Reproduced for the Web with the permission of the Toronto Marine Historical Society.