As the Soo River Company fades into memory and the newly-formed P. & H. Shipping, a division of Parrish and Heimbecker Ltd., Toronto, becomes an active force on the Canadian lake shipping scene, the operations of the fleet's vessels are returning to normal and plans are being made for the updating of some of the boats. All of the ships have now been renamed (per the list carried in our October issue) and all are operating with the exception of WILLOWGLEN. Although no major changes in colours have yet appeared, steps have been taken to remove from the boats the last vestiges of the "black shamrock" . It is to be supposed that full colours will not make their appearance until next spring, when there will be time to attend to such matters. In the place of the shamrock, we hope that Parrish and Heimbecker might consider the marking of its vessels with its most beautiful corporate emblem, a blue shield with the company's intertwined initials and a wheat sheaf in gold. Such would be a fitting symbol of the rebirth of a fleet which, during the "dark" days of early August, appeared to be on the brink of disappearance from the lakes. To reiterate our comments in the October issue, we wish to extend to P. & H. Shipping our very best wishes for the success of its new marine venture.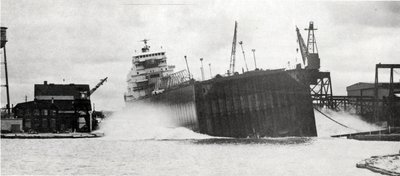 The date is October 21, 1982, as the stern section of JOHN B. AIRD is launched at Collingwood. Photo by James M. Kidd.

Collingwood Shipyards Ltd. has launched its second "half-ship", following in the steps of ATLANTIC SUPERIOR, whose stern section was put into the waters of Nottawasaga Bay last autumn. This time around, the vessel involved is Algoma Central's maximum Seaway-sized self-unloading stemwinder JOHN B. AIRD, whose 600-foot after-section hit the waters of Collingwood harbour on Thursday, October 21. Like ATLANTIC SUPERIOR, her stern will be completed at Collingwood and later towed up the lakes to be joined to the bow section, which is being built at Thunder Bay. This whole unusual process is designed to free the Collingwood ways for yet another hull to be laid down there. In a marked departure from the "Algo" series of names usually used by Algoma, this vessel is named for the Hon. John Black Aird, the current Lieutenant-Governor of the Province of Ontario, who is a former board chairman of Algoma and the senior partner of a prominent Toronto legal firm. Mr. Aird rode his namesake during the launching and is to be present when the vessel is officially christened at ceremonies to be held at Thunder Bay next spring. Also on hand at Collingwood for the launch was Ontario Premier William G. Davis, as well as an extremely large crowd of onlookers, who suffered through the unseasonably cold and windy weather, typical of what the weatherman usually produces for a Collingwood launch.

Much to the delight of observers and historians, the Straits of Mackinac steam carferry CHIEF WAWATAM has been granted a reprieve from what had appeared to be a bleak future, even if that reprieve is only of a temporary nature. Michigan State authorities, in late September, approved funding for various State-operated ferries, including $575,000 for the CHIEF. Shortly thereafter, work began at Sault Ste. Marie on the repairing of the wooden cabin roof of the 71-year-old steamer, her crew was recalled, and steam was raised. She was scheduled to leave the Soo on October 21 en route to St. Ignace. There, she will await anticipated Coast Guard approval of a deferment of her five-year inspection and, on receipt of such approval, she will go back in service on her traditional route, operating as many trips per five-day week as traffic might require. The project is also contingent upon the finding of an operator for the ferry for the winter months. However, plans only call for the CHIEF to operate through until April 1983, with the veteran ferry then being slated for permanent retirement. Regardless of the duration of CHIEF WAWATAM's reactivation, we are pleased with the prospect of her having at least a little service left to her.

In previous issues, we recorded the purchase by the Gaelic Tug Boat Company, Detroit, of the salt-water tugs PROPELLER and JENNIFER GEORGE, which have been undergoing major rebuilds in preparation for their new duties. We now learn that they will operate as BANTRY BAY and GALWAY BAY, respectively.

In regard to Lake Michigan carferries, we must report that things do not look at all good. The only carferry presently operating is the Chessie System's steamer BADGER, which is running between Ludington and Kewaunee, and even she is expected to go out of service at the end of March, 1983. The Ann Arbor ferries were taken out of service at the time of the dispute between the Michigan Interstate Railway Company and the Michigan State Department of Transportation in April 1982, and they have not resumed operation in the interim. The warring parties eventually agreed on terms that permitted the resumption of rail service, but the ferries were not included in that agreement. Accordingly, VIKING and ARTHUR K. ATKINSON remain idle, side-by-side in the mooring area next to the east slip at Frankfort which, according to the railroad, is their "final resting place". CITY OF MILWAUKEE has supposedly been chartered to the U.S. Coast Guard, although we do not know why this might be. Meanwhile, the State and U.P.S.Co. have been unable to reach agreement in their quarrel over the construction at Ontonagon of the tug/barge system which was originally intended to replace the "Annie's" Lake Michigan ferries, a dispute which led to the closing of the Upper Peninsula shipyard during the summer months. State officials have considered selling the tug/barge system to a private operator in an effort to retrieve part of the $54,000,000 cost of the project to date, with the State guaranteeing future service if a buyer should come forward. In the meantime, the only concrete thing we can say about the whole situation is that anyone wishing to be able to ride a Lake Michigan carferry should make haste to board BADGER as soon as possible before the ferries become a thing of the past.

It seems that our efforts to identify the new Canadian Coast Guard icebreaker recently built by Port Weller Dry Docks Ltd. have been fraught with typographical errors. We misspelled her name in the Mid-Summer issue, and yet another error crept in when we tried to correct the problem in October. A few members received hand-corrected copies of the October report. To end this problem forever, let it be known that the new ship's name is properly spelled DES GROSEILLIERS.[sic -ss] The handsome vessel ran her final set of trials in Lake Ontario during early October, and arrived at Toronto on her maiden voyage on the afternoon of Saturday, October 23. There, she held an "open house" prior to her departure for Quebec City, which is to be her base. We are unlikely to see her back in the Great Lakes again.

At long last, the demolition of the Maple Leaf Mills Ltd. grain elevator on the Toronto waterfront has begun. The elevator and mill have been a landmark on Queen's Quay at the foot of John (Rees) Street for over half a century, the structure having originally been built for Toronto Elevators Ltd., a firm in which the famous James Playfair once held a considerable interest. Even after the complex was acquired by Maple Leaf Mills, locals still frequently referred to it as "Toronto Elevators". No cargoes have been brought to the elevator this season, its last work having been the unloading of several storage cargoes last winter. As nearly as we can recall, the last boat to be unloaded there was R. BRUCE ANGUS during the early spring. According to press reports, the razing of the elevator is being undertaken by the Western Metals Corp. of Thunder Bay, and the job is expected to take some nine months. The site will be taken over for an expansion of Harbourfront Park. The disappearance of "Toronto Elevators" will leave only two firms operating grain elevators on the Toronto waterfront, these being Canada Malting Ltd. and Victory Soya Mills Ltd.

The former Ile-aux-Grues (St. Lawrence River) ferry LA MARJOLAINE, which was replaced in 1981 by GRUE-DES-ILES, operated by the Societe des Traversiers du Quebec, has been purchased by private buyers and is now a floating bar and restaurant. She has been moved to the run-off basin just below the Cote Ste. Catherine Lock in the St. Lawrence Seaway. Her name has not been changed for her new "service".

A collision involving two salt-water vessels occurred in Toronto harbour on the evening of Friday, October 1st. After unloading sugar at the Redpath refinery at the foot of Jarvis Street and then riding at anchor in the bay for several days, the Malaysian stemwinder RIMBA BALAU was attempting to enter the Polson Street slip in order to move under the heavy-lift derrick located there. As she entered the slip, she was caught by a gust of wind and her bow veered to port, striking the small Danish heavy-lift motorship KATHRINE SIF which was moored on the north wall alongside the Cousins Terminal. RIMBA BALAU sustained damage to her port bow, including the anchor and hawsepipe, while KATHRINE SIF suffered rather heavy damage, not to her hull but rather to her folding hatches which were stacked in the open position at the time. Repairs were quickly put in hand aboard both vessels.

The reason that RIMBA BALAU was heading for the Harbour Commission's heavy-lift crane "Atlas" was that she was scheduled to take aboard the former St. Lawrence Seaway Authority prototype shunters S/VM T.P.-l and S/VM T.P.-2. The shunters, idle at Port Weller since their unsuccessful testing with the lakers MARINSAL and MENIHEK LAKE, have been sold to H. Orleans Inc., a marine towing and contracting company which operates out of Kitimat, British Columbia. They left Port Weller on October 1 in tow of the Hamilton tug GLENSIDE, and were loaded aboard RIMBA BALAU (which had been intending to sail to Vancouver in ballast) during the following weekend. Once they arrive on the west coast, the shunters will be converted into two 100-foot tugs for use at the liquified natural gas tanker terminal which is under construction at Prince Rupert, B.C. Considering the fact that the shunters presently bear little if any resemblance to 100-foot tugs, the reconstruction will obviously be of a major nature.

On October 1st, a longtime Toronto Harbour institution came to an end. For many years, security and lifesaving services on Toronto Bay and surrounding waters have been the responsibility of the Toronto Harbour Police. This special force, operated by the Harbour Commission, has used many boats over the years, latterly operating two beautiful wooden launches, T.H.P. 6 and T.H.P. 7, the self-righting lifeboat T.H.P. 8, and two steel-hulled launches, T.H.P. 9 and T.H.P. 11. But the small force was unable to cover the expanding waterfront of the Metro Toronto area on a limited budget, and hence the Metropolitan Toronto Police Force had formed a marine division which itself had several small boats on the water. After several years of jurisdictional disputes, the two forces were finally merged officially on October 1 and are now operating as "Metro Marine", a division of the Metro Toronto Police. The merger will undoubtedly ensure a more satisfactory lifesaving service for boaters and bathers, but we do hope that the new force will attempt to preserve, in full operation, its venerable mahogany launches that have been familiar sights around the Bay for so many years.

ATLANTIC SUPERIOR, the newest C.S.L. self-unloader, which was only commissioned earlier in 1982, was the victim of a grounding which occurred in the upper St. Lawrence River early on the morning of September 29. She strayed from the channel in the Thousand Islands and went ashore about one mile east of the Ivy Lea Bridge, whilst downbound with grain for Quebec City. ATLANTIC SUPERIOR was refloated the following day with the aid of tugs and a lighter. It is interesting to note that this accident occurred not far from the spot where C.S.L.'s self-unloader JEAN PARISIEN grounded in 1981.

The Calumet Marine Towing Company of Whiting, Indiana, has been identified as the new owner of the former United States Coast Guard cutter/tug NAUGATUCK. She has been renamed (b) TIMMY B. for her new service. NAUGATUCK will be remembered for her many years of service whilst stationed at Sault Ste. Marie, Michigan, where she was frequently embroiled in battles with ice on the St. Mary's River. She also served occasionally as a ferry, when pressed into service during periods of heavy ice as a temporary replacement for the usual Sugar Island passenger and auto ferry SUGAR ISLANDER.

At the conclusion of her 1982 ferry and excursion season, the Toronto sidewheel steamer TRILLIUM came due for her quadrennial survey and inspection. She was dispatched to the McNamara drydock at Whitby but, rather than being towed in the usual fashion, she made the voyage under her own power. She was originally scheduled to clear for Whitby on September 30, but the trip was delayed as a result of fog and TRILLIUM did not sail until October 1st. She was expected to return to Toronto, likewise under her own power, early in November. As far as we are aware, this is the farthest afield that TRILLIUM has ever ventured under her own steam.

An old friend appeared on the front page of the travel section of the August 28 edition of "The Toronto Star", this being the Bahamas mail boat BAHAMAS DAYBREAK II, one of a fleet of a dozen such small boats serving the out-islands from Nassau. This ship is none other than the former Hooper Motorships Ltd. Pelee Island ferry LEAMINGTON, which was built at Erieau, Ontario, in 1957. In 1962-63, LEAMINGTON was taken in hand again at Erieau and lengthened 20 feet to 85 feet. Her private service ended in the mid-1970s and observers had wondered what had become of her. It seems that she is alive and well in warmer climes.

It is possible that the Windsor waterfront may soon be able to boast two floating restaurants. The city council already has approved plans to convert the former tug and party boat QUEEN CITY to a 150-seat restaurant to be moored just east of the foot of Ouellette Avenue. Now, a local restaurateur has approached city officials with plans to moor a 168-foot passenger boat at Dieppe Park and use her as a restaurant. The vessel involved has not been officially identified as yet. Any guesses?

The last sailing of Newfoundland Steamships Ltd. took place on August 9, when CHIMO departed Montreal on a charter trip to Rae Point, Melville Island, North West Territories. The new Newfoundland company, Atlantic Container Express Inc., began operations on July 1. Its ownership is 50% Newfoundland Capital Corp. Ltd. and 50% Atlantic Freight Lines Ltd., the latter now being a holding company, itself owned 51% by A. Harvey and Company Ltd. and 49% by The C.S.L. Group Inc. The A.C.E. fleet now consists of CATALINA, on bareboat charter from Boreal Navigation Inc., and LADY M. A. CROSBIE, on subcharter from N.S.L. (her owner being United Baltic Corp. Ltd.), both operating to St. John's. As well, the new line operates B0NA-VENTURE II to Corner Brook, Nfld., this boat on bareboat charter from Harvey Container Ship Ltd. The A.C.E. boats will display N.S.L.'s red hull colours, but will bear new stack markings incorporating a new A.C.E. logo. Various European parties have shown an interest in the idle CABOT and CHIMO, which are now up for sale.

Meanwhile, the last ship owned by Crosbie Enterprises Ltd., the Port Weller built CHESLEY A. CROSBIE, was sold during the summer to Puddister Trading Company Ltd. of St. John's, Nfld. She has since entered service as TERRA NORDICA, joining her old fleet-mate and sistership TERRA NOVA, (a) SIR JOHN CROSBIE.

Yet another U.S. Corps of Engineers lake hopper dredge has been retired from service. We earlier reported the withdrawal of LYMAN, which left Cleveland during the summer and has since been laid up in the James River reserve fleet near Norfolk. Now comes word that HOFFMAN, a similar dredge currently operating out of Cleveland, will be taken out of service by December. Her retirement will leave only two Corps hopper dredges active on the lakes, HAINS and MARKHAM. The cutback in Corps dredging comes pursuant to government policy which specifies that the public sector be encouraged to take over dredging projects that the Corps would otherwise have handled.

CEDARGLEN, the former E. J. NEWBERRY, was the victim of a minor grounding on September 30. At 4:15 p.m., whilst upbound with ore in the St. Clair River, she grounded off the C.N.R. freight sheds at Point Edward. She was not seriously damaged and was released two hours later by the tug GLENADA.

McKeil Work Boats Ltd. of Winona (Hamilton), Ontario, has apparently abandoned its plans to reactivate the tug BAYPORT due to her condition, and it is likely that the tug will be scrapped. BAYPORT has not operated since her C.S.L. service at the ports of Georgian Bay, and she latterly spent many years in idleness at Toronto, wher[sic] she was given the too-large pilothouse off the old Halco canal tanker CAPE TRANSPORT. McKeil purchased BAYPORT in 1981, and subsequently had her lifted onto a barge and towed back to Toronto, where she was hoisted by the heavy-lift derrick for bottom work. Later returned to Hamilton, she has remained aboard the barge ever since.

McKeil is also said to be intending to reduce its small freighter C. W. CADWELL to a barge. The CADWELL has languished in idleness ever since her previous owner, Cadwell Marine Ltd. (D. G. Bawtinheimer), retired the little 1911-built steam sandsucker about a decade ago. She was subsequently fitted with one of the old Fairbanks-Morse diesels out of the Toronto Island ferry SAM McBRIDE, but the installation was anything but a success and the CADWELL never made a revenue trip under her new power. She was later acquired by McKeil and was taken to Hamilton, where she was converted to a rabbit-type freighter, but she has never operated for McKeil either. It will be interesting to see whether she is ever used as a barge.

McKeil has also reacquired the tug CANADIAN FRANKO, and has renamed her GLENLIVET II.

The lightering barge T. F. NEWMAN, originally owned by the Great Lakes Towing Company, operated from Amherstburg for many years by McQueen Marine, and latterly owned by McAllister Towing and Salvage Ltd., appeared at the Canadian Sault during September. Her presence there led to thoughts that she might have some connection with a Sault Ste. Marie firm, the name of A. B. McLean Ltd., a local tug and barge operator, being prominently mentioned.

The St. Lawrence River saw an interesting assortment of deep-sea cruise vessels this summer. STEFAN BATORY was back on her popular river cruises, but visits were also made by ROYAL VIKING STAR, SAGAFJORD, EUGENIO C. and QUEEN ELIZABETH 2, the latter bearing her new grey hull and traditional Cunard funnel colours. The March Shipping cruise ship REGINA MARIS, (a) REGINA MARIS, (b) MERCATOR ONE, (c) FRANKFURT, cancelled her cruise season early and departed Montreal on August 9. Registered at Singapore, owned by Peter Deilmann Reederei of West Germany, and operated by Sun World Cruises, now American Lloyd Lines, of Minneapolis, she had been arrested on June 26 by the Quebec Provincial Police for illegally operating a gambling casino aboard. Slack caused by her departure was picked up by the Bahama Cruise Line's VERACRUZ I. An interesting visitor to Montreal in September 1983 will be Hapag-Lloyd's new cruise ship EUROPA, which will repeat a similar trip operated in 1978 by her predecessor EUROPA, the former KUNGSHOLM.

The lay-up and reactivation of various lakers continues unabated, although there has been little improvement in business conditions for lake shipping. We do not have space to report all such vessel activities but, as an example, Upper Lakes Shipping reactivated RED WING on October 2 and also HILDA MARJANNE, but laid up JAMES NORRIS again at Toronto on October 14. R. BRUCE ANGUS was briefly under the loading spout at Victory Mills, Toronto, on October 29 but was towed away again the following day. The easterly movement of the record 1982 Canadian grain crop will undoubtedly have a beneficial effect on the activities of the various Canadian lake fleets.

Another Kinsman steamer is now operating, bringing the line's active fleet to a total of five of its six boats. MERLE M. McCURDY, FRANK R. DENTON, WILLIAM A. McGONAGLE and KINSMAN INDEPENDENT had been running, and now ALASTAIR GUTHRIE is in service after receiving her five-year inspection at Superior. The only idle Kinsman ship is C. L. AUSTIN, which has a storage grain cargo. It is to the fleet's credit that it has been able to keep such a large proportion of its tonnage active in a year of such unfavourable business conditions .
---
Previous
Next
---
Return to Home Port or Toronto Marine Historical Society's Scanner
---
Reproduced for the Web with the permission of the Toronto Marine Historical Society.