Even today, almost 45 years after his death, the name of James Playfair is one which is well known to Great Lakes marine historians and observers, and few and far between will be persons, who number themselves in such company, who are not aware of the fact that Playfair was one of the most influential shipping entrepreneurs ever seen in these parts. Indeed, James Playfair was one of the most colourful and versatile operators ever to appear on the Canadian lumbering and shipping scene. At the same time, he was also one of the most controversial, and very few of the larger Canadian vessel operators of the first quarter of this century could truly say that they had not, in some manner, been influenced by James Playfair. Even some of the larger Canadian fleets still operating today might not even exist had it not been for the machinations of this gentleman.
James Playfair was born in Scotland in 1861 and, as a youth, he made his way to Canada, taking up residence in Toronto. At the age of 19, he was hired by the Toronto Lumber Company, which had timber holdings in Simcoe County and mills at Collingwood. Playfair moved to Midland, Ontario, in 1883 and, in 1888, he formed a partnership with D. L. White, Jr., of Midland. The original interest of this partnership was the lumbering business.
In 1896, Playfair entered the lake grain trade. He acquired the small wooden freight steamer W. B. HALL, which had been built in 1885 at St. Catharines, and had her lengthened at the Polson Shipyard at Owen Sound. He renamed her (b) ST. ANDREW, and placed her in the grain trade between Fort William and Goderich. His partners in this enterprise were John Waldie of Toronto, and Captain Featherstonhaugh, also of Toronto, who was master of ST. ANDREW. She served Playfair for only five seasons, for, on September 20, 1900, she stranded to a total loss on Blanchard Island in Lake Superior.
This setback did not dissuade Playfair from continuing his interest in lake shipping. In 1901, he formed the Midland Navigation Company Ltd., of Midland, which was incorporated under the Ontario Companies Act with capital of $200, 000. The founding officers of the firm were A. Hill, president; James Playfair, vice-president; and D. L. White, Jr., W. L. Morris, and J. S. Playfair, directors. The capital of the company was increased to $400,000 in May, 1902, and a total of five steamers were built for its service between 1901 and 1908. It could really be said that the Midland Navigation Company Ltd. was James Playfair's first major step into a substantial shipping operation on the lakes, and, as such, the beginning of the building of what could only be described as a shipping empire.
The first vessel to be operated by the Midland Navigation Company Ltd. was built for the fleet in 1901 as Hull 160 of the Caledon Shipbuilding and Engineering Company Ltd. at Dundee, Scotland. She had a length of 249.0 feet between perpendiculars (255.0 feet overall), a beam of 42.7 feet, and a registered depth of 20.5 feet (23'8" moulded). Her dimensions gave her registered tonnage of 1993 Gross and 1349 Net. Steam was supplied by two single-ended, coal-fired Scotch boilers and powered a triple-expansion engine with cylinders of 18, 30 and 50 inches, and a stroke of 36 inches. According to a contemporary report, her machinery was supplied "from the Tyne", but the actual manufacturer is not identified.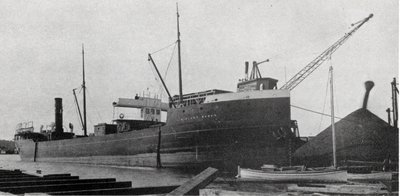 Photo by J. W. Bald shows MIDLAND QUEEN unloading a cargo of coal at Midland, Ontario.

The new steamer was duly launched by her builder, and she was christened MIDLAND QUEEN, in honour of James Playfair's adopted hometown. (She was the first of three boats that he named in this manner, the others being the later MIDLAND KING and MIDLAND PRINCE. In fact, four of the five steamers owned by the Midland Navigation Company had their home port as part of their name, for Playfair also called one of these boats EMPRESS OF MIDLAND.) In any event, like most canallers built around the turn of the century for Canadian operators, MIDLAND QUEEN was registered in Great Britain and, accordingly, she was given official number BR. 110991. She was eventually brought into Canadian registry as C.110991, with a home port of Midland.

MIDLAND QUEEN was built under the highest class British Corporation survey and, as did many of the early canallers, she appeared to have "borrowed" certain features of design from the type of steamer that was operating in British coastal service around the turn of the century. She had a full forecastle with a closed rail for much of its length, a stem that pulled backwards as it rose up to meet the forecastle, and a hull that showed little if any sheer at all. The bridge structure was set back down the spar deck, two hatches abaft the break of the forecastle, and a "doghouse" for additional crew accommodation was placed one hatch back of the bridge. The texas cabin and doghouse were almost identical rectangular steel cabins. Bridgewings extended outwards from each side of the texas roof, upon which sat MIDLAND QUEEN's rather small, three-windowed pilothouse. Atop it again was an open navigation bridge, complete with another set of bridgewings.

Two tall, well-raked masts, equipped with cargo booms, were stepped between hatches one and two, and five and six. Right aft, MIDLAND QUEEN sported a rather large after cabin, with a substantial overhang of the boat deck and prominent stanchions 'round the sides and the fantail. Her tall, raked funnel sprouted from an indented boilerhouse forward of the main body of the after cabin, but larger coal bunkers were subsequently added so that, in later years, only a very small section of the original boilerhouse was visible. Very bluff (and not particularly handsome) in the bows, MIDLAND QUEEN made up for these shortcomings in aesthetics with a very fine counter stern, and when seen from astern, she looked most attractive indeed.

We wish that we could properly describe the colours in which the Midland Navigation Company Ltd. painted its boats. The simple fact remains, however, that we know of no description of them, nor of anyone still living who recalls seeing these boats. MIDLAND QUEEN's hull appears to have been black in later years, but there is reason to suspect that this may not necessarily have been so at all times. She appears in early photographs with a narrow stripe, possibly red in colour, around her hull. Her forecastle was black with only its rail painted white, but one early photo shows this band of white extended downwards until it encompassed about half the height of the forecastle.

Her cabins were generally white, although MIDLAND QUEEN originally had her after cabin, doghouse and texas (and, at one stage, even her pilothouse) painted a dark colour, probably either red or brown. The stack colours are just not known, although the design did include a band on which was carried a flag (complete with short staff) bearing a white diamond and the letters 'M.N.Co.'. Photographs of MIDLAND QUEEN, of course, date from a time when the film in use did not have much sensitivity to colour, but such photos do seem to indicate the presence of a colour change between the upper and lower portions of the stack. The top was undoubtedly black, but it is anyone's guess what colour the bottom was. (The two "Empress" boats, built for the same line, had buff-coloured lower stacks, but MIDLAND QUEEN seems to have had a much darker shade on her funnel.)

After passing her builder's trials successfully, MIDLAND QUEEN sailed to Manchester, England, and there she loaded 3,000 tons of general cargo consigned to Chicago, Illinois. She sailed from Manchester on her delivery voyage on July 27, 1901, and safely made her way across the North Atlantic. Once in the Great Lakes, she delivered her cargo to Chicago and then went into the grain trade for James Playfair. Her normal service would have taken her from Fort William to the grain elevators of Goderich and the ports of Georgian Bay, but she did occasionally take a cargo of grain either to the lower lakes or to the St. Lawrence River.

The first season of MIDLAND QUEEN on the lakes appears to have been a success, but she did manage to get herself into a spot of trouble as the year wound down toward its end. The December, 1901, issue of "The Railway and Shipping World", reported that MIDLAND QUEEN had grounded "recently" in the canal at Sault Ste. Marie. It was necessary to drydock the steamer at Detroit for the repair of the damage caused in the incident. When she was placed on the dock, it was discovered that 24 plates needed replacement, so it is evident that MIDLAND QUEEN had done quite a job on her bottom at the Soo!

The same publication mentioned MIDLAND QUEEN again in its issue of November, 1902. At that time, it reported that the Midland Navigation Company Ltd. had been awarded damages of $4,590.00, less expenses of the vessel, as judgment against the Dominion Elevator Company. The company had taken legal action against the elevator operators for defaulting on the terms of a charter in failing to provide a cargo of grain for MIDLAND QUEEN at Fort William in December, 1901.

MIDLAND QUEEN operated for her original owners for the better part of a decade although, during her very early years, she had been chartered for a period of time to the Dominion government for use as a lighthouse tender. In 1910, James Playfair merged his Midland Navigation Company Ltd. and Empress Transportation Company Ltd. with the Inland Navigation Company Ltd., which he had acquired from R. O. and A. B. MacKay of Hamilton. The company formed by this merger became known as Inland Lines Ltd., Midland. Its ships were painted black, with a red stack and black smokeband. Their cabins were white, although some sported a dark band around the lower sections of the spar deck houses.

It was only briefly, however, that Inland Lines Ltd. remained an active concern. James Playfair was one of those shipping men who were involved in the machinations that led up to the formation of Canada Steamship Lines Ltd. in 1913 and, when this, the largest fleet ever to operate on the lakes under the Canadian flag, was put together, the boats of Inland Lines Ltd. were absorbed into the new company. In this manner, MIDLAND QUEEN, still bearing her original name, found herself flying C.S.L. colours, as also did her original fleet-mates, MIDLAND KING, MIDLAND PRINCE, EMPRESS OF MIDLAND and EMPRESS OF FORT WILLIAM. MIDLAND QUEEN continued to wear these colours until 1915, when there occurred events which neither James Playfair nor her builder could ever have foreseen.

By 1915, wartime vessel losses on the Atlantic had increased to alarming proportions as a result of the operation of German U-boats. Tonnage for Atlantic service was very much in demand and operators began to look to the lakes as a source of operable, although not entirely suitable, ships. Lakers were actively sought by coastal operators as well. As a result, the MIDLAND QUEEN was chartered on March 10, 1915, to the Nova Scotia Steel and Coal Company Ltd., and later to the Dominion Steel and Coal Company Ltd., Sydney, Nova Scotia. She was only one of several lakers chartered to this company, (another was EMPRESS OF FORT WILLIAM), to replace its deep-sea vessels which had been requisitioned for war service elsewhere. MIDLAND QUEEN was placed on the route between Montreal and Sydney, although she also made a few other trips around the east coast.

During June of 1915, MIDLAND QUEEN was loaded with steel bars, barbed wire, shells, and other war materials, and was sent off on a trip to Manchester, England. Despite encountering heavy weather, which caused her cargo to shift back and forth in the holds, the steamer reached Manchester safely. There, her crew took advantage of the heavy chemical discharges into the Manchester Ship Canal to clean the scale out of her boilers. Her cargo unloaded, MIDLAND QUEEN cleared port and, 38 days after her eastbound departure, arrived back in Sydney.

On July 21, 1915, MIDLAND QUEEN again sailed from Sydney with a cargo of assorted war materials. This time, her destination was Newport, Monmouthshire. Again, heavy weather was encountered and, eleven days out, MIDLAND QUEEN began shipping water over the stern and down into the engineroom via the skylights. The water washed coal and ashes into the bilges, clogging the bilge pumps and interfering with the operation of the steam steering gear. With the steamer blacked out, with many of her auxiliaries out of service, and with her engine cranks turning in the water of the flooded engineroom, MIDLAND QUEEN was in a bad way. Nevertheless, the perseverance of her crew, who were undoubtedly scared out of their wits at the time, got things back into reasonable shape and the vessel was able to resume her voyage eastward.

Early on the morning of Wednesday, August 4, 1915, while about 70 miles off the Fastnet Rock Lighthouse, at the southern tip of Ireland, MIDLAND QUEEN had the misfortune to encounter the U-68. At about 3:45 a.m., the submarine, which had positioned itself off the steamer's starboard side, fired a shot across the bows of MIDLAND QUEEN as a signal for her to stop. The shot was ignored and, as the laker steamed onwards, the submarine fired another shot, this time aimed directly at her engineroom. Somehow, this shot had the good luck to run in through the starboard side of the engineroom and right out through the port side without hitting anything or anyone on the way.

The master of MIDLAND QUEEN, however, realized that his poor steamer was facing impossible odds, and the ship was stopped. The crew took to the lifeboats and abandoned ship, pulling away on their oars when ordered by the commander of U-68 to get away from MIDLAND QUEEN. The submarine then began to pump shells into the steamer and she slowly took water, dipping her bow into the sea. At this point, the 17-year-old messroom steward of MIDLAND QUEEN, who somehow had slept right through the shelling and the abandonment of his boat, awoke and came out on deck in alarm. He had time to run back for his lifejacket, but was unable to escape from the ship before she sank. He finally got clear of MIDLAND QUEEN when she took her final dive, however, and he was safely picked up by one of the two lifeboats.

MIDLAND QUEEN was the very first laker to be lost to enemy action in World War One, and she went to her final resting place in a manner which befitted this peculiar honour, and which would have aroused the pride of anyone who had ever been associated with the ship. She went down with the Union Jack still flying from her stern staff, and with her whistle blowing. It seems that some object had fallen across her whistle lanyard, and so her steam whistle continued to sound until she slipped, bow first, beneath the surface.

The two lifeboats were then left to themselves on the open sea, with only a few moldy biscuits available to feed the entire crew of 24, as well as the wife and young son of the chief engineer who had been aboard as passengers. The sails were set aboard each boat, but the prevailing winds carried them even further away from the nearest land, which was the Irish coast. Several vessels were sighted but, apparently fearing for their own safety, these steamers altered course and steered well clear of the boats.

Finally, it was decided that the boats would split up and, when another steamer was sighted, they were able to approach it from both bows. The ship proved to be Norwegian and, late on the evening of August 5, the day after the sinking, she took the survivors aboard. Well cared for during the night, the rescued crew were transferred on August 6 to a British torpedo boat, which landed them safely at Queenstown, Ireland. When their misfortune became known, C.S.L. sent the men money for the replacement of clothes and other necessities, and to keep them accommodated until they could be returned home.

In due course, the crew of MIDLAND QUEEN found their way back to Canada. Not so, however, their gallant little steamer, which found a resting place to eternity in the cold waters of the North Atlantic off the Irish coast, far from her home waters of the Great Lakes. She was but the first of many to fall victim to enemy action during the Great War, which robbed the lakes for ever of some of their finest canallers. Fortunate, indeed, were the men aboard MIDLAND QUEEN, for they escaped the watery graves which were lying in wait for so many lake sailors who were sent to the North Atlantic with their little steamers.

(Ed. Note: The details of the loss of MIDLAND QUEEN were recounted by her chief engineer, George W. Crossan, who later became chief engineer of the Dominion Bank Building in Toronto. He frequently spoke of such matters to the T.M.H.S. secretary, and more particularly described the loss of MIDLAND QUEEN in an interview with the Toronto "Globe and Mail" shortly after the fortieth anniversary of the event.)
---
Previous
Next
---
Return to Home Port or Toronto Marine Historical Society's Scanner
---
Reproduced for the Web with the permission of the Toronto Marine Historical Society.