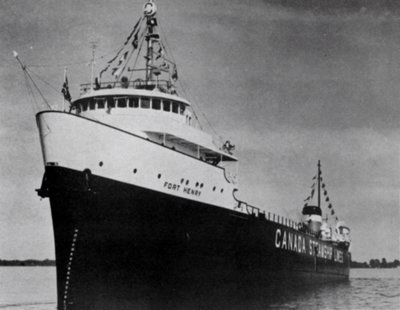 The beginning of "Fort" service is illustrated by this J.H. Bascom view of FORT HENRY on her first visit to Toronto, June 3, 1955. C.S.L. has now closed it package freight division.

Canada Steamship Lines Ltd. announced in early January that it had closed its lake package freight division as a result of poor financial results over the last several years. Although the carriage of package freight was once one of C.S.L.'s major trades, it has steadily declined in importance in recent years and, in 1981, involved the operation of only three boats, FORT CHAMBLY, FORT ST. LOUIS and FORT WILLIAM. The first of these is now in winter quarters at Windsor, and the latter two at Hamilton. Two steam-powered package freighters, FORT YORK and FORT HENRY, did not operate in 1981 and are laid up at Kingston. Although the prospects of the two steamers finding further service on the lakes are not good, we understand that N. M. Paterson and Sons Ltd. has expressed some interest in acquiring FORT CHAMBLY, FORT ST. LOUIS and FORT WILLIAM to replace some of its smaller boats in the newsprint trade.
BENSON FORD, now retired from service, is seen downbound in the St. Mary's River on July 17, 1981. Photo by J. H. Bascom.

When the 57-year-old motorship BENSON FORD laid up at Dearborn, Michigan, last autumn, she closed out her career in the service of the Ford Motor Company, the only owner she has ever had. The handsome BENSON FORD has been in and out of lay-up frequently in recent years, her periods of inactivity reflecting the lesser quantities of iron ore which need be transported these days to support what can only be called an indifferent market for new automobiles. It has not yet been decided, apparently, whether BENSON FORD will be sold, or whether she will be retained as a source of engine parts for her sistership, HENRY FORD II, which presently operates as a self-unloader. BENSON FORD, built in 1924 as Hull 245 of the Great Lakes Engineering Works at Ecorse, Michigan, is 596.7 x 62.0 x 27.7, 8193 Gross and 5193 Net. She is powered by a four-cylinder Doxford diesel engine which was built in 1924 by the Sun Shipbuilding Company of Chester, Pennsylvania. BENSON FORD and HENRY FORD II have always been known for their distinctive profiles, and particularly for their beautiful triple-deck forward cabins. Perhaps their most notable feature, however, and particularly with respect to BENSON FORD, was the sound of their engines, especially when echoing across quiet waters at night. The distinctive cadence of a "Ford" diesel was enough to cause any observer to perk up his ears, and it was often said (in happier years) that the diesels simply set to music the words "making money, making money..." On the occasion of the retirement of BENSON FORD, we can do no better than to quote the words of a well-known country and western song writer who, in writing a song about automobiles, finished off his chorus with the words "Lord, Mister Ford, what have you done?"

On the evening of Friday, January 8, 1982, the steam carferry BADGER made the last sailing of a Chessie System Lake Michigan carferry from Ludington, Michigan, to Manitowoc, Wisconsin. The closing of the Manitowoc route, coming, as it does, not long after the discontinuance of Chessie's service from Ludington to Milwaukee, has at last brought to fruition the infamous "Kewaunee Plan", the step-by-step abandonment of cross-lake ferry routes that was approved several years ago by the Interstate Commerce Commission. That plan specified that certain routes might be abandoned in a certain sequence, and called for the Ludington to Kewaunee route to be the last to survive, albeit not for long. Despite the opposition of many interested parties, Chessie appears to be having its way as far as the Lake Michigan ferries are concerned, forcing shippers to send their freights by rail around the bottom of Lake Michigan (despite Chicago area delays), and all the while decimating the superb fleet of big carferries which had been built up over many years by the old Pere Marquette Railway Company.

A small Lake Erie sandsucker has recently been dismantled. R. W. HOLST, latterly owned by White Brothers Sand Inc. of Toledo, was broken up during September, 1981, at Toledo. She was built there in 1929 by the Toledo Shipbuilding Company, Hull 181, and measured 114.2 x 28.0 x 5.3, 184 Gross, 155 Net. At the time of her scrapping, she was still equipped with her two original Kahlenburg diesel engines.

We understand that SEAWAY TRADER, (a) IMPERIAL COLLINGWOOD (79), is being given an extensive refit this winter, and that part of the work involves the removal of her steam engine and its replacement with diesel machinery of 2,000 H.P. Both IMPERIAL COLLINGWOOD and IMPERIAL LONDON, built at Collingwood in 1948, were powered by three-cylinder Unaflow engines, 24 1/2" x 2k", which were built for them by Canadian Vickers Ltd. SEAWAY TRADER is, of course, now owned by Shediac Bulk Shipping Ltd., Moncton, New Brunswick, and remains active, primarily on the St. Lawrence River and east coast. Her sistership is now (c) CONGAR (III), owned by Johnstone Shipping Ltd., and is laid up at Toronto, facing an uncertain future.

Branch Lines, Division of Davie Shipbuilding Ltd., has gone ahead with the renaming of its tankers, despite the possibility of the transfer of their ownership to other operators. At least FRENE 1 and CEDRE 1 are known to have been operating during January with their new names.

The small sandsucker ERIE, latterly owned by the Osborne Materials Company of Mentor, Ohio, has been scrapped at Fairport. Osborne had not operated ERIE since she was purchased about 1976 from the Lake Erie Sand and Transport Company. The little motorship, 124.6 x 28.4 x 7.4, 290 Gross and 198 Net, dated all the way back to 1906, when she was built at Buffalo by the Buffalo Dry Dock Company.

It has been confirmed that Hull 222 of Collingwood Shipyards Ltd., which will be delivered to Canada Steamship Lines in 1982, will be christened ATLANTIC SUPERIOR. The name is designed to indicate the vessel's capability of operating both on the lakes and the east coast, and will be the first in a series of such names, each of which will honour one of our lakes. As a matter of interest, Hull 222 was beautifully decorated for the Christmas season, the lights being visible from the village of Duntroon, some seven miles distant from Collingwood.

Laid up at Duluth's Hallett #5 Dock this winter are three of the U.S. Steel Corporation's "supers", A. H. FERBERT, IRVING S. OLDS and ENDERS M. VOORHEES, the latter having arrived there on December 26 and, in so doing, sharing with EDWIN H. GOTT the honours for being the last tinstackers operating in 1981. It is with peculiar feelings, however, that we learn that VOORHEES, and perhaps some of her sisterships as well, may not operate in 1982 and may join U.S. Steel's mothball fleet of idle boats. If so, it will be the first time that any of the five "supers" have ever been relegated to reserve status, this dubious condition normally being reserved for older ships. Of even more significance is the fact that this development comes just as the "supers" attain the fortieth anniversary of their construction in 1942. Albeit in a season of anticipated poor ore movements, the relegation of one of these boats to "fringe" status makes us very conscious of the relentless passage of time.

In the last issue, we reported the final passages of 1981 through the Welland Canal. Unfortunately, we did not then have at hand the necessary information for us to mention the closing of the other canals, but we do so now to complete the record. The last commercial vessel to clear the St. Lawrence section of the Seaway was the downbound MONTCLIFFE HALL, which spent the night of December 20-21 in the St. Lambert Lock. She cleared the canal on the 21st, unloaded at Port Cartier, and returned to lay up at Montreal. MONTCLIFFE HALL was only one of numerous ships, lakers and salties alike, which were assessed substantial fines for late passages. The locks at Sault Ste. Marie, Michigan, were closed for the season on December 31, the last passage having been JOHN A. FRANCE, downbound on December 30 with grain from Thunder Bay for Tiffin. At the time of the closing of the canal, no date was announced for its opening in the spring of 1982. The Canadian canal at the Soo closed on December 4, the last boat through having been YANKCANUCK. (Incidentally, YANKCANUCK laid up on December 31 at the Government Wharf in Sault Ste. Marie, Ontario.)

After having been towed from the site of her Christmas Day misfortunes in the lower St. Lawrence River to the shelter of the harbour at Baie Comeau, where her cargo was unloaded into GASPE TRANSPORT, the fire-damaged HUDSON TRANSPORT set out for Montreal in tow of the tug CAPT. IOANNIS S. Headed for the Versatile Vickers Ltd. shipyard, they cleared Quebec on January 2, spent that night at Trois Rivieres, and arrived on January 3 at Montreal with the assistance of the tug ROBERT B. NO. 1 and the icebreaker NORMAN McLEOD ROGERS. No formal announcement has yet been made as to whether HUDSON TRANSPORT will be repaired and returned to Halco service, and we presume that she is being given a very thorough going-over before the final decision is made. We do know, however, that HUDSON TRANSPORT was inspected on January 12 by representatives of Quebec Tugs Ltd., who have expressed interest in purchasing the tanker for conversion to a bunkering barge to replace SILLERY, (a) IMPERIAL VERDUN. HUDSON TRANSPORT has operated regularly for Halco ever since she was built, and we rather doubt that Hall would be willing to part with her unless, of course, the damage sustained in the fire should prove to be so extensive that repairs would not be economically warranted.

Logistec Navigation has "sold" its idle motorvessel FORT LENNOX, the former R. A. McINNIS, to the Seafarers' International Union for the princely sum of one dollar. The 317-foot FORT LENNOX, built in 1944 at Jeffersonville, Indiana, and a sistership of FORT GASPE and FORT KENT, has been laid up at Sorel since the autumn of 1980. During 1982, FORT LENNOX will be towed to Morrisburg, Ontario, free of charge, by McAllister Towing. It is to be assumed that she will be used there as a training vessel by the S.I.U. That the union is taking such a step is not surprising, for it came under considerable criticism during the CARTIERCLIFFE HALL enquiry as a result of the state of safety training given to Canadian crews. The HUDSON TRANSPORT affair will not have improved matters in this regard.

In the December issue, we mentioned the sale and renaming of Halco's saltwater tankers COASTAL TRANSPORT and CANSO TRANSPORT, and the fact that they were trading to South Africa for their new owners during October, 1981. The plot, however, is doing its usual thing in thickening. Member Jim Ramay of Sun City Centre, Florida, sent us several photos of CHEMICAL SOL, the former CANSO TRANSPORT, docked at Tampa on December 10, the photos clearly showing both the new name and Halco stack colours. The Halco fleet position report for January 6, 1982, showed COASTAL TRANSPORT en route to Singapore, Malaysia, in ballast, with an E.T.A. of January 7. All of this new information raises several interesting questions. Was COASTAL TRANSPORT not renamed after her sale? Were the two tankers actually sold? If so, has Halco chartered either one or both back from the new owners?

As of the first week of January, work was progressing well on the self-unloader conversions of CASON J. CALLAWAY, PHILIP R. CLARKE and ARTHUR M. ANDERSON at Fraser Shipyards, Superior. Most of the major work had, by then, already been done on CALLAWAY, and her boom had been placed aboard. Only the finishing touches remained to be put on her conversion. Meanwhile, CLARKE has had her holds rebuilt and work is proceeding on the installation of the elevator "box" and the extended deckhouse aft. ANDERSON, the last of the trio to be sent to the shipyard, spent New Year's in Fraser's drydock, having her holds rebuilt. As expected, all three steamers will sport aft-mounted booms and very high elevator boxes which will all but hide their stacks from sight.

Shell Canadian Tankers (1964) Ltd. has made a rather unusual switch in its tanker assignments this winter. LAKESHELL (III), which normally remains on the lakes, has been sent to the St. Lawrence River this winter, while EASTERN SHELL (II), (a) W. HAROLD REA (70), has been brought to the lakes to replace her. We rather wish that EASTERN SHELL would be permanently posted to lake duties, for she is a much better-looking boat than LAKESHELL and, although modern, much more "traditional" in design.

The new Lake Ontario ferry service operated by LAKESPAN ONTARIO runs between Oshawa and Oswego. The southern terminus of the route was originally intended to be Rochester, but docking space could not be obtained there as a result of four Rochester city ordinances which banned commercial shipping in the port and designated facilities for recreational and light industrial use only. Whether service to Rochester instead of Oswego would have improved the dismally poor patronage that the ferry received in 1981 is doubtful, but her operators may now have a chance to find out. In an decision announced on December 21, a U.S. District Judge ruled that the 1980 bylaws unconstitutionally interfered with foreign and interstate commerce, and that they represented "outright economic isolationism and patent economic protectionism". The ruling resulted from litigation commenced by Pittston Warehouse Corp., owner of certain Rochester facilities, which had planned to ship containers via lake ferries. No vessels had called at Rochester since 1973 and the port was closed in 1976, although the ordinances were not imposed until 1980, when it became evident that a ferry service would become a reality. Facilities at Charlotte, now served only by cement boats, are not presently suitable for the ferry. (Ed. Note: A few other ports, Toronto included, might do well to study the Rochester decision, for it has considerable bearing on current trends which favour the use of harbour areas for recreational and residential purposes rather than for shipping.)

In the November issue, we noted that the British Columbia government had sold its ferry SUNSHINE COAST QUEEN, (a) VACATIONLAND, (b) JACK DALTON, (c) PERE NOUVEL, to the Quesnel Redi-Mix Cement Company Ltd. We now learn that she has been resold, passing from Canarctic Ventures Ltd., Vancouver, to Gulf Canada Ltd. for use as a supply boat in the Canadian Arctic. She is a good icebreaker, but we would have thought that this boat would be a bit cumbersome for Arctic service. She is, of course, the last of the former Michigan State ferries from the Straits of Mackinac to remain in active operation. (Can anyone enlighten us as to how she got from the cement company's ownership to Canarctic Ventures?)

Last month, we reported that CANADIAN MARINER was the last boat to pass down the Welland Canal in 1981. In fact, she was the last boat of the year in any direction, and she is now wintering at Toronto with a transit cargo. Her last downbound trip, however, was not entirely uneventful. On the afternoon of Christmas Day, the Upper Lakes Shipping steamer struck bottom in the Munuscong Channel of the St. Mary's River. CANADIAN MARINER began to take on water forward, but the injured compartment was sealed and pumped dry. After inspection by the U.S. Coast Guard, the ship was allowed to go on her way.

January 16 saw the motorship MOTHY, (a) PERLA DAN (71), (b) PERCY M. CROSBIE (81), (c) BAIE JAMES (81), in trouble on the St. Lawrence River near Matane, Quebec. Distress calls were sent out when her crew could not control water entering the engineroom through an opening caused by the boat's battles with river ice. Assistance was rendered by the tug POINTE COMEAU, the Coast Guard icebreaker J. E. BERNIER, and the ferry CAMILLE MARCOUX, and MOTHY was safely berthed at Matane. As BAIE JAMES, she had been owned by Boreal Navigation Inc. of Quebec City, but her Canadian registry was closed on November 26, 1981, as a result of her sale to Panamanian owners.

The Manitoulin Island ferry CHI-CHEEMAUN is wintering at Collingwood, rather than at her usual berth at Owen Sound. The ferry was at the shipyard in late autumn for docking and repairs, and it was decided to leave her at Collingwood when the work was finished, instead of having to call a crew from Owen Sound to sail her back home. Another Collingwood lay-up, Algoma Central's self-unloader E. B. BARBER, was at the shipyard for repair of collision damage suffered in her September 15 altercation with LEWIS WILSON FOY above the Poe Lock at Sault Ste. Marie. The BARBER could be accommodated as a result of the enlargement of the drydock during 1981.

Worried about the formation of ice jams in its river and the resultant inundation of low-level land in southwestern Ontario, the Lower Thames Valley Conservation Authority has chartered the tug GLENADA from Sandrin Brothers of Sarnia. Arriving at the mouth of the Thames on January 6, GLENADA will break up ice formations and thus prevent the backing-up of the river. The L.T.V.C.A. had originally hoped to obtain a hovercraft to break ice but had failed to do so, and chartered GLENADA until spring as a replacement. The 39-year-old tug, originally built at Owen Sound for the federal government, and largely rebuilt at Sarnia in 1973, should be able to break ice up the Thames River as far as the Prairie Siding Bridge.

TROISDOC (III), the last true canaller in the fleet of N. M. Paterson and Sons Ltd., is in winter quarters at Kingston after having been brought from Cardinal during the autumn, but there have been no further incidents of line-cutting or other vandalism since she was moved to the elevator slip from her earlier berth near WITTRANSPORT II. However, TROISDOC will not see further service in Paterson colours. The marine museum at Kingston is presently attempting to secure TROISDOC for display in the old Kingston drydock, and we wish this group every success in its efforts.

Marine Fueling Division, Reiss Oil Terminal Corporation, has sold two of its small bunkering tankers. WM. H. BENNETT and MARINE FUEL II are now on the east coast, enjoying further service. The BENNETT dates from 1950, while MARINE FUEL II was built in 1926. Formerly used at the American Lakehead, the two tankers had been at Cleveland since the summer of 1978.

The continued operation of HARRY COULBY by the Interlake Steamship Company appears to be a certainty in view of the fact that the 55-year-old steamer is receiving her five-year survey and inspection this winter at Fraser Shipyards, Superior. COULBY, as in past years, will be used primarily in the grain trade for which her large capacity makes her well suited.

Last issue, we reported that the U.S. Army Corps of Engineers intends to retire its tug MARQUETTE and her charge, the big steam dredge COL. D. D. GAILLARD. Now comes word that 1982 will also see the retirement of the Buffalo-based hopper dredge LYMAN, which was built in 1945 by the Dravo Corporation. One of three similar dredges on the lakes, LYMAN is being withdrawn because of recent U.S. legislation providing for the reduction in size of the Corps fleet of dredges because of the increasing ability of the private dredging industry to attend to the clearing of navigation channels. There is no indication as yet that either LYMAN's sister-dredge HOFFMAN, or the larger but similar MARKHAM, will fall victim to the Engineer Corps' fleet cuts.

Several Upper Lakes Shipping boats are receiving major repair work this winter. CANADIAN CENTURY is at Wharf 17, Port Colborne, where she is having much of her steel work renewed. RED WING and ONTARIO POWER are at Port Weller, where each has been drydocked. JAMES NORRIS is wintering at Hamilton, where she is undergoing engine repairs. Her sister, GORDON C. LEITCH, had originally been scheduled to go to Port Weller this winter for a self-unloader conversion similar to that done on JAMES NORRIS last winter. Instead, LEITCH is wintering at Toronto with storage grain. The postponement (or, perhaps, total abandonment) of the LEITCH conversion seems to reflect the indifferent business conditions which continue to plague the shipping industry, and which show no signs of abating during 1982.

Early in January, the Cleveland-Cliffs Iron Company announced the reactivation of its Empire Mine, which is located at Palmer, near Marquette, Michigan, and called back to work many of its employees. The mine was closed last autumn, and its reopening would seem to signal a momentary upturn in the recent poor demand for steel, which adversely effected the lake ore-shipping industry. We doubt, however, that the reactivation of the mine could yet be considered on a long-term basis, for company spokesmen indicated that its operations would be reviewed "periodically".

The Soo River Company's steamer JOSEPH X. ROBERT is spending the winter in the Toronto Ship Channel, just inside the Cherry Street bridge. There, having unloaded her cargo of beans at Victory Mills in December, she is being fitted with the condenser which recently was removed from the now-scrapped steamer BROOKDALE (II).

Until mid-January, Toronto Island residents were lulled into a false sense of security by unusually warm weather conditions, which prevented the formation of ice. As a result, the carferry ONGIARA had been able to maintain regular passenger service to Ward's Island and Islanders did not have to worry about being "bussed" to the protected dock at Hanlan's Point to catch the ferry to the city. On the evening of Sunday, January 10, however, high winds and bitterly cold temperatures froze the waters of Toronto Bay completely solid in the space of but a few hours. Ever since, the Islanders have been without ferry service, forced to make their way to and from the city via the inconvenient bus and Western Gap ferry route across the runways of the Toronto Island Airport. The heavy ice has also hindered the movement about the harbour of lakers with grain storage cargoes.

We understand that Pioneer Shipping Ltd. will, at long last, paint its stemwinder SILVER ISLE in its orange and yellow livery in 1982. SENNEVILLE has displayed these eye-shocking colours for two years now, but SILVER ISLE has remained in the old colours of the Mohawk Navigation Company Ltd. which, under the control of the Richardson grain interests, became Pioneer Shipping Ltd. two years ago. Both vessels have been operated for many years by the Misener fleet. SILVER ISLE is presently wintering at Port McNicoll.

A mid-January report indicates that the scrapping of the former U.S. Steel steamer D. M. CLEMSON is well advanced at the Western Metals dock at Thunder Bay. She is now cut down almost to the waterline fore and aft, while her midsection is only slightly higher. Quite obviously, it will not be long until there is nothing left of her at all.

MENIHEK LAKE is spending the current winter at the Welland dock, in the company of the new straight-decker LAKE WABUSH. A bowthruster is finally being installed in MENIHEK LAKE, the last of the Carryore/Nipigon Transport vessels to be so equipped. MENIHEK LAKE was a 1959 product of Collingwood Shipyards Ltd., and was chosen, two years ago, to be the second boat used in the testing period of the failed Welland Canal shunter program.

It was recently reported by "Lake Log Chips" that the sandsucker CHARLES R. HUNTLEY damaged her bilge and bottom on September 9th, when she somehow managed to run over her own draghead. Unfortunately, we do not know where the accident occurred, although we suspect that it was on the east coast. The HUNTLEY is, of course, one of the last of the former steam canallers to remain in service anywhere. She operated for many years for Eastern Steamships Ltd. and the Upper Lakes and St. Lawrence Transportation Company Ltd., and was sold in 1960 to the McNamara Construction Company Ltd. She was rebuilt as a sandsucker in 1961, and her steam machinery was later replaced by diesel-powered outboard equipment. She has not been seen much in the lakes during recent years, having spent most of her time on the St. Lawrence River and the east coast. The last owner we have recorded for her was Canpac Leasing Ltd., Montreal.
---
Previous
Next
---
Return to Home Port or Toronto Marine Historical Society's Scanner
---
Reproduced for the Web with the permission of the Toronto Marine Historical Society.