We realize that over the past few issues we have leaned rather heavily on the subject of canallers for this feature but in view of the special circumstances which have recently developed, we thought that our readers would not mind the story of another canaller, particularly when we have a special surprise to accompany the story.
The most elusive canaller of all, EUGENE C. ROBERTS, is upbound in the Galop Canal with pulpwood, Deno photo, probably taken in 1925, is from the EArl D. Simzer collection, courtesy George Ayoub.

In the October issue, we told the story of NISBET GRAMMER and the early canal steamers built for the Eastern Steamship Company Ltd. in British yards. We mentioned that not only did we not have a photo of the GRAMMER in operation but that we were also without a photograph of EUGENE C. ROBERTS, a sistership which was built by Cammell Laird for A. B. Mackay. Well, thanks to the generosity of two of our members, the long search has ended and this month we are pleased to feature on our photopage views of both NISBET GRAMMER and EUGENE C. ROBERTS in operation.

Readers may recall that the history of the ROBERTS was touched on briefly in the March 1971 issue (Vol. III, No. 6) which featured an article dealing with the vessel interests of Capt. James B. Foote. In fact, we presented at that time a photo of the ROBERTS under her second name, JAMES B. FOOTE. It seems that something more detailed on the subject of this interesting steamer would now be in order.

The Eastern Steamship Company Ltd., first of Port Colborne and later of St. Catharines, which was formed on December 22, 1922 by a number of grain dealers and shippers, retained the services of shipping entrepreneur A, B. Mackay, formerly of Hamilton, to obtain for the company a nucleus of canal-sized steamers for its fleet. Mackay made an arrangement through Messrs H. E. Moss and Company of Liverpool, who were represented by a Mr. A. G. Jones, for the construction of ten canallers by five British shipyards, each of which was to build two vessels. One of the yards selected was that of Cammell Laird and Company Ltd., Birkenhead, England, and this firm in due course completed the construction of NISBET GRAMMER and WATKINS F. NISBET, both of which were delivered to Eastern in 1923.

The odd part of the whole deal was that it really encompassed the construction of not ten but rather eleven ships, one of which was never to sail in Eastern colours nor to have any connection with that fleet. The eleventh boat was EUGENE C. ROBERTS which was built at Birkenhead by Cammell Laird especially for A. B. Mackay himself. She was completed in 1924 as the yard's Hull 903 and she was in most respects a virtual sistership of NISBET GRAMMER and WATKINS F. NISBET.

What is not known with any degree of certainty is how the ROBERTS came to be built for Mackay, who had suffered what might best be described as reverses of fortune or a fall from grace since the early years of the century when he had been one of the leaders of the Canadian lake shipping industry. One theory is that the ROBERTS was his commission for obtaining the order for the building of the ten Eastern canallers, a sizeable order indeed for those days. Another school of thought holds that as Mackay was placing the order for the Eastern boats, he ordered another hull to be built on speculation in the hope that she could be peddled to another lake operator. Yet another suggestion is that he had already been in touch with the Toronto Insurance and Vessel Agency Ltd. (which firm soon came into possession of the ROBERTS) and that the ship was ordered and operated briefly by Mackay pending the financial arrangements necessary for T.I.V.A. to enter the ship-owning business. There are also other theories embraced by certain marine historians but as not all of them are complimentary to the character of the late Mr. Mackay, they are best left unprinted.

Needless to say, contemporary press reports do little to solve the problem of how EUGENE C. ROBERTS came to he. At the launching of NISBET GRAMMER, first of the Cammell Laird trio, on April 14, 1923. an address was given by R. S. Johnson, managing director of the Birkenhead shipyard. Johnson spoke of the diligent work of Cammell Laird personnel in obtaining the order for two of the ten Eastern steamers and went on the comment that "when Mr. Mackay came into contact with them (the builders) at Birkenhead, he found that they were such reasonable people that he placed an order for a vessel for himself." The report carried in The Journal of Commerce indicated that this remark was followed by much applause from those attending the ceremonies.

In any event, EUGENE C. ROBERTS was completed in 1924 (she was not ready in 1923 as were her two sisters) and she was given official number 147246, her first enrollment being taken out at Liverpool although she would later appear on Canadian registry. She measured 253.0 feet in length, 43.1 feet in the beam and 17.8 feet in depth, these dimensions giving her tonnage of 1746 Gross and 1246 Net. She had a sunken or half forecastle and a flush quarterdeck, her seven hatches on twelve-foot centres giving access to two cargo holds having a total capacity of 130,000 cubic feet for the carriage of grain. Two pole masts were fitted, one forward and one abaft the stack, but neither was equipped with cargo booms. Built to Class BS* (Great Lakes and River St. Lawrence) of the British Corporation, she had a full double bottom and was fitted with three watertight bulkheads and one that was not watertight. Her mean loaded draft was 14 feet.

EUGENE C. ROBERTS was powered by a surface-condensing, inverted, triple-expansion engine with cylinders of 16, 27 and 44 inches diameter and stroke of 33 inches, which gave her a speed of about ten knots. Steam at 180 p.s.i. was supplied by two single-ended Scotch boilers measuring 12 feet by 11 feet. They were coal-fired and were fed from wing bunkers filled by means of a hatch in the top of the boiler casing in the after cabin.

Like the Eastern boats, the ROBERTS had a turret pilothouse with an open bridge above. She was given a small enclosed upper pilothouse of wooden construction in 1925 and in this she exactly duplicated her sisters. The master's quarters were located in the texas cabin whilst the deck officers and crew were housed in the forecastle. Like the Eastern canallers and like so many other canal boats built about this time, the accommodations might best be described as "spartan." A captain who had served in many canallers and remembered well this particular group of ships, said that creature comforts were lacking to such an extent that the only hot water available to the crew in the forecastle was obtained from the surreptitious bleeding of steam from the line to the forward winch.

In the arrangement of deck winches, steering, etc., the ROBERTS was similar to the Eastern canallers and, indeed, to most other canal steamers. It was her outward appearance which was different, and that not in any structural manner. It was just that throughout her life, she was always in different colours than her sisterships. She always seemed to be the Eastern or Upper Lakes and St. Lawrence boat that wasn't. In fact, one former canaller skipper often referred to her as the "stolen" boat.

EUGENE C. ROBERTS was painted black of hull while her cabins were white. Her stack was black with a red band on it. This further complicates the matter of how the ROBERTS came to be involved with Mackay and the Toronto Insurance and Vessel Agency as this design was not common either to Mackay's earlier vessel operations or to that of T.I.V.A., although it was shared by WAHCONDAH, which was owned by both Mackay and the Foote interests in that order on her return to the lakes from salt water war duty in 1922.

Whatever her actual ownership, the ROBERTS was listed as being owned by the Toronto Insurance and Vessel Agency Ltd. when she was registered at Liverpool in 1924. In due course, she ran her trials on the Mersey and was delivered to Mackay who, it appears, was in control of her operation for at least the first two years of her existence. She was sent across the Atlantic to Canada under her own power in 1924 and it is likely that she made the crossing with a cargo of Welsh coal in her holds for delivery either to Montreal or to Toronto.

EUGENE C. ROBERTS entered service on the lakes on her arrival in Canada and her original management lasted through the 1925 season. During the winter of 1925-26, while laid up at Toronto, she was given the Toronto Insurance and Vessel Agency stack design, namely a black funnel with the letters T.I.V.A. in white intertwined upon it. At the same time, she was renamed (b) JAMES B. FOOTE in honour of the prominent captain from Toronto who had assumed management of the T.I.V.A. shipping interests. It would seem that it was at this time that A. B, Mackay faded from the scene, for at no further time does he appear to have been associated either with the steamer or with her owners.

Foote at this time was involved in business with David Blythe Hanna who was the first president of the Canadian National Railway Company and a director of many other firms including Canada Steamship Lines Ltd. Foote was also associated with William Schupp who was a director of the Toronto Insurance and Vessel Agency Ltd. and with George R. Donovan who was later to become president of the Union Transit Company. All were to have ships named for them.

Sometime late in 1927 or early in 1928, T.I.V.A. sought further financing of its shipping operations, probably because of the strain placed upon the pursestrings by the building for the firm in 1926 by the Furness Shipbuilding Company Ltd. at Haverton Hill-on-Tees of a trio of sistership canal steamers christened GEO. R. DONOVAN, D. B. HANNA and WILLIAM SCHUPP. The financing came via Schupp, who was a banker, and as a result, a new firm was formed, namely the Union Transit Company, Toronto, which assumed the ownership of all four vessels. It was at this stage that JAMES B. FOOTE was given new stack colours; henceforth her funnel was black with a white U.T. Co. logo on it, a design which she was to display for more than a decade.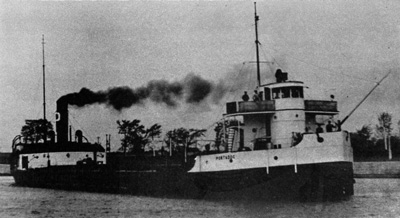 This is EUGENE C. ROBERTS as she appeared when serving in Paterson colours as PORTADOC (I). Deno photo dates to 1939 or 1940.

The FOOTE and her running mates were frequent visitors to the Toronto area throughout the late twenties and thirties, their owner managing to survive the desperate years of the Great Depression. The Union Transit Company actually lasted through to 1946 when it disposed of its last boat (the SCHUPP) but in 1939 it sold off three-quarters of its fleet. That year, the Paterson Steamships Ltd. fleet of Fort William, Ontario, was expanding its operations once again and in order to satisfy its requirements, it purchased from Union Transit the JAMES B. FOOTE, GEO. R. DONOVAN and D. B. HANNA, renaming them respectively PORTADOC, KENORDOC and COLLINGDOC. They were the first Paterson vessels to bear these names, honouring in order the city of Port Arthur and the towns of Kenora and Collingwood, Ontario. The PORTADOC and KENORDOC names were to be repeated twice by Paterson while COLLINGDOC would appear once more. Strangely enough, the second holders of all these names were to be tow barges acquired after the conclusion of the Second World War.

In any event, the FOOTE became (c) PORTADOC (I) and when Paterson took over her ownership, her registry was at last transferred from Liverpool, England, to Fort William, the actual date of transfer being April 25, 1939. PORTADOC was given the usual Paterson white forecastle and black stack with a large white letter 'P'. As far as is known, she never was to receive the diamond insignia which eventually graced the bows of most units of the Paterson fleet.

Over the years, Paterson operated a good many canallers but most of them were built by Swan Hunter and Wigham Richardson Ltd. at its various British yards and, this firm being known for the distinctive square and multi-sided pilothouses placed on the various classes of canallers it built, PORTADOC was the only canaller with a turret pilothouse ever to be operated by the Paterson fleet.

The Canadian government, however, soon stepped in and deprived Paterson of the use of the line's three newest acquisitions. All three of the former Union Transit boats were requisitioned in 1940 and were turned over to the British authorities for operation to assist the war effort. KENORDOC was lost the same year and her two mates fell victims to the war a year later. PORTADOC's turn came on April 4, 1941 when she succumbed to enemy action in the Atlantic Ocean, apparently off North Africa. She was a total loss and it is to be assumed that there was loss of life suffered in her sinking, although we have never seen mention of the same. The loss of the canallers during the war was never well publicised for obvious reasons; in addition, they were particularly vulnerable due to their light construction which was never designed to withstand the rigours of ocean passages at the best of times.

Yes, EUGENE C. ROBERTS was always a bit of an oddity amongst the canallers. She has always been particularly elusive for photograph collectors, there being few pictures of her in Union Transit or T.I.V.A. colours, only one (a 1940 Deno reproduced in this issue) of her as PORTADOC in Paterson livery, and until recently, none at all of her as EUGENE C. ROBERTS. Perhaps it is not really so surprising in view of the fact that she actually operated for only seventeen years and, of course, for only two of those under each of her first and last names. Now a major gap in Great Lakes marine photographic history has been filled and we hope that this history of the ship will fill a void as well, for the operations of A. B. Mackay and the T.I.V.A. have never been particularly well known.
---
Previous
Next
---
Return to Home Port or Toronto Marine Historical Society's Scanner
---
Reproduced for the Web with the permission of the Toronto Marine Historical Society.