It is sometimes quite surprising to take a look at the lives of some of the early iron lake package freighters, for many of them lasted for a considerably longer period of time than one would have imagined bearing in mind the fact that iron hull construction was in its infancy. Such a steamer was the vessel which was best known in her later days under Canadian registry as BICKERDIKE and MAPLEBROOK.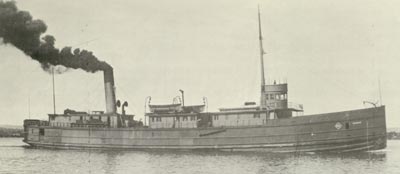 BICKERDIKE is downbound in Little Rapids Cut in this photo c. 1915 by A. E. Young.

The most famous lake vessel operators of the 1870s and 1880s were the railways which developed large fleets of steamers to transport freight and passengers in connection with their rail services. Almost all the major railways of the northern states had their own vessels, and no exception was the New York Central and Hudson River Railroad which operated a lake shipping affiliate known as the Western Transportation Company, Buffalo.

In 1871 this concern let a contract to the Buffalo yard of Gibson and Craig for the construction of an iron-hulled package freighter. As built, she measured 221.8 feet in length, 34.5 feet in the beam and 14.2 feet in depth, these dimensions giving her tonnage of 1395 Gross and 1202 Net. The steamer was duly christened ARABIA and was assigned official number U.S. 105254. ARABIA was a typical package freighter for her time. She was built of iron up to the main deck, while the topsides forming the 'tween decks and cabins were of wood. She carried an octagonal pilothouse atop the texas forward, while her single funnel was mounted well aft. Her deck was cluttered with cabins in the norman package freighter style. She was not designed to carry any passengers.

ARABIA was a rather special vessel for her owners as she was the first iron-hulled steamer to be built for Western Transportation. Even so, it does not appear that she was commissioned until 1873 and it is not certain whether they just took their time in fitting her out or whether the poor economic conditions of the 1870s conspired to keep her at the wall.

No matter what the reason for the delay, ARABIA went into service in 1873 and served her original owners well for a decade. Then in 1883 she was transferred to the ownership of the Western Transit Company which had developed from the Western Transportation Company as a wholly-owned subsidiary of the New York Central. The earlier firm had in fact been owned in part by the officers and employees of the railway. ARABIA continued to operate in the railroad's service until 1906 at which time she became classified as excess tonnage due to the construction of new and modern all-steel package freighters for the line.

ARABIA was sold in 1906 to the Montreal and Great Lakes Steamship Company Ltd. of Ottawa and Montreal, G. E. Jaques and Company, managers. She was transferred to Canadian registry as (b) BICKERDIKE, (C.121784). Her name honoured the Bickerdike family who were long associated with shipping in Montreal and for whom an area at the western end of Montreal harbour was named. Placed in the Montreal to Fort William package freight service, BICKERDIKE operated in conjunction with the Merchants Montreal Line which was a consortium of Canadian vessel owners. About 1911 she was absorbed into the newly-formed Inland Lines Ltd. which itself became a subsidiary of the Richelieu and Ontario Navigation Company Ltd. shortly before R & O was merged into Canada Steamship Lines Ltd., Montreal, in 1913.

C.S.L. continued to operate BICKERDIKE in the long-haul package freight service as had their predecessors. The company was beginning to give certain types of names to the various classes of vessels in the fleet and accordingly in 1920 BICKERDIKE was renamed (c) MAPLEBROOK, the "Maple" being a common fleet prefix and the "B" designating her as being a package freighter. MAPLEBROOK still looked much as she had in her New York Central days except that her "birdcage" pilothouse had been replaced with a somewhat more modern structure above which was located an open bridge.

In the late twenties, C.S.L. began to introduce to the Montreal - Fort William route new full-Welland-Canal-size steel package freighters. MAPLEBROOK was replaced on the run and in 1927 she was transferred to the Montreal - Windsor route for which she was given the name (d) CITY OF WINDSOR (I). She did not carry this name for long, however, because the line was building a new class of "City" express package freighters and when the Lauzon-built CITY OF WINDSOR (II) appeared in 1929, the older vessel was renamed (e) BELLEVILLE (II) in honour of the town located in Ontario's Prince Edward County.

BELLEVILLE was, however, on her last legs, her sixty years and her antiquated design rendering her increasingly less useful in her owner's service She was retired from service about 1931 and in 1932 she was sold to St. Lawrence Tankers Ltd., Quebec, an affiliate of the Canada Import Company which was owned by the Webster family of Montreal. It was intended that BELLEVILLE be converted to a tanker and to this end she was stripped of her wooden superstructure right to the main deck. It is thought that the deck was also cut off but whether this was the case or not, it seems unlikely that any further conversion work was done. In her stripped condition she lay idle for a good many years, first at Montreal and later at Quebec, until finally she was sold for scrapping. The shabby old hull was towed to Hamilton in 1942 and was cut up for scrap by International Metals Company at the premises of the Steel Company of Canada Ltd. into whose furnaces her last remains were fed.
---
Previous
Next
---
Return to Home Port or Toronto Marine Historical Society's Scanner
---
Reproduced for the Web with the permission of the Toronto Marine Historical Society.