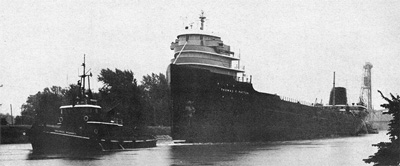 The three "Red Tomatoes" bid farewell to the lakes, downbound in the Welland Canal with SALVAGE MONARCH and HELEN M. McALLISTER. THOMAS F. PATTON at Allanburgh, August 14. Photo by the Editor.

All three of the Republic Steel Corporation's converted C-4s have now left the lakes. First to go was THOMAS F. PATTON, which was fetched from Toledo by SALVAGE MONARCH and HELEN M. McALLISTER and passed down the Welland Canal on August 14. The same tugs returned to pick up CHARLES M. WHITE and TOM M. GIRDLER from Lorain, WHITE going down the Welland on August 25 and GIRDLER on September 4. PATTON and WHITE left Quebec in tandem tow of the tug FAIRPLAY IX on September 8 while GIRDLER cleared on September 16 behind HANSEAT and, although their official clearance report showed a destination of "Spain for Scrap", there have been persistent rumours that they may actually be destined for operation under the flag of Pakistan. If true, this would explain why all three ships left the lakes with all of their equipment intact. The only major items removed were one nameboard each from WHITE and GIRDLER and the triple-chime steam whistle from PATTON. Relief was expressed by all when it was noted that this latter relic, a veteran of many years on J. E. UPSON, had been removed and would remain in the area. We would be interested in knowing where the whistle went and whether it will be placed on display.

CHARLES M. WHITE at Port Colborne, August 25. Photo by J. H. Bascom.

The gradual exodus from the lakes of the flock of tinstackers sold in 1980 for scrapping continues, whilst D. M. CLEMSON and THOMAS F. COLE await the torch at Thunder Bay. J. P. MORGAN JR. and EUGENE J. BUFFINGTON passed down the St. Mary's River on July 15 bound for Milwaukee where they were to load scrap but, by July 27, BUFFINGTON was at Port Huron, not loaded, and moored at the Malcolm tug dock. On August 5, DARRYL C. HANNAH and BARBARA ANN took ALVA C. DINKEY down the Soo Canal and she, also, went to Milwaukee. Next to go was GOVERNOR MILLER, which was down the Soo on August 14, also bound for Milwaukee. Also on August 14, during the evening, DARRYL C. HANNAH appeared off the Port Colborne piers, seeking downbound transit of the Welland Canal with the loaded MORGAN JR. in tow. The Seaway Authority denied passage to the tow because of its improper condition and MORGAN was taken around to Buffalo where she was moored pending clearance.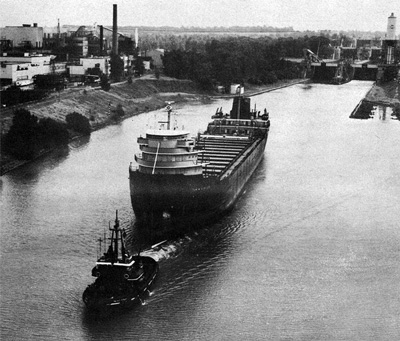 TOM M. GIRDLER at Bridge 5, September 4. Photo by James M. Kidd.

On August 22, ALVA C. DINKEY was anchored in the St. Clair River at Recor's Point with BARBARA ANN and TUG MALCOLM in attendance. The following day, BUFFINGTON passed down the river with BARBARA ANN and PAUL E. NO. 1. Not long thereafter, DINKEY came downriver with TUG MALCOLM and BARBARA ANN. The tows were anchored near the Detroit River Light and, in due course, DINKEY was taken to Buffalo and moored there with MORGAN JR. BUFFINGTON passed down the Welland Canal during the night of August 26-27 with BARBARA ANN on the bow and STORMONT and PAUL E. NO. 1 on the stern. The latter tug returned upbound once the tow was on Lake Ontario and ARGUE MARTIN assisted to Montreal. At last report, BUFFINGTON was still at Montreal, awaiting a tow to Lauzon for a scrap cargo for overseas delivery. MORGAN JR. passed down the Welland on September 5 with BARBARA ANN, STORMONT and ARGUE MARTIN, also bound for Montreal.

Then, on September 14, GOVERNOR MILLER was observed moored at Malcolm's dock at Port Huron, light and awaiting downbound tow. She had encountered trouble downbound on Lake Huron in tow on September 9 when she began to take in water through a ruptured seacock in the engineroom. Massey Marine came to her aid the following day and pumped her out. On September 15, the tug TUSKER left her Toronto dock en route to Duluth where she was to take D. G. KERR in tow for the haul straight out through the Seaway (and perhaps all the way to Spain). KERR, the last boat involved in the scrap sale, had previously been moved from Duluth to the Northern Pacific dock at Allouez and then back to the Hyman-Michaels dock at Duluth where she loaded scrap. By the end of September, it was evident that KERR was on the move but that the other scrap tows of tinstackers had been frozen as a result of an injunction granted to Malcolm Marine for the alleged non-payment of towage fees.

EDGAR B. SPEER, the newest boat of the U.S. Steel fleet, ran sea trials on August 26 and again on September 3 and 17. It was anticipated that she would enter service in late September, at which time several of the LEON FRASER class of "Supers" might either be laid up or sent down the Seaway with grain.

Collingwood Shipyards Ltd. has been very busy in recent years with new construction. The welter of orders awarded to the yard has produced much confusion for historians and, to keep the record straight, there follows a list of hulls presently on order or recently delivered:

218 - NANTICOKE, C.S.L., self-unloader. Delivered June 1980.

219 - ALGOWOOD, Algoma Central, self-unloader. To be launched October 1980.

220 - POINTE SEPT-ILES, Eastern Canada Towing, tug. Delivered 1980.

221 - CARTIERCLIFFE HALL, Hall Corp., rebuild only. Delivered 1980.

222 - C.S.L., self-unloader. Delivery June 1982.

223 - Nipigon Transports Ltd., straight-deck bulker. Delivery July 1981.

224 - Algoma Central, self-unloader. Delivery August 1983. Bow and stern to be built at Collingwood and joined at Thunder Bay to midsection built there.

225 - C.S.L., self-unloader. Delivery September 1983.

226 - Algoma Central, straight-deck bulker. Delivery July 1982.

227 - C.S.L. straight-deck bulker. Delivery April 1984.

228 - C.S.L. self-unloader. Delivery April 1985.

The last two entries on the list are a complete surprise, especially the straight-decker. As we understand it, they are only tentative at present, confirmation of the orders being abeyanced pending word from Ottawa concerning possible changes in shipbuilding subsidies.

On October 7, Collingwood will launch the newest Algoma Central self-unloader (one of three hulls currently on order for A.C.R., two self-unloaders and one straight-decker). It was originally suggested that she be christened either ALGOSTEEL or ALGOISLE (ugh!), but it has been decided that she will be named ALGOWOOD. We do not know why this particular name was chosen but we approve.

In recent years, it has been rumoured that the famous steam tug EDNA G. of the Duluth, Missabe and Iron Range Railway, would soon be retired from her duties at Two Harbors, Minnesota. It was, accordingly, with great pleasure that we received word of the D.M.&I.R. announcement that EDNA G., a veteran of 1896 and coal-burning as well, will remain in service for at least a bit longer. Although the tug will undoubtedly face retirement "in the future years", there are no immediate plans for her withdrawal. The railway has confirmed that, when retired, EDNA G. will be displayed in Van Hoven Park, on the Two Harbors waterfront, provided that the city agrees to maintain her permanently in a style befitting her historic status.

The former Q & O steamer HELEN EVANS, which had been lying at Strathearne Terminals at Hamilton since late 1979. departed for Quebec behind DANIEL McALLISTER on August 30. The tow was met off Cape Vincent by CATHY McALLISTER which assisted in the river. DANIEL returned after completing the tow and, on September 4, cleared Hamilton with THORNHILL, CATHY McALLISTER again helping in the river. EVANS and THORNHILL cleared Quebec in tandem tow of the tug CAPT. IOANNIS S. on September 17. EVANS, (a) JAMES LAUGHLIN (65), and THORNHILL, (a) ISHPEMING (66), were both built in 1906 by the Great Lakes Engineering Works at Ecorse, Michigan.

PIERSON INDEPENDENT arrived at Santander, Spain, on June 11, 1980, and made the Atlantic crossing in single tow. Before she cleared Hamilton, her name was painted off wherever it appeared and the "Soo River Company" was removed as well, all but for the single word "Company". We had thought that this was nothing more than an oversight on the part of the painters, or an effort to avoid painting out anything that did not need to be hidden. As it developed, however, the boat was actually renamed (f) COMPANY before she left Canadian waters. There have been some odd renamings on the lakes in the past, but this is surely one of the strangest!

J. F. SCHOELLKOPF JR., which was towed down the Welland Canal on June 17 by McAllister tugs on June 17 after her month-long stay at Ramey's Bend, cleared Quebec for the Atlantic tow on June 27. We have no report as yet on her destination or arrival date.

For several years, devotees of backwater steamboating have been anxiously awaiting the return to service of the Muskoka Lakes passenger steamer SEGWUN, (a) NIPISSING (II). One of the last two of a large fleet of boats which once operated on Lakes Rosseau, Joseph and Muskoka, she last ran in 1958. She subsequently served as a marine museum at Gravenhurst, Ontario, and recently has been completely refurbished with financial support from the Ontario Roadbuilders' Association and the Ontario government. The reactivated SEGWUN is to run day excursions out of Gravenhurst as well as longer cruises which would see her dock overnight at area hotels. She was to run sea trials in early September but cracked a valve during dock trials in late August. A replacement was obtained and sea trials are now scheduled for early October. It is hoped that SEGWUN will be ready to re-enter service in 1981 and that the 93-year-old steamer's melodious chimed whistle will again be heard echoing through the hills of Muskoka.

At the time of writing, the G-tug OHIO was scheduled to depart Rogers City on September 23 with the self-unloader IRVIN L. CLYMER in tow. U.S. Steel requires CLYMER to assist with a contract for hauling salt and Fraser Shipyards will completely refurbish the long-idle steamer at Superior, Wisconsin.

A strange tug took up residence at Toronto during August. She is TUSKER, 130.0 x 33.6 x 14.9, 393 Gross, which was built in 1958 at Aberdeen, Scotland, by A. Hall for North Sea service. She has always carried the same name and, originally enrolled as Br.178473, she is powered by two British Polar diesels. By 1976, she was owned by Adelaide Steamships (Pty.) Ltd. of Port Adelaide, Australia. She has recently been purchased by McAsphalt Marine Ltd. of West Hill, Ontario, a subsidiary of McAsphalt Industries Ltd. This firm supplies paving materials and maintains dock space on the north side of the Toronto ship channel. TUSKER was acquired for general towing purposes but her high bridge would make her suitable for pushing a barge carrying McAsphalt materials. Her first major job was to tow the old tinstacker D. G. KERR all the way out of the lakes from Duluth.

The Soo River Company's pride and joy, the coal-fired ROBERT S. PIERSON, was laid up at Port Colborne in early July with mechanical problems and then went on the Port Weller drydock on August 25 for routine inspection. During mid-July, she appeared at Victory Mills, Toronto, with soya beans. While she unloaded, the smoke billowing from her stack aroused the ire of persons riding the Royal Canadian Yacht Club launch (jackets and ties, please!) which docks at the foot of Parliament Street, opposite the elevator. Not only were several formal complaints laid, but someone even went so far as to call the Fire Department! Nevertheless, with coal a more economical fuel these days than oil, we understand that Soo River has considered the purchase of additional coal-fired boats.

The Westdale self-unloader SILVERDALE has been resplendent this summer in a new coat of paint, with her name emblazoned on the front of her triple-deck forward cabin. NORDALE, however, looks shabby and is sorely in need of some paint. Both steamers are due to be drydocked this autumn. ERINDALE has been delegated to take the place of the idle and boomless BROOKDALE, now that the Westdale fleet has been reduced to three operating ships. BROOKDALE, meanwhile, lies idle at Toronto, where she has been since her withdrawal from service after the loss of her boom in a windstorm on July 16. At the time of the accident, she was loading salt at the Canadian Rock Salt Co. dock at Ojibway (not at the Ryan dock, Windsor, where HOCHELAGA had earlier lost her boom). BROOKDALE was unbuttoned forward during the week of August 25 for the shooting of a film aboard, but she was then closed up again and has since remained lifeless. As of mid-September, no decision had been made on her future, but it was evident that Westdale was seeking a replacement so as to avoid the expensive repairs required by BROOKDALE. Westdale has paid particular attention to the idle Columbia Transportation self-unloader J. R. SENSIBAR. This seems odd, for SENSIBAR, built in 1906, is three years older than BROOKDALE and is reputed to be in less than pristine condition.

Duluth scrappers continue to cut away at old U.S. Steel steamers at the Hyman-Michaels yard. By late August, JAMES A. FARRELL was three-quarters dismantled and the cut-down hulls of RICHARD TRIMBLE and PERCIVAL ROBERTS JR. had been moved back to the scrapping slip for final cutting. WILLIAM B. SCHILLER is still on the face of the dock and has not yet been touched.

As reported earlier, the tandem tow of ROYALTON and MARINSAL cleared Quebec on May 31 with HANSEAT. ROYALTON arrived safely at La Spezia on June 25, but no mention is made of MARINSAL nor is there a record of her as a casualty. We presume that MARINSAL indeed arrived at Spezia the same day.

The former Westdale self-unloader PINEDALE, which had been lying at Toronto since her return from the Pitts Construction site at the Wesleyville Hydro plant on May 27, left Toronto on August 19 in tow of STORMONT. PINEDALE was taken to Strathearne Terminals at Hamilton and, by early September, her stack and after cabin had been cut away. It is apparent that her condition was so bad that an overseas scrap tow could not be considered.

MERLE M. McCURDY, idle in Toledo's Frog Pond since early in the season, returned to service during the summer, passing upbound at the Soo on her first trip on August 14. Most observers had thought that McCURDY would never run again and are pleased to see her active. We understand that Kinsman will have several grain cargoes down the Welland to Oswego this fall; only FRANK R. DENTON, C. L. AUSTIN and ALASTAIR GUTHRIE have Welland Canal clearance, so one or more of these may appear in the canal.

The former Cleveland-Cliffs steamer FRONTENAC, sold to Fraser Shipyards after her grounding at Silver Bay late in 1979, is lying at Superior awaiting an uncertain fate but the scrapyard seems not far away. Even if FRONTENAC is dismantled, her relatively new pilothouse will survive, for it has been donated to the Great Lakes Maritime Academy at Traverse City, Michigan. As of late September, the house was still on FRONTENAC, but it had been stripped of much equipment by Cliffs before the hull was soldo

Accidents, while undesirable, are a fact of life in the operation of a major canal. The Welland Canal has a good safety record but, during August, there came a period which canal personnel will wish to forget quickly. Three major accidents occurred in as many days, a situation without equal in recent memory. On August 4, an electrical malfunction brought Bridge 19 at Humberstone down on the starboard bridgewing of SCAN CRUSADER; the span sustained extensive damage. On August 5, a crewman from JEAN PARISIEN fell into Lock 7 while boarding his ship. The lock crew immediately put blocks between the vessel's side and the wall but could not prevent the man from being killed. On August 6, FRONTENAC was downbound with ore for Hamilton when she struck the west wall above the Guard Gate at Thorold, knocking a section of the wall into the canal. An interesting side effect of the damage to Bridge 19 has been that, for the first time in many years, the public has been allowed on a Welland Canal lock wall and gate. With the bridge raised, a walkway was set up to accommodate pedestrian traffic over the lower lock gate. Photographers have thus been able to venture onto the Lock 8 wall itself for pictures. This development brings back memories of the days when the public was permitted access to all of the lock walls and when crossing on the gates was routine.

The C.S.L. package freighter FORT CHAMBLY, upbound in the St. Mary's River in the early morning of August 20, wandered out of the channel near Six-Mile Point, below Little Rapids Cut, and became stuck in the muddy bottom. Some 100 tons of fuel were offloaded but she remained fast in the mud. The U.S. Coast Guard permitted EDWARD L. RYERSON to pass close by downbound at a higher than normal speed in an effort to create sufficient wash to float FORT CHAMBLY free, but all that was accomplished was to stir up a storm of protest from locals who complained about damage to docks and shorelines. Four local tugs and U.S.C.G. KATMAI BAY finally managed to haul the boat free of the mud during the evening of August 21.

E. M. FORD, the victim of severe damage in a Christmas Eve, 1979, sinking at Milwaukee, was on the drydock at Sturgeon Bay from March 6 until May 3. A ceremony of the blessing and rededication for the FORD was held at the shipyard on July 31 and the 82-year-old steamer re-entered service on August 7. For a while last winter, it had been thought that the damage to the cement carrier was too extensive to warrant repair.

In the Mid-Summer issue, we erroneously reported that LAKE WINNIPEG was taken to the Davie Shipyard at Lauzon for repairs after her accidents at Duluth and DeTour earlier in the year. In fact, LAKE WINNIPEG was placed on drydock at Port Arthur Shipyards and spent virtually the entire summer there. She was still at the shipyard into September.

ONTARIO POWER was to go on the Port Weller drydock during the summer but the shipyard was too busy to accommodate her, with CAPE BRETON MINER occupying the dock for most of the spring and summer and IMPERIAL ST. CLAIR on the blocks for a month for a major refit. MINER finally cleared the yard on August 25. ONTARIO POWER, meanwhile, arrived on July 31 at Toronto and went to the north wall of the Leslie Street slip where work was begun; she was still there late in September. Port Weller was forced to turn away much work this year due to overcrowded facilities, but repair work was completed on the fitout wall in cases where drydocking was not required.

Canada Steamship Lines, Algoma Central Marine, and Upper Lakes Shipping all have recently voiced support for the construction of one or more Canadian shipyards above Port Colborne which would be capable of building and servicing 1,000-footers. Collingwood Shipyards and Port Weller Dry Docks could build such hulls in sections but there is no yard on the Canadian side of the upper lakes at which they might be joined or later drydocked for repair. Collingwood has been seeking federal assistance to expand its yard and Port Weller has been asking for help in building a new yard on Lake Erie.

Last issue, we had space for only a brief report of the ALGOBAY - MONTREALAIS collision. We can now give more detail of its aftermath. MONTREALAIS limped off downbound and unloaded part of her ore cargo at the R & P dock in Port Colborne. This ore was later delivered to Hamilton by GORDON C. LEITCH. Meanwhile, MONTREALAIS, lightered sufficiently for her to transit the canal, passed downbound on June 30 with the help of the shipyard tug, JAMES E. McGRATH. She unloaded at Hamilton and returned to Port Weller on July 1, laying up on the fitout wall. Within a week, all damaged steelwork was removed back to the front of the forward cabin, including bow plates on both sides from the light waterline to the forecastle rail plus the bridge rail. Reconstruction progressed slowly and was still underway during September. ALGOBAY was repaired at the Welland Dock by Herb Fraser and Associates.

The Upper Lakes Shipping steamer JAMES NORRIS arrived at Toronto on July 5 and laid up on the east wall of the turning basin. Business conditions being poor, she was idled pending a self-unloader conversion this winter at Port Weller. On September 2, she was towed out of Toronto and across the lake. She was immediately drydocked, not because of her impending conversion but rather because the tugs let her strike the wall below Lock 1, an impact which did considerable damage to her bow.

In past years, numerous lake tankers have come to Toronto for the lining of their tanks with anticorrosive material. The latest of these was TEXACO CHIEF, which lay on the south wall of the Leslie Street slip from August 16 until September 5. On her arrival, the idle MARLHILL was moved out of the way to a position alongside ONTARIO POWER on the north wall.

The Toronto excursion steamer BLUE WATER BELLE operated fairly frequently during August, although not every evening by any means. Sherwood Marine allocated to her each charter involving more than 400 persons, with a charge of $15 per person required. BLUE WATER BELLE looks very handsome on the lake with revellers dining on her forward cardeck and dancing on the upper deck. Her chimed whistle is a delight to the ear but is heard only rarely.

The necessity for channel improvement to preserve commercial navigation to Wallaceburg was again highlighted during August. On the 8th, FRANQUELIN, inbound in the Chenal Ecarte, fouled a channel marker and damaged her steering. On the evening of the 9th, she and tug GLENADA, outbound, spent the night at the Dark Bend, rather than clearing the channel, because of a swarm of mosquitoes emanating from the Walpole Island marsh. Upbound in Lake Huron bound for Midland on August 10, FRANQUELIN had to call for help because of steering problems directly attributable to her earlier encounter with the buoy. On August 13, NEW YORK NEWS was entering the Chenal Ecarte when she had to stop for fog. She swung across the channel, brushed the salty SAMARU, and stuck firmly with bow and stern wedged against opposite banks. She was eventually freed by tugs MARGARET M. HANNAH and McMAR.

The veteran sandsucker AMERICAN, which has been shunted from one Lake Michigan port to another during the past few years, has been moved again. She cleared Manistee on July 11 in tow of the tug LENNY B. and is now moored in the Calumet River at Chicago. She will be reduced to a barge by the Calumet Marine Towing Company which also owns LENNY B. Now much the worse for her many years of idleness, AMERICAN was built in 1921 at Manitowoc and was operated by the Construction Aggregates Corporation.

Marine Salvage Ltd. completed the dismantling of GEORGE M. STEINBRENNER (II) during the summer and the Ramey's Bend scrapyard is now empty. The company is looking for other boats to scrap but is not interested in any more self-unloaders, particularly ones with their nether regions filled with cement!

As business conditions continue poor, many lakers remain idle but, with vessels laying up and then coming out again, the situation is too complicated for a detailed report in these pages. One particularly interesting lay-up was the Interlake Steamship Company's HARRY COULBY. She ran steadily, often in the grain trade, until August 10, when she tied up at the old DeTour coal dock on Spring Bay in the St. Mary's River and her crew was sent home aboard another vessel. The dock, owned by Pickands Mather, has not been used for several years and COULBY is the first ship to visit it in a considerable period of time. DeTour is an extremely remote area in which to lay up a steamer as large as HARRY COULBY. Her crew reported back on board on August 27 and the ship soon re-entered service.

FORT YORK was returned to service on August 20 after lying idle at the foot of Sherbourne Street, Toronto, since July 9. During her inactivity, the only C.S.L. package freighters running on the lakes were FORT CHAMBLY and FORT WILLIAM.

CORAH ANN, the former MONDOC (III), has been operating on salt water ever since she was sold out of the Paterson fleet. She was observed during June, lying at the Napoleon Avenue wharf at New Orleans. She looks much as she did during her Paterson years, the only major difference being the addition of a leg to the 'P' on her stack to transform it into an 'R'.

Contrary to our Mid-Summer report, EDWARD B. GREENE did not head immediately for her self-unloader conversion at Toledo during mid-July. Instead, she was drydocked at Superior by Fraser Shipyards and then sailed downbound with ore. She arrived at the Toledo yard of AmShip on August 7th.

The restoration of the venerable carferry LANSDOWNE was resumed this spring and continues slowly at Detroit, the eventual goal being her use as a restaurant, complete with dining cars on deck. It was hoped that she would be ready for the July 14 opening of the Republican national convention at Detroit, but this was not to be.

Misener Holdings Ltd. began construction this summer of a bulk trans-shipment centre at Gros Cacouna, 280 miles northeast of Quebec City. The port project, expected to cost $370-million, is to be built in three stages and completed during the late 1980s.
---
Previous
Next
---
Return to Home Port or Toronto Marine Historical Society's Scanner
---
Reproduced for the Web with the permission of the Toronto Marine Historical Society.