In these days of thousand-foot lakers, specialized self-unloaders, and computerized navigation, there is much interest amongst marine historians in the old canallers, those famous vessels that began to disappear two decades ago. The canallers are particularly interesting to those historians who have come on the scene since the demise of the old canals and the boats that were built to fit them, but they are also fondly remembered by those of us who saw them so often as they shuttled back and forth with their cargoes of grain, coal, or anything else that needed moving from one place to another. There was always something fascinating about the informal operation of most of the canallers; there were few rules or regulations and the steamers simply went about their tasks by whatever methods were found to be most successful at the time.
WILLIAM C. WARREN unloads at the Canada Coal Company dock at Toronto. Photo, dating from 1937, by J. H. Bascom.

One of the best-known operators of canal steamers was the Eastern Steamship Company Ltd. of St. Catharines, Ontario, a corporation which was formed on December 22, 1922. Its founding fathers were Judge Louis B. Hart, John J. Rammacher, Edwin T. Douglass, John B. Richards, Norman P. Clement, G. J. Grammer, and the latter gentleman's son, Nisbet Grammer, who also was president of the Eastern Grain, Mill and Elevator Corporation of Buffalo. All were involved in the grain business and, as well, all were associated with the firm of Boland and Cornelius, Buffalo vessel managers. They formed the new company in order to operate ships that would be capable of moving to eastern ports the grain which the upper lakers were forced to unload at such ports as Buffalo and Port Colborne. This trans-shipment, of course, was necessitated by the inability of upper lake boats to transit the small locks of the old Welland and St. Lawrence Canals. Nisbet Grammer was named to the position of president of the Eastern Steamship Company and, not surprisingly, Boland and Cornelius became the operating managers.

The company's founders were grain dealers rather than vessel operators and were experienced neither in the running of steamboats nor in their construction. Accordingly, on the day that Eastern was incorporated, an arrangement was made with the well-known Hamilton entrepreneur, A. B. Mackay, to obtain the required vessels. Mackay was also named to the position of chairman of Eastern. He was charged with the job of obtaining ten new steam-powered canallers and immediately set the wheels in motion in Great Britain to do the necessary. Dealing through A. G. Jones of Messrs. H. E. Moss and Company of Liverpool, contracts were let to five British shipyards, each of which constructed two boats. All of similar design, they were built in 1923 and soon were in operation on the lakes.

Eastern's management was justifiably proud of its new steamers but soon realized that even more ships would be needed in order to take care of the large volume of grain which was moving eastward via the St. Lawrence River. Once more, the company looked to British shipyards which were becoming quite experienced in the mass construction of canallers for Canadian operators. Two contracts were let, these going to firms which had been involved in the construction of the original ten ships. The new orders called for four hulls to be built by Earle's Shipbuilding and Engineering Ltd., Hull, England, and three by Napier and Miller Ltd. of Old Kilpatrick, Glasgow, Scotland. It was soon evident that more ships were required and so the contract for Earle's was increased to six vessels, while Napier and Miller were called upon to build five.

The third of the Napier and Miller boats was the yard's Hull 249 and was launched on March 30, 1925. She measured 253.1 feet in length, 43.2 feet in the beam, and 17.9 feet in depth, her tonnage being measured as 1745 Gross and 1233 Net. She was powered by a triple-expansion engine with cylinders of 17, 28 1/2 and 47 inches, and a stroke of 33 inches. Steam was provided at 180 p.s.i. by two coal-fired Scotch boilers measuring 12 feet internal diameter by 11 feet in total length. This arrangement gave the ship a maximum speed of approximately 12 miles per hour. The boilers and machinery were built for the vessel by D. Rowan and Company Ltd., Glasgow.

The new steamer was enrolled in the spring of 1925 as C. 148851 and was christened WILLIAM C. WARREN. She was named for William Candee Warren, a Buffalo financier and newspaperman, who was also a director of the Eastern Steamship Company Ltd. as a result of his interest in the Buffalo grain business. Warren was a descendant of one of the original settlers who came to America on board the MAYFLOWER.

To describe the WARREN, we can do no better than to quote from the June 1925 issue of "Canadian Railway and Marine World" which reported the commissioning of Eastern's new boats. "Arrangements are made in the (half or sunken) forecastle for the accommodation of the linesmen and officers, with the captain's accommodation and small deck saloon above (in the texas cabin), the pilothouse being built on the flying bridge above this erection. A large deckhouse is fitted aft, enclosing the machinery casings, and with accommodation for the engineers, steward, firemen, saloon, galley, pantries, etc. Five powerful steam winches are fitted for manoeuvring purposes and working the breast and stern ropes. A powerful steam windlass is fitted on the forecastle deck for working the anchors and steam snubbing winch reel for hauling in the snubbing wire. The holds are free from all obstructions and seven hatches are arranged for the rapid loading and unloading of cargo. The machinery is placed as far aft as possible to obtain the maximum length of holds (with a capacity of 133,000 cubic feet). Water ballast is carried in a cellular double bottom fitted all fore and aft; the two peaks are also arranged for water ballast. Electric lighting is fitted throughout, both in the accommodation and in the holds. The ships are built to the requirements of the British Corporation rules for steamships trading on the Canadian Great Lakes and River St. Lawrence, and in accordance with the Board of Trade requirements for cargo steamships."

WILLIAM C. WARREN carried two pole masts, one immediately abaft the pilothouse and the other located far aft, well behind the stack. The masts were given virtually no rake and, in this regard, they matched the stack which was of medium height although rather scrawny. The bunker hatch was located between the stack and mainmast. The anchors were carried in pockets placed well forward at the shelter deck level. WARREN, like all the Eastern vessels built at this time by both shipyards, differed from the company's earlier ships in that she carried a round-fronted pilothouse above a square texas cabin. The previous boats were all built with "turret" pilothouses and open navigation bridges.

The WARREN was painted in what had come to be the normal colours for Eastern Steamship Company boats, although the earlier ships had been painted differently at the time of their entry into service. WARREN's hull was black, while forecastle and deckhouses were white. The stack was black with a wide white band on which was painted a large black letter 'E'.

WARREN ran her trials and was duly accepted by her owner. Soon thereafter, she loaded a cargo of coal and sailed across the Atlantic under her own power, arriving at Montreal on May 7, 1925. She arrived five days too late to participate in a mass christening of the Eastern fleet which was held May 2 at Montreal, the boats being sponsored at the ceremonies by Nisbet Grammer. One of her sisterships was there, this being NORMAN B. MacPHERSON (Napier and Miller's Hull 247), which had sailed into Montreal on April 27, The second sister, JOHN B. RICHARDS (Hull 24l), did not arrive at Montreal until two days after the WARREN. The two additional vessels built for Eastern by Napier and Miller, CHARLES R. HUNTLEY (Hull 255) and JAMES STEWART (Hull 256), were rather later in their maiden arrivals in Canadian waters.

WILLIAM C. WARREN stopped briefly at Montreal but did not unload there. Instead, she proceeded to Toronto and unloaded her coal cargo at the old Milnes coal dock which was located near the foot of Church Street. She was then placed in full commission and served Eastern well over the following decade. We know of only one untoward incident involving WARREN during her years under the Eastern houseflag. She was downbound in Lake Ontario on May 15, 1927 with a cargo of grain consigned to Montreal. In dense fog, she wandered off course and stranded near Salmon Point. Soon refloated and returned to service, she suffered little damage in the grounding.

The Eastern fleet fell on hard times during the Great Depression and it was this reversal of business conditions that eventually led to the winding-up of the company's affairs. During the 1930s, the Eastern vessels operated only spasmodically, there being little grain to move. The boats were carefully rotated so that all saw some service and to avoid mechanical deterioration, but most of them spent long periods of idleness in Muir's Pond above old Lock One at Port Dalhousie. It was during one of her infrequent periods of operation that, on April 21, 1931, WILLIAM C. WARREN was accorded the honour of being the first vessel to pass downbound through the new Welland Canal.

Finally, in April 1936, WARREN and the entire Eastern Steamship Company fleet were sold to the Upper Lakes and St. Lawrence Transportation Company Ltd. of Toronto. The only Eastern boat not included in the sale was NISBET GRAMMER, for she had been lost by collision on Lake Ontario on May 31, 1926. Upper Lakes did not rename any of the ships but painted them in its own colours with black hulls, white cabins, and green stacks with a white band and a black smokeband at the top. In 1938, these stack colours began to be exchanged for the more familiar red and black design.

WARREN continued to serve much as she had for Eastern. In 1940, she was fitted with two kingposts equipped with cargo booms so that she might be used to carry pulpwood and newsprint, trades in which many canallers engaged at one time or another during their careers. WILLIAM C. WARREN assisted in the war effort on salt water, being painted gray for these special duties, but she managed to survive the war years without falling victim either to enemy action or to the rigours of navigation on the high seas. In this, she was rather more lucky than six of her fleetmates, for FRANK B. BAIRD, ALBERT C. FIELD, JOHN A. HOLLOWAY, WATKINS F. NISBET, ROBERT W. POMEROY and GEORGE L. TORIAN all failed to return from the war.

WILLIAM C. WARREN, like her surviving sisterships, returned to her usual trades on the lakes and St. Lawrence River after the cessation of hostilities. Her kingposts and cargo booms were removed in 1945 and she looked then much as she had before the war. But if the wartime years and the unexpected hardships had failed to get the better of the WARREN, her luck changed rather drastically once peace returned. The 1947 season proved to be her undoing and very nearly brought her career to an untimely end.

The month of November is noted for nasty weather on the Great Lakes. On November 7, 1947, WILLIAM C. WARREN was downbound on Lake Huron with a late-season cargo of grain for Montreal. She was caught in an autumn gale and snowstorm and, as a loaded canaller was not blessed with an overabundance of power even under normal circumstances, her master decided to seek shelter near Presque Isle Point. Five other lakers were sheltering there as well and did so safely, but the WARREN drifted ashore and went hard aground. Her crew was rescued without loss of life.

WILLIAM C. WARREN was, however, very seriously damaged. The Great Lakes Towing Company sent tugs and its big wrecker FAVORITE to the scene but they were unable to free the steamer. The Upper Lakes and St. Lawrence Transportation Company Ltd. accordingly decided to abandon her to the underwriters as a constructive total loss. The late-season weather conditions prevented further salvage efforts for the remainder of 1947 and so the WARREN spent the winter ashore. It is said that, once the lake surface was frozen out to where the steamer lay, the local farmers availed themselves of the opportunity to visit the ship and, in the process, to carry off portions of her grain cargo for use as feed. The remainder of the cargo was sold and, between February 20 and 27, it was blown ashore via a pipeline laid over the ice.

The WARREN was purchased by Beaconsfield Steamships Ltd., Montreal, on April 1, 1948 on an "as is, where is" basis. With the advent of improved weather conditions during the spring, salvage efforts began anew and the engineroom, which had been flooded deliberately in order to keep the wreck from pounding on the bottom in heavy seas, was pumped out. In due course, the ship was freed from Presque Isle Point and, once refloated, was towed to Collingwood, where repairs were undertaken by the Collingwood Shipbuilding Company Ltd. She was put back into operating shape according to Beaconsfield's specifications and it was probably at this time that her pilothouse was slightly enlarged, although it retained the same basic structure. In addition, she was given a new stack which, although about the same height as the original, was of considerably greater diameter.

When WARREN re-entered service, she looked much better than she ever had in Upper Lakes and St. Lawrence colours, this being principally a result of Beaconsfield's interesting paint scheme. WARREN's hull was now red, while her forecastle and deckhouses were a brownish-buff colour. The stack was the same colour as the cabins, with a black smokeband at the top. Although the mainmast was all black, the foremast was buff with a black top and, when kingposts and cargo booms were put back aboard the WARREN during the winter of 1950-51, these were painted in the same manner. The result was a vessel which not only looked extremely good but was also readily distinguishable at a distance from all of the other canallers then operating.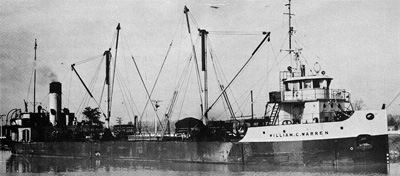 The date is October 22, 1958, and the WILLIAM C. WARREN is downbound above the Cedars Lock in the old Soulanges Canal. Photo by J. H. Bascom.

As far as we are aware, WILLIAM C. WARREN was involved in only one major accident whilst under Beaconsfield ownership. On June 7, 1958, she was upbound in the Welland Canal with a cargo of iron ore from Contrecoeur for Ashtabula. Near Port Robinson, she was in collision with the Colonial Steamships Ltd. upper lake bulk carrier ROYALTON, and her bow was stove in. She managed to make her way up the canal to Port Colborne, where her cargo was unloaded, and she then returned to Port Weller for repairs.

Beaconsfield got a good decade of service from WILLIAM C. WARREN but the writing was already on the wall for the majority of the canallers. The construction of the St. Lawrence Seaway was progressing well and soon the trans-shipment of grain and other commodities would no longer be necessary. As well, many of the canallers were beginning to show the effects of years of none-too-gentle handling in the old canals. When at last the Seaway opened in 1959. many canallers were immediately retired; some of the fleets kept a few of their canallers in service simply because they did not have sufficient tonnage to operate without them, but even these last few stragglers found their way into permanent lay-up within a few short years.

The WARREN ran briefly after the opening of the Seaway, but she could no longer be operated economically. She was laid up at Sorel, Quebec, during 1961 and she remained at the wall there until 1963 when Beaconsfield, realizing that her economic viability was at an end forever, sold her for scrapping. She was towed to Montreal by Simard tugs on October 7, 1964 and, during the winter of 1964-65, she was broken up in the Montreal Drydock by the St. Lawrence Iron and Metal Company. Her end came exactly forty years subsequent to her construction; she had lived a good life in the service of her three owners.

Right to the end, the WARREN retained one small peculiarity which, in all probability, very few persons ever noticed. Her name was always painted on her bows with a period after the word "William". There was no logical reason for the period to be there, as the word was not abbreviated in any manner, but it was not unusual for a ship's name to be inscribed this way in bygone years. The WARREN was one of the last lakers to display this feature

Interestingly enough, one of WARREN's sisterships is still in existence, as is one of the Napier and Miller boats dating from 1926. NORMAN B. MacPHERSON, sold by Upper Lakes and later renamed LOADMASTER, serves today as the dredge ILE D'ORLEANS, owned by the J. P. Porter Company Ltd. CHARLES R. HUNTLEY, owned by Canpac Leasing Ltd. and operated by McNamara Construction, serves in a similar capacity, still under her original name. Both of these vessels, however, have since lost their steam machinery and are now pushed about by means of diesel outboard units. They are only rarely in service these days and we rather doubt that either will survive much longer. Even so, they have outlived WILLIAM C. WARREN by a decade and a half, albeit in a trade far different from that for which the Eastern Steamship Company Ltd. had them built.

(Ed Note: We wish to acknowledge with gratitude the assistance of T.M.H.S. Chief Purser James M. Kidd in the preparation of the material for this feature.)
---
Previous
Next
---
Return to Home Port or Toronto Marine Historical Society's Scanner
---
Reproduced for the Web with the permission of the Toronto Marine Historical Society.