For the last two years, the Canada Steamship Lines package freighter FRENCH RIVER has lain idle at Hamilton and there have been many rumours making the rounds concerning her future as the cutback in package freight service had rendered her surplus to the fleet's needs. It was even considered possible by some observers that she might become a cement carrier in the same manner as her sister, ENGLISH RIVER. But this is not to be, for on January 15th a deal was closed which will see FRENCH RIVER leave the lakes for use as a coastal autoferry. As yet, we do not have full details, but we expect to hear shortly whether she will be going to the east or west coast of Canada.
While on the subject of package freighters, we'll go out on a limb and predict that 1975 will be the last for the C.S.L. package freight service. The operation itself is only a pale shadow of what it was several years ago and we understand that the company is losing a bundle keeping the boats running. Long gone are the days when the package freighters could be seen loaded to their marks and carrying big deckloads as they passed through the Welland Canal. Unless we miss our guess, arrangements will be made to dispose of the ships by the end of the coming season and we will see the demise of the last regular package freight service on the Great Lakes.
Speculation is still running rampant on the future of the Kinsman Marine Transit Company. AmShip is apparently determined to dispose of its vessel-operating division and this is not really surprising since the majority of its vessels are getting quite elderly and just cannot operate at a profit in the ore trade. (We still think, however, that they could be used profitably in other trades if AmShip were interested in continuing). It could well be that in 1975 there may be no Kinsman vessels operating at all, although at this time no one knows for sure. WILLIAM A. REISS and THOMAS WILSON have been sold to Columbia, of course, and ROESCH and THAYER are under Columbia control. JAMES E. FERRIS and KINSMAN VOYAGER have been sold for scrapping, and when you take a look at the fleet list, there's not much left. Other fleets will no doubt be interested in acquiring some of the ships to fulfill current contracts (and we have heard that Cliffs have been looking at GEORGE D. GOBLE) but there seems little doubt that a number of the units will be going for scrap. S & E Shipping is almost certain to pick up something from Kinsman but the "what" and "when" would seem to depend upon the availability of money. We shall be watching the situation with great interest.
In our last report to you through these pages, we noted that MARTHA HINDMAN had sustained damage to her after cabin as a result of a fire occurring on New Year's Eve. The damage will be repaired so that MARTHA can operate in 1975, but we have yet to hear any explanation of the reason for her sudden and unexpected lay-up at Toronto.
After a busy season which saw her make a number of trips down into Lake Ontario and one trip as far east as Montreal, the Medusa Cement bulk carrier C.H. MCCULLOUGH JR. is laid up at Milwaukee with a storage grain cargo. It is our understanding that she will not operate in 1975 and, in fact, that she will not operate again until such time as she may be converted to a cement carrier. There is no indication that such conversion is imminent.
Our recent report that the old Canadian Dredge & Dock Company's dredge MIDLAND had been towed from the Kingston boneyard for scrapping has proved to be in error. MIDLAND remains in her usual resting place and, according to her owners, there are no plans to scrap her in the foreseeable future. Despite her outwardly dilapidated appearance, it seems that her machinery is in relatively good condition and a number of interested parties have approached Canadian Dredge & Dock with a view to purchasing MIDLAND, refitting her, and putting her into service. The big steam dredge is 130 feet in length and was built in 1931 at Welland.
Just as we had suspected, the cruise vessel STELLA MARIS II will not return to the lakes in 1975. Somewhat surprisingly, however, we learn that her place will be taken by the Danish vessel DISCOVERER which was built in 1974 and was just handed over to her owners in December. She is somewhat smaller than STELLA MARIS II and advance publicity has indicated that this will provide a more intimate atmosphere for the cruises, but we wonder whether "intimate" is a good choice of words. The ship will commence her lake service on May 31, leaving Montreal for Chicago with stops along the way at Toronto, Windsor, Parry Sound (this one's a surprise), and Mackinac Island. The return trip will cover the same route with the exception of the Georgian Bay swing which will be omitted on all downbound trips. DISCOVERER will leave Montreal and Chicago on alternate Saturdays. In addition, there will be three special five-day cruises. One will leave Chicago on June 21 for Sault Ste. Marie, Michipicoten and Thunder Bay, while the other two will depart Montreal on September 20 and October 11 for Quebec, St. Pierre and Miquelon, Bagotville, and the Saguenay River.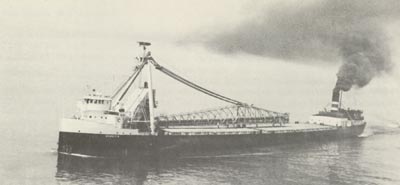 Displaying her usual plume of black smoke, HENNEPIN is downbound above the Huron Cut in this photo by John Vournakis

At the ripe old age of seventy years, the end has finally come for the Boland & Cornelius self-unloader HENNEPIN. Operating almost the entire 1974 season on the Toledo to Detroit coal run, she sustained numerous mechanical problems during the year and in addition has shown signs of softening up, a condition which would require major structural repairs. Accordingly, the decision has been made to retire HENNEPIN and she is currently laid up at Toledo. For many years a unit of the Redland Steamship Company, a joint venture of the Sullivan and Reiss fleets, she passed in 1969 to the ownership of the Gartland Steamship Company at the time BoCo acquired control of both the Sullivan and Reiss interests. We will miss seeing HENNEPIN and the distinctive towering plume of black smoke which always announced her approach.

The last passage of the season at the Welland Canal entered the waterway on schedule on Friday, January 17th, bringing to an end the extended season which had been arranged so that the Hamilton steel mills could build up stockpiles depleted during a season disrupted by strikes and accidents. The canal had originally been scheduled to close on December 30 and during the extension a total of 68 passages were recorded, most of which were coal boats en route to Hamilton or other vessels with cargoes of storage grain. The last downbound passage was Upper Lakes Shipping's steamer NORTHERN VENTURE which cleared Port Weller on the afternoon of January 17 with coal for Dofasco. The self-unloader FRONTENAC was the last upbound vessel, clearing Port Colborne early on the morning of the 18th. We understand that while the weather remains favourable, FRONTENAC, SAGUENAY and MANITOULIN will continue bringing Lake Erie coal to Port Colborne where it will be unloaded into trucks for transit to Stelco's mill at Hamilton. Meanwhile, the Seaway Authority will be totalling up the extra costs involved in operating the canal for the extended season, as these costs are to be billed to the steel companies and to the shipping firms whose vessels used the canal after December 30.

Toronto recorded one of its latest port closings on record this year as the last arrival for the 1974 season came in on January 18, this being the steamer NORTHERN VENTURE which arrived light to lay up after unloading the last cargo of coal for the year at the Dofasco plant in Hamilton. Her arrival brought to 32 the number of vessels wintering in Toronto harbour this year.

Communication between the east and west halves of the hamlet of Port Robinson was finally re-established on January 24 when the floating pier sections normally placed below Lock 4 in the Welland Canal were finally placed in position end to end across the canal at the spot where Bridge 12 used to be. The bridge is suitable for foot travel only and automobile traffic still has to detour via the Main Street tunnel in Welland or the Allanburg Bridge. It is anticipated that when the footbridge must be removed to allow for shipping in the spring, a 17-foot ferry (gee whiz - a rowboat!) will be put into service. Meanwhile, the Ontario Ministry of Transportation and Communications and the St. Lawrence Seaway Authority have promised to make a joint announcement on February 1st to reveal plans for the replacing Bridge 12. It is anticipated that the plans will call for the construction of either a tunnel or a bridge across the canal between Allanburg and Port Robinson.

Observers in the Welland Canal area this past summer got their first glimpse of the most recent addition to the fleet of McAllister Towing, the tug CATHY McALLISTER which assisted on the CLIFFORD F. HOOD scrap tow. At the time of this writing, CATHY McALLISTER lies on the bottom of Montreal harbour, the victim of a January 20th accident. It seems that she was towing another McAllister tug, JAMES BATTLE, when both grounded on the south side of the channel. CATHY managed to pull herself free but it was found that her hull had been seriously gashed by the rocky bottom and she began to take on water faster than her pumps could remove it. She was able to get to a nearby pier in harbour section 74 under her own power and then settled to the bottom. Salvage operations were immediately undertaken but at the time of this writing we have no word on whether she has yet been raised.

Last issue, we mentioned that the barge HILDA would soon be going to salt water via the Mississippi River. We now have more details. HILDA is, of course, a former Roen Steamship Company pulpwood barge and was originally the Lake Michigan carferry PERE MARQUETTE 19. She is now owned by Hannah Inland Waterways Corp. and is being refitted at Lamont, Illinois. She is to leave about mid-February and will go via the Illinois Waterway and the Mississippi to New Orleans where she will load on deck a dredge for delivery in Libya. She will be towed across the Atlantic and from Libya after unloading she will be taken to Piraeus, Greece. HILDA will then be placed on a container run between Piraeus and Venice. Provided all these plans materialize, it seems unlikely that we shall ever see her return to the lakes.

Speaking of barges converted from carferries, it looks as if the owners of PERE MARQUETTE 21 decided that discretion was the better part of valour as they have laid the barge up for the winter at Sorel instead of taking a chance on sending her across the Atlantic in mid-winter. She went into winter quarters with the Peerless Cement kiln sections still on deck.

It is not often that a lake vessel will go into winter quarters and then be put back into service before the coming of spring, but that is exactly what has happened to the Misener steamer J. N. McWATTERS. As will be seen from the lay-up listings in this issue, she was laid up in December at Montreal. The mild weather this winter has resulted in the St. Lawrence being relatively free from ice and so early in January the McWATTERS was fitted out again and chartered to carry ore between Port Cartier and Contrecoeur. It is not known at present how many trips she completed, but she arrived back in Montreal on January 17 and went into lay-up status for the rest of the winter.

Our earlier report that SCOTIACLIFFE HALL had been sold to Norwegian buyers may have been in error as regards the nationality of the new owners. It has been brought to our attention that although her crew is Norwegian, the vessel, now renamed SCOTIACLIFFE, is presently under the British flag and shows Hamilton, Bermuda as her port of registry.

The former Halco canaller NORTHCLIFFE HALL, her name now shortened to NORTHCLIFFE, cleared Sorel shortly after Christmas and sailed for the Caribbean where by now she has joined her former fleetmates EAGLESCLIFFE and WESTCLIFFE.

The last salt water ship to clear the Seaway was, as might be expected, the GEORGIOS A. which on December 11 was involved in a collision on the St. Clair River with the BoCo self-unloader H. LEE WHITE. She received temporary repairs at Toledo and was then taken to the yard of Canadian Vickers at Montreal where as of mid-January she was still on drydock. GEORGIOS A. was, until recently, owned by Etablissement pour Culture & Arts, Vaduz & Falsetta A.G., of Basle, Switzerland, She was sold Greek just before the accident but was still sailing under the Liberian flag.

Last month, we raised the question of when and how the former Trois Rivieres ferry LAVIOLETTE got to Norfolk. We now learn that late in 1972 or early 1973 she was sold to Sea Trade & Finance, a company operating out of Georgetown, Grand Cayman Island, B. W. I. She was taken down the east coast en route to the Caribbean and got to Baltimore in January of 1973. She reached Norfolk in June 1973 but there she was accosted by the U. S. Coast Guard which, in its own inimitable fashion, declared her to be unseaworthy. She was not allowed to proceed on her voyage south and has lain at Norfolk ever since.

In a speech delivered on January 8th, to the Palliser Wheat Growers' Association at Regina, Ralph S. Misener, board chairman of Scott Misener Steamships Ltd., urged the federal government to make immediate plans to develop the entire St. Lawrence Seaway system so that it will be able to accommodate the 1000-foot class of lake vessel. Misener warned that plans to twin the present locks without making any provisions for larger ships than can now be accommodated by the canals will only lead to the system becoming obsolete in the near future, a condition which might lead to the United States building a canal to bypass the Welland. So far, we have not heard any reply from Ottawa to Misener's remarks.

An advertisement in the January 1975 issue of Boats and Harbors states that the Canadian Coast Guard buoy tender PUFFIN is for sale at Sorel. The 217-foot motorship was built in 1944 at Glasgow and was originally an L.C.T. designed for wartime service. The ad specifies that the vessel will be sold on an "as is" basis and that prospective purchasers should contact one Raymond Goulet of Sorel. We do not know whether he is acting as a broker or whether he may have purchased PUFFIN from the Ministry of Transport.

A recent report reveals that scrapping operations are well underway on D. B. WELDON at Thunder Bay. The Goderich storage barge was taken to the Lakehead earlier in the year after more than a decade in the service of the Goderich Elevator & Transit Company Ltd. Until 1962 she operated as ALTADOC (II) for the fleet of N.M.Paterson & Sons Ltd., Fort William.

The registration of the steam tanker WESTERN SHELL was officially closed on November 27, 1974, with the notation that the vessel was scrapped. WESTERN SHELL was, of course, (a) LAKESHELL (I) (33), (b) JOHN A. McDOUGALD (50), (c) EASTERN SHELL (I) (69) and (d) FUEL MARKETER (I) (70) but she never operated under the name WESTERN SHELL which was given to her only to free the name FUEL MARKETER for use on another tanker. The vessel did, however, see further service, and this was under the name ALFRED CYTACKI when she served briefly as a tank barge in 1972. It comes as a surprise to most observers that she was never officially renamed ALFRED CYTACKI despite the fact that the name was painted on her hull. Whatever her real name, the CYTACKI was broken up at Hamilton over the winter of 1973-74.

Elsewhere in this section we have reported the sinking of the tug CATHY McALLISTER at Montreal on January 20. We now learn that when she sank, she rolled away from the dock onto her side and in that position is making things difficult for her owners who are trying to raise her. After several other efforts at righting her failed, McAllister Towing had the big winch removed from the retired steam tug SALVAGE PRINCE which is lying at Kingston. The winch has been shipped to Montreal apparently in the hope that it will provide the necessary power to get CATHY back on an even keel and in a position for raising.

The new auto and passenger ferry currently under construction and intended for the Kingston-Wolfe Island service is expected to be delivered in the early autumn of 1975 and we have learned that she is to be named WOLFE ISLANDER II. Why, you might well ask, will she be given that name when she will actually be the third vessel to bear the name WOLFE ISLANDER? Well the explanation given by the Ministry of Transportation and Communications is that the current WOLFE ISLANDER will be held as reserve boat and the "II" will serve only to differentiate between the two. Typical muddy government thinking! In any event, we understand that someone from the Ministry's current ferry operation will be sent to England prior to the delivery of WOLFE ISLANDER II for a period of training on a similar vessel in operation there.

The ferry ST. JOSEPH ISLANDER, which has been lying at Kingston for about two years since the cessation of her St. Mary's River duties, has now been rebuilt with her pilothouse on a bridge over the car deck and has been renamed GLENORA by the Ministry of Transportation and Communications. She is scheduled to begin operation this spring on the Prince Edward County ferry route between Glenora and Adolphustown and in this capacity she will join one of the two present ferries, THE QUINTE LOYALIST which dates from 1954. An older ferry, THE QUINTE, a veteran of 1939, will be retired and as yet there are no plans for using her on any other Province-operated ferry route.
---
Previous
Next
---
Return to Home Port or Toronto Marine Historical Society's Scanner
---
Reproduced for the Web with the permission of the Toronto Marine Historical Society.