The Early Days of the Misener Fleet
One of the large Canadian companies presently engaged in the transportation of bulk cargoes on the Great Lakes is Scott Misener Steamships Ltd. of St. Catharines. However, today's 730-foot bulk carriers such as SCOTT MISENER and RALPH MISENER are a far cry from the little steamers originally operated by Capt. Robert Scott Misener.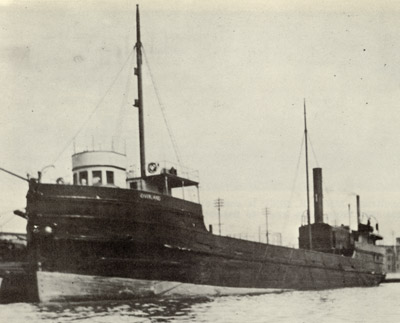 OVERLAND in the Keating Channel at Toronto. Merrilees photo.

Although the recent escapades of the RALPH MISENER and her unique Conflow unloader may not have warranted such optimism, an impressive brochure was circulated at the time of the vessel's christening and commissioning. In the brochure, it was stated that the Misener fleets had their beginning back in 1919 with the purchase by Capt. Misener of the SIMON LANGELL; however, the history of the company actually goes back to 1917 when, according to the List of Shipping published by the Canadian Government's Department of Marine and Fisheries, "Capt. Robert S. Misener et al., Sault Ste. Marie," acquired the small wooden steamer OVERLAND (Can. 134520).

This freighter was built in 1881 at Bay City, Michigan, as SAGINAW VALLEY (U. S. 115769) and, as built, was equipped in the usual package freight style with 'tween decks and side ports. Her length was 226.0 feet, her beam 31.5 feet and her depth was 19.3 feet, these dimensions giving her a tonnage of 1112 gross and 1021 net. Registered for a number of years at Buffalo, N. Y., her managing owner in 1902 was T. M. Ryan of that city. SAGINAW VALLEY traded through the Welland Canal at times, as there are several photos of her in Port Dalhousie harbour taken in 1898. Later renamed MERIDEN for a short period, and still later KONGO, the steamer was rebuilt as a conventional lumber carrier of 672 gross tons in the early years of this century. Her owners included H. N. Loud's Sons Co. of Au Sable, Michigan, and the Hamilton H. Salmon Co. of Buffalo, hardwood lumber dealers.

In 1916, Salmon sold the KONGO to Capt. J. T. Reid (The Reid Wrecking Co.) of Sarnia and Port Huron and the following year she passed to Capt. Misener and was renamed OVERLAND. Misener operated OVERLAND in various trades until 1919 when she was sold to the Niagara Sand Co. (R. Laing) of Toronto. She passed in 1921 to the Harbour Brick Co. (H.D.Robertson), Toronto, and operated as a sandsucker, carrying sand from the Niagara Bar to her owner's dock in Toronto. OVERLAND was equipped with a sucking arm carried forward, but she had no unloading equipment and the sand had to be clammed out of her hold.

By 1925, old age was catching up with OVERLAND, and during the summer months, she broke her back in Lake Ontario. The ship was towed back to Toronto and, after the removal of engines and boilers, the old hull was discarded on the south shore of the lake near Port Dalhousie.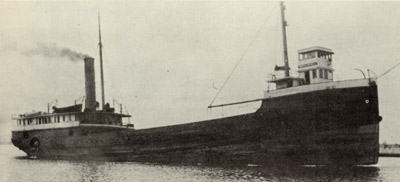 SIMON LANGELL, the lilnes of her stern showing her age, is outboundat the Toronto Eastern Gap during he Misener years. J. H. Bascom photo

SIMON LANGELL (U.S. 116091) and later (Can. 138373) was purchased by the partnership of Capt. Misener and John O. McKellar in 1919, the same year that their earlier steamer had been sold. She too was of wooden construction, having been built by Simon Langell at his shipyard at St. Clair, Michigan, in 1886. Her length was 195.3 feet, her beam 34.6 and her draft 13.7 feet. Her tonnage was shown as 845 gross and 677 net. For many years, she had been operated by Comstock and Sinclair of Duluth in the lumber trade. In 1916 she was acquired by E.L. Fisher of Cleveland and the following year, he transferred her from the St. Clair Transportation Co. to the Argo Steamship Co.

After operating LANGELL for almost five years with Misener as Master and McKellar as Chief Engineer, the pair sold the veteran in 1923 to the Langell Transportation Co., Charles E. Millard et al., of Sarnia. She remained in service until about 1930 and then was laid up at Portsmouth, Ontario. She lay idle along with the wooden steamer PALMBAY until 1936 when the hull was stripped. On November 23rd, the hull was intentionally set afire, and the remains were towed out into the lake and scuttled.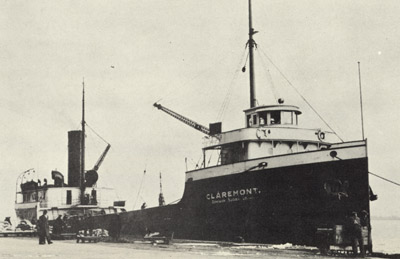 On her last visit to Toronto, CLAREMONT unloads at the Terminal Warehouse, November 1929. J. H. Bascom photo.

The third acquisition and first steel steamer in the Misener fleet which became known as Sarnia Steamships Ltd. in 1928, was CLAREMONT (Can. 140270). She had been built in 1910 by the Craig Shipbuilding Co. at Toledo as ERWIN L. FISHER (U.S. 207617) for the Argo Steamship Co., E. L. Fisher, manager, Cleveland. One of only a very few steel lake ships designed for the lumber trade, she was 220.0 feet long, 40.0 feet in the beam, and had a draft of 15.3 feet. She showed a tonnage of 1184 Gross, 805 Net.

During the first World War, ERWIN L. FISHER was taken to salt water and was operated by the French Government under the name PORT DE CAEN. At the close of the hostilities, she apparently returned to this side of the Atlantic and operated on the East Coast as BAYERSHER. In 1922, the vessel returned to the lakes under the ownership of the Interlake Steam Navigation Co. Ltd., (Mapes & Fredon), Montreal, and there are indications that she may have again been given the name ERWIN L. FISHER for a very short period to facilitate the transfer of registry.

In any event, BAYERSHER was purchased by Misener in 1923 and, renamed CLAREMONT, she operated in conjunction with the Dominion Sugar Co. Ltd., Wallaceburg, spending much of her time carrying that company's products. She was a frequent visitor to Toronto during this period. At the close of the 1929 season, Sarnia Steamships Ltd, sold CLAREMONT to the Kelley Island Lime & Transport Co., Sandusky, Ohio, and she returned to U.S. registry, once again under the old name ERWIN L. FISHER. Soon renamed GEORGE J. WHELAN, she was converted to a sandsucker for service on Lake Erie. She was not to serve long, however, for she capsized off Dunkirk, N.Y. on July 29,1930, and sank with the loss of 16 lives.

And so, the Misener fleets, later to operate many canallers and a number of large, modern bulk carriers, began with two aging wooden vessels and a second-hand steel steamer, humble beginnings for a major Canadian operator.
---
Previous
---
Return to Home Port or Toronto Marine Historical Society's Scanner
---
Reproduced for the Web with the permission of the Toronto Marine Historical Society.