C. F. Bielman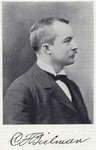 C. F. Bielman

The management of the freight and passenger business of the Star-Cole-Red & White Star Lines steamers, is in the hands of C. F. Bielman, under the title of general traffic manager; his duties covering the business of all five steamers operated on the Detroit- Port Huron and Detroit-Toledo routes. As these boats are owned and operated by four corporations under a pooling arrangement, it is evident that the position demands the services of a clever accountant, as well as one versed in the methods of keeping freight and ticket accounts.

Mr. Bielman was born in Detroit in 1859, and was educated in public schools of that city. He began steamboating when twenty years of age, as clerk of the R. J. Gordon, running from Algomac to Port Huron. After one season on this boat, he became clerk of the Evening Star, then owned by the Detroit & Cleveland Steam Navigation Co. When the first steamer, City of Mackinac, came out in 1880, he was transferred to that boat, and was clerk of her for five seasons. Mr. Bielman considers this the most pleasant part of his career on the lakes, as the boat was a fine one, handsomely appointed, and the passenger traffic largely made up of pleasure seekers.

In 1886 he took charge of the freight and passenger business of the pool operating the Detroit and Port Huron boats; but owing to the dissolving of the pool the following season, he went back to the Cleveland line, as purser of the City of Alpena. In July, 1887, with Capt. Darius Cole, he purchased a controlling interest in the Star line, and took his present position of general traffic manager.

Mr. Bielman is also secretary and treasurer of the Stewart Transportation Company, owning and operating the fine freight steamer C.F. Bielman.
---
Previous
Next
---
Return to Home Port
---
This version of Volume II is based, with permission, on the work of the great volunteers at the Marine Captains Biographies site. To them goes the credit for reorganizing the content into some coherent order. The biographies in the original volume are in essentially random order.
Some of the transcription work was also done by Brendon Baillod, who maintains an excellent guide to Great Lakes Shipwreck Research.