It is now some twenty-two years since the fleet of Beaconsfield Steamships Ltd. was phased out of operation, and today there will be many shipping observers who never saw the Beaconsfield ships in their distinctive red and dark buff livery. Not only did the Beaconsfield boats wear unusual colours, but some of the company's ships were also very unusual in design. Good examples of this were the famous "Red Barges" which were built for Red Barge Lines Ltd., which later became North American Transports Ltd., and in 1947 became known as Beaconsfield Steamships Ltd. Another peculiar-looking canaller operated by the fleet was SANDLAND. With her cabins aft, her flared bow, and her raised trunk deck, she looked like a hybrid salty of some sort, rather than like a canaller of traditional origins. To trace the history of SANDLAND, we must go back in time to the early 1920s, and look at one of the firms that formed part of the Toronto construction industry.
Over the years, Toronto has been the home of several firms that manufactured construction bricks. The development of this industry occurred not only because of the large amount of construction that took place in the city as it grew, but also because the proper type of sand for the manufacture of bricks was readily available in the area, not only in the ground beneath the city, but also on the bottom of certain areas of Lake Ontario.
It was in 1921 that the Harbour Brick Company Ltd., Toronto, which had been formed by Messrs Terry and Robertson, and which was managed by Harold D. Robertson, began to manufacture concrete bricks using sand that was dredged from the Niagara Bar, a shoal located in Lake Ontario off the mouth of the Niagara River. The Harbour Brick Company's plant was located on the western portion of the Toronto harbour wall, inside the western gap and just east of the foot of Bathurst Street. The Harbour Brick Company was to flourish for many years, despite going through a number of changes in ownership, and its successors are still in business today, albeit under a completely different name and long gone from the waterfront brick plant.
To bring from the Niagara Bar the sand that it needed for its manufactory, the Harbour Brick Company purchased the small wooden steamer OVERLAND from the Niagara Sand Company, Toronto. This vessel began life in 1881 at West Bay City, Michigan, as the package freighter SAGINAW VALLEY. She later served as a lumber carrier under the names (b) MERIDEN and (c) KONGO. Still later, she was to become the first vessel in the Misener fleet, for Capt. R. Scott Misener and associates purchased her in 1917. Misener sold her to Niagara Sand in 1919, and it was in 1921 that she was acquired by Harbour Brick. During the early 1920s, OVERLAND made almost daily trips across the lake from Toronto to the Niagara Bar and back, but she was getting to be old and very tired. Quite correctly anticipating that she would not last too long in their employ at her advanced age, the Harbour Brick Company decided to replace OVERLAND with a more modern vessel. Accordingly, an order for a steel-hulled steamer was placed with the British shipyard of Swan, Hunter and Wigham Richardson Ltd., Wallsend-on-Tyne, and the vessel was built as that yard's Hull 1273.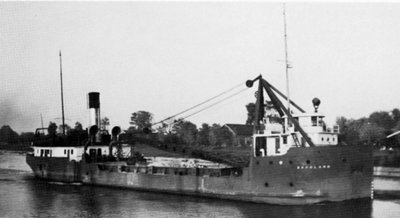 Photo by the late James M. Kidd shows SANDLAND upbound in the Welland Canal during the late 1930s.

Appropriately christened SANDLAND, the new steamer was launched at Wallsend on Saturday, June 6th, 1925. Registered at Newcastle, England, and enrolled under official number Br.148132, SANDLAND was of somewhat less than full canal dimensions. She was 205.2 feet in length, with a beam of 42.7 feet and depth of 18.4 feet, and her tonnage was 1550 Gross and 821 Net. She was powered by a triple expansion engine with cylinders of 16, 27 and 44 inches, and a stroke of 30 inches, which produced 900 I.H.P. Steam at 180 p.s.i. was supplied by two single-ended, coal-fired, Scotch boilers which measured 12'6" by 11'. The engines and boilers were built for the steamer by MacColl and Pollock Ltd., Sunderland. SANDLAND was classed by Lloyd's as 100 Al, a "sand pump hopper with freeboard", to operate on Lakes Erie and Ontario, and the Detroit River. She had a raised forecastle and quarterdeck and could carry approximately 1,750 tons of sand on a normal draft. Two centrifugal pumps were located at the forward end of the ship. Water ballast was carried in the forward and aft peaks, in tanks under the engines and boilers, and also at the sides of and underneath the sand hopper. A cargo hold was located between the after end of the hopper and the boiler room. The steamer's unloading equipment consisted of a simple and conventional A-frame, located aft of the forward cabins, and an unloading boom which was of heavy construction and which worked a clamshell bucket. In order to ensure the safe crossing of the North Atlantic by SAND-LAND on her delivery voyage, however, the unloading machinery was not placed in the steamer until after her arrival at Toronto.

SANDLAND carried a large texas cabin atop a full forecastle, and it contained a special suite for the owners, as well as the usual accommodation for the master. Atop the texas was a large pilothouse, which had five big windows in its rounded front, and another large window abaft the door on each side. On the pilothouse roof was carried an enormous searchlight, which undoubtedly was employed whenever SANDLAND was either dredging or unloading at night. A very tall foremast was stepped immediately abaft the pilothouse.

The quarterdeck was raised a half deck level above the cargo deck, and it was flush with the top of the sand hopper (which, of course, was completely open at the top and was not secured by hatches of any sort). The after cabin sat atop the quarterdeck and was rather squarish, with very little overhang of the boat deck for shelter. The cabin sported windows rather than portholes, and it was surrounded by a closed taffrail, a feature that was somewhat unusual for a canaller. A fairly tall and rather thin stack rose out of the forward end of the cabin, while the mainmast was stepped well aft of the stack. Two very large ventilator cowls rose just in front of the funnel, one set on either side. Most canallers of the day handled their lifeboats with simple radial davits, but SANDLAND was equipped with Welin davits, which were rocked outward by means of a worm-gear arrangement. The tops of the davits for each boat were linked by means of an unusual crossbar, which presumably was meant to ensure that the davits worked in unison.

While SANDLAND was a relatively good-looking vessel, despite her rather cumbersome above-deck equipment, she could scarcely have been described as being graceful. She had a counter stern and a straight stem, and her hull was given virtually no sheer at all. Her anchors were carried in pockets located very close to the stem, and in her bow she sported two rows of unusually large portholes. A large wooden fender strake ran down each side of the hull to provide protection for the side plating during docking and canalling operations. Her masts and stack were only slightly raked.

As it developed, the construction of SANDLAND was timely indeed. During the summer of 1925, shortly before SANDLAND's delivery, the old OVERLAND broke her back whilst loading a cargo of sand on the Niagara Bar. She was towed back to Toronto, but it was determined that her wooden hull was too "ripe" for repairs to be considered, and so her engine and boiler were removed and the hull itself was towed back across the lake and scuttled near Port Dalhousie, a famous area for the "dumping" of superannuated wooden hulls that nobody wanted. Needless to say, the management of the Harbour Brick Company was delighted to take delivery of SANDLAND late in the summer of 1925.

SANDLAND was put into service as soon as her unloading equipment was fitted. (It would appear that the vessel brought a cargo out from England on her delivery voyage, and we presume that it was coal.) When she entered service, SANDLAND was painted black, and her cabins were white. Her stack was black, with a white diamond, across which appeared the letters 'HBC' in red. Her foremast was painted buff, while the mainmast was black.

The new steamer was very successful, but the Harbour Brick Company apparently came to the early decision that it should confine its efforts to the manufacture of bricks and leave the operation of sandsuckers to operators who could

concentrate all their energies on the intricacies of vessel ownership and management. Accordingly, in 1927, SANDLAND was sold, and she passed to the control of the Essex Transit Company Ltd. and the Ontario Gravel Freighting Company Ltd., both of Windsor, Ontario. Captain Thomas A. Tees of Hamilton was associated with this organization, and he would later come to be the owner of SANDLAND. By 1932, the sole owner of SANDLAND was shown to be the Ontario Gravel Freighting Company Ltd. It is interesting to note that, from the time Tees and his associates bought SANDLAND, they took over the job of supplying the Harbour Brick Company with its sand, as well as hauling sand and other similar materials for other construction firms. SANDLAND was used in the Harbour Brick trade, as also was the smaller sandsucker C. W. CADWELL, which Ontario Gravel Freighting purchased in December of 1927. Both vessels wore green hulls, white cabins, and silver stacks with a black smokeband whilst under Tees management.

In 1933, the Ontario Gravel Freighting Company Ltd. sold SANDLAND to the Montreal firm of Lambert and German, which intended to operate her on the St. Lawrence River. It would seem likely that it was at this time that her port of registry was changed from Newcastle to Montreal. Nevertheless, probably as a result of the effects on the construction industry of the Great Depression, she saw little service for her new owner. After a period of inactivity , she reappeared on Lake Ontario about 1936 under the management of the Tees Transit Company, Hamilton, which of course was another enterprise of Capt. Thomas Tees. He operated SANDLAND in the sand, gravel, stone and coal trades until late in 1940, at which time he sold her to Newfoundland Pulp and Paper Mills Ltd., of Corner Brook, Newfoundland, for eventual use on the east coast. This new owner was a firm associated with the famous Bowater Company, which for many years was involved with shipping in the Newfoundland area.

During the winter of 1942-43, SANDLAND was taken in hand by the Muir Bros. Drydock Company, which operated the shipyard on Muir's (or Martindale) Pond above Lock One of the Third Welland Canal at Port Dalhousie. The shipyard removed her sandsucking and unloading gear, and rebuilt her as a paper carrier for service between Corner Brook and the ports of the U.S. east coast. SANDLAND was lengthened to 250.8 feet (full canal size) at this time. Her old bluff, lake-type bow was removed, and in its place was fitted an entire new forebody, complete with a flared bow (albeit still incorporating a straight stem) to make her more suitable for service on salt water. This extremely substantial reconstruction increased SANDLAND's tonnage to 2170 Gross and 1890 Net.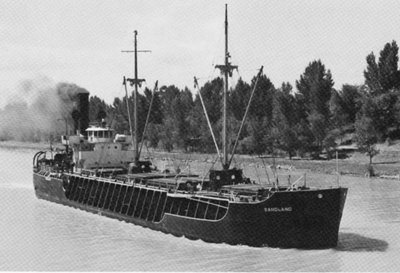 SANDLAND was owned by Sandland Ltd. when Jim Kidd photographed her downbound in the canal at Homer on August 5, 1951.

The after cabin was extended forward a short distance, and a new square deckhouse was built atop this extension. Then the entire bridge structure, including both texas and pilothouse, was moved aft and placed on top of this new section of the aft deckhouse. Both the smokestack and the two ventilator cowls were greatly increased in height during the rebuild in order to clear the top of the new bridge structure. In order to adapt the vessel for the carriage of newsprint, a raised trunk deck (much like that sported by CHICAGO TRIBUNE) was built atop the old spar deck; this trunk ran the full length of the deck and was flush with the top of the new forecastle and also the boat deck. For the handling of cargo through the steamer's four large new hatches, two tall kingpost-type masts, both equipped with cargo booms, were added on deck, and the old masts were removed.

SANDLAND was ready for her new service by October 8, 1943, and she immediately left Port Dalhousie for service on the Atlantic. Strangely enough, her new owner saw fit to leave her original name unchanged, even though it had little relevance to her newsprint trade on the east coast. Whether the retention of the old name had anything to do with the ship's good fortunes on salt water, we do not know, but somehow she made it through the duration of the war without falling victim either to the U-Boat menace or to the hazards of operation on salt water, a trade for which the little canallers were never designed, and which was the undoing of many of them.

Once the hostilities were concluded, the Bowater interests no longer required the services of the little SANDLAND, and in 1946 she was sold to Sandland Ltd. of Montreal, a firm in which both Robert A. Campbell (of the Mohawk Navigation Company Ltd.) and Capt. Norman Reoch (then of Canada Steamship Lines Ltd.) held an interest. SANDLAND was brought back to the lakes and operated primarily in the grain trade. She was painted in the colours that Campbell then used for the ships in his Mohawk fleet; her hull was black, her cabins and forecastle rail were white, and her stack was blue with a black top.

In 1952, the ownership of SANDLAND was transferred to Beaconsfield Steamships Ltd., Montreal, which was managed by R. A. Campbell, and she then took on the peculiar colours of that fleet. Her hull was a reddish-brown colour (which looked stunning when it was fresh, but terrible when the paint got older and washed-out), while her cabins and forecastle rail were a brownish-buff shade. Her stack was the same shade of buff with a black smokeband.

Most of the canallers that Beaconsfield operated were motorships rather than steamers, and it is not surprising, therefore, that the company soon decided to repower SANDLAND to make her more economical to operate. The company purchased a nine-cylinder Fairbanks-Morse diesel engine, which had been built in June, 1942, by the Dominion Engineering Works Ltd., and which had seen service in another hull. The Record of the American Bureau of Shipping indicates that this engine was installed in SANDLAND in May of 1953, but a photo of the ship taken on October 31. 1953. shows that she still had not been repowered by that time. It is our belief that the repowering was not actually done until the spring of 1954.

Beaconsfield quite reasonably decided that, once she was equipped with her diesel engine, SANDLAND no longer required her extremely tall funnel, and accordingly it was taken out. Unfortunately, what was put in its place was a very stubby pot-like stack which was so short that it could not be seen in a forward view of the ship. At the same time that SANDLAND's profile (peculiar as it was) was disfigured by the fitting of this insignificant stack, the ship was also given a new and more modern square pilothouse. One feature of SANDLAND's past that was retained was her old steam whistle, which was mounted on the new stack in such a manner that it protruded well above the forward rim of the funnel. The whistle was blown by steam generated by the donkey boiler which was placed in the vessel to operate her steam-powered deck winches and other gear.

SANDLAND was kept active during the late 1950s, but time was catching up with her, as it was with all of the canallers, for work was progressing well on the construction of the St. Lawrence Seaway, which would take the place of the many small locks of the old St. Lawrence Canals. It was these small locks that forced lake fleets to continue running canallers long past the time when they could be operated economically. (Canallers required crews almost as big as those needed on upper lakers, although their cargo capacity was very much less.) The Seaway finally opened in 1959, and most of the canallers were immediately retired from service. SANDLAND continued to operate through the 1959 season, but it was to be her last in lake service. She passed out of class late that season, and was laid up at Montreal pending survey and inspection, which Beaconsfield never gave her.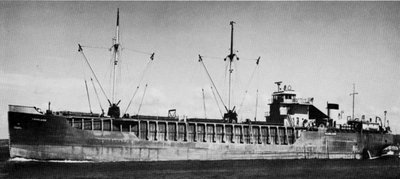 As a motorship in Beaconsfield colours, SANDLAND is upbound in Little Rapids Cut in this August 17, 1957 photo by J. H. Bascom.

SANDLAND remained idle through the 1960 and 196l seasons, but did manage to elude the shipbreakers that claimed many other canallers. On October 23, 1961, she was purchased by Sandland Ships Ltd., Nassau, Bahamas, and she was reregistered at Nassau, still under her original name. She was fitted out at Montreal, drydocked there in November of 1961, and then left the lakes under her own power, bound for the Caribbean. In 1966, she was sold to Sociedad Anonima Venezolana de Empresas Maritimas, a Venezuelan firm, and her port of registry became Puerto Cabello, Venezuela. At this time, she was renamed (b) TRITON. The American Bureau of Shipping classed her "Al Coastwise and West Indies Service". By 1974-75. she had passed to the ownership of I. A. Diaques y Astilleras Nacionales, also of Puerto Cabello, Venezuela.

Thereafter, we have lost all track of the whereabouts of SANDLAND/TRITON. We cannot locate any confirmation of any subsequent sale, renaming, loss or scrapping, but she appears to have dropped from the shipping registers by 1977, and we can only assume that her age finally caught up with her and that she was broken up, probably at a Venezuelan port. If any reader should have knowledge of the final disposition of the vessel, we would be pleased indeed to receive that information for the completion of our records.

SANDLAND, regardless of her eventual end, had a good long career, and one that was rather more interesting than that of most canallers, in that she was used in so many different trades over the years. Back in the mid-1920s, who could possibly have guessed that this lowly little sandsucker would become a full canaller, much less that she would run in the newsprint and grain trades, and spend her final years in the warm Caribbean waters?
---
Previous
Next
---
Return to Home Port or Toronto Marine Historical Society's Scanner
---
Reproduced for the Web with the permission of the Toronto Marine Historical Society.