During the past few years, those companies operating tankers on the Great Lakes have seen a startling series of changes in their fleets. Not only have more modern tankers replaced many of the old familiar vessels, but changing levels of demand for petroleum and chemical products have resulted in the development of ships designed to carry particular liquid cargoes. The construction of pipelines, together with the implementation of conservation and the development of alternate energy sources have cut back on the amount of crude oil and gasoline carried by tanker. There are many fewer tankers operating on the lakes now than there were just a few short years ago.
One fleet which has been greatly changed by these various developments is that of Imperial Oil Limited, which once operated the largest collection of tankers on the lakes. Although Imperial still runs a number of Canadian-flag ships on the St. Lawrence River and the east coast, most of its lake cargoes are today carried in chartered vessels. Indeed, the Imperial lake fleet now consists of only one company-owned tanker, that being the 34-year-old steamer IMPERIAL SARNIA (II). Even the SARNIA has barely survived several planned retirements, and it is questionable how many more years she will remain under Imperial colours.
The Imperial Oil Company Ltd., as it was then known, was formed as a Canadian subsidiary of the Standard Oil Company of New Jersey. It began to carry petroleum products around the lakes about the time of the turn of the century, the first service being comprised of the the big Calvin-built wooden tug REGINALD, and a number of barges which she towed. Imperial's first self-propelled tanker, designed to carry petroleum products in bulk, was the little IMPERIAL (I), which had been built for salt water service in 1898, had been acquired by another Standard Oil affiliate in 1901, and was brought to the lakes in 1902, subsequently being bought outright by Imperial Oil. In addition to being Imperial's first true tanker, she was the first such vessel to be employed on the lakes by any operator, all previous lake "tankers" having been case-oil carriers.
Imperial's second lake tanker was IMPOCO (I), built in 1910, but she enjoyed only a short career on fresh water and was sold off the lakes in 1913. It is the company's third tanker with which we concern ourselves now, and we do so with very good reason. She was rather different in design from the earlier tankers, served Imperial in a number of different functions, and went on to enjoy many more years in an entirely different type of service after she was sold out of the fleet. She carried Imperial colours for many years, and made quite a reputation for herself, although she did not achieve the record of serving longest in the fleet. That record belongs to the barge I.O. LTD. NO. 6, (a) S.O.CO.NO. 4l, (c) GRINDSTONE ISLAND, which served Standard Oil and then Imperial Oil from 1903 until 1969, latterly as a bunkering tanker at Halifax, Nova Scotia. We do not believe that any other Imperial tanker will ever be able to challenge the barge's achievement in longevity.
We have, however, strayed from our story of the third Imperial tanker, so let us now return to it.
She was built in 1912 at Dundee, Scotland, by the Caledon Shipbuilding and Engineering Company Ltd., as its Hull 226. She was 248.2 feet in length, 42.6 feet in the beam, and 15.6 feet in depth, just the right size to fit the small locks of the old Welland and St. Lawrence canals. Her tonnage was officially recorded as 1669 Gross and 1035 Net, and it is interesting to note that she underwent such very little change during her 37 years of service as a tanker, that there were no changes in these tonnages even up until the time that she was retired and sold.
The new Scottish-built tanker was powered by a triple-expansion engine which was manufactured for her by the shipbuilder. It had cylinders of 16, 24 and 41 inches, and a stroke of 36 inches. Steam was provided by one coal-fired Scotch boiler. One might wonder why an oil tanker had a coal-fired boiler, but it must be remembered that, back in 1912, oil had not yet come to be accepted as a fuel for steamboats, and it was not available in the seemingly endless quantities in which coal poured from North American mines. (The vessel was, however, later converted to oil fuel and then back again to coal.)
IOCOMA was upbound above the Soo Locks when captured by this Young photo dated 1916.

Registered at Sarnia, Ontario, and enrolled as C. 132745, "the new steamer was christened IOCOMA. At this late date, it is rather difficult to speculate on how she came by her name. Imperial Oil did operate a refinery in the Maritimes which bore the same name, and it is thought that the plant's name was invented to include the company's initials and the location of the refinery, the Maritime Provinces area of eastern Canada. IOCOMA may have been named after the plant or, on the other hand, the 'MA' at the end of her name may have been intended to refer to 'Marine' or some other such designation.

Whereas IMPERIAL (I) and IMPOCO (I) were typical, small, salt-water steamers of the three-island type, with bridge amidships, IOCOMA was clearly designed specially for lake trade. She had her pilothouse on the forecastle, just as did IMPEROYAL (47), (b) IMPERIAL COBOURG (52), (c) STARBELLE, which was built for the company in 1913 at Grangemouth. The company, however, must have found this pilothouse-forward configuration undesirable for its tankers, for IMPEROYAL's bridge was later moved back and subsequent lake steamers constructed for Imperial carried their bridge structures amidships. (The most recent Imperial Oil tankers have all been stemwinders.)

IOCOMA was a handsome steamer. She had a full raised forecastle with a closed rail running back for half its length. The pilothouse, a small steel cabin, had five windows in its front, and sat directly on the forecastle head. The pilothouse was neither square nor rounded, but was flattened across its face and rounded at the two front corners. The master's quarters were located in the texas cabin, which was set on the forecastle directly abaft the wheelhouse. IOCOMA was given flying bridgewings and an open navigation bridge which was located on the monkey's island. The foremast rose from a point immediately abaft the forward cabin.

Her deck was given a pleasing sheer, and was not cluttered with a prominent "trunk", as were the decks of most later tankers. IOCOMA had a very low trunk, on which were mounted assorted valves, connections, etc. Her mainmast was stepped about three-quarters of the way down the deck, not far ahead of the break of her full raised quarterdeck. As was Imperial's custom with its lake tankers for many years, IOCOMA's entire after cabin was enclosed in the raised poop, and no accommodations were located above-decks.

Atop the quarterdeck were located the lifeboats and coal bunker hatches, as well as a number of ventilators for the machinery and cabin spaces. Two particularly large ventilator cowls rose immediately forward and on either side of the funnel. The smokestack itself was rather thin, but extremely noticeable because of its great height. It was topped by a narrow but protruding cowl. Two small chimed whistles, one mounted directly over the other about half-way up the front of the stack, were fed steam from a pipe which ran up the inside of the funnel.

IOCOMA bore her original colours for eight years. Her hull was black and her cabins, trunk, deck equipment, etc., were red. The lifeboats were painted white, as was the dodger which ran around her open bridge and out over the bridgewings. The foremast was buff, while the main was buff with a black top, or smokeband. The stack was black, and carried on it a rather stylish white monogram which was made up of the intertwined letters 'I.O.Co.'. All of the early Imperial Oil tankers carried this same monogram.

The construction of IOCOMA was completed at Dundee during the early summer of 1912, and she was taken around to Glasgow where, on July 18, 1912, her crew was signed on for her maiden voyage across the North Atlantic to New York. Her crew of 22 persons included:
| | |
| --- | --- |
| C. Cabot, Master | Charles Calligan, A.B. |
| R. G. James, 1st Mate | W. A. Driver, 1st Engineer |
| V. H. Alcock, 2nd Mate | J. Jarvie, 2nd Engineer |
| G. Reid, Steward | S. M. Saybolt, 3rd Engineer |
| James Mooney, Cook | J. Forrest, Greaser |
| J. Reid, Messroom Steward | R. McLeod, Greaser |
| J. Petrie, A.B. | J. Green, Fireman |
| George Pearson, A.B. | A. Kemp, Fireman |
| Alex Gardiner, Sailor | J. Kimmond, Fireman |
| T. McMahon, A.B. | G. Ritchie, Trimmer |
| Joseph Stevenson, A,B, | J. Anderson, Trimmer |
IOCOMA set out from Glasgow with this sea crew aboard and, in due course of time, arrived safely at New York. It is to be assumed that she loaded a cargo there on arrival for, on August 11, 1912, she was en route from New York to Mulgrave, Nova Scotia, a port located on Cape Breton's Strait of Canso.
The officers were paid off on August 19, and the crew on August 22, 1912, and it is to be supposed that a Canadian crew then came aboard to bring IOCOMA into the lakes. Little is known of her operation during these early years, but she probably divided her time about equally between the Great Lakes and the St. Lawrence River trades with, perhaps, occasional trips out to the east coast. IOCOMA must have been a success, for we have been unable to locate any adverse reports concerning her capabilities.
By 1916, IOCOMA had been fitted with a wooden upper pilothouse to enclose the previously open navigation bridge. This seven-windowed cabin, although quite flimsy by today's standards, must have served well the purpose for which it was intended, for it was to last the steamer right up until the time she was scrapped, more than half a century later. The windows immediately either side of the centre wheelhouse window were most unusual, for a second pane was added below the regular window to give those on watch an unobstructed view down toward the forecastle. This feature was incorporated into the upper pilothouses placed on many Imperial tankers in later years, even on those steamers whose bridge structures were set back down the deck, so the officers must have voiced their appreciation for the additional visibility which these lower windows provided.
IOCOMA served on salt water after having been requisitioned for war service in 1916, but she returned to the lakes after the war and operated in her usual trades for another decade. There is reason to suspect that she may have operated on salt water on the east coast of Canada during the years immediately following the war, particularly during the winter months.
One of only a few changes to be made to IOCOMA during her 37 years of Imperial service, came in 1920, when she received new stack colours. Her hull remained black, and her cabins red (except for the pilothouse, which was white), but the 'IOCO' monogram was removed from the funnel. The black stack was then spruced up with two white bands, between which appeared a blue band. These colours were the same as those that all Imperial Oil tankers on the lakes, and even on salt water, would wear until well into the 1960s.
We can locate details of only one accident involving IOCOMA during her entire career with Imperial Oil, and that occurred in May of 1922. Upbound in the Welland Canal, under the command of Capt. T. A. McMann, she came into collision with the downbound steamer TREVISA, which was owned by the Export Steamship Company Ltd., Montreal, and commanded by Capt. P. D. Mahoney. The Dominion Wreck Commissioner's report indicated that IOCOMA had sustained only minimal damage, estimated at $300, but that TREVISA had been wounded to the extent that some $10,000 in repairs were required.
Capt. L. A. Demers convened a court of enquiry at Montreal on June 5, 1922, with the assistance of Capts. C. Lapierre and A. Lefebvre as nautical assessors. The court found that IOCOMA was responsible for the collision, but stated that the accident had occurred in such a manner that no responsibility could be attached to the master or officers of either steamer. Unfortunately, the brief description of the proceedings, which was contained in the Annual Report of the Department of Marine and Fisheries for the year 1922-23, gave no further detail of how the accident occurred. In fact, we do not even know the exact date of the occurrence, for the Wreck Commissioner's report variously describes the accident as having occurred on May 4, May 8 and May 14! Something seems to have been lost in the preparation of the report...
In 1928, IOCOMA was sent to Talara, Peru, for service in the Peruvian coastal trade which was operated by the International Petroleum Company Ltd., a subsidiary of Imperial Oil. Several Imperial tankers were involved in this trade over the years and, in fact, a tanker built in 1917 at Collingwood, TALARALITE (47), (b) IMPERIAL MIDLAND (53), (c) WILLOWDALE, was named after the port of Talara and spent much of her life in the South American service. In any event, IOCOMA went to Peru and was refitted for the combined carriage of case oil and bulk oil. Whatever it was that was done to her at that time, it did not alter either her Gross or Net Tonnage.
IOCOMA, spent a number of years in the Peruvian service, but emerged none the worse for the experience and returned to the lakes during the 1930s. She spent most of her time serving as a bunkering tanker at Montreal but, with the onset of World War Two, she was transferred to Halifax for the purpose of bunkering the many transatlantic convoys that were assembled there. This job kept her extremely busy, for a great many vessels came to Halifax to join the forming convoys, and IOCOMA was required to be available on a 24-hour-a-day basis. Her crew kept a constant watch for ships that showed a signal of three vertical white lights, which meant that they were in need of fuel oil. IOCOMA was even called upon to bunker such great ships as QUEEN MARY, and she could keep IOCOMA busy all by herself, for the QUEEN could swallow up so much bunker oil that three trips of the little tanker were required to fill up her tanks.
IOCOMA finally returned to the Great Lakes in 1947 and, that year, was given a new name. All of the Imperial tankers were renamed in 1947, it having been decided that each ship would carry the word 'Imperial' in her name, along with the name of some port or city served by her. Accordingly, IOCOMA became (b) IMPERIAL WHITBY, named for the town of Whitby, a small port located on the north shore of Lake Ontario, east of Toronto and just west of Oshawa.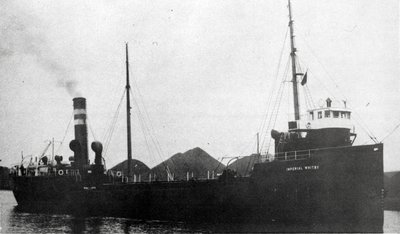 IMPERIAL WHITBY, nearing the end of her Imperial Oil service, is seen leaving the Toronto Ship Channel in this photo by J. H. Bascom.

IMPERIAL WHITBY ran on the lakes for three seasons after her return from Halifax, but she was looking tired, as she had every right to do after the way she had been used, especially during the war years. Her texas cabin looked rather peculiar at this stage, for its windows had been sealed up with the welding of a large steel plate around the complete front of the house, presumably to protect against damage on salt water. The big sunvisor had been removed from the upper pilothouse, and she had run for a period with no visor at all, although a small one (which covered only the three centre windows) was added after she returned to lake service. And if her upperworks looked a bit scruffy, her hull looked very well used indeed, for her plates were banged and dented and many of her ribs could be seen.

IMPERIAL WHITBY was finally retired by Imperial Oil Ltd. in 1949, and she was sold to a syndicate which was headed by George S. Cleet of Port Weller Dry Docks Ltd. She lay idle at Port Weller until 1951, when she was again sold, this time to Bayswater Shipping Ltd., Brockville. This small operator of self-unloading canallers had been formed in 1946 by George McKinnon Davidson, who previously had been office manager for Coal Carriers Ltd., also of Brockville. The first Bayswater vessel had been the veteran self-unloader BAYANNA, (a) ARAGON (46), whose story was featured as our Ship of the Month No. 102 in the issue of May, 1981.

Bayswater had IMPERIAL WHITBY taken to the shipyard of Canadian Vickers Ltd. at Montreal in 1951, and there she was converted to a self-unloading bulk carrier. During the course of the conversion, her spar deck was raised so that it was flush with both the forecastle and the quarterdeck. Her anchors, which previously had been carried down near her loaded waterline, were raised to a point just below the forecastle rail. Her forward cabins were left exactly as they had been when she was a tanker, except that three small portholes were cut into the front of the texas. The old foremast was removed and replaced by a very light "stick" which grew out of the square top of the A-frame of the unloader. The mainmast was relocated aft of the stack. The funnel itself was cut down considerably in height, and it was surrounded by a modern shell, roughly egg-shaped in cross-section, with its original chimed whistles mounted on its front and a series of ventilation slits cut in its backside near the top.

The steamer was, of course, remeasured before she entered service for her new owner. Her dimensions, particularly her depth and tonnage, had been considerably altered by the reconstruction. Her length remained the same at 248.2 feet and her beam at 42.6 feet, but her depth was now shown as 23.1 feet. Her tonnage was registered as 2174 Gross and 1549 Net.
Fresh from her conversion to a self-unloader, GEORGE S. CLEET WAS caught by the camera of J. H. Bascom in the Toronto Turning Basin on December 1, 1951.

Before she re-entered service late in 1951, the steamer was renamed (c) GEORGE S. CLEET. She was all painted up in Bayswater's colours, and looked quite smart, even considering her age. Her hull was black, while the forecastle rail, which had been extended back to the forward deck winches, was white. The cabins were white, while the stack colours were almost the reverse of what they had been during her Imperial Oil years. Her stack was black, while the two bands which formerly were white became blue, and the blue band between them became white.

The black hull colour, however, lasted only for the autumn of 1951. In 1952, GEORGE S. CLEET appeared with a light blue hull, and this was the colour that she would wear for the rest of her days. The remainder of her livery was unchanged. In April of 1953, the CLEET was reboilered with a single-end Scotch boiler which had been made in 1941. The identity of its builder is not known, but we assume that it came from a war-built hull, probably a warship.

In 1961, GEORGE S. CLEET was renamed (d) BAYGEORGE, in line with the company custom of giving all of its vessels names beginning with the prefix 'Bay', in honour of the Bay of Quinte, on which the boats frequently operated. Although they were seen all over the lower lakes, the Bayswater self-unloaders carried large quantities of cement clinker from the Picton plant of the Canada Cement Company Ltd. to Montreal. In the case of BAYGEORGE, the suffix of her name had nothing to do with Mr. Cleet, for whom she had previously been named, but rather it honoured George McKinnon Davidson, the founder of the Bayswater fleet.

That same year, 1961, BAYGEORGE was taken in hand by the shipyard at Kingston for a bit of modernization. Her handsome old counter stern was cut off and, in its place, there was constructed a rather ugly cruiser stern. We have absolutely no idea why this change was performed, and we rather wish that it had never been done, for the cruiser stern certainly did not fit the various architectural styles that were evident throughout the rest of the boat. Nevertheless, her original graceful lines had been totally destroyed when the spar deck was lifted back in 1951, so we suppose that little harm was done by fitting this new stern. The rebuilding caused her registered tonnage to be altered to 2184 Gross and 1365 Net.

BAYGEORGE was already the largest of the four Bayswater self-unloaders, but she was sent to the shipyard at Kingston in 1965 for an additional lengthening. This alteration did not require a major rebuilding of her holds or her unloading machinery, for she was a self-unloader of the scraper type, and hence did not have a complicated system of tunnels, gates and conveyors below decks. To match her increased length, BAYGEORGE was given a new 175-foot unloading boom at this time. Her old boom was transferred over to BAYFAIR, (a) COALHAVEN (62), which had, until then, been operating with the same rather primitive unloading boom which had been fitted aboard her when she was built at Haverton-Hill-on-Tees back in 1928.

The addition of BAYGEORGE's newly-constructed midbody increased her tonnage to 3172 Gross and 2351 Net. The reconstruction increased her length by 76.5 feet but, strangely enough, although the American Bureau of Shipping reported her revised tonnages, it never showed her increased length, leaving a blank space in its register instead. It was almost as if the Bureau had some idea that BAYGEORGE would not last long enough to make it worthwhile to record her new dimensions. In fact, this very nearly proved to be the case.

George Davidson, the founder of Bayswater Shipping Ltd., passed away in 1964, and the line went into receivership after his death. Financing for the modernization of the fleet, including the lengthening of BAYGEORGE, was obtained via the Industrial Development Bank of Ottawa. Nevertheless, despite the fact that appearances were kept up, and the two surviving operative vessels were kept well painted (BAYGEORGE and BAYFAIR even had the words 'Bayswater Shipping' applied to their sides in large white letters), the company's earnings could not meet its obligations. During 1967, Bayswater had even been working on the purchase of the venerable upper lake self-unloader DOLOMITE, (a) EMPIRE CITY (29), (b) SUMATRA (62), and she operated to Bayswater's account throughout the year, but the company's financial position was such that the purchase was never completed.

Bayswater Shipping somehow managed to complete the 1967 navigation season and then went into voluntary liquidation. BAYGEORGE was seized by the Industrial Development Bank on the strength of a mortgage relating to the 1965 rebuilding. In 1968, she was sold to a concern known as Transworld Shipping Ltd., of Montreal, but she never again operated.

In 1969, both BAYFAIR and BAYGEORGE was purchased by the United Metal and Refining Company Ltd., and they were towed to that company's shipbreaking yard at Strathearne Terminals in the far east end of Hamilton Harbour. BAYFAIR was broken up in 1969, but BAYGEORGE lingered on a while longer. She was gradually stripped of any valuable equipment, and her cabins were burned out to get rid of worthless woodwork. The flames completely devoured the wooden upper pilothouse which had been added only a few years after she had made her original appearance in the lakes, and only her texas and the original lower pilothouse, completely gutted, remained atop the forecastle. BAYGEORGE was finally put out of her misery when her last remains were broken up during 1971.

And so ended the career of a famous steamer, one which had worked harder during her lifetime than most canallers were ever required to do. Not only had she been treated to an additional and totally unexpected lease on life when she was converted from a tanker to a self-unloading bulk carrier at the age of 39 years, but she had the dubious distinction of being lengthened only two years prior to her retirement. She was hardly a handsome vessel in her final years of service, but she was certainly functional and still displayed a few vestiges of her earlier days.

(Editor's Note: The details of IOCOMA's first voyage and her World War Two service come, with our appreciation, from Esso Mariners: A History of Imperial Oil's Fleet Operations 1899-1980. which was published by Imperial Oil Ltd. in 1980.)
---
Previous
Next
---
Return to Home Port or Toronto Marine Historical Society's Scanner
---
Reproduced for the Web with the permission of the Toronto Marine Historical Society.