This month's feature is something particularly extraordinary for "Scanner", for never before has the same vessel appeared as "Ship of the Month" on two separate occasions. We decided, however, to make an exception to our usual practice in this instance. CAPE TRINITY was our featured steamer 'way back in May, 1970 - Volume II, Number 8. However, our earlier history of her was brief, to say the least, and we have since come to know a great deal more about this unfortunate ship. Having recently received several enquiries concerning her, and finding our original effort to be less than satisfactory, we set out to rewrite the entire story. We hope that our members will enjoy reading it as much as we have enjoyed putting it together.
In the early days of this century, the Hepburn family, and particularly A.W. Hepburn, of Picton, Ontario, was one of the major forces behind commercial shipping on the Bay of Quinte. Indeed, the Hepburns had been in the business for many years and had built up a very successful trade. The Hepburn boats were well known on both Lake Ontario and the upper St. Lawrence River, particularly their popular passenger steamers EMPRESS OF INDIA and ALEXANDRIA. The Hepburns latterly operated their many vessels under the name of the Ontario and Quebec Navigation Company Ltd., Picton, which was formed in 1905.
By 1910, the company found itself with an aging fleet and it began to consider expanding its operations with a new vessel for the passenger run from Toronto to the St. Lawrence via way ports. A contract for the construction of the new steamer was let to the Collingwood Shipbuilding Company Ltd., which, under the supervision of Hugh Calderwood, built her as its Hull 29. It is said that her design was adapted from specifications drawn up by the great marine architect Frank E. Kirby, who was an advisor to the Collingwood shipyard. If so, this particular ship was probably the least successful design ever perpetrated by Kirby, the same gentleman who was responsible for such elegant vessels as the famous CITY OF DETROIT III.
The new steamer was launched on June 7, 1911. at Collingwood. Registered at Picton, which would remain her port of registry for her entire short career, she was enrolled as C. 111964. She was christened GERONIA and, although we can find no documentation of this fact, we believe that her unusual name actually honoured several members of the Hepburn family, letters from whose names were incorporated into a "word".
GERONIA leaves Collingwood Harbour on her trials, July 18, 1911. Photo courtesy Robert Campbell, Toronto.

GERONIA was 219.6 feet in length, with a beam of 42.0 feet and depth of 10.2 feet. Her tonnage was 2105 Gross, 1469 Net, and her hull was divided into six watertight compartments. She was powered by two small quadruple-expansion engines, which had cylinders of 22 1/2, 18, 26 and 40 inches, and a stroke of 18 inches. Steam, provided by two Scotch boilers, 12'6" by 11'0", was allegedly supplied at 250 p.s.i. The machinery for the twin-screw GERONIA was built by the Collingwood Shipbuilding Company Ltd., but the installation was not one of which the yard could be particularly proud, for much trouble was encountered, especially with the boilers which were hopelessly inadequate.

It is interesting to note that the original drawings for GERONIA show a vessel quite different in appearance than that which finally emerged from the shipyard. The drawings, dated September, 1910, show a steamboat almost ten feet shorter than GERONIA, and with a different stern profile. She was planned with a sharp, graceful counter stern but, as launched, had a noticeable flare in her plating aft at the waterline. This unusual feature was undoubtedly added to lend stability for service in the St. Lawrence rapids and to give more thrust to her two screws. In this respect, it probably acted in much the same way as do the "fins" which some modern lakers sport above their propellors today.

GERONIA was a peculiar cross between a lake steamer and a St. Lawrence River boat, having been designed to run down through the rapids. To facilitate such passages, she was built to draw only six feet of water, and was equipped with twin rudders four feet deep and twelve feet long. Her hull below the waterline was sheathed with four-inch planking of rock elm, placed there to cushion the shock of contact with obstructions in the rapids and to minimize hull damage. Unfortunately, the bolts holding the planking to the hull frequently rusted out or sheared off, and many leaks resulted.

GERONIA certainly was a peculiar-looking vessel. Her stem curved inward at the waterline and her hull was protected by heavy fender strakes running along her sides. The main deck strake was, soon after her completion, extended almost to the stem in order to protect her flaring bulwarks from damage whilst canalling. Her main deck area was enclosed except for an open area around the dining saloon aft. The room could accommodate 120 passengers, and was fitted with large, although widely-spaced, observation windows.

What would have been called the promenade deck on any other steamer was actually anything but a promenade area on GERONIA. It was open at the bow, with a closed rail running back to the forward end of the cabin and then a short bit of open rail. But this area outside the forward lounge was the only open deck space on this deck, except for a very small area right at the fantail. Running all the way back from behind the lounge was the stateroom area, the cabin bulkheads being built flush with the sides of the ship and leaving no room for any sort of promenade. The cabin windows were very symmetrically spaced in pairs down her sides.

The boat deck did have a promenade all around, and its cabin, rather shorter than that below, was perched atop a clerestory. Just abaft the officers' quarters, it boasted a lounge with three very large observation windows on each side. Three large metal lifeboats were carried far aft on each side of this deck in davits. A fourth boat was later added on each side, but these additional boats were never furnished with davits and sat rather forlornly on deck ahead of the others. It is to be assumed that, in the event of emergency, they would be pushed back under the first set of davits as soon as the forward boats were launched. There were no passenger areas on the hurricane deck, but there was another clerestory which gave additional light to the cabins on the boat deck.

GERONIA's pilothouse was located well forward on the boat deck, raised up a half-level on a sort of rounded pedestal. The pilothouse had seven sectioned windows across its rounded front. In warm weather, the centre three windows were opened and the two posts between them removed, so that she presented a somewhat "toothless" appearance. An open navigation bridge was located on the monkey's island, surrounded by a high open railing which continued out onto the long bridgewings which protruded from the pilothouse roof. Her stack was never tall, but it was cut down even further shortly after she was placed in service, perhaps in connection with boiler alterations. GERONIA sported two of the stubbiest little masts that ever were carried on a boat of her size, and their height was never changed.

It had originally been intended to place GERONIA in service at the opening of the 1911 summer season, but her completion was delayed and she was not handed over to the Ontario and Quebec Navigation Company Ltd. until after her trials on July 18, 1911. Despite the delay, she was commissioned with great ceremony and, on her shakedown trip from Collingwood to Toronto, she carried some sixty invited guests, most of these being relatives and associates of the Hepburns. Of course, Mr. B. R. Hepburn, the company's manager, and his wife were on board.

Perhaps as an omen of things to come, the first voyage, unfortunately, was hardly the success it might have been. Under the command of Capt. Mike Heffernan, the boat cleared Collingwood on the afternoon of Sunday, July 23, 1911. Once out on the open waters of Lake Huron the following day, she encountered such heavy weather that the master finally decided to put about and run back to the shelter of Georgian Bay. With great difficulty because of her shallow draft and lack of sufficient steam, GERONIA was brought back to shelter at Tobermory. The distraught and thoroughly seasick passengers were so happy to have survived their ordeal that they presented Capt. Heffernan with a sizeable purse of money. GERONIA, thus delayed even longer, did not make her maiden arrival at Toronto until Saturday, July 29. 1911.

GERONIA was then placed in service between Toronto and Quebec City, with advertised way stops at Charlotte, Brighton, Trenton, Belleville, Deseronto, Picton, Kingston, Gananoque, Prescott, Brockville, Iroquois, Morrisburg, Cornwall and Montreal. With all those stops, it is evident that the O & Q intended to operate a service of convenience rather than speed!

GERONIA departed Toronto on her first revenue trip on August 3rd, with a capacity load of passengers. On her return trip from Quebec, she managed to lose a propellor in the Cornwall Canal. She proceeded slowly upriver, using her remaining screw, and, on her arrival at Kingston, her passengers were sent home by train and the vessel was placed in drydock. The company's passenger and freight steamer ALEXANDRIA retrieved the lost propellor and took it to Kingston, where it was reinstalled on GERONIA. The cost of repairs, together with the delay, set her owners back the princely sum of $10,000.

GERONIA's bad luck held, and, on Tuesday, August 22, 1911. while approaching the C.P.R. wharf at Brockville, she collided with the steam ferry H. P. BIGELOW. Considerable damage was done to the ferry's superstructure. But the summer of 1911 was soon over, and GERONIA went to the shipyard for machinery adjustments and repairs. One of her worst problems was that her boilers just could not produce enough steam to get satisfactory performance from her twin "quads", and she had been able to manage only 10 to 12 m.p.h. She ran a trial trip between Picton and Kingston on October 8, 1911, and it was reported that she managed a speed of 16 m.p.h. at that time, but her machinery problems had not been resolved and her troubles were far from over.

On Monday, July 15, 1912, GERONIA was on her third trip of the season, but her first ever attempt to run down the Lachine Rapids. Whilst shooting the Lachine, she suffered a hull gash which was fourteen feet long, and it was necessary to beach her on Heron Island, in the middle of the rapids, to keep her from sinking in deep water. She grounded with her bow in three feet of water and with fourteen at the stern. The engineroom had eight feet of water in it and the galley, located right aft under the dining saloon, had ten feet of water. GERONIA's passengers were quickly removed by the ferry ST. LOUIS, which hurried to the scene from her route out of Verdun. GERONIA was quickly raised and taken to Tait's drydock at Montreal for repair, but the cost of the accident, coming so close on top of her original construction cost, resulted in a financial crisis for the Hepburns.

During the winter of 1912-13, auxiliary boilers were fitted in GERONIA to assist her original, inadequate boilers, for there was no way she could manage anything near the 18 m.p.h. speed that she had been designed to make. Even with the steam provided by the auxiliaries, GERONIA was not a success, and she was withdrawn from service well before the 1913 season came to its close. Her original boilers were removed during the 1913-14 winter lay-up, and new and larger watertube boilers were installed. This refit finally produced a workable arrangement for the machinery and, thereafter, it was the steamer's other failings that were her undoing.

During 1912, the Ontario and Quebec Navigation Company Ltd. had considered building another passenger steamer which would have been similar to GERONIA and which would have operated with her on the run between Toronto and Quebec. The project, however, was abandoned. Although financial considerations were surely involved in the decision not to proceed with the new boat, we suspect that the major factor in the decision was the dissatisfaction which GERONIA and her various problems had caused for her owners.

Accordingly, GERONIA carried on by herself on her route in 1913, a year that produced great changes for her. Ever since her building, she had operated solely for the Hepburns and, as such, was a major part of their fleet. The company's operations were still centred around the town of Picton, and GERONIA and all the other Hepburn boats would return to Picton Harbour each autumn and lay up there for the winter.

GERONIA wore Hepburn colours into 1913 and then traded them for a new livery. Just in case anyone might be wondering what Hepburn colours were, a comment in this regard might now be timely. It has, we believe, generally been assumed that GERONIA was painted all white, except for her stack which was black. Based on better photographs of the steamer that are now available, however, we have reason to believe that she was not painted white, but rather an off-white shade, possibly a cream or very light grey colour.

Early in 1913, the Ontario and Quebec Navigation Company Ltd. was acquired by Aemilius Jarvis and Company of Toronto, and it was operated in conjunction with the Canada Interlake Line Ltd., Toronto, a reorganization of the Canadian Interlake Line Ltd., which traced its beginnings back to 1907. Among the gentlemen who headed this concern were such prominent shipping entrepreneurs as M. J. Haney, Roy M. Wolvin, J.F.M. Stewart, and Capt. J. W. Norcross, all of whom have been mentioned in these pages on many other occasions. Before the year 1913 was out, the entire operation, including what was left of the Ontario and Quebec, was absorbed into the newly-formed Canada Transportation Company Ltd., whose name was very shortly changed to the long-familiar Canada Steamship Lines Ltd., Montreal.

In this manner, GERONIA came to be part of the C.S.L. fleet. It is little wonder that the steamer was sent off to the shipyard in the winter of 1913-14 for reboilering, for whereas a smaller operation might have been prepared to put up with with her boiler problems, C.S.L. certainly was not ready to do so. It is obvious that the new owner soon saw exactly what was wrong with GERONIA, and set out to put such matters to rights.
This extremely rare photo, courtesy Robert Campbell, Toronto, shows SYRACUSE under way at speed during the period 1914-17.

GERONIA was returned to service by C.S.L. at the outset of the 1914 season, renamed (b) SYRACUSE, as a running mate for the larger, U.S.-registered ROCHESTER, which had come to C.S.L. along with the rest of the fleet of the Richelieu and Ontario Navigation Company Ltd. SYRACUSE was placed on a new route from Lewiston to Ogdensburg via Toronto, Charlotte and Kingston. Via a hopscotch route across Lake Ontario, therefore, she provided a connecting service from the Niagara area to the head of the St. Lawrence canals (from whence the "Rapids" boats carried on through to Montreal), serving both U. S. and Canadian residents.

The name of SYRACUSE and that of her owner were painted on the much-shortened closed rail at her bow, while the words "Toronto-Rochester-Montreal" appeared on her side just below. (The awnings had been removed from her foredeck by this time.) For her new service, the hull of SYRACUSE was painted black up to and over the main deck bulwarks, while the rest of the upperworks were white. She had been given a much larger stack when she was reboilered, and this was painted red with a black top. These colours had been taken by C.S.L. from absorbed companies such as the Richelieu and Ontario and the Niagara Navigation Company, and the colours were retained by C.S.L. for a number of years for its lower lake passenger steamers.

About 1917, her rather peculiar bridgewings were removed from the pilothouse roof and were relocated about half-way down the sides of that cabin, at the doorway. This change considerably improved the appearance of SYRACUSE, but must have made it difficult for the officers to get out on the wings, for they would have had to bend almost double in order to make their way out the door. At the same time, the navigation equipment was taken off the monkey's island, and the rail was removed from around the top of the pilothouse. The steamer was navigated only from inside the pilothouse from that point in time onwards.

Neither SYRACUSE nor her route appeared in the C.S.L. sailing schedule for the 1918 season, so we must assume that she did not operate that year, or at least not at the opening of the season. Whether SYRACUSE operated in 1919 is also open to question. (Incidentally, photographs of the ship under the name SYRACUSE are indeed rare, and we are pleased to have obtained the loan of one which is suitable to illustrate this history.)

In 1920, SYRACUSE was renamed (c) CAPE TRINITY, and was placed in service by C.S.L. on its cruise service from Montreal and Quebec to the Saguenay River. In this trade, she joined SAGUENAY, which had been built for the route in 1911, the old beam-engined MURRAY BAY (I)(21), (a) CAROLINA (05), (c) CAPE DIAMOND, which had been built in 1877, and her old Lake Ontario mate ROCHESTER. The latter steamer had run the Saguenay route in 1918, was back on Lake Ontario in 1919, and reappeared on the Saguenay in 1920 as (b) CAPE ETERNITY.

CAPE TRINITY and CAPE ETERNITY were, appropriately, named for those two famous promontories which guard the Saguenay, and which are located about midway between the head of navigation on the Saguenay at Chicoutimi, and its confluence with the St. Lawrence at Tadoussac. For the cruise service, the hulls of CAPE TRINITY and CAPE ETERNITY were painted white and, of course, they had been given the usual C.S.L. red, white and black stacks by this time.

But neither CAPE TRINITY nor CAPE ETERNITY was properly suited to this type of service. CAPE TRINITY, especially, was unsatisfactory for the Saguenay route, as she was far too small to handle the number of people who wished to take this well-known cruise. Accordingly, both steamers were taken off the route at the close of the 1924 season, for the big RICHELIEU (I), (a) NARRAGANSETT (22), had since made her appearance on the Saguenay service to join CAPE DIAMOND and SAGUENAY.

CAPE TRINITY was taken to the Kingston shipyard in November, 1924, and there she was given a thorough refit in preparation for a return to Lake Ontario service. She was placed on a special route from Toronto to the Thousand Islands and Bay of Quinte, and the words "Toronto, 1000 Islands & Bay of Quinte Line" appeared on her bow rail (which seems to have been lengthened slightly to accommodate this long message. Her name was painted on the bulwarks on the main deck.

She began her new service in 1925 under the command of Capt. Harry Clarke. Her schedule called for her to sail from Toronto down Lake Ontario and the upper St. Lawrence to Alexandria Bay, New York, and then on to Prescott. The return trip took her back to Toronto via Kingston and Belleville. The 1926 schedule, for instance, called for her to sail eastbound on Mondays, Thursdays and Saturdays, from July 17 to August 29, sailing westbound from Prescott on Tuesdays, Fridays and Sundays. Leaving Toronto at 4:00 p.m., she departed Alexandria Bay at 6:45 a.m. and arrived at Prescott at 9:00 a.m. Leaving Prescott at 9:45 a.m., she arrived at Kingston at 2:45 p.m. and cleared at 3:00. She then sailed through the Bay of Quinte to Belleville. Clearing Belleville at 9:00 p.m., she made her way back to the open lake via the Murray Canal, and arrived back in Toronto at 8:30 a.m. the following day. She carried 225 overnight passengers and 80 crew whilst on this route.

During this period of time, CAPE ETERNITY was also back on Lake Ontario, but she was not regularly scheduled to run the same route as did CAPE TRINITY. Indeed, the ETERNITY spent most of her time running charters and convention service around the lake. CAPE TRINITY did not undergo any major changes during these years, but her bridgewings were again relocated. This time, they were taken away from the pilothouse doors and remounted, at the same height, just abaft the doors. This change may well have been instigated by Captain Clarke, who was not a small man and who might understandably have become disenchanted with the previous inconvenient arrangement.

Despite what we have already said about CAPE TRINITY's schedule during the mid-1920s, we should mention that she did frequently venture further down the river than Prescott. When she did so, she invariably ran the Long Sault rapids whilst downbound. The Long Sault dropped in ledges, and CAPE TRINITY tended to ground out aft whilst dropping over these successive ledges, damaging the rock elm planking over her steel plates whenever she would hit bottom. Capt. Clarke would try to keep the bunkers and any other movable weights well forward on such trips, to help trim CAPE TRINITY for the rapids. As well, she would usually have a good crowd of passengers aboard, and the officers were instructed to suggest to passengers that they move up to the bow for a better view of the rapids passage. Of course, there was an ulterior motive to this suggestion, that being to help trim CAPE TRINITY down by the head.

Any trip down the rapids required extreme care, but the officers aboard CAPE TRINITY had to exercise extra vigilance when she was in the rapids. The steamer was blessed with "crossed" steering, that is, that putting the helm over one way would turn the rudder in the opposite direction. Port helm would produce right rudder, for example. CAPE TRINITY's own crew had little trouble with this arrangement, for they became used to it, but it was always necessary to watch the Indian pilot carefully to make sure that he did not give her the wrong helm in the rapids.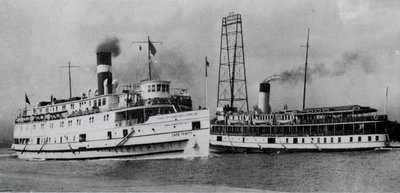 CAPE TRINITY, outbound, passes the inbound DALHOUSIE CITY in the Toronto Eastern Gap in this 1928 photo by J. H. Bascom.

CAPE TRINITY managed to keep out of serious trouble during her years on this route. She did, however, come to the assistance of another boat on at least one occasion. On August 20, 1928, RAPIDS QUEEN, upbound from Montreal for Prescott, damaged her steering gear not far out from her destination. CAPE TRINITY went to her aid and towed the helpless steamer to her dock. There were 700 passengers aboard RAPIDS QUEEN at the time and, with their boat out of service, they were sent back to Montreal by train.

But, by 1928, all was not well with the passenger business on the lower lakes. Times were becoming hard and revenues fell off drastically on all routes, even on the famous excursion services such as the Niagara River route. Older or less profitable boats were withdrawn, and basic services were left to those vessels that could be operated most economically. CAPE TRINITY was not operating an essential service, and she was beginning to find it hard to make a profit on what had been a very popular route.

Accordingly, when CAPE TRINITY laid up in the Toronto turning basin in the autumn of 1928 and let down steam, she did so for the last time. She was destined never again to turn a wheel. She was joined in lay-up during July of 1929 by CAPE ETERNITY, which also found herself without business, and, in early autumn of the same year, by CORONA, the famous Niagara River sidewheeler. CORONA had sailed the Toronto-Hamilton route for a time, but had returned to her Niagara route in 1928 and 1929. But she was no longer needed there, and CAYUGA and CHIPPEWA were quite capable of handling the run.

The three steamers were put into permanent lay-up and much of their equipment was removed, for it was certain that C.S.L. would never again use any of them. CAPE ETERNITY was finally rescued via a sale to other operators, but CORONA and CAPE TRINITY continued to lie in the Toronto ship channel, their woodwork gradually deteriorating through exposure to the elements and a total lack of maintenance. They looked very sad indeed, even worse than the many freighters which had also been laid up in the channel.

Finally, in the spring of 1937, C.S.L. decided to sell a number of the vessels that it had been holding in "reserve". Fourteen were sold to Les Chantiers Manseau Ltee., Sorel, while the remaining ten were acquired by Frankel Bros. Ltd., Toronto. All were sold on the condition that they never again be operated and were for scrapping only and, although a few escaped this fate, most of the boats soon disappeared under the breakers' torches.

Included in the sale to Frankel Bros. were CORONA and CAPE TRINITY, which were resold to Buffalo scrappers. At 5:30 a.m. on Sunday, September 26, 1937, the tugs R.C.CO. TUG NO. 2 and J. R. BINNING hauled CORONA away from her long time berth at Toronto and up the Welland Canal to Port Colborne, where they left her to be picked up by Great Lakes Towing Company tugs from Buffalo. The two Canadian steam tugs returned to Toronto and, on the afternoon of Tuesday, September 28, 1937, they towed the decrepit old CAPE TRINITY across Toronto Bay and out into the lake via the Western Gap. With R.C.CO. TUG NO. 2 in the lead and J. R. BINNING steering from the stern, CAPE TRINITY was hauled over to Port Weller and up the canal. She also was picked up at Port Colborne by Buffalo G-tugs, which took her to a scrapyard at North Tonawanda, New York. There, CAPE TRINITY ended her days.

All in all, it could not be said that the short life of GERONIA/SYRACUSE/ CAPE TRINITY was particularly happy. Her mechanical problems were resolved within a few years after her commissioning, but she was of such unusual design that she really was not suited to operate on any other service than the one for which she was built, and there is doubt regarding her suitability even for her original route. With her small size, her lack of open promenade space, and her very shallow draft which caused her to be an uncomfortable boat to ride in anything but the most calm weather, CAPE TRINITY was not suited to day excursion service, to operation as a nightboat, or for cruising.

And so, after one of the shortest operating careers of any lake passenger boat (with the exception of those that met untimely ends by accident), CAPE TRINITY came to the end of the line, looking much the worse for her long layup when she went. If only the Hepburns and her designer had had more foresight when drawing up her plans, she might have enjoyed a much happier life, But the Hepburns had never before operated a ship of her size and, in retrospect, we suppose that they could hardly be blamed for not guessing what might happen to their pride and joy in years to come.

(Ed. Note: For their invaluable assistance in researching the construction and operation of CAPE TRINITY, we extend sincere thanks to Robert Campbell of Toronto and to Lorne Joyce of Mississauga. We also appreciate the assistance of Cecil Lobb of Picton, who was purser on CAPE TRINITY, and who provided us with some of his reminiscences. Our secretary, J.H. Bascom, correlated much of the material and added his own remembrances of the boat. Certain early material came from contemporary accounts in "Canadian Railway and Shipping World". A description of GERONIA's delivery trip, and certain subsequent exploits, can be found in Marine Memories, by our late member Willis Metcalfe, published 1975 by Picton Gazette Publishing Co. (1971) Ltd.)
---
Previous
Next
---
Return to Home Port or Toronto Marine Historical Society's Scanner
---
Reproduced for the Web with the permission of the Toronto Marine Historical Society.