It seems difficult to believe that this is the 100th "Ship of the Month" feature that has appeared in the pages of "Scanner". The very first, even if it was not labelled as such, was a history of the steamer VICTORIOUS which appeared in the May, 1969, issue (Volume I, Number 10) shortly after that venerable ship had been sold for use as a breakwater. The series began to assume its present form with Ship of the Month No. 2, METEOR, which was presented in Volume II, Number 1 (October, 1969). We are now marking an important milestone in the history of our little publication, and we hope that we will be able to bring you these interesting features for many years to come.
On this auspicious occasion, we have chosen a steamer which enjoyed a life of more than seventy years, five of these having been spent on salt water. She was a handsome ship, with classic lines, but she retained much of her original appearance through to the end of her days and, as a result, was considered to be something of a floating museum-piece in her later years. Those who remember this peculiar old boat from her last gasp of active service in the 1950s do so with considerable fondness and with the wish that more of the steamers of her vintage were still around to provide relief from the stark and ungracious lines of modern vessels.
No stranger to these pages is the name of the Globe Iron Works of Cleveland, one of the more famous builders of lake vessels during the early years of steel construction. Globe built its Hull 31 over the winter of 1899-1890 and the steel vessel was launched into the waters of the Cuyahoga River on February 18, 1890. Scarcely larger than what was to become known as "canal size", she was 282.4 feet in length, 40.3 feet in the beam, and 21.2 feet in depth. Her original tonnage was 2325.99 Gross and 1835.86 Net. Her propeller was driven by a triple-expansion engine which was built for her by the shipyard and which had cylinders of 24 1/2, 38 and 61 inches, and a stroke of 42 inches. Steam was provided by two coal-fired Scotch boilers which also were manufactured by Globe Iron Works. As can be seen from the dimensions of the engine, it was a powerful piece of machinery indeed, intended to give the steamer enough horsepower not only to move herself and her own cargo but also to tow a fully loaded barge and still be able to make reasonable speed. It must be remembered that tow barges were all the rage in the years immediately prior to the turn of the century, some of the barges being even larger than the steamers that regularly pulled them.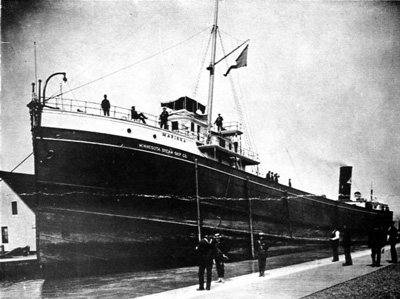 This very early photo shows MARISKA upbound in the Weitzel Lock at Sault Ste. Marie, Michigan. Note the absence of an after mast.

The new boat was registered at Cleveland, Ohio, and was enrolled as U.S. 92169. She was christened MARISKA by her owner, the Minnesota Steamship Company of Duluth, which was a subsidiary of the Minnesota Iron Mining Company. The parent firm had been formed back in the 1880s by Charlemagne Tower Jr., Colonel James Pickands, Samuel Mather and Jay C. Morse. During the 1890s, the Minnesota Steamship Company's large fleet was managed by Pickands Mather and Company, Cleveland. It was the practice of Minnesota to give all of its vessels names beginning with the letters 'MA' and ending with 'A'. All Minnesota ships were built for the fleet except for PENNSYLVANIA and TEXAS, which were built on speculation in 1899 by the Cleveland Shipbuilding Company. Both were purchased almost immediately after completion by Minnesota and, although they were soon renamed MATAAFA and MALIETOA, respectively, at least PENNSYLVANIA is known to have operated in Minnesota colours under her original name. The names given by the fleet to its various ships were both original and unusual, and many of them carried these names through to the ends of their careers.

MARISKA was an extremely handsome boat, as was typical of many of the early steel-hulled lakers. She was given a straight stem and a slightly turtle-backed forecastle, and she carried her anchors on the forecastle head, the chains rising upward from slanted hawseholes and a davit being mounted at the stem to drop the "hooks" as necessary. Her bridge structure was set back off the forecastle but was joined to it by means of a catwalk. The almost square texas cabin was surmounted by a smaller house which contained the master's quarters and, just forward of this, was her ornate pilothouse, raised slightly above the level of the bridge deck. Five sectioned windows gave light across its slightly curved front, and an open monkey's island, complete with fancy awning, was provided atop the pilothouse so that the navigating officers could enjoy unobstructed vision regardless of weather conditions. Bridge wings protruded outwards from the top of the master's cabin.

MARISKA's forecastle swept down in a graceful curve to the spar deck rail which, enclosed for its entire length, gave an extra touch of grace to the hull's sweeping sheer. She carried a small "indented" boilerhouse, out of which rose her short and unusually thick stack. The raked funnel was not cut perpendicular to its sides at the top but rather was chopped off parallel to the water and edged with a small roll. Aft of the boilerhouse was a larger cabin which provided accommodations for the "after" crew and which possessed large square windows. MARISKA's interesting profile was enhanced by her extremely fine counter stern and the fact that she carried but one tall mast. Fitted with a long gaff, it sprouted from the bridge structure just abaft the pilothouse. Her lifeboats were carried amidships on deck, with davits provided there for their lifting; it was not the custom of the day to place lifeboats atop the after cabin.

MARISKA sported what we believe to have been a black hull, with a small white stripe on the beading at the edge of the spar deck. Her forecastle was white, as were her cabins. The name appeared in black on the forecastle, while the company's name (inscribed as the 'Minnesota Steam Ship Co.') was painted on the spar deck "rail" just below the forecastle. The stack was black, with a white equilateral triangle on which appeared a red 'M' .

The early steel lake bulk carriers were frequently built in groups and MARISKA was one of these, the first of her particular series. She had an almost exact sistership, MANOLA, which was built in 1890 as Globe's Hull 32. Similar, although some eight feet longer, were Globe Hulls 33 and 34, MARUBA and MATOA of 1890. Still similar, but two feet longer yet, were MARINA and MASABA, built in 1891 as Hulls 1 and 2 of the Chicago Shipbuilding Company.

MARISKA enjoyed a successful period of service for the Minnesota Steamship Company, carrying iron ore downbound from Lake Superior to the Lake Erie ports. She changed very little during this time, except for the addition of a tall mainmast which was placed immediately forward of the stack, almost at the forward end of the boilerhouse. But things were to change for her owner, and these changes soon resulted in new colours for MARISKA. It was in 1900 that the Minnesota Iron Mining Company was absorbed by the Federal Steel Company, an enterprise of the famous J. Pierpont Morgan. Federal was, in turn, involved in the larger consolidation of 1901 which brought into being the United States Steel Corporation, this many-faceted merger having been orchestrated by Morgan and by his right hand, Elbert H. Gary.

U.S. Steel immediately formed a shipping subsidiary to take over the vessel interests of the merged steel firms, and this soon came to be known as the Pittsburgh Steamship Company. This fleet was long one of the most prestigious on the lakes, and still survives under the name of the United States Steel Corporation Great Lakes Fleet. Its boats at first wore dark green hulls with white cabins and all-silver stacks, but the hulls soon became the traditional red which we still see today, and the stacks soon took on black smokebands at the top. MARISKA was no exception. Apart from these changes in colours, she went through no great alterations during her Pittsburgh years.

As the years passed, however, MARISKA and her contemporaries were gradually superceded in the Pittsburgh fleet by newer and much larger steamers. By the beginning of World War I, the company was operating many ships that were more than three hundred feet longer than MARISKA, and her small cubic capacity for iron ore was no longer suitable to the "Steel Trust". She was considered to be expendable and, when an offer was made for her, the corporation snapped it up quickly.

MARISKA was purchased in 1914 by the Bassett Steamship Company Ltd., Toronto, which was formed in 1914 by Capt. R. D. Bassett and incorporated under the Ontario Companies Act with capital of $100,000. The company was related to Capt. W. J. Bassett's Western Steamship Company Ltd., which had owned the canallers J. A. McKEE and WEXFORD. Over the years, the Bassetts also had an interest in WESTERIAN (the iron-hulled former Anchor Liner CHINA), the wooden-hulled GALE STAPLES, and the upper laker BRITON, the latter having been sold out of the "tinstack" fleet earlier in the same year that MARISKA was sold.

The ownership of MARISKA was officially transferred to Bassett on July 16, 1914, and she was enrolled at Collingwood as C.130979 without change of name. There is no record of MARISKA having been lengthened at this time, but the 1914 Dominion List of Shipping indicates that the Canadian surveyors measured her length as 297.0 feet, although her beam and depth were unaltered from those dimensions previously reported in the United States. Her Canadian tonnage was registered as 2502 Gross and 1875 Net. She was reboilered in 1915 with two new Scotch boilers which had been built by the North Eastern Marine Engineering Company Ltd. of Wallsend-on-Tyne and Sunderland, England; they measured 14'6" by 11'3" and produced steam at 180 p.s.i. They were, of course, coal-fired.

Sometime shortly after Bassett purchased MARISKA, she was given a major rebuild from the spar deck upwards. Her old closed deck rail was cut back to a point slightly aft of the break of the forecastle, and was replaced from that point, aft to just forward of the boilerhouse, with a more modern and useful open rail. The boilerhouse itself was enlarged and was joined to the aft cabin but her old stack remained, now painted black with a broad silver band. The most striking changes were effected forward, for her entire old bridge structure was removed. In its place, a new and round-fronted texas cabin was built on the forecastle behind closed bulwarks. Atop it appeared a modern rounded pilothouse, complete with sunvisor and a closed dodger rail which curved outwards at each side onto large bridgewings. As well, MARISKA's heavy old masts were gone, replaced by two very light poles and with the main now placed abaft the stack. Unfortunately, we have no idea when or where this work was done.

With her cabins and forecastle painted white and the hull, apparently, now black, MARISKA operated for Bassett throughout the years of the First War. We have no record of any untoward incidents which might have marred her service. Her major cargo was grain but, as was the custom of the day for Canadian lakers, she probably carried just about every other cargo going as well.

The war years, however, took many lakers down through the old canals to salt water, where their services were required to aid with the war effort. Bassett sent BRITON to the coast in 1917, and several of MARISKA's former companions from the Pittsburgh fleet were also requisitioned and sent east after complete rebuilding. MANOLA, MARUBA, MATOA and MASABA (the latter having found her way into the fleet of the Mathews Steamship Company Ltd.) all passed down through the canals after having been cut in two. All but MASABA would eventually return to their home waters.
The rebuilt MARISKA, in Bassett Steamship Co. colours, is cut apart at Buffalo for the passage to the coast. Photo dated September 23, 1918.

It was during the summer of 1918 that MARISKA was sold to J.F.M. Stewart of Toronto and L.C. Herdman of Montreal for operation on salt water by their Transatlantic Steamship Company. She was taken to the yard of the Buffalo Dry Dock Company and, during September, 1918, she was cut into sections for the transit of the old Welland and St. Lawrence canals. Both halves made the trip safely and they were rejoined later that autumn at Montreal by Canadian Vickers Ltd. MARISKA then proceeded under her own power to Halifax, where certain alterations were put in hand to make her more suitable for ocean service. Rather surprisingly, her forward cabins were not touched, but her after cabin was plated in for protection, right aft to the fantail. Thereafter, she simply appeared to have a raised quarterdeck with no enclosures on the upper level. It is probably safe to assume that it was also at this time that MARISKA was given a new stack; it was quite large and much taller than the original, but it lacked the rake of her first funnel and stood almost perpendicular to the deck.

MARISKA ran on salt water for five years and seems to have served her owners well. As far as we know, she was involved in only one accident of any consequence during this period, and it occurred on December 27, 1919, whilst MARISKA was on passage from Baltimore to Nantes, France. She collided with the GERALDINE WOLVIN in Nantes harbour but damage was apparently not extensive. We have so far been unable to trace GERALDINE WOLVIN, but we wonder whether she may have been connected in some manner with the famous lake Wolvins, Augustus B. and Roy M., who were prominent in both Canadian and U.S. shipping.

After the cessation of the war, lakers that had gone to salt water gradually found their way back home. Many ships, however, had been lost while in wartime service and, as a result, the Canadian lake fleet was considerably depleted. With business conditions remaining good during the early 1920s, Canadian operators began to look far afield for hulls that might be returned to the lakes, some of the transplanted lakers having strayed far away during the hostilities.

MARISKA was purchased in 1923 by the Minto Trading Company of Toronto, George R. Donovan, manager, and she was then returned to the lakes. It seems entirely possible that J.F.M. Stewart may have had an interest in Minto Trading, but we cannot be certain of this. To prepare MARISKA for the canal passage, she was cut in two at Canadian Vickers Ltd., Montreal, but in the process she was also lengthened to 346.4 feet and her tonnage increased to 3072 Gross and 1874 Net. The two hull sections were then towed up to Lake Erie and were rejoined at Ashtabula by the Great Lakes Engineering Works. Renamed (b) KAMARIS, with the raised letters of her name on the bow simply rearranged to form the new name, she was placed in service during October, 1923. Apart from her lengthening, very little change of any other kind was made to the ship except that she was remasted once again. Her two light pole masts were removed and she was given two very heavy masts, each equipped with cargo booms. The foremast was well back off the forecastle and the main was stepped just forward of the after cabin.

We do not know what the colours of the Minto Trading Company were, but KAMARIS seems to have had a black hull with a forecastle that was also dark but of a different shade; it may have been green. The forward houses were white and the stack was black with a narrow white or silver band. Nevertheless, KAMARIS was not long to sport this livery, for the Minto Trading Company was placed in receivership in February, 1926, and Capt. James B. Foote of Toronto was appointed receiver and manager. (It is interesting to recall that Foote was the long-time manager of the Union Transit Company Ltd., of which George R. Donovan was president.) In May of 1926, the Chartered Trust and Executor Company of Toronto sold KAMARIS to Paterson Steamships Ltd., Fort William, Ontario.

The year 1926 was a very important one for the Paterson shipping interests, for it was that year that the company became a major influence in the Canadian shipping scene. Paterson Steamships Ltd. was incorporated in 1926 and immediately took over title to four canallers which had previously been owned by the predecessor firm, N. M. Paterson and Company Ltd. Seven upper lakers were purchased from the Interlake Steamship Company in March, 1926, KAMARIS was acquired in May, the canaller FORDONIAN (YUKONDOC) was purchased in August, four more upper lakers were bought from Interlake in October, and the year was completed in grand style with the ordering from a British shipyard of five canallers for delivery to Paterson in 1927.

Paterson immediately painted up KAMARIS in its own colours with a black hull, white forecastle and forward cabins, and a black stack with a large white letter 'P'. The steamer was also renamed in such a manner that she bore the same type of name that all Paterson ships, with only two exceptions, have carried since 1926. She became (c) QUEDOC (I), the name honouring the Province of Quebec where, ultimately, most of the grain carried by Paterson ships was unloaded (from canallers) for milling there or for the transshipment to salt water vessels for the long trip overseas.
QUEDOC, with barge PORTADOC lashed alongside, passes down Little Rapids Cut on June 17, 1956. Photo by J. H. Bascom.

QUEDOC seems to have received a rebuild from the Port Arthur Shipbuilding Company Ltd. in 1931, but this reconstruction produced no outwardly visible changes in the steamer and was probably limited to plate renewal and, perhaps, to refurbishing of her cargo holds. The Great Depression was then seriously effecting lake shipping, however, and QUEDOC saw very little service during the next four years, operating only when cargoes were available. She spent the entire period from 1935 until 1939 laid up at Fort William.

QUEDOC was sent back to the Port Arthur shipyard in 1940 and was refitted in preparation for a return to service. She was soon back in the grain trade and there she would remain for the next eighteen years. She was not often seen on the lower lakes but generally was kept busy hauling grain into the Georgian Bay ports from the Lakehead. She could frequently be seen with a barge in tow, for Paterson owned four large cargo barges, COLLINGDOC (II), KENORDOC (II), PORTADOC (II) and OWENDOC. The task of towing these about was usually delegated to the four most powerful upper lakers in the fleet, BRICOLDOC, ALTADOC (II), PRINDOC (II) and QUEDOC. It was PORTADOC that seemed most frequently to be paired with QUEDOC and the two became a familiar sight together. QUEDOC occasionally ventured down to Lake Ontario with a cargo (sometimes storage) of soya beans for Victory Mills at Toronto, but her visits here were rare indeed.

QUEDOC had become something of an antique as she grew older, and Paterson never went to the trouble of modernizing her, no doubt realizing that it would only be for a limited period of time that a boat of her small size could be of use to the fleet. Nevertheless, someone did play games with her stack in later years. At some undetermined time, the top of her stack was lopped off, perhaps in an effort to make it a less dominant feature of her profile. The result seems not to have suited either, for a new section was added back, either late in 1952 or early in 1953, and the stack was returned to its former glory except for the fact that it could always be seen where the new piece had been joined.

As the 1950s drew on, it was evident to N. M. Paterson and Sons Ltd. (the corporate entity that had succeeded Paterson Steamships Ltd.) that the useful career of QUEDOC was almost at its close. It is doubtful that she would even have been retained that long had she not had the power for towing barges, but the barge era was also at an end. QUEDOC last operated in 1957, and was then laid up at Midland, Ontario, near the Midland-Simcoe grain elevator. She remained there in ordinary through the 1958 and 1959 seasons, accompanied for most of that time by her barge, PORTADOC.

H.S. & G. No. 1 is towed out the Toronto Eastern Gap by NIAGARA, July 8, 1960, en route to Whitby. Photo by the Editor.

On November 25, 1959, QUEDOC was sold by Paterson through Marine Salvage Ltd., Port Colborne, to Holden Sand and Gravel Ltd., Toronto. She was towed almost immediately to Collingwood by the steam tug RUTH HINDMAN (I), and there she spent the winter. On April 28, 1960, the venerable vessel was renamed (d) H.S.& G. NO. 1 and she was, shortly thereafter, towed from Collingwood to Port Colborne by the motortug HELEN HINDMAN (II). From Port Colborne, she was fetched by H.J.D. NO. 1 and MACASSA, and it was on May 6, 1960, that she was towed into Toronto harbour and moored at the Harbour Brick Company's dock at the foot of Bathurst Street.

There, her owner proceeded to strip H.S.& G. NO. 1 of her masts and stack, and she was then towed to the Industrial Metal Company's dock on the north side of Toronto's ship channel, just outside the Cherry Street bridge, where her engines and boilers were removed. On July 8, 1960, she was towed out into Toronto Bay and anchored off Centre Island; that evening, Holden Sand and Gravel's steam sandsucker NIAGARA took her in tow, bound for Whitby where the old hull was to be converted into a gravel barge.

H.S.& G. NO. 1 arrived back in Toronto early in October, 1960, with a load of stone in her holds. She was, however, never again to carry another cargo. She proved to be unstable as a barge, perhaps because of the removal of her heavy machinery, and her licence was withdrawn. She was laid up in the north east corner of the Toronto turning basin and was gradually unloaded over the next month. In late November, she was towed from the basin and was moored on the west wall of the Spadina Avenue slip. She spent the winter there and, in the spring, was sold to International Metals Ltd. On April 15. 1961, H.S. & G. NO. 1 was once again taken in tow by NIAGARA, and this time she was delivered to the Hamilton yard of the Steel Company of Canada Ltd., where she was soon dismantled for scrap.

The last year of QUEDOC's life was really rather sad, for even though she had retained her fine lines and her handsome forward cabin, she looked very much bedraggled, and the removal of her masts and stack had robbed her of her distinctive profile. As well, she was a ship that always rode very high in the bows when light and was most photogenic when she did so; once her machinery was removed, however, she floated with a peculiar trim. Nevertheless, she had a good life of slightly more than seventy years and she had served all of her owners faithfully and well.

Interestingly enough, she was the longest-lived of all of the 1890-91 series of boats built for the Minnesota Steamship Company. MANOLA was wrecked in 1924 on Christian Island as (b) MAPLEDAWN and those parts that were salvaged in 1942 were never used but were later scrapped. MARINA stranded in Georgian Bay in 1917 as (b) GEORGE A. GRAHAM and her remains were cut up where they lay in 1937. MARUBA was abandoned at Cleveland about 1930 and, after her upperworks were cut away, her hull was buried in landfill. MASABA went to salt water in 1917 and never returned, having been sold to French owners in 1920. MATOA, as (c) HUGUENOT, was scrapped at Sturgeon Bay in 1937.
---
Previous
Next
---
Return to Home Port or Toronto Marine Historical Society's Scanner
---
Reproduced for the Web with the permission of the Toronto Marine Historical Society.