From the familiar and/or famous vessels that we have featured in these pages over the last few issues, we turn our attention this time around to a small wooden passenger steamer of which, we are fairly certain, the majority of our readers will never have heard. Despite her small size, however, she made a considerable contribution to the convenience of the travelling public on Lakes Ontario and Erie, as well as in the Sault Ste. Marie area.
One of the most renowned builders of wooden-hulled passenger steamers on western Lake Ontario in the latter years of the nineteenth century was a gentleman by the name of Melancthon Simpson. Born in 1823 and a resident of Oakville, Melancthon Simpson and his brother, John, had begun their shipbuilding activities with the construction of schooners. Simpson built many steamers as well, these at various yards in the Toronto - Hamilton -St. Catharines area. One of his products was the 90.5-foot ferry and excursion steamer QUEEN CITY (88), (b) ONGIARA (I), which he built at Toronto in 1885, and which we have mentioned in this journal on several previous occasions .
It was in 1888 that Melancthon Simpson built, to the order of W. G. Gooderham of Toronto, a wooden-hulled propellor. The work was done at a yard at Hamilton. She was a double-decked vessel, 130.0 feet in length, 25.2 feet in the beam, and 9.0 feet in depth. The Inland Lloyds Vessel Register of Canadian Hulls for 1892 shows that her "New" tonnage was 265. Unfortunately, we have no information as to the type or measurements of the steamer's machinery or boilers; we would suspect, however, that her screw was turned by a small two-cylinder compound engine with steam supplied by an old firebox boiler.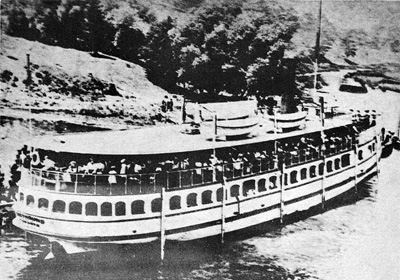 This is GREYHOUND as she apeared when she ran between Toronto, Lorne Park, and Oakville. Photo, probably dated 1893 or earlier, from the Oakville Historical Society collection, courtesy of Lorne Joyce.

Her register was opened at Toronto on June 30, 1888, at which time she was enrolled as C.92735. Gooderham was undoubtedly very proud of his new boat, but the name he chose for her was a bit more pretentious than a vessel of her conservative dimensions might otherwise deserve. For, you see, he had her christened GREYHOUND, presumably in an effort to lure excursionists away from other steamers by giving them the impression that she could make the intended trip much faster than could her opposition.

GREYHOUND was operated by the Lorne Park Navigation Company, and her route took her from Toronto westwards up Lake Ontario to Lorne Park and Oakville. On certain occasions, she even crossed the end of the lake to make calls at Grimsby and at Port Dalhousie. Her main port of call, however, was Lorne Park, which then was a popular and exclusive summer resort community and picnic ground located to the west of Port Credit.

The Park first opened for business in 1879 and it soon boasted a large summer population and many impressive "cottages" occupied by well-to-do Torontonians. The Toronto and Lorne Park Summer Resort Company thrived, partially because of the restricted land access to the park which kept out "undesirables", but more particularly because of the company's cardinal rule. It was guaranteed, as noted in all of the company's advertisements, that "as no intoxicating liquors are, under any circumstances, allowed to be sold either on the steamboat or at the hotel or refreshment booths, the most complete order and quietness will be secured in the park".

In the early years of Lorne Park, steamer service was provided to and from Toronto by EMPRESS OF INDIA, PICTON and ARMENIA, while, in the later years of the old century, ROTHESAY, C. H. MERRITT, GREYHOUND and the ill-fated QUINTE were regular callers at the Lorne Park wharf. In 1889, the round-trip fare to Lorne Park from Milloy's Wharf at the foot of Yonge Street, Toronto, was 25 cents for adults and 15 cents for children. Steamer service to the park was maintained through the turn of the century, but the old wharf collapsed on June 6, 1903, with a crowd of prospective passengers standing on it. The people were fished out of the lake and the wharf was fixed up for a few more years of use, but it soon fell into a state of total disrepair and steamer service to Lorne Park was abandoned. Never again would passenger boats crowded with happy excursionists ever call at the park, and anyone wishing to visit the summer community would have to travel by road or by train.

As early as 1892, H. A. Simpson was listed as the owner of GREYHOUND, although he might, perhaps, have been more appropriately described as her manager. This change (if it really was one) did not have any apparent effect on her operation, for GREYHOUND continued her runs westward from Toronto. It would seem that she remained on the route to Lorne Park and Oakville through 1898. For many years, her master was Capt. James Quinn.

GREYHOUND was a handsome little steamer, although a bit unusual. She had pleasant lines and an extremely graceful counter stem. Her main deck was fully enclosed and was well illuminated with outside light which entered through a row of round-topped windows which completely encircled the deck. Her promenade deck was sheltered from above by the boat deck, but there was little if any enclosed cabin space on this deck into which passengers might flee to seek refuge during inclement weather. The pilothouse was located forward on the boat deck and was surrounded by a railed walkway, which was considerably narrower than the rest of the boat deck and which projected forward from it. There was no permanent cover over the forward end of the promenade deck, although an awning was undoubtedly rigged there in very hot weather, as was the custom of the day. Stepped immediately abaft the pilothouse was GREYHOUND's single, tall, fidded mast, and just abaft that again was her relatively tall and thin smokestack.

Purchased in 1898 by R. H. Hamelin and W. G. Thurston, GREYHOUND was taken to St. Catharines and there she was rebuilt and "enlarged" over the winter of 1898-99. The reconstruction increased her Gross tonnage to 331. In addition, she was renamed (b) LINCOLN in honour of the county in which St. Catharines and much of the Niagara Peninsula is located. For the seasons of 1899 and 1900, Hamelin and Thurston chartered LINCOLN out to the Lakeside Navigation Company Ltd., which used her along with LAKESIDE on its route between Toronto and Port Dalhousie. There had been much heated competition on this popular route, but the three steamers involved, LAKESIDE, EMPRESS OF INDIA and GARDEN CITY, were all operating under the same management by this time, although GARDEN CITY, a large sidewheeler, had been used on the run between Buffalo and Crystal Beach Park on Lake Erie since 1896.

It was early in 1899 that EMPRESS OF INDIA, owned by A. W. Hepburn, had been sent down the lake to Picton for rebuilding and lengthening. It was to replace her that LINCOLN was chartered, for LAKESIDE could not possibly have handled the traffic on the busy Port Dalhousie route herself. In 1901, with the cross-lake service attracting ever more patronage, GARDEN CITY was brought back to Lake Ontario to run with LAKESIDE, and LINCOLN was sent up to Lake Erie to replace her there. LINCOLN may have operated briefly on the Crystal Beach route, but she was soon chartered out to the International Navigation Company of Buffalo for service between Buffalo and Chippawa, Ontario.

In this manner, LINCOLN came to be a part of the final link in the transportation chain between Toronto and Buffalo. She operated in conjunction with the electric line of the Niagara Falls Park and River Railway (the International Railway Company), which provided service from Chippawa across to the face of the escarpment and down the side of the gorge to the dock at Queenston, where connection was made with the steamers of the Niagara Navigation Company Ltd. for Toronto. In fact, the Niagara connection was one of the most important sections in the steamboat services that joined the cities of the upper lakes with those of Lake Ontario and the St. Lawrence River. As necessary as the service provided by LINCOLN may have been, however, she did not long remain on the Buffalo - Chippawa route and she was released from the charter at the close of the 1901 season.

LINCOLN was then sold by Hamelin and Thurston to Albert G. Knowles of Sault Ste. Marie, Ontario. For the 1902 season, Knowles chartered LINCOLN to W.B. Rosevear of the Canadian Sault, who was the general traffic manager of the Algoma Central and Hudson Bay Railway Company. The charter of LINCOLN was a personal venture of Rosevear's and was not related to the services provided by the railway. He operated her on a route between the Sault and Thessalon, a small port located on the northern shore of the North Channel of Lake Huron.

Nevertheless, it was not long after LINCOLN had made the long trip northwards to the Sault from Lake Erie that she was required to make the reverse passage. It was on June 10, 1903, that LINCOLN was sold to a consortium which consisted of Alexander Cowan of Kingsville, Ontario, and of Arthur M. and John McCormick, both of Pelee Island. LINCOLN was placed on the ferry service between the Canadian mainland on the northern shore of Lake Erie and Pelee Island. Having completed her first season of service on this run, she was laid up for the winter of 1903-04 at Windsor. As luck would have it, however, she was holed by ice on March 9, 1904, and she sank at her dock in 40 feet of water. Raised without undue delay, LINCOLN was repaired and was ready to resume service at the opening of navigation. She operated a longer service in 1904, running from Windsor to Pelee Island and Sandusky, Ohio. On September 3, 1904, she was officially transferred to the ownership of the Pelee Island Navigation Company Ltd., Pelee Island, Ontario.

LINCOLN was not destined to be able to stay out of trouble for long, unfortunately, for it was on April 6, 1905, presumably whilst laid up for the winter, that she was severely damaged by fire at her dock at Sandwich, Ontario (on the Detroit River below Windsor). She was burned right down to the level of the main deck and, had not vessels been much in demand at the time, there is no doubt but that she would have been dismantled. Instead, she was sold on May 3, 1905, to Fred William Doty of Goderich, Ontario. If that name sounds familiar, it is because this Doty was affiliated with the famous Doty Engine Company of Toronto, a firm which built the machinery for a number of well-known Lake Ontario steamers and Toronto Harbour ferries. This company also built hulls, two notable examples being the big sidewheel ferries MAYFLOWER and PRIMROSE.

In any event, LINCOLN was rebuilt over the winter of 1905-06 at Collingwood and, on March 28, 1906, her ownership was transferred to the Doty Engine Works Company Ltd. of Goderich. She was totally rebuilt from the main deck upwards, and her tonnage was altered to 337 Gross and 219 Net. The windows around the main deck cabin were gone, to be replaced by occasionally-spaced portholes, and a rather substantial wooden cabin was constructed on the promenade deck. A new and more modern pilothouse, complete with sunvisor, was placed on the boat deck forward, and a tall and very thin stack was placed abaft a pair of large ventilator cowls. The original fidded mast disappeared in the fire and it was replaced by two short pole masts, one immediately behind the pilothouse and one well aft. Four large lifeboats now graced the boat deck, which was railed in only at its forward end.

On April 19, 1906, LINCOLN was officially renamed (c) PREMIER, and her new owners, the Doty interests, placed her back on her old Pelee Island service. The remained on this route until she stranded at Pelee Island during August, 1906. Soon released, she was chartered for the remainder of the season to the Crystal Beach Company of Buffalo, the organization for which she had operated briefly back in 1901 after leaving Lake Ontario. She was put to work on the service between the city of Buffalo and the park at Crystal Beach, which is located on the Canadian shore of Lake Erie between Fort Erie and Port Colborne.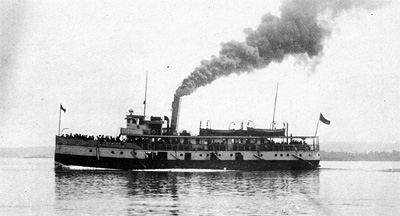 PREMIER looked like this during her latter years on the route between the Canadian Sault and St. Joseph's Islad. Photo, in Little Rapids Cut, by Young, c. 1915.

On March 10, 1908, PREMIER was purchased by William C. Fremlin of Sault Ste. Marie, Ontario. It is not known whether he actually operated her or, if so, where, but she was sold again, on July 15, 1909, to Thomas Jefferson Wilcox of the Canadian Sault. It was on August 3, 1909, that PREMIER was transferred to the St. Joe Island and Soo Line Ltd. for service between the Sault and St. Joseph Island, which is located in Canadian waters, below Sugar Island and to the east and south of Neebish Island. The 1913 Dominion List of Shipping indicates that William C. Fremlin was the managing owner, but it would appear that Albert G. Knowles of the Sault, who owned the boat back in 1902, had an interest of some nature.

On the St. Joe Island and Soo Line route, PREMIER ran opposite the wooden steamer CITY OF CHATHAM, which had been built in 1888 at Toronto by the Polson Iron Works Ltd. Despite the fact that they were the same age and approximately the same size, PREMIER was much the more modern-looking of the two but that was probably due solely to her rebuild after the fire. Both steamers were to serve the St. Joseph Island route for a little more than a decade, and both would bow out of the route and also out of their active careers at about the same time. CITY OF CHATHAM would outlive her running-mate, but only by a few months.

PREMIER was sold on June 14, 1914, to a consortium composed of Edwin Stubbs, James Lyons, and Thomas Jefferson Wilcox, all of the Canadian Sault. As Wilcox had not only been her previous owner but also was part of the new consortium, we assume that the change in ownership was little more than a matter of financial rearrangement, and that PREMIER remained on her normal route.

Then, on November 22, 1917, the vessel was acquired by Capt. Thomas B. Climie and William Wesley Climie, both of the Canadian Sault. PREMIER, her name displayed on large nameboards which were hung over the forward rail on the promenade deck, continued with the service to St. Joseph Island. The years had been passing the steamer by quickly, however, and they had begun to exact their toll on PREMIER's wooden hull, which began to lose its strength. As did many of the wooden vessels of her time, PREMIER began to droop downwards at the stern and, as no hog chains or braces were fitted, her entire hull showed signs of hogging and sagging. (Of course, this did not always bring a boat's active career to an end, for many small steamers continued to operate for years after their hulls had begun to show signs of longitudinal weakness, particularly if their owners were not sufficiently flush to be able to afford a replacement ship.)

On November 13, 1920, the 38-year-old PREMIER was totally destroyed by fire whilst lying at Bruce Mines on the North Channel. The "Canadian Railway and Marine World" reported at the time that her owners were Messrs Climie and Stubbs, so it would appear that the sale of 1917, as was that of 1914, was little more than just a financial reorganization. PREMIER's register was closed on December 6, 1920. Her certificate was never actually surrendered physically, for it had been destroyed in the fire that ended the life of the little steamer.

Interestingly enough, the St. Joe Island and Soo Line Ltd. took CITY OF CHATHAM out of service at the close of the 1920 season. She was partially stripped in 1921 and the hull was then towed to Wiarton, where it was allowed to rot away. As far as we are aware, the demise of PREMIER and CITY OF CHATHAM brought the operations of the St. Joe Island and Soo Line Ltd. to a final close.
---
Previous
Next
---
Return to Home Port or Toronto Marine Historical Society's Scanner
---
Reproduced for the Web with the permission of the Toronto Marine Historical Society.