The long-rumoured retirement of the tanker IMPERIAL SARNIA may be approaching reality. It will be remembered that she was due to be replaced by IMPERIAL ST. CLAIR in 1974 but the veteran was still in sufficiently good condition that she has continued to operate. To run past the end of the 1978 season, however, she would need considerable deck reinforcement and Imperial Oil Ltd. at present has no plans to lay out funds for such work. Built at Collingwood in 1947-48, IMPERIAL SARNIA was sent to the east coast via the Mississippi River in 1953 and was completely rebuilt at Sorel in 1954. She came back to the lakes in 1965 and has stayed with us ever since.
Readers will recall that IMPERIAL SARNIA is not the only Imperial Oil tanker whose future has been in doubt. IMPERIAL COLLINGWOOD also has been reported to be nearing retirement and her lengthy period of idleness in the summer of 1977 gave a bit of a fright to observers who concluded that she had turned her last. She did, however, return to service this autumn. The winter 1977 issue of "Fleet News", Imperial's marine staff quarterly, indicates that "the restricted operating plan for IMPERIAL COLLINGWOOD was implemented successfully. Her profitability was increased to acceptable levels by scheduling her into selected ports, profitable outchartering and a five-week vacation lay-up in the summer. We are hopeful that this kind of operation for the vessel will continue 0" Accordingly, it seems probable that IMPERIAL COLLINGWOOD will operate beyond the retirement date announced for her a few years ago.
In the "Here We Go Again Department" should be placed the news that yet another entrepreneur has plans to "save" the veteran passenger steamer SOUTH AMERICAN from the scrapyard. This time around, the plans come from one Jeff Degaynor, a Mackinac Island businessman, who has made a down payment on the ship and expects to bring her back to the lakes, even though he appears to have no concrete plans for her. According to a report in the Toledo Blade dated February 12th, he might moor her at either Mackinac Island, Sault Ste. Marie, St. Ignace, Detroit, or Holland, Michigan. Take your pick! The purchase price for the boat was apparently the princely sum of $16,000 but Degaynor is seeking additional financing to cover the cost of the restoration project. He claims that a crew will be sent to the vessel's current berth at Jersey City, New Jersey, within the next month to begin painting. They will have a monstrous job ahead of them, for we have seen photos of both the exterior and interior of the ship as she now lies and can certify that she has not aged gracefully.
We do not wish to play the spoilsport as far as SOUTH AMERICAN is concerned and indeed such a role is difficult for us to consider, for Ye Ed. was one of the faithful who joined the SOUTH for her final voyage from Detroit to Montreal back in October of 1967. Nevertheless, the SOUTH has reached such a state of decrepitude that we find it hard to imagine that she could economically be restored for any useful purpose. Her wooden cabins are in disgusting condition and her machinery was removed shortly after her arrival on the east coast. Our own personal preference would be that the South Jersey Port Authority find a buyer (if there should exist such a person or corporation) who would quickly cut SOUTH AMERICAN up for scrap before she deteriorates further. After so many years of stalwart service, she deserves a better fate than has so far developed for her and we rather wish that she could be put out of her misery before more time passes.
The Canadian tanker GULF CANADA, like so many other Canadians fleeing from the joys of a northern winter, has gone south for the duration of the season. The steamer is presently laid up at Tampa, Florida, where she is undergoing a thorough refit preparatory to returning to Canadian waters (and, we hope, to the lakes) in the spring. A full colour photo of GULF CANADA graced the front page of The Tampa Tribune on February 7th. GULF CANADA was built in 1952 at Collingwood and originally sailed as (a) B. A. PEERLESS.
Hard times have fallen on the salt water operations of Upper Lakes Shipping Ltd. Whereas the company would normally have a number of its boats running on the Atlantic during the winter months, such is not now the case and all of the ships are presently in ordinary. Among them, ST. LAWRENCE NAVIGATOR and ONTARIO POWER are at Shelburne, Nova Scotia, CAPE BRETON MINER is at Halifax, and ST. LAWRENCE PROSPECTOR is at Toronto where she is undergoing extensive repairs to her starboard bow for damage sustained in an autumn accident in the Seaway. CAPE BRETON HIGHLANDER, PHOSPHORE CONVEYOR and CANADIAN TRANSPORT are all lying at Tampa, Florida. The company would like to sell the latter vessel for scrapping but with the current depressed state of the world scrap market, it seems that it would cost as much to tow the ship away as could be realized from her dismantling.
The shipyard at Port Weller has been one of the busiest such facilities anywhere in Canada for the past few years and the prospects are good that this state of affairs will continue, at least for the foreseeable future. Not all of Canada's shipyards are in such an enviable position, however, and one of the least busy has been the Halifax shipyard owned and operated by Hawker Siddeley Canada Ltd. In fact, employment at the yard has slipped to less than eighty persons recently. The situation is likely to change in the near future, for negotiations are now in progress which should lead to the acquisition of the shipyard by Upper Lakes Shipping Ltd. which, of course, also owns Port Weller Dry Docks Ltd. Plans are not yet finalised, but it appears that the property may actually be purchased by the Nova Scotia government and then leased to Upper Lakes. Final arrangements are said to be imminent. The yard will presumably be used to service Upper Lakes Shipping's salt water vessels which currently must be brought into the lakes (where possible) or else sent to a shipyard operated by rival interests, such as the Halco yard at Shelburne, Nova Scotia, where two Upper Lakes boats are currently wintering.
The acquisition of the ferry SUNSHINE COAST QUEEN, (a) VACATIONLAND, (b) JACK DALTON, (c) PERE NOUVEL, by Michigan state authorities for use on a ferry service between Meldrum Bay, Ontario, and Detour Village, Michigan, as well as on the Straits of Mackinac carferry sun, has been stalled pending the results of yet another study. This latest affair, expected to cost Michigan taxpayers $100,000, will look into the feasibility of converting the double-ender for the carriage of railroad cars. By the time a final decision has been made as to whether the big ferry should be returned to the lakes, a veritable fortune will have been expended by both Ontario and Michigan officials on surveys and studies of one sort or another.
In the February issue, we mentioned that the former C.S.L. lake package freighter FORT CHAMBLY paid a visit to Montreal in December. It has since become apparent that she is spending the winter in that port and, from the present appearance of things, it is possible that she may be spending more time in Montreal than was anticipated by her owner. It seems that an arrest warrant was served on the ship on January 31 in connection with a cargo of wire rods valued at $451,456 which was to be shipped from Spain to Nigeria for a West German company. The consignor has alleged that the rods were not unloaded in Nigeria and that they are still aboard the boat. Accordingly, the firm has taken legal action to secure the delivery of the cargo and damages to compensate for the delay.
The more we hear about the Quebec and Ontario Transportation Company's steamer SHELTER BAY, the less we like the chances of seeing her in operation come the spring. As time passes, each word we hear is more pessimistic. In the meantime, the steamer herself lies on the north wall of the Toronto ship channel at the entrance to the turning basin, facing inwards. This is an unusual location for her and, as far as we have been able to observe, there has been little if any work done on her during the winter.
Several issues ago, we reported that the sandsucker ESPERANCE III, a salt water vessel, was upbound in the Welland Canal in mid-December, apparently bound for Lake Erie service. We have since learned that the ship has been acquired by R. J. Au and Sons of Mansfield, Ohio, a firm engaged in marine contracting on Lake Erie. It is not known exactly where she will be used.
For those who keep statistics on new vessels for their records, we are pleased to report the following new enrollments:
CARTIERCLIFFE HALL, C. 372490, registered at Toronto, November 4, 1977. Motorvessel built 1959 at Hamburg and rebuilt 1977 at Lauzon. 716 x 76 x 36, Gross 18531, Net 12617. 8,634 H.P. Owner - Hall Corporation Shipping Ltd., Montreal.
JEAN PARISIEN, C.368347, registered at Quebec, November 25, 1977. Motorvessel built 1977 at Lauzon. 720 x 75 x 43, Gross 22772, Net 16351. 9,000 H.P. Owner - Power Corporation of Canada Ltd., Montreal.
In addition, we might note that the registry of ELMBRANCH was closed on November 1, 1977 with the notation that she was sold to Panamanian owners. Of course, she is now (c) WITSUPPLY II.
The Boland and Cornelius fleet, the American Steamship Company, has had a very strange reputation over the years, that of engaging in more changes of name amongst its vessels than any other lake operator. The massive array of boats named THUNDER BAY QUARRIES, CONSUMERS POWER, ADAM E. CORNELIUS, JOHN J. BOLAND, DETROIT EDISON, DIAMOND ALKALI, DOW CHEMICAL, etc. ad nauseum, is surely enough to inflict mental anguish on any but the most knowledgeable historians. In recent years, the habit of continually shifting names has worn off somewhat but we now understand that the company may be at it again. Readers will be aware that one of the hulls ordered by the firm is Bay Shipbuilding's Hull 721, a small self-unloader which is allegedly to be similar to SAM LAUD. We have heard that this boat is likely to be named BUFFALO in honour of the fleet's home port. To do this, it will be necessary to rename the present BUFFALO, (a) FRANK H. GOODYEAR (II)(39), (b) DIAMOND ALKALI (II)(76). The name being considered for her is (d) SAGINAW BAY. This self-unloader, although repowered a few years ago with an extremely powerful diesel engine, dates back to 1917 when she was built at Ecorse by the Great Lakes Engineering Works. Strangely enough, her first owner was the Buffalo Steamship Company, an enterprise of the famous Capt. John Mitchell, and she is one of the last two surviving Mitchell vessels.
Pitts Engineering Construction Ltd. of Toronto has let contracts for the construction of two steel barges which it intends to fit out as derrick barges. One contract, worth $1 million, has gone to the United Towing and Salvage Company Ltd. of Sorel, Quebec, while the other, valued at $1.6 million, has been let to the Collingwood yard of Canadian Shipbuilding and Engineering Ltd. One of the units will be a replacement for a large derrick scow/dredge which Pitts recently lost in the St. Lawrence River.
The U.S. Coast Guard icebreaker WESTWIND, damaged earlier in the winter in a grounding near Detour Passage, has been undergoing repairs at Montreal. We suppose that a fair measure of the extent of the damage can be gained from the fact that when the icebreaker was rushed out of the lakes, she was taken to a Canadian shipyard instead of to one of the U.S. yards on the east coast.
In many cases when a new lake vessel is under construction, the name to be carried by the ship is known well in advance of her christening. This is not the case, however, with the self-unloading bulk carriers currently being built for the United States Steel Corporation. While there has as yet been no official hint as to what either Bay Shipbuilding's Hull 718 or American Shipbuilding's Lorain Hull 908 will be christened, speculation has been rampant and at least one expert observer has wondered whether they might not be named EDGAR B. SPEER and DAVID M. RODERICK respectively. One thing seems to be certain and that is that if the "Steel Trust" follows the pattern it has set over the last few decades, its new boats will be given "people names" honouring corporation executives.
INCAN ST. LAURENT is a rail ferry generally similar in size and design to INCAN SUPERIOR which operates between the Canadian and American lakeheads. The ST. LAURENT, built in 1975 at North Vancouver and operated on the lower St. Lawrence River ever since her commissioning, has recently been renamed (b) GEORGES ALEXANDRE LEBEL. Both ferries are owned by Incan Ships Ltd. of Montreal.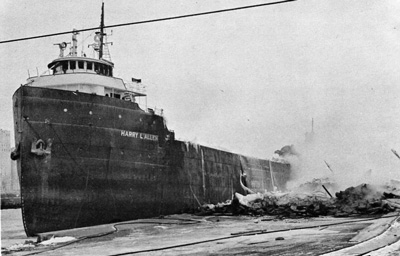 HARRY L. ALLEN is a sorry sight after the burning Capital No. 4 elevator at Duluth fell on her. Note the unloading leg lying on her deck. Photo by Kenneth E. Thro.

We have received a report, albeit unconfirmed as yet, that the damaged Kinsman steamer HARRY L. ALLEN has been sold to the Hyman-Michaels Company for scrapping at Duluth. If true, word of such a sale is hardly surprising in view of the very extensive damage suffered by the 68-year-old bulk carrier. The photograph appearing on our photopage this month amply illustrates the fact that the vessel is damaged beyond economical repair and, with her elderly hull having been subjected to extreme heat while frozen in the harbour ice as well as to a deluge of water dumped on her by firefighters, her plating may well have weakened to the point where the ALLEN might not survive the rigours of a long tow to a distant scrapyard.

The great windstorm of January 26th which created such ghastly havoc, particularly in the Southern Ontario area, caused few problems on the lakes due to the fact that it did not occur at the height of the navigation season and those ships that were still operating were well wedged into heavy ice. One casualty, however, was the Interlake Steamship Company's CHARLES M. BEEGHLY which grounded in the Johnson Point area of the Middle Neebish Channel of the St. Mary's River. At the time of this writing, it is unclear whether her troubles were directly related to the storm, but this would seem to be likely. The BEEGHLY proceeded to South Chicago, where she unloaded her cargo, and then returned up the lakes. She was scheduled to arrive at Fraser Shipyards in Superior, Wisconsin, on February 13th.

Reports indicate that the C.S.L. steam-powered bulk carrier BLACK BAY suffered a fire in her engineroom and aft accommodations while tied up at Montreal on February 19. She has a transit cargo of iron ore bound for Hamilton. The extent of the fire damage is not yet known but the fire was of sufficient severity that the C.S.L. salty FERBEC had to be moved away from her winter berth alongside BLACK BAY.
---
Previous
Next
---
Return to Home Port or Toronto Marine Historical Society's Scanner
---
Reproduced for the Web with the permission of the Toronto Marine Historical Society.