On many occasions in these pages we have mentioned the Muir Shipyard which was located on the old Welland Canal above Lock One at Port Dalhousie in what came to be known as Muir's Pond. The Muir family, however, were not the only shipbuilders operating along the banks of the early canals. Indeed, only a few miles up the canal flourished the busiest shipyard then operating in the area, a yard that over a period of fifty years turned out 120 wooden and composite lake steamers and sailing vessels.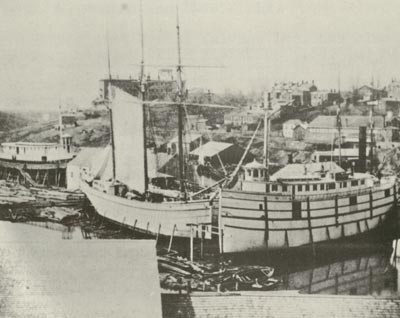 The Shickluna shipyard in 1863, photo courtesy Al Sagon-King. At left is propellor HER MAJESTY and at right is AMERICA ready for launching. At centre stage is schooner C.G. ALVORD and over her deck can be seen cabin and rails of schooner ST. LAWRENCE.

The proprietor of this prolific shipbuilding enterprise was one Louis Shickluna, a gentleman born on the island of Malta in 1808. He came from a long line of shipbuilders and at an early age was trained in the art of producing something as complex as a ship from something as simple as a tree. Shickluna went wandering early in life and at the age of 23 found himself in Quebec where he sought employment in the local shipyards. His first year on this side of the pond, 1831, saw him working on the construction of the famous ROYAL WILLIAM, the first Canadian steamer to cross the Atlantic. The following year, he was up on Lake Ontario at Oakville where he was hired to assist in the building of the steamer CONSTITUTION (later renamed TRANSIT).

Then for two years Louis spent his time building docks at Niagara. He could not stay away from shipbuilding for long, though, and he devoted the following two years to studying drafting at Youngstown, New York. In 1836 he moved to a spot called Shipman's Corner and set up his own shipyard on the bank of the busy Welland Canal near Lock Three, close under Oak Hill in an area which, a few years hence, would be right in the heart of downtown St. Catharines.

Shickluna built a drydock large enough to handle the so-called "canallers" of the day. The dock was divided into two sections which could be flooded or drained separately and hence two vessels could be accommodated at once. Few and far between were the times when either drydock was empty and when there were not ships building in the yard ashore and lined up outside awaiting repairs.

Louis Shickluna not only built vessels to the order of lake operators but also built a good many ships on speculation when the orderbook began to look a bit empty. And if it suited an owner to have a ship built somewhere other than at the Shickluna yard, Louis would move his men and facilities to a more appropriate location. His own work with an adze was legendary and his yard had a reputation for quality, a characteristic that no doubt won him many contracts.

We do not know the identity of the first ship that Shickluna built at his new yard and, in fact, there is some dispute over when he built his first vessel in the Niagara area. It is alleged that Shickluna built the two-masted schooner R. H. BOUGHTON at Youngstown in 1829, but this is very doubtful considering that he is not known to have crossed the Atlantic until 1831.

It would be next to impossible to gather a complete listing of all the ships built by Louis Shickluna over the half century that he was in business. We have, however, a partial list - one that makes mention of the most famous of Shickluna's products. The list is arranged in chronological order. All were built at St. Catharines unless otherwise specified.
| | |
| --- | --- |
| 1842 | LADY BAGOT, two-masted schooner |
| 1844 | ALMEDA, two-masted schooner. |
| 1845 | MARY FRANCES, two-masted schooner - built at Prescott. |
| 1846 | FAIRFIELD, two-masted schooner - built at Niagara. |
| 1847 | L. SHICKLUNA, two-masted schooner. |
| 1848 | WELLAND, two-masted schooner. |
| 1849 | FRED L. WELLS, two-masted schooner. |
| 1852 | LAFAYETTE COOK, brigantine. |
| 1853 | ST. ANDREW, two-masted schooner. MALTA, barquentine. |
| 1854 | GIBRALTAR, barquentine. |
| 1855 | JESSIE, two-masted schooner. TERESA, two-masted schooner. |
| 1856 | LOUISA, barquentine. SIR E. W. HEAD, barquentine. |
| 1858 | ELIZABETH, two-masted schooner. MARY, two-masted schooner. |
| 1859 | PRIDE OF CANADA, barquentine. |
| 1860 | PRINCE OF WALES, barquentine - (b) SLIGO (1874), three-masted schooner. |
| 1861 | CANADA, barquentine. |
| 1862 | MARY JANE, barquentine. |
| 1863 | PRIDE OF AMERICA, barquentine. CAMBRIA, barquentine. C. G. ALVORD, three-masted schooner - rebuild of (a) CALIFORNIA (1849). HER MAJESTY, passenger & package freight propeller. AMERICA, passenger & package freight propeller. ST. LAWRENCE, three-masted schooner; cut down to barge 1874. |
| 1864 | SAMSON, tug. ENTERPRISE, passenger & package fright propeller. CLYDE, three-masted schooner - cut down to barge 1866. VALETTA, barquentine. CITY OF TORONTO, passenger propeller. |
| 1865 | SKYLARK, scow schooner. MARY MERRITT, barquentine. |
| 1866 | BESSIE BARWICK, barquentine. JANE C. WOODRUFF, barquentine. |
| 1868 | FANNY CAMPBELL, topsail schooner. |
| 1869 | DALHOUSIE, freight propeller. THOMAS C. STREET, barquentine. |
| 1870 | EUROPE, passenger & package propeller. J. G. McGRATH, two-masted schooner. L. SHICKLUNA, passenger & package freight propeller. |
| 1871 | JENNIE GRAHAM, barquentine. JAMES NORRIS, topsail schooner. |
| 1872 | AUGUSTA, topsail schooner. |
| 1874 | SIR C. T. VAN STRAUBENZEE, topsail schooner. |
| 1877 | ST. LOUIS, topsail schooner. |
| 1880 | L. SHICKLUNA, tug. |
| 1884 | SIR L. S. TILLEY, composite freight propeller - (b) ADVANCE. |
The year 1874 saw the opening of the third Welland Canal which avoided the route through downtown St. Catharines and which also had larger locks. The demand for smaller vessels of the type that Shickluna built gradually decreased, but the yard was known for the excellence of its work and hence still was called on for a few contracts, although most of its work now lay in repairing older vessels.
The last vessel built by Louis Shickluna was the composite package freight propeller SIR L. S. TILLEY (see Ship of the Month No. 36, January 1974), for he died in 1884 while she was on the ways. The yard was taken over by Patrick Dixon and his son Harry J. Dixon who were general marine contractors. The Dixons finished the work on the TILLEY and then devoted their efforts to the construction of tugs, scows, lighters and the like. They also attracted a substantial repair business.
In 1894 the Dixons built the tugs JESSIE HUME and CHARLES E. ARMSTRONG at St. Catharines and when these two vessels were finished the old yard was closed down and operations were moved to Toronto. The Dixon business was eventually to become the Toronto Drydock Company which lasted into the mid-sixties. Shickluna's old shipyard on the canal was left to moulder away amongst the memories of years when the sounds of men hard at their work rang out across the busy waterway.
Louis Shickluna was not only a competent builder but was also a ship designer of some note. He has been credited with the introduction to the Great Lakes of the bluff-bowed, wall-sided, bulge-quartered schooner and was the first to build this type of vessel. Schooners of this type were built to the maximum size allowed by the dimensions of the old canal locks and they could manage about 700 tons of cargo. These vessels could for many years be seen in great numbers in the old waterway, their jibbooms "cockbilled" to permit entry into the diminutive lock chambers.
Today, all trace of Louis Shickluna and his work is gone. The man himself has been in the grave just one decade short of a century and the last of his ships, as strong and sound as they were, passed into the realm of the history books many years ago. In 1975 there are very few people who have even heard mention of Shickluna or his shipyard from which there appeared more new vessels than from any other individual shipyard which has ever operated on the Great Lakes.
---
Previous
Next
---
Return to Home Port or Toronto Marine Historical Society's Scanner
---
Reproduced for the Web with the permission of the Toronto Marine Historical Society.