It has finally come to pass. The Great Lakes once more has a cruise vessel operating, but whether it will turn out to be a one-year deal or a more permanent feature is yet to be determined. The Sun Line's motorship STELLA MARIS II cleared Montreal on May 25th on her first upbound trip and arrived in Toronto on the 27th, a watery welcome being staged by the fireboat WM. LYON MACKENZIE. The vessel is using the old Yonge Street slip for her regular dock and while it is not really suitable for passenger operations, it is a far sight better than the facilities available in some ports, a notable example being Port Colborne where she ties alongside the west wharf where the Valley Camp bunker rig was once. STELLA MARIS II, the successor to an earlier vessel named STELLA MARIS which plied into the lakes about 1959 and which subsequently burned, appears to have been well received not only by those travelling aboard her but also by those who have visited aboard the ship. The only problem seems to be that she is not quite so large a ship as might have been used on the run and quarters are a little cramped. Nevertheless, it is to be hoped that the service is successful and that it will be expanded in 1975.
At long last, TRILLIUM appears to be on the road to her eventual reappearance as an honest-to-goodness steam-powered sidewheel ferry on Toronto bay. After spending the winter lying at the Metro Marine yard at the foot of Rees Street in Toronto, she was towed away to Whitby about the 25th of May for drydocking. McNamara's tug SOULANGES did the honours for the trip which had to be delayed for several weeks because of a mother duck which was nesting on one of the ferry's fender strakes.
Speaking of ferries, we can report that THOMAS RENNIE is back in service after her re-engining and appears to be functioning well. Her new diesels are Caterpillars, just like the ones that were fitted into SAM McBRIDE the previous winter and are thus much quieter than the Cummins installation in WILLIAM INGLIS. We do, however, get lonesome once in a while for the sound of telegraph bells, the ringing of which has disappeared from the bay now that all the ferries have direct pilothouse engine controls. Hurry up, TRILLIUM!
After many years of operation, the Roen Steamship Company is now out of business. The last operating boat in the Roen fleet was the tug JOHN PURVES but during the spring she was sold to the Eder Barge & Towing Company of Milwaukee, the same firm that last year bought the Roen barge MAITLAND NO. 1.
The U. S. Corps of Engineers is currently conducting studies into the possibility of building a new lock on the site of the present Davis and Sabin locks at Sault Ste. Marie. The new lock, if built, would be large enough to carry the newer breed of giant carrier which at present can only use the Poe Lock.
Bulk carriers of the Bethlehem Steel fleet continue to trade into Lake Ontario this year, normally picking up ore at Picton. As reported earlier, the older steamers STEELTON and LEHIGH do not as yet carry the new I-beam insignia and we have learned that they will not be given the new colours until the beginning of next season.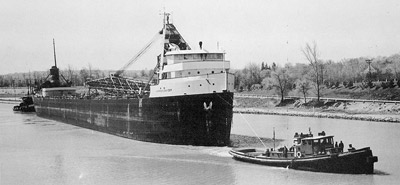 OKLAHOMA and SALVAGE MONARCH prepare to take HARRIS N. SNYDER through the Homer Bridge, May 11, 1974. Photo by J. H. Bascom.

The parade of old lakers to European scrapyards continues and it looks as if 1974 will be almost as sad a year as was 1973 for those who get sentimental about a column of coalsmoke on the horizon, a tall funnel, a steam whistle or a turret pilothouse. In earlier issues, we reported the downbound passages under tow of CRISPIN OGLEBAY and BEN W. CALVIN. In addition, the Erie Sand self-unloader JACK WIRT, which was sold to Marine Salvage and wintered in the old canal below Humberstone, was towed down the Welland on April 25th by the tugs A. MOIR and SALVAGE MONARCH, Next to go was HARRIS N. SNYDER which was sold by BoCo to Union Pipe & Machinery Ltd. earlier in the year. She passed down the Welland May 10-11 in tow of OKLAHOMA and SALVAGE MONARCH. Almost a month later, on June 4th, CATHY McALLISTER and TABOGA brought the U. S. Steel craneship CLIFFORD F. HOOD into Port Colborne and she passed down the canal during the following night. She also had been purchased by Union Pipe. The Cleveland Tankers steamer ROCKET, which operated during the early part of this season but which had been laid up with plating problems, was sold to Marine Salvage during May for the sum of $100,000. This sale price is rather surprising in view of the fact that her sistership COMET was sold for scrapping two years ago for only $12,000. ROCKET was taken down the Welland June 13-14 by SALVAGE MONARCH and DANIEL McALLISTER. Next in line came the Kinsman bulk carrier KINSMAN INDEPENDENT which had been laid up ever since a minor accident in the Neebish Rock Cut last August. Marine Salvage purchased her in May for $225,000, a nice profit for Kinsman who paid only $100,000 when they purchased her from U.S. Steel in 1966. The INDEPENDENT arrived under tow at Port Colborne on May 24th and was sealed for transatlantic tow. She passed down the canal during the night of June 16-17 in tow of SALVAGE MONARCH and G.W. ROGERS. Still another scrap sale took place on May 27th when Columbia's idle straight-deck bulk carrier JAMES DAVIDSON was purchased by Marine Salvage. She made the trip down the canal on June 26th in tow of SALVAGE MONARCH and HELEN M. McALLISTER. The next tow to come would appear to be the former Ann Arbor Railroad carferry CITY OF GREEN BAY (a) WABASH which at the time of writing in late June, was lying at Port Colborne alongside the West Street wharf for sealing. And as if all this news isn't sad enough, we have heard that there may be another eight or so old lakers making the same trip during the remainder of the season.
The date is June 4, 1974, as TABOGA and CATHY McALLISTER nurse CLIFFORD F. HOOD alongside the R & P dock at Port Colborne. Photo by Bill Bruce.

As far as ships that left the lakes last year for scrapping are concerned, information on their arrival on the other side of the Atlantic is coming very slowly. F. H. ANDERSON (the former CITY OF CHEBOYGAN) and NO. 2 (which appears to be the name under which CITY OF MUNISING went overseas) passed Gibraltar on November 3rd, 1973, en route to Genoa in tow of SEETRANS I. BETHLEHEM which last year was sold for use as a grain storage hull in Europe and which wintered at Montreal, was towed from that port on May 15th en route to Quebec from where, presumably, she will be towed overseas. It is not known whether she will, in fact, be used on the other side or whether she too will wind up under the cutting torch.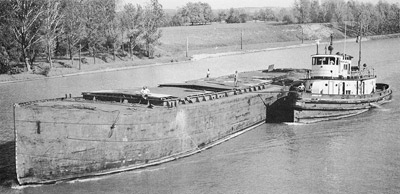 The camera of Bill Bruce caught BARBARA ANN with IRONWOOD in tow at the Homer Bridge in the Welland Canal on May 22, 1974.

Several vessel have also been feeling the torch here on the lakes. The former C.S.L. package freight canaller SASKATOON has now disappeared completely at Kewaunee where cutting was in progress during the spring. At Strathearne Terminals in Hamilton, there is very little remaining of ALFRED CYTACKI which was cut down early this year. Only a very small portion of the bow was still there at last observation. Now at Hamilton and awaiting the torch is the hull of Nicholson's old IRONWOOD. Latterly cut down to deck level for use as a barge in the Port Huron area, she was towed down.. the Welland on May 22nd by BARBARA ANN. Work has not begun on her demolition as yet.

The Kinsman fleet continues to dispose of tonnage and the fleet that just a few short years ago had become the second largest American vessel operator on the lakes has now retreated to a position of somewhat less importance. In addition to the sale of older vessels for scrapping (and more such sales are expected), it was announced that during the week of May 20 Kinsman sold the straight-deck bulk carriers THOMAS WILSON and WILLIAM A. REISS to the Columbia Transportation Division, Oglebay Norton & Company. Both will operate under bareboat charter to Kinsman for the remainder of the 1974 season and will remain in Kinsman colours. In 1975 the WILSON will be converted to a self-unloader while WILLIAM A. REISS will be relegated to lay-up status (replacing JAMES DAVIDSON in this capacity) awaiting a possible future conversion. Columbia apparently does not wish to operate the REISS as a straightdecker since after her deepening a few years ago she has trouble under the unloading rigs which have difficulties getting into her holds.

Kinsman's diminutive JAMES E. FERRIS is operating this year, much to the pleasure of ship watchers, but she comes due for her five-year inspection this fall and it is not yet certain whether Kinsman will go to the expense of putting her on the drydock. Let's hope she does get and pass her survey.

After spending last summer and the winter season idle in the Toronto turning basin, the three Canadian Dredge & Dock breakwater hulls have seen much activity this year. RIDGETOWN, LACKAWANNA and KINSMAN VENTURE were originally implicated in a recently announced plan to construct marina facilities off the Scarborough Bluffs at the foot of Brimley Road and in fact newspaper accounts of the plans indicated that three old ships would be sunk off the small boat harbour to provide shelter from lake blows. Then about May 20th LACKAWANNA was towed to Port Credit and unloaded of much of her stone. It was then thought that the Bluffs plan had fallen through and that LACKAWANNA might be used as a breakwater at Port Credit where a serious erosion problem has developed in recent years. Surprisingly, LACKAWANNA appeared back in Toronto in June and on June 21st, RIDGETOWN was towed out to Port Credit. The following day, she was positioned over a bed of stone (which came out of LACKAWANNA) and sunk directly across the pierheads of the small harbour. While her placement will protect the harbour and the small boats in it from the fury of the lakes, it does effectively block any steamer traffic from ever entering the harbour or using the relatively new dock built about a decade ago for the now-departed C.S.L. package freight service. After the sinking of RIDGETOWN (with her cabins and spars etc., complete), KINSMAN VENTURE was also towed to Port Credit for a partial unloading of her stone cargo but she also is now back at Toronto and, along with LACKAWANNA is waiting in the Turning Basin for whatever future is planned for them.

The new C.S.L.-Canada Cement bulk cement carrier ENGLISH RIVER, recently converted from a package freighter, arrived in Toronto on May 3rd on her first voyage in her new guise. Unfortunately, her arrival was not particularly auspicious as she suffered mechanical problems and was stuck in port for eight days. We have heard that she pulled one of the scraper blocks out by its roots and this had to be repaired before the cement cargo could be removed. As for the ship herself, she is no better in appearance than she was as a package freighter. The gray colour does not particularly suit her and the conglomeration of ugly equipment mounted on her stern behind the cabin and much higher than her funnel does nothing to help. Due to her rather unusual design (much like a carferry), all the cement is actually carried above water level and she rides very high in the water. We understand that this has produced a certain uneasiness in her crew. Since the arrival of ENGLISH RIVER on the local scene, CEMENTKARRIER has not put in an appearance at this port and we presume that she is now operating down the St. Lawrence. We rather wish she would come back!

The lengthened Columbia bulk carrier ARMCO passed down the Soo Canal on April 19th on her first trip after completion of the lengthening done at Fraser Shipyards in Superior. We have not yet seen her but we have received reports from those who have and they indicate that she looks even better than before. Unlike many yards, Fraser seems able to construct midbodies that completely suit the sheer of the vessel. Next to undergo the stretching operation was CASON J. CALLAWAY which received her new midsection on April 21st at the same yard.

The Netumar salty NETUNO arrived at Toronto on her first lake trip of the year on May 14th and was immediately placed under arrest. The seizure was the result of a claim by Maple Leaf Mills Ltd. which stated that on November 15, 1973, the vessel had delivered to them a load of castor oil which was subsequently found to be bad. The ship was permitted to go her way after a bond for $34,033 was posted.

We have heard reports that Inland Steel intends to have its bulk carrier WILFRED SYKES converted to a self-unloader over the upcoming winter, the job to be done at Superior by Fraser Shipyards. We hope that Inland will be particularly careful about the type of unloading equipment chosen for the conversion, as the SYKES, built in 1949 and at the time of her build the largest ship on the lakes, is generally acknowledged to be one of the most handsome vessels ever built and we would not want to see her appearance ruined by the fitting of some ghastly rig like that installed on C.S.L.'s FRONTENAC.

The 1974 shipping season has, so far, been relatively free of accident and except for one incident, any occurrences have been fairly minor. The Cleveland Cliffs steamer CHARLES M. WHITE grounded on Waverley Shoals at the tip of Door Peninsula (the west side of Lake Michigan) on April 15th. She stuck fast but was finally pulled free the next day by LAUREN CASTLE, JOHN PURVES, JOHN M. SELVICK, CHARLES ASHER, U.S.C.G. RARITAN and U.S.C.G, MESQUITE. Another Lake Michigan area incident occurred on May 13th when fire originating in an overheated air compressor broke out aboard the barge SEA CASTLE (the former JOHN L. A. GALSTER) as she was being towed by JOHN M. SELVICK at Holland, Michigan. With much difficulty, the barge was finally secured and the fire extinguished. Another minor accident took place on June 9th when the Bob-Lo excursion steamer STE. CLAIRE grounded off Wyandotte while waiting for a freighter to dock upriver. The wind apparently caught the passenger ship and pushed her into shallow water. She was freed a short while later by the G-tug MAINE.

The tanker IMPERIAL SARNIA which grounded on April 15th in the upper St. Lawrence has since been repaired at Canadian Vickers and returned to service.

The one really serious accident of the year so far occurred on the morning of May 23 at the western end of Lake Erie in the passage between Point Pelee and Pelee Island, There was fog in the area at the time and somehow the Kinsman bulk carrier HENRY STEINBRENNER managed to run down the small tanker CARDINAL owned by the Algonquin Corporation, a Hall subsidiary. The STEINBRENNER received bow damage and made her way safely to Lorain where repairs were to be put in hand, the damage amounting to something in excess of $100,000. The CARDINAL, however, got the worst of the damage even though she was apparently the innocent party in the accident. She sustained a gaping hole in her port bow and many observers have since wondered how she managed to stay afloat after the collision. Fortunately, the damage is just forward of the bulkhead, or else her forward tank would have been flooded and she might very well have foundered. As it was, she limped to Pelee Island after a U.S.C.G. helicopter rescue party cut free three crewmen who had been trapped in the twisted wreckage of their forecastle quarters. Accompanied by the tug ATOMIC, CARDINAL made her way to Port Colborne (she had originally been headed for Sarnia to pick up a cargo) and passed down the canal on May 26th, She arrived at Toronto on May 27th and immediately went into lay-up along the north wall of the turning basin where, at the time of writing, she still remains, the damaged side out so that curious passers-by cannot see the huge bite out of her side that extends all the way from deck level to well below the waterline. We understand that she is to be put on drydock to determine the extent of damage and cost of repairs, however as yet no drydock has been available, as Port Weller has the coast guard ship WOLFE which is having a new bow fitted, and Whitby has its hands full with TRILLIUM. We hope that all shipwatchers have managed to get good shots of CARDINAL while she was running, because we fear that the chances of the steamer being repaired are remote.

The newest Boland & Cornelius self-unloader was christened H. LEE WHITE in ceremonies held at Sturgeon Bay on May 1st, 1974. This latest of the ugly-duckling stemwinders has since entered service.

Complaints by the concerned citizens (!) of Sugar Island in the St. Mary's River about fares and schedules of the ferry SUGAR ISLANDER have led to proposals that the community take over the ownership and operation of the ferry. Funds could apparently be made available for the project but we wonder just how much better the service would be run should the citizens of the island get control of it....

Gulf Oil is reported to be looking for shipbuilding facilities in Canada which could turn out three 60,000-ton tankers for use in the Eastern Canada trade. Gulf would like to have two of the ships ready for delivery in 1976 and the third in 1978. Late word has the first pair coming from Sorel.

Most of the major Canadian oil companies, faced with a shortage of tankers to meet the heavy demand for petroleum products, particularly in the province of Quebec, have made arrangements to charter salt water tankers to operate from the lower lakes to Montreal. B.P. is running BRITISH SWIFT from its Bronte refinery to Montreal and Shell is operating its ACAVUS from Oakville to Montreal. In addition, Shell has ACHANTINA, a frequent lake visitor, running into the lakes again this year. Gulf has two chartered ships of 100,000 bbl capacity each running from Clarkson to Montreal and Imperial has two vessels of similar size chartered for the run from Sarnia down to Montreal, one of the Imperial charters being RESOLUTE COLOCOTRONIS.

The Ontario Northland Transportation Commission announced on April 26th that a new ship is to be built to replace the excursion vessel CHIEF COMMANDA on Lake Nipissing. The new vessel is to be constructed at a cost of $500,000 by Marlin Yachts of Gananoque and is to have a catamaran hull and a capacity of 350 passengers. Drawings of the ship indicate that she will be anything but the traditional passenger ship in appearance. CHIEF COMMANDA herself, a 99-foot motorship, was built in 1946 at Toronto and would, we should have thought, be good for many years to come. Governments, of course, are notorious for spending money in the wrong places, and hence the COMMANDA must go, the victim of the capricious whim of some official. The O.N.T.C. says that CHIEF COMMANDA will not be scrapped, but will rather be donated to the City of North Bay for a museum! Now we do feel that it would be nice to see the COMMANDA retained for service, but we think that she is hardly suitable for use as a museum ship, there being very little of historical importance in her. Que sera, sera....

The former U.S. Coast Guard tender MAPLE has been taken over by the U.S. Environmental Protection Agency and has been renamed ROGER R. SIMONS in honour of a Michigan biologist who was killed in a boating accident on the Mississippi while sampling water for pollution. Christening ceremonies for the ship were held at Detroit on June 10th.

Following an eight-month investigation of the port's affairs, five men have been charged in Hamilton with fraud, bribery and forgery. The R.C.M.P. determined that the five have all been involved in attempts to defraud the Hamilton Harbour Commission and one of the men involved was Kenneth Elliott, a former city appointee to the Harbour Commission. Mr. Elliott has been involved in the ship provisioning and shipbreaking (Strathearne Terminals, etc.) trades and it is a result of the problems recently unearthed that the scrapping of the tugs A.M. GERMAN, STRATHMORE and FRANK DIXON has been delayed. Two of the parties sought in connection with the charges have moved away to Florida and extradition proceedings are underway. It seems that the whole dirty business relates to a dredging project at the eastern end of Hamilton harbour to relocate a slip, however, we understand that involved in the problem are certain efforts to keep a rival shipbreaker from setting up business in the port.

A recent report in the Toronto Globe and Mail would indicate that J. D. Leitch is very close to acquiring complete control of Upper Lakes Shipping Ltd., an acquisition that was denied him two years ago when a deal between Upper Lakes, Norris Grain, Maple Leaf Mills and Neonex International Ltd., fell through as a result of Bruce Norris of Chicago failing to fulfill his share of the deal. Legal action has been before the courts ever since. We shall not relate here all the complex details of the original deal, but suffice is it to say that Leitch, who already controls about 35% of the shares of Upper Lakes, will acquire 64.94 percent of the Upper Lakes shares outstanding, these being currently held by Norris. Leitch will also acquire 65% of the shares of Jackes Shipping Ltd., a subsidiary of U.L.S. which owns four of the five former Papachristidis vessels purchased two years ago by Upper Lakes. The new deal is probably just as complicated as the old one and no doubt involves Leitch-held shares of Maples Leaf Mills. We shall see what develops out of all this....

The newest Bob-Lo boat has now arrived at Detroit and will see service in 1974. It is not, however, NOBSKA, the Martha's Vineyard steam ferry which was rumoured to be bound for lake service. Instead, the Bob-Lo company has purchased the 1944-built 1300-passenger SIASCONSET formerly operated out of New Bedford, Massachusetts. She passed up the St. Lawrence Seaway under her own power on May 14th and has been renamed CITY OF WYANDOTTE in honour of the city from which she will operate to Bob-Lo Island. The motorship will no doubt be a useful addition to the Bob-Lo fleet,but a COLUMBIA or a STE. CLAIRE she certainly isn't....

The former lake passenger steamer SOUTH AMERICAN is once more in the news as a result of efforts to save the old vessel from demolition. Recently sold to Ships Inc. for scrapping, she was moved during May from Norfolk to Camden, N.J., where she is awaiting the torch. Meanwhile, the Holland, Michigan, Junior Chamber of Commerce has come up with the idea of purchasing the veteran steamer and returning her to the lakes for use as a convention centre. The group is attempting to raise the money needed to acquire the vessel from the scrappers. We are not trying to belittle the efforts of the Holland organization, but quite frankly we would rather remember the SOUTH as she was during her days of glory rather than as she lies now, stripped of her machinery and showing the ravages of seven years of neglect and vandalism. Late reports indicate that the fund-raising project is not going well and that efforts to save the ship may be abandoned.

The Interlake Steamship Company has let a contract to the Defoe Shipbuilding Company for the conversion of the bulk carrier HERBERT C. JACKSON to a self-unloader over the coming winter. The job will, of course, be done at Defoe's yard at Bay City, Michigan. Plans call for the conversion to be completed by the end of June 1975. Her boom will be mounted aft.

Over the past few months, another major rebuilding job has been rumoured, namely, the lengthening of Cleveland-Cliff's EDWARD B. GREENE. We now learn, however, that plans have had to be postponed because of the unavailability of drydock space until the latest spate of conversions and lengthenings has been completed.

At the time of this writing it had not been officially announced, but it is evident that Upper Lakes Shipping Ltd. is planning to build a sistership to the self-unloader CANADIAN PROGRESS, the vessel to be constructed at Port Weller Dry Docks Ltd. Oh well, she won't be beautiful, but at least she'll be better than another McGIFFIN.

Speaking of other McGIFFINs, it is our sad duty to report that another one of these beasts will soon be built at Collingwood Shipyards. This will be Collingwood's Hull 211 and should be ready in the fall of 1976 for delivery to the Algoma Central Railway. No word yet on a name for her, but we might take bets on ALGOSTEEL. She will apparently be a stemwinder and not a pilothouse-forward job like ALGOSOO currently being completed at the same yard.

Despite the fact that most vessel operators seem to be crying for tankers to operate in the lake trade, it looks as though the Hall Corporation is getting ready to dispose of one of its older vessels, the steamer LAKE TRANSPORT. Purchased from Texaco in 1969, her former name having been TEXACO-WARRIOR, she had operated until the close of the 1973 season, laying up at Hamilton for the winter. It was intended that she not fit out in 1974 but late in May her owners changed their minds and she was put in service. By late June, however, she was once again laid up and we understand that Halco is looking for a buyer, probably for scrap.

More on scrappers. CLIFFORD F. HOOD and HARRIS N. SNYDER cleared Quebec on June 19 in tow of the ocean tug FAIRPLAY X.

The new Canadian Pacific carferry INCAN SUPERIOR, destined for the Superior to Thunder Bay service, passed up the Welland Canal on June 8th accompanied by a horde of avid photographers who realised that this would probably be their only opportunity to shoot the vessel. The motorship, with a large cabin set astride the deck amidships and two rather strange funnels aft, one at either rail, is much like CARRIER PRINCESS which C. P. operates on the west coast, except that INCAN SUPERIOR has no passenger accommodations.

Q & O's motorship BLACK RIVER, which had not figured in her owner's plans for the 1974 season, has come back to life. She was taken round to Port Weller and spent several weeks in late May and June sitting up on the "shelf" in the drydock for extensive hull repairs.

CASON J. CALLAWAY cleared Superior on a trial trip after her lengthening on May 29th. She apparently performed well for shortly after the completion of trials she was sent off from the shipyard to load pellets for Gary, Indiana.

More on STELLA MARIS II. During the last week of June, the cruise ship spent three days at the Welland dock on the new canal channel while a new set of fenders was installed on her. It seems that the Seaway Authority had complained that the ship was damaging lock walls and for this reason the changes were requested. Those passengers wishing to travel on were put on other transportation but those who stayed were treated to a real thrill - three days of watching the smoke belch up from the nearby Union Carbide smelter! STELLA MARIS II has since managed to make up the lost time and get back on schedule, but we hear unconfirmed but disheartening rumours that patronage of her cruises is not what might have been hoped by her operators.

Two recent studies by marine consultants have considered the pros and cons of operating tug-barge combinations on the lakes as opposed to regular lake freighters. One report favours the operation of barges from lake ports to Montreal as feeders for European container operations, while the other gives the nod to self-propelled freighters as having the edge in building and operating costs. So, who knows? This argument has been going on for years and there seems little likelihood of either group building a ship that will please the eye of the traditionalist observer.

Halco's newest acquisition, the tanker AXEL HEIBERG, finally arrived in Canadian waters in early June after undergoing a refit in England. She has been renamed FROBISHER TRANSPORT for her new duties and, if you can judge by her name, it looks as if she may see service on the summer Arctic route. The next new Hall boat will be the chemical tanker JON RAMSOY which was actually purchased in May but which is not scheduled to be delivered to Halco until sometime during the summer months. She was built in 1972 in Britain and measures 431 x 62 x 34.

The new Ontario Northland ferry CHI-CHEEMAUN ("Big Canoe" in translation) was christened at Collingwood on June 15th, a large party of well-wishers being hauled up from Toronto by an Ontario Northland excursion train. The new ferry will probably not enter service until late in the summer. (The coaches used in the excursion train were some of those normally employed on the line's famous Polar Bear Express.)

The former Chesapeake & Ohio carferry PERE MARQUETTE 22, purchased last year by Construction Aggregates and cut down to a barge at Sorel over the winter, passed Les Escoumins outbound on June 21st in tow of the tug POINT VALIANT. She is heading for service in the Caribbean and PERE MARQUETTE 21 should follow suit shortly.

The month of July saw the reinstatement of a passenger service on the lakes, an all-too-rare event these days. It is all the more important to Toronto residents in that the service involved is the Toronto-Niagara run which has not seen any vessel service since CAYUGA was retired at the end of the 1957 season. Time has brought changes, however, for the now service is operated by a hovercraft imaginatively named TOR-YOUNG I in honour (?) of the ports of Toronto and Youngstown, New York. Round trip fare between Toronto and Niagara-on-the-Lake is $12.00 for adults, and the vessel makes a one-way crossing in about 65 minutes. While we are happy to see the service commence and wish its operators the best of success in their venture, we can't help but wish that the ship were a broad-decked steamer on which one could make a leisurely crossing, taking the sun on deck and dining graciously in a proper dining saloon, one's car being hidden away down on the freight deck. We can dream.

In an earlier issue, we mentioned that GULF SENTINEL had been chartered this year to Shell instead of Gulf by her owners, Johnstone Shipping Ltd. of Toronto, We commented that we would like to see her given back her old name of RIVERSHELL. Well, no sooner said than done, and we understand that she is now operating with this name on her bows. Somebody must have been listening to us....
---
Previous
Next
---
Return to Home Port or Toronto Marine Historical Society's Scanner
---
Reproduced for the Web with the permission of the Toronto Marine Historical Society.