The proximity of Hamilton and Toronto at the western end of Lake Ontario has led many operators over the years to try their hand at running a service by ship between the two ports. Indeed, vessels were running between the two cities almost as soon as steamboats appeared on Lake Ontario. In the days before alternate routes of transportation became available, such steamer routes enjoyed a fair degree of success, but as time passed and the road and railways became more convenient, the steamboat route began to die until eventually there remained only the odd excursion vessel and then nothing at all.
The two most famous companies to operate the Toronto-Hamilton service were the Hamilton Steamboat Company Ltd. and the Hamilton Turbine Steamship Company Ltd. The former was formed in 1887 by members of the Tuckett and Griffith families and prominently connected with the firm was also Philip J. Peer. The first president of the H.S.B.Co. was T. B. Griffith who served until his death in 1893 at which time he was succeeded by M. Leggatt. First managing director was J. B. Griffith. while G.T. Tuckett was secretary and treasurer.
In its first year, the Hamilton Steamboat Company set out to operate the little steamer MAZEPPA, a former Toronto Island ferry, on the run from Hamilton to Burlington Beach, a short hop across Hamilton Bay. MAZEPPA remained on the route for fourteen years, but the company aspired to greater things. In 1888 the H.S.B. Co. launched its Hamilton-Toronto passenger run with the new steel steamer MACASSA which was built at Glasgow and brought across the Atlantic under her own power by Capt. Charles P. Hardy who stayed in her a year on Lake Ontario. MACASSA arrived at Hamilton on her maiden voyage from the builders on the morning of June 7, 1888. Over the years to come, Capt. Hardy was succeeded by Capts. John Irving, Crawford, Maddicks, Robert Cooney, Henderson, Goodwin, Staunton, William Zealand, Parkinson, and of course the well known Capt. Corson who was in her for many years and stayed with the ship until the end of her Lake Ontario service.
MACASSA was originally 155 feet in length and was proclaimed to be a good sea boat, but in 1905 she was lengthened at Collingwood by over twenty feet and from then on she was known to roll heavily in even moderate seas, much to the distress of any passenger unfortunate enough to be aboard at the time. MACASSA was a rather narrow ship and was never meant to be lengthened as this move ruined her proportions. The tendency to roll may well have been a factor in her ultimate loss forty years after her appearance on the lakes. From the point of view of appearance, MACASSA was a rather well designed day steamer but she had no private staterooms at all and only minimal enclosed cabin space on the upper deck. Bad weather was therefore something one simply had to bear if travelling to Hamilton by water.
MODJESKA backs from the Yonge St. slip at Toronto on May 24, 1910, a good crowd aboard for the holiday.

MACASSA was successful enough that in 1889 the company took delivery of another Glasgow-built steamer, the somewhat larger MODJESKA. She was delivered across the Atlantic by Capt. Malcolmson who stayed with her the rest of the year and was then succeeded by Capt. Adam Middleton Sharp. If the H.S.B.Co. had returned to the same builders that produced MACASSA, they might have had another successful ship on their hands, but instead they changed to another firm. While MACASSA was a "flyer" known for her fast passages, MODJESKA was slow and lumbering and she stumbled from accident to accident throughout her early years. While MACASSA had fine lines and a graceful appearance, MODJESKA was heavy and box-like and was anything but a pretty ship, having almost no sheer. In addition, she almost always rode with a list and this did not help her looks.

These two mismatched steamers ran the route together for almost thirty years and the only major development in the early years was the sale of MAZEPPA in 1900 for service on Georgian Bay. The service itself did not change much over the years, although in the very early seasons a stop was made at Oakville and the occasional call was made to Grimsby on the south side of the lake to pick up fruit. Although occasional variations were made, the steamers were normally painted black with white cabins, the funnel design adopted by the company being white with a black smokeband at the top.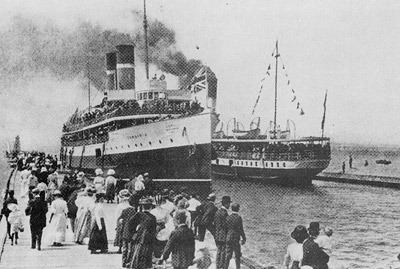 The year is about 1910 as TURBINIA stops alongside the pier at Burlington. To the right is MACASSA outbound through the canal for Toronto.

In 1904 the company for the first time experienced serious competition. The year 1903 had seen the formation of the Hamilton Turbine Steamship Company Ltd. of which William Hyslop and James Turnbull of Toronto were directors and John Moodie was president. The company ordered from the Tyne a steamer of maximum canal length and she was destined to be the first turbine-powered vessel on the lakes. Christened, naturally, TURBINIA, she was twin screw and had one high pressure turbine amidships with a smaller turbine on each side. The gearing must have been very interesting! Her 4000 HP produced a speed of 30 mph and she could outdistance very easily any other steamer on Lake Ontario. Her appearance was very imposing - she had graceful lines, a fine counter stern, and two distinctive (although a trifle too heavy) tall funnels which were painted red with a narrow white band and black top. The weight of her funnels appears to have made her a bit top-heavy and this caused her to roll badly in heavy weather with the result that she did not have a reputation as a particularly good sea boat.

TURBINIA cleared Newcastle-on-Tyne on June 1, 1904, having been completed at a total cost of $175,000. She crossed the Atlantic in six days and stopped at St. Johns, Sydney and Montreal before going into drydock at Kingston for inspection. She left Kingston for Hamilton on Sunday, June 19th and arrived late the same day under the command of Capt. A. Crawford. On Wednesday, June 29, 1904, she made a special cruise to Toronto and the following day she entered regular service, providing two round trips to Toronto each day leaving Hamilton at 8:00 a.m. and 5:00 p.m.

The appearance of TURBINIA started a round of direct and stormy competition between the rival companies, a state of affairs that was to last until 1911. Until that time, the only important change for TURBINIA was that several years after the vessel came to Lake Ontario, the name of her owner appears to have been changed from the Hamilton Turbine Steamship Company to the shorter Turbine Steamship Company. It is not known whether this change was official, but the letters T.S.S.Co, appeared on her bows.

The year 1911 saw many changes in the control of the major Canadian lake shipping companies, changes that were eventually to lead to the formation of the giant Canada Steamship Lines Ltd. That year, both the Hamilton Steamship Company and the Turbine Steamship Company were bought out by the Niagara Navigation Company Ltd. but the vessels were continued on their regular run without, however, the cut-throat competition. In 1912 Niagara Navigation itself was merged into the larger Richelieu and Ontario Navigation Company Ltd. and on June 11, 1913, the R&O together with all its divisions was merged into the yet larger C.S.L, All three Hamilton vessels stayed on their original route but adopted the familiar C.S.L. colours.

The trio was finally broken apart during the first war as TURBINIA was requisitioned and sent overseas for service in British waters as a troop carrier and hospital ship. She was towed back across the Atlantic in 1922 and it was in October of the same year that she arrived in tow of the tug SARNIA CITY at Toronto where she was reconditioned. C.S.L. placed her back on her old run in 1923.

The following year, 1924, was a particularly unfortunate one for the hardluck MODJESKA. First, under the command of Capt. Henderson, she managed to run aground on the breakwater off Toronto's Exhibition Park and then, only a short time later on July 5th, she was involved in a serious collision with the big sidewheeler TORONTO. It seems that TORONTO was backing from her slip to proceed to the coal dock for bunkers while MODJESKA was departing for Hamilton, the accident occurring only a short distance from the Toronto passenger wharves. MODJESKA was held at fault for the collision since a malfunction of her whistle made her intentions unclear to the other vessel. TORONTO was out of service about a month for repairs. MODJESKA was laid up at Toronto and did not turn a wheel until 1926 when she was sold to the Owen Sound Transportation Company Ltd. She operated during 1926 as a day boat but during the following winter was rebuilt as an overnight passenger and freight vessel for the run to the Soo. She was renamed MANITOULIN at this time.

TURBINIA operated until 1926 but by then she was no longer needed and was laid up in August of that year. In 1927 C.S.L. placed her on the Montreal to Quebec City day line but this service only lasted a very short time and she was soon laid up, in which state she remained until scrapped in 1937.

MACASSA carried on alone on the Hamilton route in 1927 and was used that summer as the official boat for the Wrigley Marathon Swim. At the close of the season, she too was withdrawn from service and was sold to the Owen Sound Transportation Company Ltd. She was taken to Owen Sound after conversion over the winter at Toronto for use as an overnight boat on the run to the Soo. Renamed MANASOO, she left on her first trip on April 22, 1928, but she did not serve long for on September 15, 1928, she capsized in a heavy gale on Georgian Bay with the loss of sixteen lives.

The sale of MACASSA spelled the end of the regular Toronto-Hamilton service and the only vessels to carry passengers between the two cities thereafter were the odd excursion ship making occasional calls such as LADY HAMILTON in the mid-fifties. It should be noted that C.S.L. did operate the Niagara sidewheeler CORONA on the Toronto-Hamilton route for a short period in the early twenties although she had never been a unit of either of the two companies featured in this history.

Hamilton Steamboat Company Ltd.

MACASSA (28), (b) MANASOO. C.93932. Steel twin-screw passenger steamer built 1888 at Glasgow by Wm. Hamilton & Co. for H.S.B.Co. 155.0 x 24.1 x 16.3. Gross 574, Net 459 (as per 1900 A.B.C.). Engines by Kemp of Glasgow. Lengthened to 178.4 at Collingwood 1905. Gross 529, Net 234 (as per 1914 Canadian List of Shipping and 1915 Lloyds). To Niagara Navigation Company Ltd.,1911. To Richelieu & Ontario Navigation Company Ltd., 1912. To C.S.L., 1913. Sold 1927 to Owen Sound Transportation Company Ltd. Rebuilt for overnight passenger and freight operation 1927-8 at Toronto. Taken to Owen Sound early 1928. Foundered on Georgian Bay September 15, 1928.

MAZEPPA. C.85521. Wooden double-deck single-screw steamer built 1884 at Toronto by Melancthon Simpson for Toronto Island ferry service. 101.0 x 20.0 x 5.7. Gross 146, Net 87. Severely damaged by fire in Toronto's Esplanade Conflagration August 3, 1885. Rebuilt and purchased 1887 by H.S.B.Co. for Burlington Beach run. Sold 1900 to J.H.Mclaughlin and taken to Owen Sound for Georgian Bay service. Damaged by fire and subsequently sold 1904 to H. Oldfield, Owen Sound. Sold c. 1905 to Lawrence Solman of the Toronto Ferry Company Ltd. but doubtful if ever returned to Lake Ontario. Passed out c. 1910 although still in List of Shipping as late as 1918.

MODJESKA (27), (b) MANITOULIN. C. 96058. Steel twin-screw passenger steamer built 1889 at Yoker (Glasgow) by Napier Shanks & Bell for H.S.B.Co. 178.0 x 31.1 x 12.3. Gross 678, Net 461. Two triple expansion engines 15", 24", 40" x 27" by Dunsmuir & Jackson, Glasgow. Three coal-fired Navy boilers 7' x 16'. To Niagara Navigation Company Ltd. 1911. To Richelieu & Ontario Navigation Company Ltd., 1912. To C.S.L., 1913. Sold 1926 to Owen Sound Transportation Company Ltd. Operated as day boat 1926. Rebuilt 1926-7 at Owen Sound for overnight passenger and freight operation. Retired at end of 1949 season due to fire regulations. Stripped of wooden cabins 1951 at Port Dalhousie. Hull scrapped in Port Weller Dry Docks 1952.

Hamilton Turbine Steamship Company Ltd.

TURBINIA. C. 112201. Steel twin-screw passenger steamer built 1904 at Hebburn-on-Tyne, England, for H.T.S.S.Co. 250.0 x 33.2 x 12.6. Gross 1064, Net 603. Three turbines 34", 42" x 42". Two coal-fired Scotch boilers 17'6" x 10'6". To Niagara Navigation Company Ltd., 1911. To Richelieu & Ontario Navigation Company Ltd., 1912. To C.S.L., 1913. Requisitioned for salt water service during war. Returned to lakes 1922. Last on Hamilton service 1926. Transferred 1927 to Montreal-Quebec day line but soon laid up. Sold 1937 to Les Chantiers Manseau Ltee, and scrapped at Sorel.
---
Previous
---
Return to Home Port or Toronto Marine Historical Society's Scanner
---
Reproduced for the Web with the permission of the Toronto Marine Historical Society.