One of the most famous shipbuilders of the early years of lake shipping was Louis Shickluna, a Maltese gentleman who constructed a large number of lake schooners, propellers and tugs at his yard on the old Welland Canal at St. Catharines. Many well-known vessels were products of Shickluna's yard and, if memory serves us right, the last ship laid down before his death was the steamer SIR S. L. TILLEY (C. 88632) of 1884.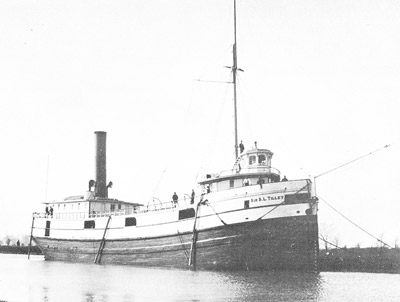 SIR S. L. TILLEY and her crew pose for the camera of a W. A. Traill in the Third Welland Canal near Port Dalhousie c. 1896.

This vessel was of composite construction; that is, she had iron framing and wooden hull planking. She was a typical combination package freight and bulk carrier of her day. Fitted with 'tween decks, she looked much like a cut-down passenger steamer.

She had a large stern cabin and a lengthy texas house which came to a point at the forward end and on which was mounted the usual octagonal "bird-cage" pilothouse.

SIR S. L. TILLEY measured 168.0 feet in length, 35.3 feet in the beam, and 15.0 feet in depth. Her Gross tonnage was 1178. She was named for Sir Samuel Leonard Tilley who was one of the Fathers of Confederation and played an important role in the emergence of Canada as a nation. He came from Prince Edward Island where he had held public office.

She entered service for the Merchants Lake and River Steamship Line (the Jaques Line) although she was actually owned by Sylvester Neelon and James Norris of St. Catharines. At the time of her building, the line was a joint venture of G. E. Jaques & Co., Neelon, Norris, Capt. P. Larkin also of St. Catharines and Aeneas D. Mackay and Capt. J. B. Fairgrieve of Hamilton. By 1898, the line was operated by Fairgrieve, R. O. and A. B. Mackay of Hamilton, W. A. Geddes of Toronto, and G. E. Jaques & Co., Montreal. The TILLEY usually operated on the line's upper lakes package freight service, but she carried various bulk cargoes when they were available. She was considered to be one of the finest of the wooden propellers plying the Welland Canal and she was a frequent visitor there for two decades.

As a matter of fact, it was a cargo of coal that was the undoing of SIR S. L. TILLEY. She was at Sault Ste. Marie on October 25th, 1903, when the coal caught fire and the TILLEY burned right down to the main deck, only the foremast and funnel remaining standing above the wreckage. The burned-out hull was towed down the lakes to Port Dalhousie and was laid to rest in Martindale Pond. She didn't stay there long, however, for the remains were purchased by the Montreal Transportation Company Ltd., and taken to Kingston where the hull was placed in the shipyard.

The little steamer emerged from her rebuilding bearing the name ADVANCE. She was now a flush-decked package freighter with 'tween decks and three cargo ports on each side and she looked more like a modern (for the day) wooden carrier, having lost her touches of Victorian elegance. She boasted a length of 175.0 feet and her tonnage was 1031 Gross, 568 Net. She had a rather larger funnel now, and a "doghouse" midway down the deck. Her forward cabin was now a small square structure and she had a rather utilitarian square double-deck pilothouse.

In the process of rebuilding, she was given a new bow with a handsome raked stem. When she was light, she would lift her bow high in the air and the combination of the rake of the bow and the sheer of the deck made it look as though her pilothouse would surely tumble over backwards and slide aft along the deck. This was especially true after her next rebuild, for sometime between 1910 and 1920 she was cut down amidships and turned into a bulk carrier. This operation left her with a rather high forecastle and quarterdeck.

ADVANCE continued to operate into the upper lakes during her years of Montreal Transportation service. In 1916 the M. T. Co. was acquired by Roy M. Wolvin who was a director of Canada Steamship Lines Ltd. Although Wolvin did not actually merge M. T. Co. into C. S. L. until 1920, the vessels were operated in conjunction with the C. S. L. fleet from 1916 onwards. With the exception of WESTMOUNT (II), they were painted in C. S. L. colours but they could easily be distinguished due to the absence of the C. S. L. diamond insignia from the bow.

The years during and immediately after the first war were boom times and all available tonnage was pressed into service. Not too many years later, however, the boom having become history, C. S. L. found itself with a large number of small wooden steamers which were no longer required and which could not be kept in operation economically. Luckier than some of her mates, ADVANCE managed to keep busy with coal cargoes, but eventually she too fell victim to the fleet "rationalization" and about 1924 or 1925 she was laid to rest in Muir's Pond at Port Dalhousie between Locks One and Two on the old canal. It looked as if ADVANCE had sailed her last and, after a few years lying in the mud of Muir's Pond, she had not much of a future to look forward to. It was her luck, however, to be granted a reprieve, albeit a short one.

In 1927 she was purchased by Bingley & Son Ltd., the operators of the drydock at Cornwall, Ontario. Their shipping operations had until then been confined to tugs, dredges and other small equipment. In any event, they hauled ADVANCE out of Muir's Pond and refurbished her, placing her back in service. Her main trade for the year was running coal into Toronto from various American ports on Lakes Erie and Ontario. The venture was hardly a success, however, due largely to several accidents in which ADVANCE was involved on the Welland Canal. In addition, cargoes were not particularly plentiful and the old girl's owners found themselves in financial difficulties. The crowning glory came when she picked a fight with a swing bridge in the canal and promptly got slapped with a lien for the cost of repairs to the structure.

And so, after less than a year of operation, ADVANCE was laid up at Cornwall and was eventually stripped there. The hull lay about for a while and then was towed away down the St. Lawrence and discarded. She had lasted for forty-three years and although this may not seem like such a long life by today's standards, it was no mean accomplishment for a wooden steamer of her diminutive size.
---
Previous
Next
---
Return to Home Port or Toronto Marine Historical Society's Scanner
---
Reproduced for the Web with the permission of the Toronto Marine Historical Society.