Just prior to 1910, Michael J. Haney and Roger Miller of Toronto formed a company called Point Anne Quarries Ltd. for the purpose of digging and distributing stone obtained from quarries located at Point Anne on the Bay of Quinte. The firm maintained a distributing dock at the foot of West Market Street on the old Toronto waterfront.
Toronto financier J. P. M. Stewart was a prominent officer in the new company. Michael Haney had been interested in a number of similar ventures including a brick works at Port Credit (see the January issue article on Lloyd Tankers Ltd.) and also marine contracting. Roger Miller was also involved in marine contracting.
A fleet of old wooden vessels was brought together to transport the stone from Point Anne to Toronto. Some of the vessels were already owned or operated by Haney and Miller. It will be noted from the individual listings that most of the ships were on their last legs at the time of their acquisition!
This is the only known photo of the wooden steamer JUNO, at one time a unit of the Point Anne Quarries fleet. Courtesy Rev. E. J. Dowling, S. J.

In addition to the wooden vessels, the new company also ordered the steel canaller RENVOYLE (l) from Scottish builders, although she seems to have been chartered to the Canadian Interlake Line from the outset and never was actually operated by Point Anne Quarries. Similarly, the company appears to have had a partial interest in the PRINCE RUPERT, owned by the Kingston Shipping Company Ltd. The Calvin Company Ltd, of Garden Island, Ontario, also had an interest and in 1914 the steamer passed to the Montreal Transportation Company Ltd. She later became a war casualty.

Point Anne Quarries Ltd. ceased doing business in the Toronto area about 1925. We list herewith the vessels operated by the company during the period 1909 to 1925, wooden vessels first and the two steel steamers bringing up the rear.

D. P. DOBBINS, (U.S.6095) (C. 126228). Wooden schooner barge built 1863 at Cleveland. 162.3 x 31.6 x 12.2. Gross 448, Net 425. Named in honour of Capt. D. P. Dobbins, a famous Buffalo shipowner. Owned by numerous U.S. operators which included the Argo Steamship Co., Cleveland. Acquired by Point Anne Quarries Ltd. about 1914 from the Reid Wrecking Co., Sarnia. No longer in service by the early 1920's, she lay in the West Market St. slip, Toronto, until removed c. 1926, to make way for harbour development. Hull then raised, towed out into Lake Ontario and scuttled.

GILBERT, (C. 85712). Wooden tug built 1884 at Cardinal, Ontario. 72.0 x 19.0 x 5.5. Gross 41, Net 28. Spent much of her life in St. Lawrence River service. By 1914 was owned by Haney and Miller and operated for several years towing Point Anne Quarries barges. Laid up during the early 1920's in the West Market St. slip, Toronto, where she gradually disintegrated. Broken up c. 1926 in preparation for harbour development.

JUNO (C. 90771). Wooden bulk carrier built 1885 at Wallaceburg, Ontario, by McDonald for William Allan, Walkerville, Ontario and registered at Windsor. 114 x 27 x 9. Rebuilt 1898. 139.7 x 26.8 x 8.8. Gross 288, Net 196. Sold 1902 to W. J. Pulling & Co., Windsor. Acquired February 20, 1908 by Haney & Miller, Toronto. Registry transferred to Toronto, March 10, 1909, by M. J. Haney. Transferred September 30, 1909, to newly-formed Point Anne Quarries Ltd. On November 1, 1912, while en route with stone from Point Anne to Toronto with schooner barge P. B. LOCKE in tow, heavy seas caused the LOCKE to founder in Lake Ontario off Port Hope. JUNO, leaking badly, made Cobourg harbour and sank in shallow water on November 2, 1912. While still on the bottom, sold February 14, 1913, to Richelieu & Ontario Navigation Co. Ltd., Montreal. Raised in the Spring of 1913 and returned to service at a cost of $3,000. Ownership actually transferred to R & O same year. Legal transfer of ownership to C.S.L. did not take place until February 11, 1915. Immediately mortgaged to Vickers Ltd., London, England, and Furness Withy & Co. Ltd., also of London, both of which firms were shareholders of C.S.L. on its formation in 1913. Engines removed from JUNO c. 1918. Registry closed September 29, 1920.

LAKE MICHIGAN, (C. 88537). Wooden freight steamer built 1872 at St. Catharines. 136.0 x 33.9 x 11.5. Gross 402, Net 157. Originally built for the Lake & River Steamship Co. and operated for many years by the MacKay interest of Hamilton. Later owned by Charles Bennett, Kincardine, Ontario. Operated for a short period by Point Anne Quarries Ltd. but was retired by 1920 and left to rot near the West Market St. slip, Toronto). Hull covered over with fill c. 1926 during harbour redevelopment.

P. B. LOCKE, (U.S. 20416) (C. ? ). Wooden schooner barge built 1872 at Toledo. 135.9 x 26.0 x 11.4. Gross 285, Net 270. Acquired from U. S. interests in the early 1900's by Haney & Miller. Loaded with coal from Erie, she was caught at anchor with her consort, the steamer RESOLUTE, on a lee shore off Toronto's Western Gap in a gale on November 21, 1906. The steamer was lost but LOCKE rode out the storm at anchor although taking on water. Transferred 1909 to Point Anne Quarries Ltd. Bound for Toronto with stone in tow of JUNO, she foundered 3 miles S. E. of Port Hope on November 1, 1912, in heavy weather. Loss of ship was placed at $2,000 while stone cargo valued at $500.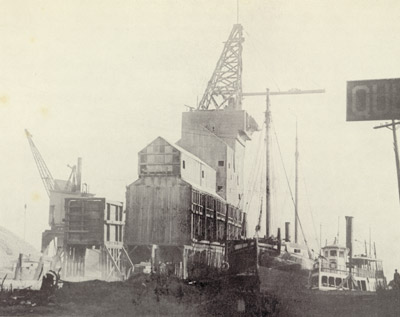 Toronto's West Market Street slip looked like this on October 5, 1914. At the Point Anne Quarries gravel dock is SOPHIA MINCH while on the right is Pat McSherry's steamer ONGIARA.

SOPHIA MINCH, (U.S.115166) (C. 116956). Three masted schooner built 1873 at Vermilion, Ohio, for the Minch interests (early beginnings of the Kinsman Marine Transit Co.). 184.5 x 33.5 x 13.5. Gross 635, Net 603. Cut down to a schooner barge during the 1880's. Sold July 1899 to L. P. & J. S. Smith, Cleveland. On July 8, 1899, while on the way to be delivered to her new owners at Cleveland, she was in tandem tow with the barge GEORGE P. WASHINGTON behind the steamer JOHN N. GLIDDEN. About 10 miles west of Ashtabula, heavy weather forced the steamer to cut the towline and the barges drifted ashore, the MINCH being assumed to be a total loss. Sold Spring 1900 to Miles Barry, Chicago, and salvaged with little damage. By 1905 had been sold to Capt. James Sheehan, Detroit. She was in the Point Anne Quarries Ltd. fleet by 1910, carrying stone from Point Anne to Toronto. Retired by the early 1920's, she lay rotting in the West Market St. slip, Toronto, until removed c. 1926, for harbour redevelopment. Pumped out and towed to Hanlan's Point where she settled and lay for several years until towed out into Lake Ontario and scuttled.

DAVID MORAN, (U.S. 35598) (C. 134244). Wooden scow-type cargo barge built 1901 at West Bay City, Michigan, for the Kelley Island Line & Transportation Co. 160.0 x 35.0 x 8.0. Gross 491. Sold 1914 to Point Anne Quarries Ltd. Retired about 1923 and laid up in the Bay of Quinte. Finally abandoned c. 1930.

JOHN ROLPH, (a) RESOLUTE (08). (C. 88241). Wooden freight steamer built 1883 at Deseronto, Ontario, by Rathbun Bros, for their Deseronto Navigation Co. Ltd., 126.0 x 27.8 x 10.3. Gross 336. Originally built for use in her owners' extensive lumber operations. Rebuilt 1887, 136.6 x 27.8 x 10.3, Gross 372, Net 262. Passed in the early 1900's to Haney & Miller for use in the coal and construction material trade into Toronto. On November 21, 1906, she arrived off Toronto's Eastern Gap, coal laden from Erie and with the barge P.B.LOCKE in tow. In the strong easterly gale, she was unable to enter the harbour and both vessels went to anchor to the west in Humber Bay, in the lee of the Island. When the wind backed to the west, the ships were caught on a lee shore and were severely battered. The LOCKE survived but RESOLUTE was swamped and foundered at anchor with the loss of seven lives. Her skipper, Capt. John Sullivan, rode safely right through the Western Gap and into the calm waters of Toronto Bay perched atop a section of the after deckhouse which floated clear of the wreck. The hull was salvaged in October 1907 and was rebuilt at Toronto in 1908 as (b) JOHN ROLPH, Gross 421, Net 212. Transferred 1909 to Point Anne Quarries Ltd. Remained in service until laid up 1923 in the West Market St. slip, Toronto, where she settled in the mud. Pumped out c. 1926, to make way for harbour redevelopment and taken to Hanlan's Point where she lay for several years before being scuttled in deep water in Lake Ontario.

SLIGO (a) PRINCE OF WALES, (74). (C. 72711). Wooden barque built by Louis Shickluna at St. Catharines in 1860 for Capt. J.C. Graham, 137.0 x 23.0 x 11.8. Gross 509. Christened by H. R. H. the Prince of Wales (later Edward VII) who was touring Canada at the time, first cargo was from Cleveland to Liverpool with coal oil in barrels. On her return from salt water, converted to a "three and aft" schooner and tonnage reduced to 335. Rebuilt at St. Catharines 1874 and renamed (b) SLIGO. Thereafter she engaged in the lumber trade for four years and then carried general cargo including rails and supplies for the C.P.R. Later cut down to a tow barge of 284 tons. Operated 1900 by R. Thompson and in 1902 by Pullery & Co., St. Catharines, Acquired later by Haney & Miller and transferred 1909 to Point Anne Quarries Ltd. About 1910 was moored at West Market Street when Adamson's Elevator (built about 1880 for the grain trade but later used for the storage of crushed stone) collapsed and buried her under 1000 tons of stone, timbers, and galvanized iron. She was forced to the bottom of the shallow slip but when the debris was removed she was found to be not seriously damaged and was returned to service. Foundered in Humber Bay off Sunnyside 1918 while bound for Toronto with stone and lies there yet.

PRINCE RUPERT (l4), (b) NORTHMOUNT. (C. 124260). Steel bulk canaller built 1908 at Dumbarton, Scotland, for the Kingston Shipping Co. Ltd. 249.0 x 43.0 x 19.5. Gross 1908, Net 1172. Passed 1914 to the Montreal Transportation Co. Ltd. Requisitioned 1915 for war service on salt water. On December 18, 1915, while bound from Newport News, Va., to Trinidad, she foundered in position 34 ° 40' N, 74 ° 45' N.

RENVOYLE (l). (C. 126836). Steel package freight canaller built 1910 at Port Glasgow, Scotland, for Point Anne Quarries Ltd. 250.0 x 42.7 x 16.3. Gross 1830, Net 1176. Chartered to the Canadian Interlake Line from the outset. Absorbed into Canada Steamship Lines Ltd., 1913. Requisitioned for war service on salt water 1915, she did not return to the lakes after the Armistice. Foundered December 4, 1920, in Belle Isle Roads, Bay of Biscay.

It will be noted that details on some of these old vessels are very sketchy. We would be pleased to hear from readers having any information to add.

By the way, we wonder how many of our readers, after going through the Point Anne Quarries fleet list, are now wishing that they could go back to about 1925 and, armed with several cameras, take a stroll around the West Market Street slip where all the vessels were lying, slowly rotting away.
---
Previous
---
Return to Home Port or Toronto Marine Historical Society's Scanner
---
Reproduced for the Web with the permission of the Toronto Marine Historical Society.