ALALC (a) WAHCONDAH has been scrapped in Mexico. The former canaller was last owned by Aceitera y Transportadora Continental de Puerto Mexico, S.A.
ELBA (a) BRITAMOIL (b) ISLAND TRANSPORT which left the lakes in 1963 has been sold by D'Alesio and Castaldi to P. O. & M. Castaldi of Italy,
CAPE BRETON MINER has been sold by Upper Lakes Shipping Ltd., to American interests who registered her in Nassau. Since transferred to Liberian registry, she will serve on the east coast as (b) CONVEYOR.
SUSAN HINDMAN has been sold by the Hindman Transportation Co. to Herb Fraser & Associates, Port Colborne. Renamed HERBERT A., she will be used for towing and would make a good wrecker.
Norwegian Caribbean Lines has postponed their plans for a lake passenger service for at least two years. No reasons have been given.
Shell Oil's tanker EASTERN SHELL has been renamed FUEL MARKETER.
Two workers were killed and forty injured at Collingwood when the new C.S.L. self-unloader prematurely launched herself on May 29. She will sail as TADOUSSAC.
The canal tanker TEXACO-WARRIOR has been purchased by Hall Corp. of Canada and renamed LAKE TRANSPORT (II).
The Reiss Steamship Co., Sheboygan, Wis., was purchased in June by the American Steamship Co., and the Boland & Cornelius self-unloader fleet was again enlarged. The ships now have the BoCo stack colours but some still sport Reiss insignia elsewhere. We wonder how long the older straight-deckers will last.
The former Owen Sound Transportation Co. ferry NORMAC arrived in Toronto under her own power from Wallaceburg on July 26th. Her new owner, John Letnik, intends to convert her to a restaurant. NORMAC is currently tied up behind the Lake Ontario Cement plant, west of Cherry Street.
Interlake is using the C.H. McCULLOUGH JR. as a barge during the present U.S. tonnage shortage. A scarcity of crewmen is the reason announced by her owners for the surprise move.
The three Detroit River carferries of the Norfolk & Western have had their bridges removed and will be pushed across the river by the chartered tugs, ST. JOSEPH and S.P. REYNOLDS. In ice....?
C. N. has bought the C. & O. ferry PERE MARQUETTE 12, now at Port Huron and may use her on the St. Clair River,
The Toronto Harbour Commission has bought the 62-foot tug, C.E. "TED" SMITH, from the McFadden Lumber Co. and has brought her to Toronto. She was built in 1963 at Port Weller.
MERLE M. McCURDY was ceremoniously christened at Cleveland, August 1st, and is now sailing for the Kinsman Marine Transit Co. She was formerly U.S. Steel's WILLIAM B. DICKSON.
Word is finally in on the disposition of the tug, FRANCES A. SMALL, which towed the unfortunate WILTRANCO I. She was sold on the East Coast by Bulk Navigation & Towing Inc., to Tidewater Dredging Corp. and is renamed JOHN A. DOWNS. Meanwhile, the barge, hard aground off Hamburg, N. Y., in Lake Erie, has been sold to Clyde van Enkevort, Bark River, who hopes to salvage her.
Among ships recently reactivated are GOLDEN HIND, EASTCLIFFE HALL, STONEFAX, GROVEDALE, and some of the new large lakers idled by labour disputes and lack of grain cargoes.
It has been announced that Scott Misener Steamships will take over management and operation of the Mohawk Navigation Co. Ltd. The Mohawk fleet has now but three vessels, SENNEVILLE, SILVER ISLE and GOLDEN HIND, after the sale for scrap of SIR THOMAS SHAUGHNESSY, earlier this season.
The parade of old lakers to the scrapyards continues. The following have passed down the Welland Canal, all bound overseas unless otherwise noted. Also shown is date of Welland passage and motive power as well as former owner:
| | |
| --- | --- |
| BEN E. TATE (Columbia) | May 19, tugs ROBERT B. NO.I and JERRY G. |
| GOUDREAU (Algoma) | May 20, under own power. |
| LEMOYNE (C.S.L.) | May 28 from Kingston, under own power. |
| HOWARD HINDMAN (Hindman) | June 6, under own power. |
| MANITOBA (Norlake) | June 6, under own power. |
| DONNACONA (C.S.L.) | June 13-14, under own power. |
| ASHCROFT (C.S.L.) | June 17, under own power. |
| J.E. UPSON (Republic) | July 30-31, tugs FAIRPLAY X & FAIRPLAY XII. |
| PETER ROBERTSON (l) (Republic) | August 2, same tugs as above. |
| PHILIP MINCH (Kinsman) | August 4, same tugs as above. |
| HARRY W. CROFT (Interlake) | August 9, same tugs as above. |
| MARTIAN (C.S.L.) | September 14, under own power. |
| PORTADOC (III) (Paterson) | September 16, tugs YVONNE SIMARD and HERBERT A. PORTADOC, may avoid the scrapheap. |
HOWARD HINDMAN was sold after grounding in the Neebish Rock Cut after a steering failure. She and ASHCROFT were both sold while operating, all others being laid up. PORTADOC carried on her deck an oil rig which she had loaded, dismantled, in Port Maitland. MARTIAN was C.S.L.'s last conventional package freighter but had not operated in several years. In addition to the above, ROBERT J. PAISLEY was towed in May from Point Edward to Hamilton for breaking up, by SUSAN HINDMAN. RIVERSHELL was towed from Toronto August 19 to Hamilton for scrapping and SPRUCEDALE was taken from Toronto June 29 bound, presumably, overseas.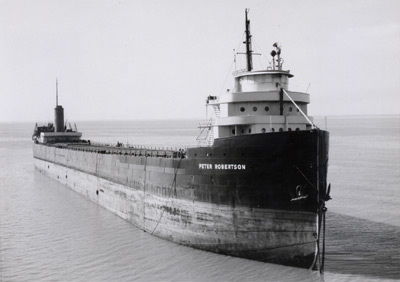 PETER ROBERTSON (a) E.J. EARLING (b) ROBERT B. WALLACE, aground east of Jordan Harbour, Aug. 20, 1969, enroute overseas for scrapping. Photo by Barry Gillham

PETER ROBERTSON, after transiting the Welland, was anchored off Port Dalhousie while the tugs handled other vessels. She broke adrift August 20 and grounded east of Jordon Harbour. She was pulled off on August 24 by DANIEL McALLISTER and SALVAGE MONARCH.

INCH ARRAN, a former R.C.N. frigate is being dismantled at Hamilton.

OTTO M. REISS grounded on Mouse Island in Little Rapids Cut on the St. Mary's River on September 17, and it will be interesting to see whether her new owners repair her.

PRINS PHILIPS WILLEM sported a "for sale" sign atop her pilothouse on her October 19 visit to Toronto, This was her last trip for the famous Oranje Lijn of Rotterdam, which is being dissolved after many years of service into the Great Lakes.

CAPTAIN MINAS (SEAWAY DISCOVERER), Lebanese, 1946, 11280 tons, sold to Taiwan breakers.

CORONA (SUNVALLEY), Norwegian, 1949, 9010 tons, sold Greek.

CRYSTAL JEWEL, British, 1956, 10917 tons, sold Greek.

HIRAM, Norwegian, 1961, 13081 tons, sold to South American buyers.

HOLTHILL, Norwegian, 1961, 12800 tons, sold to Chilean buyers.

LA LOMA, British, 1959, 14450 tons, sold Liberian.

LA MAREA, British, 1958, 14500 tons, sold Liberian, renamed ORION.

MANCHESTER SHIPPER, British, 1943, 9400 tons, sold to Trieste buyers.

NEWMOAT (PINE HILL), British, 1943 (Montreal), 10384 tons, sold to La Spezia breakers.

NEWMOOR (MAIDEN HILL), British, 1943 (Sorel), 10290 tons, sold to La Spezia breakers.

SALAMAT (SALATIGA), Dutch, 1945, 10770 tons, to La Spezia breakers.
---
Previous
Next
---
Return to Home Port or Toronto Marine Historical Society's Scanner
---
Reproduced for the Web with the permission of the Toronto Marine Historical Society.