Captain George D. Gillson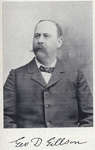 Captain George D. Gillson

Captain George D. Gillson, treasurer of the Associated Boat Owners, was born in Carbondale, Lucerne (now Lackawanna) Co., Penn., August 19, 1844. He is the son of Joseph and Sarah Jane (Elston) Gillson, the latter of whom was a daughter of David and Hannah (Doyle) Elston, of Unionville, Orange Co., N.Y. Joseph Gillson was a farmer and lived near Carbondale, Penn., eight years, thence moving to Athens, Bradford Co., Penn., where he passed the remainder of his life, dying in 1880. Joseph and Sarah Jane Gillson were the parents of the following named children: Harriet, born in 1836, married Justin Morley, of Athens, Penn., and died at the age of twenty-five years; Amelia Ann, born in 1840, married Edward Quick, of Middletown, Orange Co., N.Y., and had one child, who died in 1879; George D.; Lois Jane and Jesse N, (twins), born in 1848, the former of whom married Frank Coy, of Brockport, N.Y. (and had one child, which died when one year old), while Jesse N. wedded Susie Mosher, of Brockport, N.Y., and had one child, who died at the age of five years; Henrietta, born in 1851, died unmarried, when about thirty years old, and Joseph, who died in infancy in 1858.

George David Gillson lived at home until seventeen years of age, attending school and working on the farm. He then entered the quartermaster's department of the army of the Union, at Louisville, Ky., and thence went to Nashville after Sherman took Atlanta. Mr. Gillson returned north with his department of the army to Chattanooga and to Nashville, Tenn., where he was discharged in August, 1865. The war being over he returned to his home, and went onto the Erie canal with one boat of his own, to which he soon added another, managing one and hiring a captain and men for the other. Being successful in this business he gradually increased the number of his boats until 1880, when he owned thirteen. In 1886 he bought a steamer for the canal and subsequently another, and at the present time he owns two canal steamboats, one, the Smith, Davis & Co., and the other the Fred M. Lawrence, with four consorts, two for each steamboat. The Fred M. Lawrence has a capacity of 3,300 bushels of wheat, and the Smith, Davis & Co., a capacity of 6,000 bushels, while the consorts each have a capacity of 8,200 bushels. The Smith, Davis & Co., was the first steamboat that ran three consorts on the canal, is one of the sharp-stern boats, now the recognized form of steam canal boats, and can make the trip through the canal in seven days. The Fred M. Lawrence can handle five consorts and make the same speed.

Captain Gillson was one of the organizers of the Associated Boat Owners, organized for transportation and controlling rates, and he was one of the committee of five that fixed the rates and was treasurer of the association since it organization in September, 1895, until its dissolution, January 1, 1898, since which time all members of the association have been running wide pennant. He is also insurance inspector and adjuster for the Reliance Marine Insurance Company, of Liverpool, England, having been appointed in the spring of 1896. Fraternally, he is a Mason; he is an attendant of the Cedar Street Baptist Church, and in politics is independent, voting for the principles and the men he thinks best suited to the times. He voted for Cleveland in 1892 and for McKinley in 1896.

On January 1, 1868, Captain Gillson was married at Meshoppen, Wyoming Co., Penn., to Miss Jennie P. Ingham, and to this marriage have come the following named children: (1) Joseph D., born February 12, 1869, married Lillian H. Gerlach on October 30, 1888; she died October 12, 1889, and in 1893 he married Miss Hilda Johnson, (2) Kittie J., born July 26, 1871, married Lyman D. Priot, of Buffalo, and has one child. (3) Georgie May, born April 28, 1884, died at the age of eight years. (4) Pearly Ethel was born October 12, 1887. (5) Frankie H. died in infancy. (6) Freddie H. died in infancy. (7) Herold Ray was born January 17, 1891. Captain Gillson and family live at No. 244 North Division street, Buffalo, New York.

Mrs. Gillson is a daughter of Henry and Catherine (Washborn) Ingham, the father born 1812 at Manchester, England, whence he came to this country at the age of sixteen. He was a contractor of public works, and spent the last twenty years of his life in Buffalo, dying there in 1891. He and his wife had four children: Smith W., Stephen T., Henry B. and Jennie P. During the Civil war the three brothers raised a company of Pennsylvania volunteers; Smith W. receiving the rank of major and Stephen T. being made lieutenant and baggage master. Henry B. was wounded and died from the effects of his wounds. Maj. S.W. Ingham now makes his home in San Diego, Cal., while Stephen T. is United States pension agent and lives at Nicholson, Pennsylvania.
---
Previous
Next
---
Return to Home Port
---
This version of Volume II is based, with permission, on the work of the great volunteers at the Marine Captains Biographies site. To them goes the credit for reorganizing the content into some coherent order. The biographies in the original volume are in essentially random order.
Some of the transcription work was also done by Brendon Baillod, who maintains an excellent guide to Great Lakes Shipwreck Research.