Robert Donaldson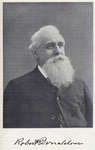 Robert Donaldson

In the marine history of Detroit, the name of Robert Donaldson stands prominent among those who have been instrumental in promoting the growth of the larger commercial interests of that port. In many ways his life offers a good example. By him opportunities were improved at their best, and with care and system in his work, financially and otherwise, he has reached the position where he may retire from active business and enjoy the fruits of earlier days of industry. Mr. Donaldson was born in 1817 in Perthshire, Scotland. He entered a shop when he was fifteen years of age, and remained five years at the machinist's trade after which he went to Belfast, Ireland. Here he worked at his trade two years, and then went to Liverpool and remained the same length of time. He then came to America and settled in Detroit, first entering the employ of the Michigan Central Railroad Company. Here he remained only short time, however, and then went to the locomotive works of Kendrick & DeGraff. From this employ he took charge of the Michigan Foundry for William Barkley, after which he went to the Bridge & Iron Works, where he remained in charge of the machine shop two years.

With E.D. Jones and William Cowie he then formed a joint-stock company known as the Dry Dock Engine Works. This company built a plant, and engaged in building engines on the site now occupied by the firm by the same name. Mr. Donaldson acted as a superintendent, and under his direction they built the first compound and the first triple expansion engine used on the lakes. They continued in business until November 3, 1888, when the plant was sold, the company at the same time employing about three hundred men. At this time Mr. Donaldson retired, and has not been engaged in any particular industry. He feels a keen interest, however, in marine affairs, and has advanced with developments of the latest machinery, so that he still has a full knowledge of the latest works.

In 1861 Mr. Donaldson was married, and he now resides with his family at the corner of McDougall and Champlain streets, Detroit, Michigan.
---
Previous
Next
---
Return to Home Port
---
This version of Volume II is based, with permission, on the work of the great volunteers at the Marine Captains Biographies site. To them goes the credit for reorganizing the content into some coherent order. The biographies in the original volume are in essentially random order.
Some of the transcription work was also done by Brendon Baillod, who maintains an excellent guide to Great Lakes Shipwreck Research.