Joseph B. Conard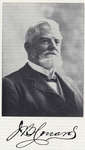 Joseph B. Conard

Joseph B. Conard, a veteran coal shipper on the lakes, was born in Cecil county, Md., January 1, 1840, a son of James M. and Harriet (Campbell) Conard, and is of Scotch, German and English descent. The Campbells came over with Lord Baltimore, and the name has undergone many changes of spelling.

Two brothers, Peter and Tennis Kunard, who came over with William Penn, were the progenitors of the American branch of the family, and certain members of the family took prominent parts in the early political affairs. John Conard, grandfather of Joseph B., was a Quaker member of Congress from Philadelphia, and was read out of the Meeting for voting in favor of the war of 1812, his action winning for him the appellation of the "fighting Quaker." His patriotism was not forgotten by the government, and he became United States marshal for the Philadelphia district under both Madison and Monroe. Mr. Conard's parent's moved to Philadelphia when he was fifteen years old, and he there remained as a resident twenty years. He was educated in the district schools of Maryland, and went to work when fourteen years, spending his early years on a farm at hand work. In 1865 he commenced shipping coal from the Philadelphia and Reading railroad docks at Port Richmond, then the shipping port of Philadelphia, but now a part of the city, where he represented A. E. Packer & Co., Rathbun Sturns & Co., Heckschier Bowns & Co., Hartford Association Coal Company, and others, and also operated on his own account. In 1875 he went to Perth Amboy, N. J., in the interest of the Lehigh Valley Railroad Company, where he had over three hundred different kinds of coal to look after, shipping over two million tons yearly, and having under his control from three hundred to four hundred men. Here he remained until 1882, at which time Coxe Brothers & Co., commenced this business in Buffalo, and Mr. Conard moved thither to become their resident shipping agent, which position he still holds.

It is an important one, as the note of the trestle operations will show. The coal- shipping trestle occupied in Buffalo by Coxe Bros. & Co. is the property of the Western New York & Pennsylvania Railroad Company, and is situated on the west side of the Blackwell canal just above the South Michigan street bridge. It has pocket capacity of three thousand two hundred tons, and a stocking capacity of six thousand tons adjoining. A Brown hoist was put up to assist in shipping from the stock pile, though it has not been much used. Shipment over the trestle by lake to various ports, principally Chicago, Milwaukee and Duluth, exceed two hundred thousand tons a season, and reached three hundred and seventeen thousand tons a season.

In 1873 Mr. Conard married Miss Sarah L. Shewell, a member of an English family of that name which has been prominent in Philadelphia society from Colonial times. They have no children, but have reared two nieces.

Mr. Conard is a member of the Merchants Exchange of Buffalo, and is affiliated with F. & A, M., Washington Lodge and Keystone Chapter of Buffalo. He is a truly self-made man, having been sent adrift to support to support not only himself, but his family as well, when but fourteen years of age. By his own industry and integrity he has attained his present position, and is now well known among the lake interests.
---
Previous
Next
---
Return to Home Port
---
This version of Volume II is based, with permission, on the work of the great volunteers at the Marine Captains Biographies site. To them goes the credit for reorganizing the content into some coherent order. The biographies in the original volume are in essentially random order.
Some of the transcription work was also done by Brendon Baillod, who maintains an excellent guide to Great Lakes Shipwreck Research.