In our last two issues, we have featured steamers which, although famous in their own way, ceased to exist long enough ago that few of our members, if any, would remember them personally. This issue, we have chosen a steamer which, although built many years ago, was still active in the relatively recent past and which would have been seen and photographed by many of our members. Her story is all the more interesting in view of the recent discontinuation by Canada Steamship Lines of the last major package freight service on the lakes, a trade in which our ship ran during her last few active years.
One of the most famous operators of U.S.-flag vessels on the lakes in years gone by was Joseph C. Gilchrist. Born in Port Huron, Michigan, in 1850, he was raised in Marine City, where his father had shipping and shipbuilding interests. J. C. Gilchrist later went into the lumber business, first in Alpena and later in Vermilion, Ohio, and it was not long before he began to move lumber by ship. By the 1880s, Gilchrist was actively engaged in the buying and operating of steamers and schooner-barges, and his fleet grew quickly.
Gilchrist had numerous partners over the years, including his cousin, Frank W. Gilchrist of Alpena, and also John W. Moore and J. H. Bartow of Cleveland. Nevertheless, it was J. C. Gilchrist who was the driving force behind the Gilchrist Transportation Company, the firm which eventually was formed to consolidate his various interests. Even so, when the company built new ships, their construction was usually financed by syndicates arranged by Gilchrist.
At the turn of the century, Gilchrist began a very rapid expansion of the fleet through the construction of numerous steel-hulled bulk carriers. Most of these were built in "classes", each of which comprised several sisterships. The first of these classes contained six ships that were to become known as the "planets", for all were named after planets in our Solar System. The contracts for their construction were let during 1900, with two of the ships being awarded to the Detroit Shipbuilding Company, Wyandotte, and four to the American Shipbuilding Company, Lorain. The two Wyandotte boats were Hulls 139 (MARS) and 140 (URANUS), while Lorain's Hulls 305 through 308 were, respectively, NEPTUNE, SATURN, VENUS and JUPITER.
NEPTUNE is upbound above the Soo Locks in this 1905 Young photo.

The first of the six vessels to hit the water was NEPTUNE, which was launched on Saturday, December 15, 1900. Thereafter, the remaining three Lorain hulls were launched at the rate of one each succeeding month. The first of the Wyandotte boats did not enter the water until March 9, 1901. NEPTUNE, incidentally, was named for the eighth planet of the Solar System, counting outward from the Sun.

All of the six steamers of the "planet" class were built to exactly the same dimensions, although their tonnages varied somewhat depending upon individual arrangements. NEPTUNE was 346.0 feet in length, 48.0 feet in the beam, and 28.0 feet in depth, and her tonnage was calculated as 3717 Gross and 2773 Net. She was powered by a triple expansion engine, with cylinders of 22, 35 and 58 inches, and a stroke of 40 inches, which produced Indicated Horsepower of 1,450. Steam at 170 p.s.i. working pressure was provided for this engine by two single-ended Scotch boilers, each measuring 13'2" by 11'6". The engine and boilers were all built for the ship by the American Shipbuilding Company, and they were obviously of good manufacture, for they were to serve her throughout her entire career.

NEPTUNE was enrolled at Cleveland as U.S.130901, and she was completed in time to begin the 1901 season. She was a good-looking vessel, similar in appearance to many of the steel ships that were then being built, but she was of a rather "simple", austere design. The "planets" were certainly less fancy in design than many other ships of their period, and their plainness was particularly remarkable when they were compared with the extremely handsome steamers that were being built by the various yards (including AmShip at Lorain) to both the design and order of Capt. John Mitchell.

NEPTUNE, with a cargo capacity of 5,5 tons, was a three-compartment boat, and was equipped with ten hatches. She had a half-forecastle, enclosed for about half its length with a closed rail. Her small, rounded, five-windowed pilothouse sat directly on the forecastle head, immediately forward of a small texas cabin containing the master's quarters and office. For navigation purposes, in the fashion of the day, an open bridge was provided on the monkey's island atop the pilothouse; the only shelter that was provided for the officers on watch there was a waist-high closed wooden rail and a canvas dodger or weathercloth. Her tall, well-raked foremast rose up out of the texas.

The steamer's after cabin sat on a flush quarterdeck. The cabin itself was a simple, squarish structure, surrounded by a closed deck rail. The house had but a few windows to admit light, but was equipped with a large clerestory whose main purpose, no doubt, was to brighten the officers' mess. The mainmast rose just abaft a rather heavy stack, both being raked but not on as great an angle as the foremast. There was an open rail around the after end of the boat deck, behind the lifeboats, but no rail at all, either open or closed, around the top of the boilerhouse, and this lack of rail tended to give NEPTUNE a rather "bald" look aft. The boilerhouse itself was not indented on each side (as on the Mitchell boats) but rather was flush with the remainder of the cabin.

NEPTUNE was painted in the usual Gilchrist colours. Her hull was black, with a grey boot-top. Her name appeared on the bow in small but fancy raised letters (which may have been white, but appear in some photos to have been yellow or perhaps gold), and the company's name was inscribed in larger white letters below. The cabins were white and her stack was all black. The houseflag that she flew featured a dark blue field and a large white letter 'G'.

NEPTUNE served the Gilchrist fleet well, primarily in the grain and coal trades. Joseph Gilchrist never wanted to have his ships tied up with season charters, and thus tended not to carry much iron ore. The fleet did, however, take a great number of "wild" charters in coal, and each year carried a very large proportion of all the grain that moved down the lakes to Buffalo. As far as we have been able to ascertain, NEPTUNE was a successful boat for the fleet, and was not involved in any serious mishaps.

After the building of the "planets", the Gilchrist Transportation Company continued to expand, and six further classes of steel-hulled steamers were added to the fleet over the next few years, each class comprising boats that were larger than those of the preceding group. While this building program made Gilchrist the number two American fleet on the lakes, second in size only to the Pittsburgh Steamship Company, it was also one of the reasons for the eventual failure of the company.

Just when Gilchrist was working to pay off the cost of construction of the twenty-seven vessels that were built in such a few short years, the business panic of 1907 struck the lakes, and cargoes became very scarce indeed. The Gilchrist fleet was struggling for its survival, and it might well have weathered the storm had not Joseph C. Gilchrist suffered a severe and completely debilitating stroke in 1907. He never recovered his health, although he lived until 1919, and he was never again able to take an active hand in the running of his own company.

Following the illness of J. C. Gilchrist, a new board of directors took office and F. M. Osborne of Cleveland was chosen as the new president of the Gilchrist Transportation Company. Osborne, however, was much involved with his own coal interests, and the day-to-day running of the firm was left in the hands of J. C. Gilchrist's two sons, Joseph A. and John D., as well as Frank W. Gilchrist's son, Frank W., Jr. Assisting them were Capt. J.L. Weeks, marine superintendent, and James D. Mitchell, chief engineer. But things did not go well and the directors felt that the company's survival depended upon new and more vigourous management being secured. With this in mind, they appointed S. P. Shane (who was formerly involved in operating railroads) as general manager.

With Shane at the helm, the fleet struggled on, but only a portion of its large fleet of wood and steel ships saw service, and the company was unable to recover to the point where it could fulfill all of its financial obligations. Refinancing plans were considered, but the major shareholders were not able to agree on a suitable course of action, and the refinancing was never completed. By late in 1909. it appeared that the situation was getting completely out of hand, and the company's vice-president, Frank W. Gilchrist, who was one of the largest shareholders, applied for a receivership. On January 17, 1910, the court appointed as receiver S. P. Shane and General George A. Garretson, president of the Bank of Commerce, for whom one of the fleet's steamers had earlier been named.

The officers of the Gilchrist Transportation Company hoped that the receivership would be temporary, and that the firm could be reorganized while it continued operations under Shane's management. But still no concrete agreement could be reached and, on April 29, 1912, Judge William L. Day appointed Capts. John Mitchell, Denis Sullivan and A. G. Smith as appraisers of the fleet's ships. Then, in August of 1912, acting under order of the District Court of the United States, Eastern Division of the Northern District of Ohio, Garretson and Shane offered the fleet for sale. The thirty-three steel Gilchrist boats were divided up into ten "fleets", each representing a different class, and offers were solicited for each of these "fleets". We are straying from our narrative in doing so, but we will more specifically describe those "fleets" as an indication of how the vessels fell into various classes. Shown is the name of each ship, with her length and capacity.
| | | | | | |
| --- | --- | --- | --- | --- | --- |
| Fleet No. 1 | | | Fleet No. 7 | | |
| FRANK W. GILCHRIST | 416 ft. | 7,00 | JUPITER | 346 ft. | 5,500 |
| JOSEPH C. GILCHRIST | 416 | 7,000 | MARS | 346 | 5,500 |
| R. L. IRELAND | 416 | 7,000 | NEPTUNE | 346 | 5,500 |
| R. E. SCHUCK | 416 | 7,000 | SATURN | 346 | 5,500 |
| HENRY S. SILL | 416 | 7,000 | URANUS | 346 | 5,500 |
| PERRY G. WALKER | 416 | 7,000 | VENUS | 346 | 5,500 |
| J. L. WEEKS | 416 | 7,000 | Fleet No. 8 | | |
| LEWIS WOODRUFF | 416 | 7,000 | FRANK W. HART | 380 | 6,500 |
| Fleet No. 2 | | | F. M. OSBORNE | 380 | 6,500 |
| FRANK J. HECKER | 464 | 8,000 | E. N. SAUNDERS | 380 | 6,500 |
| GEORGE H. RUSSEL | 464 | 8,000 | STEEL KING | 380 | 6,500 |
| Fleet No. 3 | | | C. W. WATSON | 380 | 6,500 |
| JOHN SHERWIN | 514 | 10,000 | Fleet No. 9 | | |
| JAMES B. WOOD | 514 | 10,000 | MERIDA | 360 | 5,000 |
| Fleet No. 4 | | | E. W. OGLEBAY | 375 | 5,000 |
| GILCHRIST | 356 | 6,000 | D. M. WHITNEY | 412 | 7,000 |
| Fleet No. 5 | | | Fleet No. 10 | | |
| GENERAL GARRETSON | 520 | 10,000 | THOMAS MAYTHAM | 286 | 3,600 |
| H. P. McINTOSH | 520 | 10,000 | Barge TYRONE | 300 | 4,000 |
| Fleet No. 6 | | | VULCAN | 260 | 2,800 |
| LAKE SHORE | 356 | 6,000 | | | |
As very few of the vessels had been sold, Judge Day, on January 15, 1913, ordered that the remaining ships be sold at auction on March 6, 1913. On that Thursday in March, H. P. Mcintosh, president of the Guardian Savings and Trust Company, acting as trustee for four Cleveland banks and other creditors, bought twenty-two of the steel vessels for the sum of $2,955667. The actual appraised value of those particular ships was $4,390,000. Several steel-hulled Gilchrist boats had already been sold by the liquidators prior to the auction, and a few others were sold shortly after the Mcintosh purchase. Twelve of the older wooden-hulled boats were not bid.
From looking at a fleet whose death knell had sounded, we should now direct our attention to another fleet whose star was certainly ascending in 1913. In that year, Pickands Mather and Company, the eminent iron mining and vessel management firm from Cleveland, consolidated its various shipping interests into one major vessel-owning corporation, namely the Interlake Steamship Company. Into it were placed fifteen ships previously owned by other P.M.-controlled companies, seven steamers purchased from the Wolvin interests of Duluth, and seventeen ships which were acquired from amongst the twenty-two Gilchrist boats that Mcintosh had bought at auction on March 6, 1913.
Of the seventeen Gilchrist steamers that now became part of the Pickands Mather fleet, and henceforth wore red hulls and the familiar black stack with an orange band, three of them were from the original "planet" class. MARS (I), SATURN (I) and URANUS (I) had earlier been sold off by the Gilchrist liquidators, but NEPTUNE, JUPITER and VENUS made the move to the P.M. fleet, and can be credited with starting a tradition that was to last for many years. With the acquisition of these three boats, Pickands Mather decided that it would be appropriate for more of its boats to be named for heavenly bodies, and all but one of the fourteen other boats bought from the Gilchrist fleet were given such names during the spring of 1913. (The only exception, JOHN SHERWIN (I), finally did get such a name, (b) SATURN (III), but that was not until 1958, and she only carried it for one year, never operating as SATURN.) As well, of the thirteen steamers that P.M. purchased on December 30, 1915, from the fleet of Capt. John Mitchell, Cleveland, eight of them were also given the names of planets or other heavenly bodies (three of these being replacements of the three "planet" names that were not included in the sale of Gilchrist boats to Pickands Mather).
NEPTUNE, suffice to say, retained her original name, and was a valued member of the Interlake fleet for more than two decades. She was slightly rebuilt in 1914, but that rebuild did nothing to alter her in any substantial manner, and there were no changes in her dimensions or tonnage. The only alteration that NEPTUNE underwent during these years was the addition of an enclosed upper pilothouse, so that the officers no longer had to stand their watches fully exposed to the inclemencies of Great Lakes weather.
In 1936, NEPTUNE was sold by Interlake to the Central States Transit Company, a short-lived firm which had been formed that same year by one Harry Sterling. This Sterling was formerly mate of the tug BALLENAS, which had been operated by the W. E. Hedger Transportation Corporation, New York, in towing canal barges from Buffalo to other Lake Erie ports. Central States acquired NEPTUNE, and also bought the 266-foot steamer GRIFFIN (37), (b) JOSEPH S. SCOBELL, which had been owned by the Jones Transportation Company, a subsidiary of the R. T. Jones Lumber Company of North Tonawanda. However, the Central States Transit Company was anything but a roaring success, and NEPTUNE and GRIFFIN were sold at a U.S. Marshal's sale during July of 1937.
As a result of that sale, NEPTUNE passed to the ownership of William M. Connelly, who registered her in the name of the Dolores Steamship Company, Buffalo, and chartered her to the Cleveland-Cliffs Steamship Company. The ship was renamed (b) WILLIAM M. CONNELLY in 1937, and it is interesting to note that the company that owned her was named for Connelly's wife, Dolores. The CONNELLY was painted in the usual Cliffs colours, with a black hull, green cabins, and a black stack. As far as we know, she never carried the Cliffs red *C on her stack, and the name "Dolores Steamship Co." appeared in white on the bow beneath her name. By this time, she had long since acquired a closed rail around the bunker hatch atop the boilerhouse, and her new name appeared thereon in black letters in the abbreviated version "WM. M. CONNELLY". The name was spelled out in full on the bow.
In 1944, management of the CONNELLY passed to the Schneider Transportation Company of Cleveland, another affiliate of Cleveland-Cliffs. It was an enterprise of A. E. R. Schneider, who was manager, marine department, of Cleveland-Cliffs from 1916 until his retirement in 1945. Thereafter, he devoted full time to managing his own company, with assistance from his two sons.
After the close of the 1945 navigation season, WILLIAM M. CONNELLY was allegedly sold by the Dolores Steamship Company to the American Steamship Company of Buffalo, which was managed by Boland and Cornelius. Most records show this transfer as having occurred in 1945, but contemporary press reports indicated that operation of the CONNELLY was taken over by Boland and Cornelius on March 1st, 194-6. We suspect that, in fact, American Steamship never actually had title to the CONNELLY and, instead, simply chartered her from the Dolores Steamship Company; a report in the April 6, 1947, issue of the "Cleveland Plain Dealer" indicated that Dolores had sold the CONNELLY to Richard E. Dwor of Port Colborne, and the same newspaper reported on April 29, 1947, that Dwor had resold the boat to the Mohawk Navigation Company Ltd., Montreal. It would thus appear that Dolores had retained ownership of the CONNELLY ever since 1937, and that she went through nothing more than a succession of charters and management changes until actually sold in 1947.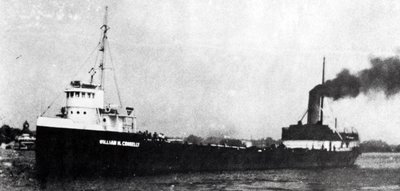 A rare 1947 photo by Capt. J. Leonard shows WILLIAM M. CONNELLY upbound below the Soo Locks. Note her Mohawk colours and the then-new ferry JAMES W. CURRAN beyond her bow.

Press reports concerning the CONNELLY, however, bear taking with a grain of salt, for it is known that Dwor never did sell CONNELLY to Mohawk. Instead, the man who would become one of the lakes' foremost shipbrokers and ship-breakers in later years, only chartered CONNELLY to Mohawk, a firm that was one of several managed by Robert A. Campbell of Montreal. WILLIAM M. CONNELLY operated for only one year under charter to Mohawk, and although she did wear that firm's blue stack with black smokeband, and its white cabins, it would seem that her hull remained black, enhanced only by a white forecastle rail. We do not think that she ever got the traditional Mohawk green hull with blue trim. In any event, the ship was enrolled at Montreal as C.175995. Her dimensions were remeasured as 354.9 feet in length (366.0 feet overall), 48.0 feet in width, and 23.9 feet in depth, with tonnage of 3488 Gross and 2787 Net.

In 1948, Dwor sold CONNELLY to Canada Steamship Lines Ltd., Montreal, and she was renamed (c) MARTIAN (II). In the renaming of the ship lies one of the most interesting parallels in lake history. This MARTIAN was the second vessel of that name in the C.S.L. fleet. The first, which was scrapped at Hamilton in 1938 after many years of idleness at Toronto during the Great Depression, had been acquired in 1913 from the Canadian Interlake Line Ltd., which had, in turn, bought her from the liquidators of the Gilchrist Transportation Company, for which she had sailed as (a) MARS (I)(13). Thus, it transpired that MARTIAN (I) and MARTIAN (II) were, in fact, built as exact sisterships, even though one lasted almost twice as long as the other, and despite the fact that there was an eleven-year lapse between C.S.L.'s sale for scrapping of the first and purchase of the second.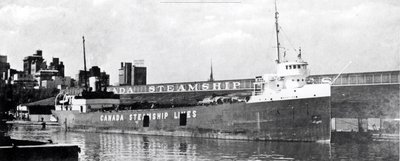 MARTIAN lies in the Bay Street slip, Toronto, July 6, 1961. Photo by J. H. Bascom features the old city skyline and C. S. L. freight shed.

MARTIAN (II) operated for C.S.L. as a bulk carrier, painted in their usual and traditional colours, until 1950, at which time she was sent to the yard of the Midland Shipbuilding Company Ltd. for conversion to a package freighter. During the course of that reconstruction, a 'tween deck was built into her cargo holds, and four cargo ports were cut into each side of the ship to facilitate' freight movement. As a result of the conversion, MARTIAN'S tonnage was altered to 3493 Gross and 2746 Net.

MARTIAN'S appearance had not changed much over the years prior to her acquisition by C.S.L. About all that had been done to her was the addition of her upper pilothouse, the replacement of the large square windows in her after cabin with portholes, and the fitting of a high closed rail around her bunker hatch to allow for extra coal to be piled there. But C.S.L. soon added a few other touches that helped to update MARTIAN a bit, even though she still looked far from modern.

Almost immediately, small "wings" were added to each side of the pilothouse; they were not enclosed additions, but simply flaps to provide shelter so that pilothouse doors could be opened easily in inclement weather. They did, however, give the small turret cabin a more imposing appearance. Then, apparently in 1952, MARTIAN was given a catwalk around the front of the pilothouse, that walk being protected only by an open railing. The addition of the walk and rail meant that, thereafter, a canvas dodger could be strung in bad weather without having to be wrapped across the front of the wheelhouse itself.

During the winter of 1951-52, MARTIAN received a new stack; it was as well raked as the original funnel, but was shorter and heavier, and its liner protruded far enough above the top of the outer stack that it was quite visible. Probably at the same time, a small "doghouse" was added to the boat deck, just abaft the mainmast. It was not a particularly handsome structure and did nothing at all to improve MARTIAN's appearance.

MARTIAN served C.S.L. well for almost two decades. After the conversion of 1950, she regularly ran the upper lakes package freight service along with RENVOYLE and COLLINGWOOD and, after their building in 1955 and 1958 respectively, with FORT HENRY and FORT YORK. Prior to the opening of the Seaway, MARTIAN remained primarily on the upper lakes and rarely ventured down to Lake Ontario. After the new canals opened in 1959, however, MARTIAN and her running-mates ran through to Montreal, and took over the lower lake trade that previously had been served by the company's canallers. She often wintered at Toronto with cargoes of storage grain.

The general cargo trade on the lakes had diminished over the years as road transport syphoned off much of the freight, but C.S.L. still decided to update its package freight service, and several new ships were added within a few short years. The motorships FORT CHAMBLY, ENGLISH RIVER and FRENCH RIVER were built in 1961, FORT ST. LOUIS was added in 1963, and FORT WILLIAM in 19-65. By the latter year, all of the C.S.L. package freight canallers had been retired, and even the older upper lakers were nearing the end of their lives. RENVOYLE and COLLINGWOOD were retired at the end of 1966 and were partially stripped, but they were reactivated in 1967 due to good business conditions. COLLINGWOOD was finally taken out of service at the close of the 1967 season and was sold for scrap the following year. RENVOYLE's career came to a close during 1967 as a result of her June 1st collision with SYLVANIA at Port Huron.

MARTIAN continued to operate through the 1967 season, but then she, too, was retired from service. She was laid up at Windsor, and there she remained idle through 1968 and into the 1969 season. She was stripped of some of her equipment and her appearance deteriorated considerably, with her red hull paint fading out badly and her cabins showing rust streaks. Her appearance, however, could never have matched that of MARTIAN (I) at Toronto in 1937'.

In 1969, MARTIAN was sold to Marine Salvage Ltd., Port Colborne, and she was later resold to Italian breakers. She was fitted out one last time and, on Sunday, September 14, 1969, she passed down the Welland Canal under her own power. She proceeded to Quebec City, where she laid up and spent the following winter. On June 8, 1970, the Polish deep-sea tug JANTAR took MARTIAN in tow, along with the former Misener steamer MATHEWSTON, and headed down the St. Lawrence River toward the Atlantic. They arrived safely during July at the Northern Italy port of Vado, and there MARTIAN was dismantled.

Despite her relatively small size, MARTIAN had enjoyed a long and successful life. She lasted longer than any of her five sisterships and, to crown it all, she even managed to succeed one of her own sisters in the same fleet whilst carrying the same name, a rare situation indeed. She also was owned on two separate occasions by the same shipbreaking firm.

(Ed. Note: A substantial amount of the information about the collapse of the Gilchrist Transportation Company comes from the writings of John S. Watterson, a son-in-law of Joseph C. Gilchrist.)
---
Previous
Next
---
Return to Home Port or Toronto Marine Historical Society's Scanner
---
Reproduced for the Web with the permission of the Toronto Marine Historical Society.