Some of the lake passenger steamers of the late nineteenth century proved to have extraordinarily long lives, many of them lasting, albeit not in their original condition, well into the second half of the present century. One of these was the famous little steamer WHITE STAR whose active career on Lake Ontario and the St. Lawrence River spanned a period in excess of seventy years.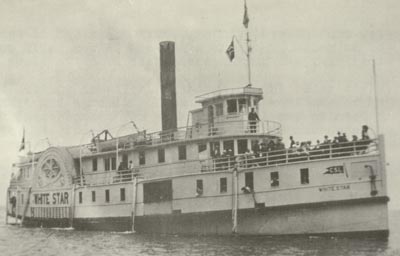 This is WHITE STAR as she appeared in C.S.L. colours during her last decade as a passenger vessel. Note the beautifully decorated paddleboxes.

WHITE STAR (C.103961) was an iron-hulled, beam-engined passenger vessel built in 1897 at Montreal by W. C. White whose shipyard was located on the Lachine Canal above the St. Gabriel Lock. The new steamer was 167.2 feet in length, 25.3 feet in the beam (hull only) and 8.2 feet in depth. We do not have a record of her beam over the guards. Gross tonnage was 451. Her engine came from the Allan Line tug ROCKET which had originally been fitted with two beam engines. In 1892 ROCKET was rebuilt as the passenger steamer BRITANNIC and at that time one of her engines was removed. It was held for five years until its installation in WHITE STAR.

The first owner of WHITE STAR was W. W. Paterson of Oakville, Ontario, who operated the Oakville Navigation Company. Her original route was from Toronto to Oakville and then on to Hamilton. During 1901 she operated under charter to the Pan American Exposition at Buffalo, New York, while her place on Lake Ontario was taken by the former Richelieu and Ontario Navigation Company steamer RICHELIEU (C.33476). The fair at Buffalo over, WHITE STAR returned to her original service in 1902.

The date of July 11, 1903 was a bad one for WHITE STAR. She was seriously damaged in a "very suspicious" fire while moored at her dock at the foot of Bay Street in Toronto. Hedley Shaw of Toronto and St. Catharines held a large interest in the ship at the time. While WHITE STAR was insured, it is said that the underwriters refused to settle the claim and the hull was abandoned.

WHITE STAR was later purchased by Charles Mignault of Montreal and the St. Lawrence and Ontario Navigation Company. She was towed to Cornwall, Ontario, and was rebuilt there in 1905 by Oliver Gillespie. She emerged from the reconstruction with revised dimensions of 158.1 x 25.3 x 8.2, her Gross Tonnage being reduced in the process to 308. The rebuilt WHITE STAR was quite a handsome little steamer. Sporting a single tall funnel and mast, she had a long cabin on the promenade deck but, of course, no overnight accommodation as she was a dayboat only. Her paddleboxes were very elaborately decorated and her pilothouse was a masterpiece of Victorian architecture in wood. A six-sided affair with the front corners chopped off, it carried an ornate nameboard not under the windows but rather mounted on the railing above the pilothouse.

In 1908 WHITE STAR was owned by the St. Lawrence Canadian Navigation Company Ltd. of Montreal, of which Alexandre Desmarteaux was the manager. She was placed on the Montreal - Quebec run with IMPERIAL (C.121945) which had earlier served as SOVEREIGN (C.94887), and the two operated in opposition to the long-established service of the Richelieu and Ontario Navigation Company Ltd. By 1910 WHITE STAR was in service for Desmarteaux's King Edward Park Company, operating from Montreal to King Edward Park which was located on an island a few miles down the St. Lawrence from the city. It is interesting to note that the same firm also operated on this route the former Lake Ontario steamer GARDEN CITY which was purchased in 1918 and ran to the park into the twenties.

In 1915 WHITE STAR was acquired by Canada Steamship Lines Ltd., Montreal, in an exchange involving the ferry BOUCHERVILLE (C.90546), (a) HOCHELAGA (I). C.S.L. placed her on the service from Toronto to Lorne Park, Hamilton, and Jordan Harbour. She later operated for C.S.L. between Hamilton and Wabasso Park, a short run across Hamilton Bay.

But once again WHITE STAR fell victim to the scourge of fire which struck while she was in winter quarters at Hamilton on March 1st, 1926. The vessel was virtually destroyed in the conflagration. The burned out hull was purchased in 1927 by Kingston coal dealer and vessel operator John F. Sowards who cut her down and had her registered as a barge of 224 tons for use in the Lake Ontario coal trade. She was finally abandoned in 1940 and her registry was closed, the hull being laid away in the inlet back of the De Wattville Island range lights.

But this was not the end of WHITE STAR. In 1949 her remains were purchased by the Simpson Sand Company Ltd. of Brockville, Ontario. Towed to the Brockville yard of her new owner, she was rebuilt as a stemwinder and was fitted with diesel power in 1950, the intention being to use her as a sandsucker. She was reregistered as (b) S. M. DOUGLAS, her dimensions now officially revised to 160.6 x 25.4 x 8.1. Her new tonnages were listed as 286 Gross, 230 Net. The DOUGLAS served the Simpson firm well for almost two decades and was to become a familiar sight as she went about her new duties in eastern Lake Ontario and the upper St. Lawrence River.

S. M. DOUGLAS was sold in 1968 to Black Douglas Contractors Ltd., Ivy Lea, Ontario, and she operated five years under this ownership. She remained idle at Brockville during 1973 and, her 77 years telling on her, was dropped from the Canadian register in 1974. It is reported that the iron hull of the ageing vessel became a breakwater at Kingston during 1975.

And so ended the active life of a small steamer which for many years served the travelling public of the Lake Ontario region. Already cast aside once, she was treated to a new lease on life when well into her second half-century. Her tired bones deserve a bit of rest now.
(Ed. Note: Our thanks to Jim Kidd and to Ivan S. Brookes for their assistance in tracing the early history of this rather elusive steamboat.)
---
Previous
Next
---
Return to Home Port or Toronto Marine Historical Society's Scanner
---
Reproduced for the Web with the permission of the Toronto Marine Historical Society.