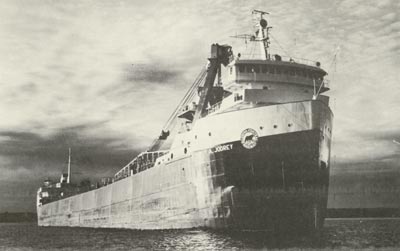 ROY A JODREY, 1965-1974. J. H. Bascom photo. August 15, 1972.

The most serious accident of the 1974 Great Lakes navigation season occurred in the early morning hours of Thursday, November 22nd, and has cost the Algoma Central Railway the services of one of its modern self-unloading bulk carriers. The vessel involved was the 619-foot ROY A. JODREY, built in 1965 by Collingwood Shipyards Ltd. The motorvessel was upbound with iron ore pellets for Detroit when, just after midnight, she struck buoy No. 194 in the St. Lawrence River near Wellesley Island in the Alexandria Bay area. At the time of this writing, it appears that the buoy ripped a gash in the JODREY's hull plating and that the crew attempted to beach the ship to prevent her sinking. Nevertheless, the ship filled and rolled over onto her side. She then began to slip back off the rocky ledge on which she was resting and at about 3:09 a.m. she disappeared from view, sinking in the navigation channel which is at that point about two hundred feet deep. The Seaway was immediately closed to traffic but was reopened less than 24 hours later when it had been ascertained that there was a safe depth of water over the wreck which is lying in close proximity to the Alexandria Bay station of the U. S. Coast Guard. All twenty-nine crewmen, including Capt. Hugh McDowall of St. Catharines, managed to reach shore safely before the ship sank. It is not yet known why the JODREY struck the buoy as weather conditions were far from unfavourable at the time. It is extremely unlikely that any attempt will be made to salvage either vessel or cargo.

It is interesting to note that forty years, almost to the minute, prior to the sinking of the JODREY, the Algoma Central steamer W.C.FRANZ sank in Lake Huron. It was about 3:30 a.m. on the morning of November 21, 1934, that the FRANZ foundered with the loss of four lives after having been rammed by the Great Lakes Transit Corporation package freighter EDWARD E. LOOMIS.

A serious grounding occurred on Wednesday, October 30, when in dense fog the Misener bulk carrier JOHN O. MCKELLAR ran aground on the Bayfield turn just above Mission Point in the St. Mary's River. The fog, which was so thick that the Soo Locks were closed for two days and almost ninety vessels were anchored awaiting their turn in the canal, was also dense enough that tugs had difficulty finding the MCKELLAR to render assistance. The tugs MISEFORD, JOHN MCLEAN, JAMES A.HANNAH, G. W. ROGERS and DANA T. BOWEN tried to free the ship but it was not until November 4th that the MCKELLAR floated free after having part of her cargo removed by the Columbia craneship BUCKEYE. The ship was taking a bit of water in number two hold but we do not believe that damage to either the MCKELLAR or her grain cargo was particularly extensive.

Word of another accident arrived just too late to be included in last month's issue. On October 11th in fog, the Cleveland Tankers steamer MERCURY struck the South Grand Island bridge over the Niagara River. The tanker lost her foremast in the impact and the mainmast was bent back at an alarming angle. Even worse, the bridge chopped off the MERCURY's majestic tall funnel just above the boat deck level and when the ship was brought in to the G. & W. Welding dock at Cleveland for repairs, the funnel was lying on the deck like a fallen soldier. Repairs were put in hand, but they are of such a temporary nature that it appears Cleveland Tankers may dispose of MERCURY when the latest of their new orders (JUPITER) enters service. Gone are MERCURY's tall raked masts to be replaced by stubs, and the funnel, while set back in its old position, is held there by an ugly patchlike support, the liner sticking far out above the outer stack. We could hope that our guess is wrong and that MERCURY will receive more permanent repairs during the winter lay-up, but we won't hold our breath waiting.

Columbia commissioned its newest vessel in late October as WOLVERINE entered service. She seems to be almost an exact sister of Kinsman's WILLIAM R. ROESCH and PAUL THAYER, but WOLVERINE looks much better with the light-coloured forecastle, even if it is painted in such a manner as to make her look as if she is continually down by the head. Meanwhile, it has been confirmed that Columbia is the successful buyer of ROESCH and THAYER and they will appear in Columbia colours in 1975. It will be a pleasure to see then without red lead on their cabins! No new names have been announced for the vessels but some of the Cleveland wags have suggested that they be rechristened WEASEL and SQUIRREL so that they will match their sister. There must be something better....

The lay-up list for the U.S. Steel fleet is now out and there is really only one surprise. HENRY PHIPPS is due to go into winter quarters at the M.P. & L. dock at Duluth, the fleet's traditional boneyard. She will join the mothball group that already consists of GEORGE G. CRAWFORD, WILLIAM J. FILBERT, HENRY H. ROGERS, PERCIVAL ROBERTS JR. and WILLIAM P. PALMER. We hope that the PHIPPS's stay at M. P. & L. will be short......

The newest unit of the Branch Lines Ltd. fleet of tankers, LEON SIMARD, made her first call at Toronto on November 24 when she brought a cargo to the Elias Rogers dock. LEON looks like a dead ringer for her predecessor as flagship, ARTHUR SIMARD, which appeared in service early in 1974.

There have been rumours to the effect that her royal ugliness, JACQUES GRAVEL, may be purchased from Marine Salvage Ltd. by Underwater Gas Developers Ltd. for conversion to a gas drilling rig in the same manner as CONISCLIFFE HALL. The rumours are as yet far from confirmed and the GRAVEL is still resting in Ramey's Bend looking just about as forlorn as any vessel could ever look. Scrapping operations are well underway on NORDRILL, the former C.S.L. canaller SIMCOE, from which was taken the drilling equipment that will be placed aboard CONISCLIFFE HALL.

A recent accident occurring at the Algoma Steel dock at Sault Ste. Marie, saw heavy damage sustained to the deck of the C.S.L. self-unloader QUETICO. The vessel was unloading in early November when somehow the crew lost control of the lateral motion of the unloading boom. It swung far out over the ship's side and caused a severe list for QUETICO. When the boom was swung back aboard, it somehow dropped to the deck and made kindling out of the iron deckhand which happened to be in the way at the time. Damage was conservatively estimated at $40,000.

C. W. CADWELL returned to Toronto on November 13. Readers will recall that she had earlier been towed to Whitby for the fitting of a new propeller. She was brought back by McNamara tugs and is once again lying at the former Harbour Brick dock at the foot of Bathurst Street. In the two years since her "new" engine was fitted, she had not once made a trip under her own power and observers just have to wonder what her owners have planned. The diminutive sandsucker looks much as she did when a steamer; she still has her funnel and steam whistle, but two rather ugly diesel mufflers have sprouted from the boat deck aft of the stack.

For those who keep detailed records of such things, we bring you the arrival dates for a number of old lakers that have made the voyage across the Atlantic to European scrapyards:

July 12 - CLIFFORD F. HOOD and HARRIS N. SNYDER at Bilbao, Spain,

July 21 - JAMES DAVIDSON and KINSMAN INDEPENDENT at Santander, Spain.

Aug. 1 - ROCKET and CITY OF GREEN BAY at Castellon, Spain.

All of the lake vessels sent to overseas scrapyards this year have made the trip safely, but not so one of the world's best known passenger liners. Back in 1968, Cunard retired the cruise vessel CARONIA, a 34,172-ton steamer dating from 1948. She was sold to the Universal Line S.A., Panama, and was in short order renamed (b) COLOMBIA and (c) CARIBIA. She was laid up at New York by March 25, and never turned a wheel again. Early in 1974 she was sold to Taiwan breakers for demolition at Kaohsiung and she cleared New York on April 27 in tow of the West German tug HAMBURG. She passed through the Panama Canal and called at Honolulu on July 11th for work needed to keep her from making water. On August 12th she was off Guam and in heavy weather HAMBURG was forced to try to make port for repairs to a generator. The wind and waves drove CARIBIA toward the piers and HAMBURG was swept against the breakwater off Apra Harbour and soon filled, breaking into three sections. Only the forward end remained aground, the other two sections sinking in the harbour. She will be a monumental salvage problem.

In earlier issues we have mentioned the sale of the Branch Lines tanker SPRUCEBRANCH for possible service in the Mediterranean. A recent report dated October 15th has her being resold to shipbreakers in the North of Spain, so it appears that the World War II veteran has reached the end of her rope. Further details are awaited.

The ocean-going carrier ONTARIO which was a visitor to the lakes during 1973 after her purchase by Canadian owners has now been sold to the Cie. Tunisienne de Navigation, Tunisia, and she has been renamed (c) REMADA. It is unlikely that we will see her in the lakes again.

MINNA, (a) VARLA DAN, (b) WARLA, owned by the Karlsen Shipping Company Ltd., Halifax, went aground in August 1974, off Resolution Island in the Arctic. She began taking water and subsequently sank in heavy seas. Resolution Island is located just off the southerly tip of Baffin Island.

Two more losses on salt water have been reported, but these will be of particular interest to the avid lake shipping enthusiast, for they involve the former lake bulk carriers GRAINMOTOR and BELVOIR. Earlier in 1974, BULK GOLD (a) GRAINMOTOR, was sold by Antilles Ltd. of Nassau to Ocean Services Ltd., Bluefields, Nicaragua, and she was renamed (c) ANDY. She is reported to have foundered south if Isla de Providencia on July 24th while en route from Pensacola, Florida, to Guayaquil, Ecuador. There is no word on casualties. BELVOIR was (a) BELVOIR (70), (b) NAZCA (74) and was a former unit of the Beaconsfield Steamship Company Ltd. and Mohawk Navigation Company Ltd. fleets and at the time of her loss was owned by Bamar Marine Company Ltd., Nassau. She reportedly struck a submerged object in the Caribbean on November 12th while on a voyage from Corpus Christi, Texas, to Puerto Cortes, Honduras, with a cargo of concentrated ore. She foundered at 2400 hours in a position Lat. 17.24 N., Long. 87.12 W. Four crewmen were picked up on November 15th but 21 men are still classified as missing.

This month, our marine news seem to be all bad, and we continue in this vein with the report that EAGLESCLIFFE (a) EAGLESCLIFFE HALL, went aground in the Caribbean on October 18th in a position Lat. 16.07 N., Long. 83.16 W. and was in danger of breaking up. She was in tow of a British tug at the time. A further report dated October 21st suggested that both vessels had been refloated and did not require assistance, but somehow we have our doubts. In addition, we wonder why EAGLESCLIFFE was under tow at the time of the mishap. We had thought that she was to be operated down south under her own power but it now looks as if her owners were using her as a barge. Details, anyone?
---
Previous
Next
---
Return to Home Port or Toronto Marine Historical Society's Scanner
---
Reproduced for the Web with the permission of the Toronto Marine Historical Society.