Our November meeting proved to be one of the best we have ever had, thanks to Dan McCormick who journeyed up from Massena, N. Y., to present an impression, through photo and word, of the old St. Lawrence canals and the transition to the present Seaway. The photos were rare and valuable, but even more spellbinding were Dan's reminiscences of the old canals. All those present join in thanking him for coming and hoping that he will be back soon.
In the New Member Department, a hearty welcome goes out to J. Edward Schwartz of Lakewood, Ohio, to Bob Ireland of London, Ontario, and to Paul Michaels of Flint, Michigan.
This is our last issue of the 1973 calendar year and we would like to thank all those who have faithfully sent us news and clippings to make our job a little easier. Please keep 'em coming in 1974.
And now, as the mists rise from the cold lake waters, as ice begins to form in the backwaters, and as the ships hurry along, the salties to their freedom on the open ocean and the lakers to the safety of winter quarters, we send along to each and every one of you our very best wishes for a Merry Christmas and Happiness in the New Year.
Those who have been following the story of the TRILLIUM, Toronto's sidewheel ferryboat, are breathing a lot easier these days. The reason, for anyone who may not have heard, is that Metro Toronto Council has approved plans to rebuild the TRILLIUM and put her back in service after a 17-year period of idleness spent amongst the lily pads in Lighthouse Pond. Council gave its blessing to a budget of $900,000 for the job. The ferry is to be taken almost immediately to the Keating Channel where the work of demolishing her rotten wooden superstructure will begin. She will be rebuilt according to the original plans and the new superstructure, to be made of aluminum, is to be an exact replica of the original in every detail. It is apparently hoped that she will be ready for service in 1975. Speaking as one who has watched TRILLIUM both in operation and in years of mouldering away in a backwater, your Editor forecasts that the day the steamer goes back in service will be a day of marine celebration such as has not been seen on the Great Lakes for many many years.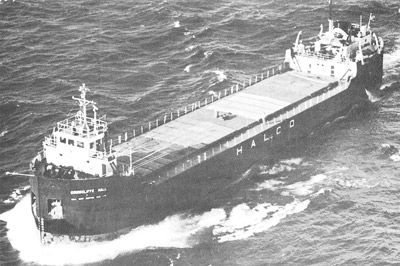 CONISCLIFFE HALL, en route to Port Colborne for conversion to a drillrig, is seen on Lake Ontario near the False Duck Islands, October 15, 1973. Wm. Baird Photo - the Kingston Whig-Standard, courtesy Nels Wilson.

The breakup of the fleet of Halco canal motorships laid up at Kingston continues. In our last issue we reported the removal of CONISCLIFFE HALL to Port Colborne for conversion to a drill rig (see the photo this month) and now we can confirm that EAGLESCLIFFE HALL has been sold for service in the Caribbean (not the Mediterranean as earlier rumoured). She cleared Kingston at 10:30 a. m. on November 17 under the command of one of our members, Capt. Denis Conway, bound for New Orleans. We understand that she encountered engine difficulties the first day out but that she was able to proceed. It is said that she will operate under the British flag and that her regular run will be from New Orleans to Rio de Janeiro. In addition, we have heard that the new owner (as yet unidentified) has options on the two remaining Hall canallers, WESTCLIFFE HALL and NORTHCLIFFE HALL.

Another laker wandering to salt water is Canada Steamship Lines' package freighter FORT CHAMBLY which has been chartered for six months to Saguenay Shipping for service between Port Alfred and the Caribbean. The ship had spent part of the autumn laid up at Kingston but departed in early November en route to her new duties.

In our last issue we commented that we believed the trip early this fall of C. H. McCULLOUGH JR. down the Welland Canal to Oswego was this steamer's first transit of the Welland. We stand corrected. Our treasurer has shown us a photo he took of her in the canal, the year apparently being 1937. Surprisingly, she made another trip down this fall on November 9th with soy beans for Victory Mills in Toronto, the first such cargo to arrive in many months. She cleared Toronto on the 12th and headed back to the upper lakes. Now we may have been wrong about the canal passage, but we can state definitely that this was the McCULLOUGH's first visit ever to Toronto.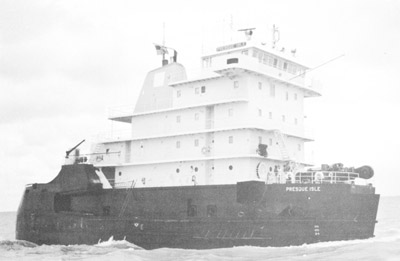 The camera of Bill Bruce caught the tug PRESQUE ISLE, part of Litton's tug-barge combination, inbound at Port Weller piers, on November 16, 1973.

The tug PRESQUE ISLE passed up the Welland Canal on November 16 en route from New Orleans to Erie where she will be coupled with the barge of the same name. The tug, registered at Los Angeles, is a very stubby thing with a cabin five decks high. The most startling feature of the tug, however, is her draft markings. How many times have you seen a tug which draws twenty-three feet of water? The tug, being coupled right to the big barge, will have to rise and fall in the water just like the barge as it is loaded and unloaded and this is of course the reason for her great depth.

One of the biggest items of marine news to break in some time is the announcement that the American Shipbuilding Company has a $70-million contract to build two 1000-foot self-unloading bulk carriers for the Interlake Steamship Company. The vessels, to be built at AmShip's Lorain yard, will be delivered in July 1976 and July 1977, and will be capable of handling about 59,000 tons of ore each. The job will require immediate expansion of the Lorain drydock and a contract for this work has also been let. PM is certainly thinking big about this major piece of expansion for its lake fleet as it also has an option on the construction of two more similar vessels. We understand that the design of the ships is not yet complete, but they will be twin screw motorships with rounded bows. It is pleasing to report, however, that they will not be stemwinders and will have pilothouses located forward.

While on the subject of new vessels and ship design, let us turn our thoughts once again to the ugliest duckling of all time, BoCo's CHARLES E. WILSON, the heroine (?) of a feature article in our last issue. We keep hearing very interesting reports on this vessel, reports that mention continuing mechanical difficulties, terrible vibration and noise in her boxy after cabin, and problems whenever the vessel tries butting into a head sea. She apparently will be heading back to Sturgeon Bay for the fitting of a raised forecastle designed to keep the deck a bit drier. Meanwhile, another beauty, BoCo's next in line to be christened H. LEE WHITE, is to be launched at Sturgeon Bay on December 1st. We just can't wait to see what she looks like....

A number of very large colliers may be in the works for the Detroit Edison Company which needs the tonnage to supply coal for its generating station at St. Clair, Michigan. Edison has signed a letter of intent with the American Steamship Company (BoCo) for the construction of one 770-foot ship to be ready for service by April 1, 1976. She is to be built at Sturgeon Bay and it has already been said that she will look just like other "new Profile" lake vessels. In other words, she will be another WILSON. Edison has not committed itself on the construction of any further ships at this time, but has let it be known that three or four vessels might be needed.

Another new one was christened as a bottle of bubbly broke across the bow of PAUL THAYER at the AmShip yard at Lorain on October 27th. The ship is a sister to WILLIAM R. ROESCH which entered service earlier in the season. Yet another christening was that of C. S. L.'s newest monster, H. M. GRIFFITH which was given her name by Mrs. G. E. Gathercole, wife of the Chairman of the Board of Ontario Hydro, in ceremonies at Collingwood on September 26th. The GRIFFITH has since entered service, as has the THAYER.

When U. S. Steel sent its BENJAMIN F. FAIRLESS down the Seaway this fall, observers of the shipping scene wondered whether this trip would be more successful than PHILIP R. CLARKE's ill-starred Seaway passage of 1972. Well, it happened again, and your Editor wouldn't be surprised if some of U. S. S. 's bigwigs are beginning to get a complex about sending their boats east. During the evening of November 7th, the FAIRLESS was raising in Lock 4 of the Welland. For some unexplained reason, there was a freak blowback in a discharge valve, possibly a result of air being sucked in and blowing up through the system under pressure. The valve was unseated and a massive fountain of water shot up out of the west wall of the lock causing a nice flood on Canal Road. Fortunately, the FAIRLESS was undamaged but she had to be lowered again and then backed out of the upbound lock. She and a number of other vessels had to be routed up the east half of the flight locks normally used for downbound movements.

The Goderich elevator owned by Upper Lakes Shipping Ltd. has been sold to the Goderich Elevator and Transit Company Ltd. which owns the other elevator in Goderich harbour. Presumably this is one reason that the storage barges K. A. POWELL and F. H. DUNSFORD were sold for scrap during the summer months, although we suspect that they were in pretty poor condition anyway and the purchase of ELMDALE would allow their disposal.

One piece of very good news which we can report is that U. S. Steel will be drydocking their idle bulk carriers WILLIAM J. FILBERT, PETER A. B. WIDENER and WILLIAM P. PALMER this fall for repairs prior to their re-entering service next spring. The removal of this trio from standby status will leave only CLIFFORD F. HOOD, HENRY H. ROGERS, GEORGE G. CRAWFORD and PERCIVAL ROBERTS JR. laid up at Duluth.

Meanwhile, U. S. Steel has announced the names of vessels which will be sailing late into the winter months, and it is the longest such list yet. It includes ROGER BLOUGH, ARTHUR M. ANDERSON, CASON J. CALLAWAY, PHILIP R. CLARKE, IRVING S. OLDS, ENDERS M. VOORHEES, LEON FRASER, BENJAMIN F. FAIRLESS, A. H. FERBERT, SEWELL AVERY, ROBERT C. STANLEY, RALPH H. WATSON, EUGENE W. PARGNY and EUGENE P. THOMAS.

An announcement made in the November 4th issue of the Chicago Tribune would, we think, have to be put in our "Let's wait and see" department until next spring. It stated that a vessel named GALAXY will begin Great Lakes cruises in 1974 and will operate on the lakes from April 13 through October 22. With a capacity of 329 passengers, she is apparently scheduled to depart from Chicago on alternate Saturdays at 6;00 p. m. arriving at Montreal the following Saturday. Calls are scheduled at Holland, Macinac Island, Detroit, St. Catharines, Toronto and Kingston. We have been waiting for an announcement of this nature since we lost SOUTH AMERICAN in October 1967, but we must admit that we are still sceptical about this one. To begin with, we have so far been unable to find any vessel named GALAXY in the shipping registers. Secondly, such a vessel would probably be in other than U. S. or Canadian registry and yet the list of ports of call would indicate that it would, in effect, be engaging in "coasting" services on both sides of the lakes. We would be interested in hearing how the operators (whoever they may be, and they are not yet identified) propose to bypass American and Canadian coasting regulations.

Upper Lakes Shipping's bulk carrier THORNHILL, the victim of an early-season grounding at the lakehead, ran into more trouble on October 22nd when she grounded in the lower harbour at Sault Ste. Marie near the head of Little Rapids Cut. She was manoeuvring in heavy fog at the time. With the help of tugs MISEFORD, JOHN MCLEAN, JOHN PURVES and THUNDER CAPE, the vessel was released on October 24th. We understand that she sustained no serious damage.

Speaking of groundings, readers will recall that in our last issue we reported the grounding and subsequent release of VANCOUVER TRADER. She got hung up on rocks near the piers at Port Colborne. In order to get some of the grain out of the vessel, McAllister Towing sent the barge (and former canal steamer) MAPLEHEATH which thus made one of her very infrequent visits to the Welland Canal area.

Tankers are much in the news these days what with the (alleged) energy crisis. Tankers downbound with western oil are being given priority of passage in the Seaway. Six tankers are running regularly from Lake Ontario refineries to the Montreal area and they include the salt water vessels MIDJRECHT (operating for Gulf Oil along with GULF CANADA), OLYMPIC SKY (operating for Texaco) and BRITISH KIWI (carrying for Shell and her owners, B. P.). The latter vessel has had tough luck weather-wise as on three occasions she has had to seek shelter in Toronto harbour. On one of these, BRITISH KIWI lost one whole trip.

We have heard from several sources that the McAllister tug DANIEL McALLISTER has been taken out of service because of a very serious engine problem, and if we are to believe one source, her owners have no intention of repairing the damage. DANIEL McALLISTER is a 109-footer built in 1907 at Collingwood as HELENA. Originally operating for the Minister of Public Works, she wound up in Hamilton after the Second War and set a macabre kind of record by towing to the scrapper's yard every one of the 29 steamers sold to Stelco by the U. S. Maritime Commission, assisting either on the trip from Erie to Port Colborne or during the Welland Canal passage. She capsized at Chicago in 1955 and was subsequently rebuilt as a diesel by the Penetanguishene Navigation Company. She passed to McAllister Towing about 1967 after several years of idleness at Toronto. Although not by any means a frequent visitor to the Toronto area since joining the McAllister fleet, she has assisted on jobs in this area and has joined in a number of scrap tows. We sincerely hope that she will be repaired and returned to service.

While on the subject of tugs, we understand that chances are very good that the old Pyke Salvage tug SALVAGE PRINCE will be turned over to the Pump House Steam Museum at Kingston by her current owners, McAllister Towing, who assumed control over the vessel at the time of their takeover of Pyke Salvage in the 1960's. She is currently lying idle at Kingston and has not operated for over five years. A 93-footer, she was built in 1924 at Selby, England, and is, of course, a steamer.

Another tug about which we can pass along some information is the old Canadian Dredge & Dock diesel HELEN S. A few weeks ago we were asking around about her current whereabouts and our correspondent Nels Wilson in Kingston was able to supply details, HELEN S. was originally a steam tug and was built in 1899 at Collins Inlet. She operated into the early 1960's and several years ago was sold to two Queen's University students who intended to make her into a houseboat. She was taken to the C. S. L. elevator in Kingston where her deckhouse was partially demolished. She lay idle during the summer of 1972 with no more work being done and then, at the request of C. S. L. management who were fearful that she would sink at the elevator, she was towed around to Picton where she still lies.

Incidentally, we have heard that Canadian Dredge & Dock is planning on building a new tug at Kingston during the coming winter. We have no details of the new craft other than the fact that it seems almost certain she will replace the aging G. W. ROGERS, a veteran of 1919.

Readers will recall our previous report to the effect that the former Ford Motor Company collier ROBERT S. McNAMARA was towed down the Welland Canal on August 29, 1973, by the tugs TABOGA and BARBARA ANN, the vessel having been sold to United Steel & Metal. She was taken to Hamilton but, contrary to expectations, has not been scrapped there. She was partially loaded with scrap and old railroad ties and then her completely open hatches (when on Ford's run, she was rebuilt with large coverless hatches suitable for the coal service) were covered over with a plastic material. Sold to overseas breakers, she was towed from Hamilton on November 14 by SALVAGE MONARCH and HELEN M. McALLISTER, stopping briefly at Kingston on the way down the Seaway. She left Kingston on November 17th, and, we suppose, was taken straight to Quebec City. We do know that it was the intention of her buyers to take her across the Atlantic this fall and, what with her large hatch areas only temporarily covered, we wouldn't bet on her safe arrival on the other side of the big pond.

Bad news always seem to come in bunches. In our last issue we reported that on September 28th the Kinsman Marine Transit Company sold to Marine Salvage Ltd. of Port Colborne two ships, one being JOE S. MORROW, the other being not identified (but rumoured to be either BUCKEYE MONITOR or HENRY LALIBERTE). The MORROW sale has been confirmed and we have learned that she will winter at Cleveland with storage grain, probably being sent overseas in the spring. The other sale turned out to be BUCKEYE MONITOR, which operated during 1973 as did the MORROW, and which laid up at Buffalo during mid-November. She passed down the Welland Canal under tow of SALVAGE MONARCH and the G-tug OKLAHOMA on November 26th. Strangely enough, it appears that HENRY LALIBERTE, while not included in the original sale, may also have sailed her last. While backing from the Frontier slip at Buffalo on October 27th, LALIBERTE struck a bank and apparently did grievous damage to her steering equipment. She was put into winter quarters immediately and rumours of her sale for scrapping have been heard.

While on the subject of scrap tows, we can pass along a few more bits of information for the record-keepers amongst us. GEORGE R. FINK was towed from Quebec City on October 22 by the German tug HANSA and we have heard that she was to be joined in the tow by an east coast ferry bound also for a European scrapyard, HENRY G. DALTON,part of the tandem tow that also included the ill-fated UNITED STATES GYPSUM, arrived safely at Vado, Italy, on June 16, 1973, having called at Gibraltar on June 11th. Scrapping of B. F. JONES and EDWARD S. KENDRICK began at Castellon, Spain, during the month of August, the hulls having been resold to Varela Davalillo. They had arrived at that port on May 19th, A. E. NETTLETON and R. E. WEBSTER in tandem tow arrived at Santander, Spain, on July 5th. CITY OF SAGINAW 31 and JOHN P. REISS arrived together safely at Castellon, Spain, before June 30th,

In our October issue we reported the sale for scrapping of the P & O liner CHUSAN and it is now our sad duty to advise of the sale for the same purpose of the ORCADES, a 28,472-ton liner built for P & O in 1948. Sold to Nan Feng Steel Enterprises Company, destruction of the vessel was begun in March of this year.

Just as we were preparing this section of the newsletter for printing we learned that the tugs JOHN PURVES and YVON SIMARD brought the former Chesapeake and Ohio carferry PERE MARQUETTE 22 past Port Colborne on November 26th but due to wind conditions, did not clear the Canal until November 30th. She is bound for a scrapyard overseas. It will be remembered that the 22 and her sister, PERE MARQUETTE 21, were sold earlier in the year to the Construction Aggregates Corporation for other than self-propelled transportation uses, We had thought that they would be cut down for use as barges but it seems that this is not the case. It appears that the broker in the subsequent resale was Marine Salvage Ltd.

We notice from the vessel passages that the tug OLIVE L. MOORE and barge SULTANA passed up the Soo on November 9th. The MOORE has, of course, operated during the last several years for the Escanaba Towing Company, a firm which was not active during 1973 having no vessels with which to do business. The SULTANA is the cut-down hull of the old Nicholson Transit steamer which has kicked around the lakes doing odd jobs for the last decade. Now it may be just a coincidence, but this tug and barge combination was active back in 1968 during the salvaging of the craneship BUCKEYE after she grounded near Port Colborne. To the best of our knowledge, the two have not been together since. We wonder....

At long last, the new Bethlehem Steel "I-Beam" insignia has appeared on a ship other than STEWART J. CORT which has had it since she entered service. JOHNSTOWN has been observed with the new design during the past month and we doubt that the other vessels in the fleet will now be long in getting the treatment. We hear that it looks good on JOHNSTOWN's rather dumpy funnel but we shall see what it does for LEHIGH and STEELTON! It could be that BETHLEHEM herself escaped just in time.

It has now been announced that Port Weller Drydocks has indeed won the contract for the new ferry to be built for the Newfoundland ferry service. Port Weller submitted the lowest tender for the job. In other-than-official circles the name of Port Weller Drydocks has been mentioned in connection with another possible job, that of building a tanker for a Canadian shipping firm which until now has never been in the tanker business. We shall wait and see.

In the last issue we reported that certain vessel retirements in the Q & O fleet were possible. The steamer SHELTER BAY and motorships BLACK RIVER and PIC RIVER were mentioned. We have now learned that SHELTER BAY has passed her inspection and will not be scrapped. Sad to say, however, OUTARDE will not be so lucky. She passed up the Welland Canal for the last time on December 1st en route for a cargo of grain which will be delivered to a St. Lawrence port. It appears she will winter at Sorel and we presume that she will be towed overseas for scrap in the spring, OUTARDE was built in 1906 as ABRAHAM STEARN for the Hawgood fleet and was purchased by Q & O in 1962 from the Midland Steamship Line, Inc. for whom she had served as MICHAEL K. TEWKSBURY. As far as BLACK and PIC RIVER are concerned, each version of the story we hear is different and we will have to wait for an announcement from the owners before we know what their future will be.
---
Previous
Next
---
Return to Home Port or Toronto Marine Historical Society's Scanner
---
Reproduced for the Web with the permission of the Toronto Marine Historical Society.