Thomas Marks and Company, of Port Arthur, Ontario, was a firm which had many connections with the lake shipping industry. We have spoken of Marks on several occasions in these pages, and readers of marine history will find the Marks name appearing in various publications with regularity as regards Canadian lake shipping in the years preceding the turn of the century.
In 1888, Thomas Marks and Company required a new steamer for lake trade. Canadian shipyards were in their infancy at that time, particularly as regards the construction of vessels with iron or steel hulls and, as a result, most Canadian shipowners placed their orders for new boats with shipyards in the British Isles. Marks was no exception, and placed its order with the Sunderland Shipbuilding Company, which built the new steamer as Hull 147 of its yard at Sunderland, England.
The most interesting photo of ROSEDALE, downbound in the Third Welland Canal above Port Dalhousie, was taken c.1905 by the late Rowley W. Murphy.

She was built to fit the locks of the old St. Lawrence canal system which, at that time, were even smaller than what we now commonly refer to as "canal size", for improvements to those canals to enlarge and deepen the locks were not completed until approximately the end of the nineteenth century. As a result, the steamer was constructed with a length of only 174.0 feet, a beam of 35.0 feet, and a depth of 21.1 feet. Her tonnage was registered as 1040 Gross and 772 Net. She was powered by a triple-expansion engine, with cylinders of 17, 28 and 46 inches, and a stroke of 30 inches, which was built for her by the North Eastern Marine Engineering Company Ltd. at Sunderland. This same company also made her two Scotch boilers, each of which measured 10 feet by ten feet.

The new vessel was named ROSEDALE and was enrolled as Br.95265. We have no definite information on the reason why she was given this name, but we may well speculate. Marks and Company had a number of associates in the Toronto grain and financial spheres, and the name may well have been suggested by one of those persons. Rosedale was then, and still is today, a very quiet and exclusive residential area, located in midtown Toronto to the north of Bloor Street and east of Yonge Street. The Rosedale area, which in 1888 was considered to be an outlying suburb rather than a centrally-located district, has long been the home of many of Toronto's most influential financiers, and it seems likely that many of Thomas Marks' associates would have resided there back at the time that ROSEDALE was built.

ROSEDALE was a combination package freighter and bulk carrier, steel-hulled, and built to what was then a common design on salt water. She was completely flush-decked, and her bridge structure was located amidships. Many of the early British-built canallers with steel hulls were of a similar design, for the canal-sized steamer had not yet developed into the type of vessel which we knew better in the first half of the twentieth century.

ROSEDALE carried all of her crew accommodations below decks, while the senior officers were housed in a small cabin which was located on deck, immediately forward of the engines and boilers. She was navigated from an open bridge which was situated atop this small deckhouse. As ROSEDALE was equipped to carry both bulk cargoes and package freight, she was fitted with hinged sideports to facilitate the handling of general cargo. Like many of the vessels of her time, she did not have the same sort of double bottom that we know today. Her "tank top", such as it was, was formed by wooden planks that were laid across the steel frames, and there was no inner steel skin.

She was given two tall masts and, as might be expected, both were fitted to carry auxiliary sails, not only to assist the engine and save on fuel but also as a precaution against mechanical failure. The foremast was located between the first and second hatches, and it was equipped with two cargo booms so that freight could be hoisted through either hatch. The mainmast carried but one boom.

In due course of time, the Sunderland Shipbuilding Company placed the finishing touches on ROSEDALE and, after she had successfully run her trials, she was accepted by Thomas Marks and Company. She then set off across the Atlantic under her own steam on her delivery voyage. She carried in her holds a cargo of cement which she had loaded at Liverpool, England, for delivery at Chicago. ROSEDALE arrived safely at Chicago on June 29, 1888, and she then proceeded to Ashtabula where, on July 18th, she loaded her first freshwater cargo. She took aboard 1,300 tons of coal for delivery to Fort William, Ontario.

We may today think of ROSEDALE as having been a steamer of rather primitive design, but she really was quite advanced for her day. On her maiden voyage, she set a most important record. She had the distinction of being the first vessel ever to carry a cargo all the way from Montreal through to Chicago without trans-shipment; this was the cement cargo that she had loaded at Liverpool. The coming of through freight service must certainly have been welcomed by all concerned, not only because cargo could be delivered so much more quickly, but also because of the savings in cost which could be achieved through the elimination of intermediate loadings and unloadings.

ROSEDALE did not serve the Marks fleet for long, however. By 1890, she had passed to the ownership of Messrs Hagarty and Crangle of Toronto. These gentlemen were two of the principals of the St. Lawrence and Chicago Steam Navigation Company Ltd., Toronto, which had been formed officially in that year. The Hagarty mentioned was John H. G. Hagarty, while the Crangle was Capt. Samuel Crangle. Their associates in the organization were Toronto wharfinger W. A. Geddes, Sir Casimir S. Gzowski, G. Hagarty, F. W. Kingston, W. D. Matthews and E. B. Osler, all of whom were extremely prominent Toronto businessmen of the period. It might be suspected that these parties had an interest in ROSEDALE right from the time that she was built, but this is only supposition on our part and there is no formal evidence to confirm or deny their earlier involvement.

In the autumn of 1890, her new owners sent ROSEDALE to the yard of the Polson Iron Works at Owen Sound for lengthening, a process that cost the then-princely sum of $40,000. She was lengthened to 246.1 feet, and thus became what was later known as "full canal size" . The work was done by inserting a new midsection into the hull between the bridge structure and the engineroom. This reconstruction increased ROSEDALE's tonnage to 1507 Gross and 977 Net, and raised her grain capacity from 43,000 bushels to 60,000 bushels, considerably increasing her earning capacity in the process.

At the same time that she was lengthened, ROSEDALE was given new navigation facilities. A pilothouse was constructed atop the "texas", and the open bridge (which then was still considered to be "de rigueur" aboard all lake steamers) was relocated on the monkey's island atop the new pilothouse. In addition, a third mast was fitted. It was placed immediately abaft the pilothouse and, like the other two masts, it was well raked and carried auxiliary sail. It was equipped with one cargo boom.

Over the years, there has been some considerable dispute concerning where ROSEDALE was lengthened, some sources alleging that the work was done at Kingston. One must remember, however, that the Polson yard (such as it was) at Owen Sound, was the only shipyard on the Canadian side of the Great Lakes that was then capable of handling the lengthening of a metal-hulled vessel. The issue was finally resolved through the discovery of an article on the lengthening of ROSEDALE, which appeared in the January 15, 1891, issue of the "Owen Sound Times". There follows part of the description of the then-novel work.

"The work on the lengthening of the steamship ROSEDALE is progressing rapidly and the vessel has reached a condition which is technically known as "in frame", that is with the frame ready for plating. One width of shell is already in position alongside the keel plate, and the deck beams are being placed in position. When the vessel leaves the dock, she will be even stronger with her added length than previous to being cut in two.

"The addition of the seventy-odd feet to her length makes it necessary to supply another mast. This has been made similar to those already in, and like those of the C.P.R. steamships, a hollow steel tube, the plates for which were cut and shaped in the yard, and then carted to the dock where it has been rivetted.

"The lengthening of the vessel does not add to her compartments, but simply increases the size of that forward of the machinery bulkhead. Mr. Logan, who looked after the C.P.R. interests in the building of the steamship MANITOBA (which also was built by Polson's at Owen Sound), is the inspector for the owners and is in town at present."

The Inland Lloyds shipping register for 1892 showed a value for ROSEDALE, for insurance purposes, of $115,000. To protect its investment in the ship, the St. Lawrence and Chicago Steam Navigation Company Ltd. placed Capt. James Ewart in command of ROSEDALE. He was a highly-respected master, who was well known around the Toronto waterfront, and who put in many years of service with Hagarty and Crangle. As a result, ROSEDALE appears to have enjoyed relatively smooth sailing during her early years.

Nevertheless, the year 1897 was not a good one for ROSEDALE. She was involved in no less than five separate accidents during that navigation season and, strangely enough, all of them occurred on the fourth day of a month. On April 4, 1897, she ran ashore near Rock Island Reef, situated near the upper end of Wellesley Island, on the south side of the channel in the upper St. Lawrence River. She was later freed, but had sustained enough damage that she was forced to go on the drydock at Detroit for repairs on April 17th.
The graceful lines of ROSEDALE are evident in this 1898 photo by the late Wm. Traill, showing the steamer leaving the Yonge Street Wharf, at Toronto.

The most serious accident of the 1897 season for ROSEDALE, and one that very nearly proved to be her undoing, occurred on December 4th. She stranded on Charity Shoal in Lake Ontario, approximately six miles west of Grenadier Island and near the mouth of the St. Lawrence River. Heavily damaged, she was abandoned to the underwriters as a constructive total loss. The underwriters let a salvage contract to the Donnelly Towing and Wrecking Company of Kingston. Donnelly managed to float ROSEDALE free of Charity Shoal on December 13 and the steamer was then towed stern-first to Kingston for repairs. The insurers sold the steamer to the Edwardsburg Starch Company Ltd., but this concern soon sold her back to the St. Lawrence and Chicago Steam Navigation Company Ltd., the sum of $55,000 changing hands in this transaction.

Another of ROSEDALE's exploits during the late 1890s occurred when the ship, whilst upbound light, ran up on the rocky shore of Knife Island in Lake Superior. She was released without much problem, but we have no report as to the exact amount of the damage that she suffered in this mishap.

The late Capt. Henry King of Toronto, who latterly served for many years as examiner of masters and mates for the Dominion government, and who spent many summers sailing in the Niagara Navigation Company's passenger steamers, served in ROSEDALE for a period of time during the 1890s. He always spoke of ROSEDALE as having been a very difficult ship to steer, and confirmed that two men were normally required to handle her steering wheel. During one of her many strandings, the wheelsman lost control of her wheel when it began to spin, and he was killed when one of the spokes of the wheel struck him on the head.

The St. Lawrence and Chicago Steam Navigation Company Ltd. continued to operate ROSEDALE until 1907. They kept her in the grain trade, with most of her cargoes being consigned either to Kingston or to the ports of Georgian Bay. In 1907, however, she was sold to R. O. and A. B. Mackay of Hamilton, Ontario, entrepreneurs whose exploits have been mentioned many times in these pages. The Mackays formed a subsidiary company, Rosedale Ltd., Hamilton, in whose name ROSEDALE was registered. This company was incorporated with a capital of $100,000 and its directors were R. O. Mackay, A. B. Mackay, J. P. Steedman, T. Hobson and L. F. Stephens, all of Hamilton.

Her new owners placed ROSEDALE in the package freight trade between Montreal and Fort William. She became a part of the newly-formed Merchants and Montreal - Lake Superior Line, which was a joint venture of the Mackays and G. E. Jaques and Company, Montreal. In 1908, R. O. Mackay retired from the shipping business and his brother, A. B. Mackay, formed the Inland Navigation Company Ltd. to operate the family's vessels. ROSEDALE remained under Mackay ownership and became a part of this new fleet.

During March of 1910, the famous shipping entrepreneur James Playfair, of Midland, Ontario, acquired a very large and controlling block of shares of the Inland Navigation Company Ltd. He reorganized the fleet, together with a number of his own vessels, as Inland Lines Ltd., Midland, and ROSEDALE thus came under the Playfair houseflag. She was only one of a great number of Canadian lake steamers that, over the years between the 1890s and Playfair's death in 1937, were to feel the influence of this gentleman.

We know of only one accident which involved ROSEDALE during her years with Inland Lines Ltd. On November 11, 1912, ROSEDALE, whilst upbound light from Kingston to Fort William, stranded on DeTour Point as she attempted to enter the St. Mary's River. She was refloated, but we have not been able to turn up any further details concerning the incident.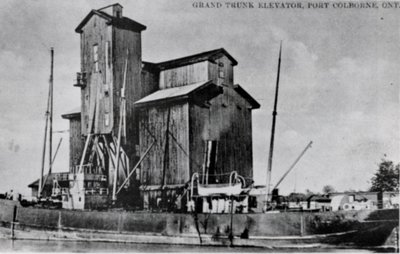 ROSEDALE, in a very rare photo, is seen alongside the old grand Trunk elevator at Port Colborne, Ontario.

James Playfair was one of the "guiding lights" involved in the formation of Canada Steamship Lines Ltd., Montreal, in 1913. Inland Lines Ltd. was, accordingly, one of the many Canadian lake fleets which were absorbed into the new conglomerate upon its incorporation, and ROSEDALE thus became part of the largest Canadian fleet ever to operate on the Great Lakes.

ROSEDALE did not have long to enjoy her position in the C.S.L. fleet, however, for World War One began the year after her acquisition. The hostilities created a great demand for tonnage to operate on the east coast, and many Canadian canallers were sent eastward to assist in the war effort. ROSEDALE was sent to the coast in 1915, and she spent part of that season in the coal trade between Sydney, Nova Scotia, and Montreal. As did many of the canallers so employed, she returned to the lakes during the autumn of 1915 to lend a hand in the transportation of grain down the lakes during the fall grain rush.

Although Canada Steamship Lines Ltd. retained ownership of ROSEDALE, she was requisitioned by the government in 1916 for salt water service, the need for extra tonnage in the war effort having accelerated with the loss of many Canadian vessels. On May 30, 1916, ROSEDALE sustained damage in a gale which she encountered on the North Atlantic while she was bound from Quebec City to London, England. Many canallers fell victim to storms on the high seas, for they were never designed to withstand the eccentricities of navigation on the open ocean, but ROSEDALE managed to survive the gale. She also managed to avoid enemy action and came through the war safely. In this regard, she was rather more fortunate than were many canallers, a large number of which were sunk by enemy torpedoes or gunfire.

ROSEDALE remained on salt water after the cessation of hostilities, operable bottoms still being much in demand at that time as a result of the extensive war losses. Whether ROSEDALE would ever have returned to the Great Lakes or not is a question that we are not now qualified to answer. Albeit a good ship in her earlier days, she had been far outclassed by subsequent and more modern steamers, and it is entirely possible that C.S.L. might not have wished to take her back, even considering the demand for canal-sized tonnage in the lakes during the years immediately following the war.

In any event, C.S.L. did not have much of an opportunity to consider taking ROSEDALE back into its fleet. On April 8, 1919, the steamer was involved in a collision with the salt-water steamer LUELLA on the North Atlantic. ROSEDALE was seriously damaged in the accident, and she foundered shortly thereafter. The little steamer with the antiquated but graceful lines was gone, but she would be remembered for many years on the lakes by those who realized the contribution to lake shipping that she had made as one of the first steamers of her type ever to sail our inland waters.

(Ed. Note: We extend sincere thanks to member Ron Beaupre of Port Elgin, Ontario, who, in response to our request, searched for and was able to locate the Owen Sound newspaper report dealing with the lengthening of ROSEDALE.)
---
Previous
Next
---
Return to Home Port or Toronto Marine Historical Society's Scanner
---
Reproduced for the Web with the permission of the Toronto Marine Historical Society.