The steel hulled canallers were the backbone of the Canadian lake shipping industry for many years but, all too often, we think of them solely in terms of the mass produced "built by the mile, cut off by the foot" steamers turned out by various British shipyards during the 1920's. The fact remains that perhaps the greatest advances in canaller design really took place during the very early years of this century, when specially designed vessels began to supplant the hodge-podge of wooden carriers then on the scene, Today, very few of the pre-World War I canallers remain as evidence of the evolution of this type of ship.
In the month of April 1910, the Sunderland Shipbuilding Co. Ltd. put the finishing touches to their Hull 256, a canal steamer which was building to the order of the Merchants Mutual Line Ltd., Toronto. She was a bulk carrier, 250.2 feet in length, 42.7 feet in the beam, and 17.4 in depth, these dimensions producing tonnage of 1798 Gross and 1148 Net. She was built with six hatches, the last of which was situated on the raised poop forward of the boiler house. Cargo was handled by three booms, one on the foremast immediately aft of the bridge, and two on the main which was stepped between hatches four and five. The vessel was powered by triple expansion engines with cylinders of 20 1/2, 34 and 57 inches, and a 39-inch stroke. This machinery dated back to 1896 but its previous history is not known. Steam was provided by two coal-fired Scotch boilers measuring 13'6" by 9'6".
In her first year of service, SASKATOON (I) is seen at Sault Ste. Marie, 1910. Young photo. Bascom collection.

The new steamer was given registry number 123965 and was christened SASKATOON in honour of the second largest city of the province of Saskatchewan which had entered the Canadian Confederation only five years previously. She was the first of two steam canallers to bear this name. Shortly after completion, she crossed the Atlantic, probably with a cargo of coal, and entered the Great Lakes to commence service for her owners. The Merchants Mutual Line was an established Toronto concern which had been absorbed by the Canadian Interlake Line not long before the building of SASKATOON. Despite the new ownership, the fleet continued to be known by its old name. Canadian Interlake itself had been assembled between 1907 and 1910 by R. M. Wolvin and Capt. J. W. Norcross. They operated SASKATOON until the close of navigation in 1913.

In 1914 the vessel emerged from winter quarters in the colours of Canada Steamship Lines Ltd., which had been formed on December 1st of the previous year as a consolidation of a number of Canadian vessel operators including Canadian Interlake Line. Her first year under the new management was not as successful as might have been hoped as, on July 24, 1914, she stranded in the St. Lawrence River near Port Neuf, Quebec, while upbound with a load of pulpwood. She was later released and repaired. C.S.L. did not get a chance to operate SASKATOON for long as she was requisitioned for overseas service during the First War. It would appear that she was operated by British interests during this period, presumably in the British coastal trade.

SASKATOON was sold in 1920 to the Canadian Maritime Co. Ltd., Montreal, but she did not, apparently, return to lake service until 1922 when she was purchased by the Interlake Steam Navigation Co. Ltd., a firm operated by the partnership of Mapes and Fredon, Montreal. At this time, she was given the distinctive Mapes and Fredon stack colours, black with three broad gold bands. She ran for this company into the 1926 season and then a strange thing happened. In 1926 and 1927, Canada Steamship Lines Ltd. were again expanding and they now swallowed up Mapes and Fredon, with the result that, for the second time in her career, she was absorbed into the C.S.L. fleet.

The year 1927 saw Canada Steamship Lines take delivery of a new package freighter built at Midland and christened SASKATOON. As a result, the older vessel, SASKATOON (I), was renamed ROSEMOUNT (II). She continued to operate on a regular basis for C.S.L. until the onset of the Depression which, as might be expected, spelled the end for many of the older and less economical units of the fleet. Fortunately, ROSEMOUNT managed to stay clear of the company's boneyard at Kingston, but she was laid up for much of the time during the early thirties, appearing once in a while for a trip or two as required. By 1934, however, business conditions had deteriorated so badly that ROSEMOUNT was laid up at Montreal and relegated to the job of coal storage. She continued in this lowly state until 1936 when she sank at her dock.

ROSEMOUNT was raised by Foundation Maritime Co. Ltd., but she never again operated for Canada Steamships. In 1937, a number of idle C.S.L. canallers were sold to Les Chantiers Manseau Ltee. (which in 1939 became known as Marine Industries Ltd), some for scrapping and others for no apparent reason. ROSEMOUNT was included in the sale and she was taken to the company's boneyard at Sorel where, stripped of her superstructure, she lay until 1940. At this time, Marine Industries converted her, as well as several other bulk carriers, to a tanker. Strangely enough, the rebuild left the step in her deck but she received a "trunk" which was the same height as the poop and which extended forward to the forecastle. She was given a rather handsome triple-deck bridge structure and this was set back off the forecastle along with the foremast. The mainmast was moved back to the forward end of the after cabin. She was further modernized by the installation of a new six-cylinder Fairbanks Morse diesel which gave her a very good service speed. The reconstruction altered her tonnage to 1752 Gross, 1028 Net.

Renamed WILLOWBRANCH (I) in 1940, she entered service in 1941 for Branch Lines Ltd., a subsidiary of Marine Industries, operating under charter to Imperial Oil Ltd. However, by this time, Canada was immersed in the hostilities of World War II and tankers were much in demand. Accordingly, WILLOWBRANCH was requisitioned for salt water service and was turned over to the British Ministry of Transport. For the second time in her life, she left her home waters to make a treacherous wartime crossing of the Atlantic. Operating for the next few years under charter to the Coastal Tankers Ltd., she undoubtedly did her part in helping to sustain Britain during the hard years of the war. In 1945 she was renamed EMPIRE TADPOLE to bring her into line with the series of names chosen by the British Government for ships of her type. She was sold in 1947 to the Basinghall Shipping Co. Ltd., London, and, under the name BASINGCREEK, she continued in the British coastal trade.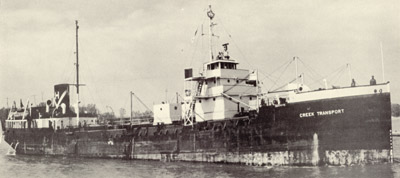 Nearing the end of her career, CREEK TRANSPORT is seen outbound in Toronto's Eastern Gap, June 7, 1969. Photo by the Editor.

The lure of fresh water must have been great for, in 1950, she returned to the lakes having been purchased by St. Lawrence Drydocks Ltd., Montreal. She was soon transferred to an affiliated firm, Coastalake Tankers Ltd., Ottawa, and she entered service under the name COASTAL CREEK. Operating agents were Transit Tankers and Terminals Ltd., Montreal, Mr. Gaston Elie, Manager, COASTAL CREEK occasionally visited the upper lakes, but she spent most of her time on Lake Ontario and the St. Lawrence River. During the late fifties and early sixties, she operated variously for Petrofina Canada Ltd. and B.P. Oil Ltd. and carried their crests on her funnel, but by 1962 she had reverted to her owner's colours. In 1965, Coastalake Tankers changed its name to Canadian Sealakers Ltd. but the management remained the same.

COASTAL CREEK continued her faithful service until July 18, 1968, when she, along with two other ships of the fleet, was sold to the Hall Corporation of Canada Ltd. In view of her age and condition, COASTAL CREEK was not the prize of the deal, the purchase revolving around other more valuable considerations. However, the thumping heartbeat of her diesel would not yet be stilled. Renamed CREEK TRANSPORT in August of 1968, she operated for Halco for about a year, being laid up at Montreal part way through the 1969 season. She was then held in reserve for a period of time but in 1970 was moved to Sorel where she is currently lying along with two other retired lakers.

For the last few years, the ship was something of an oddity, for she had retained her beautiful deep steam whistle despite her conversion to diesel power. This whistle distinctively announced her comings and goings but not, perhaps, as strikingly as did her diesel whose prounounced thumpings could be heard for a considerable distance. But now, after a life of sixty-one years, she lies cold and almost forgotten in Sorel, and her upcoming sixth transit of the cold, grey North Atlantic promises to be at the end of a long towline, a voyage at whoso end the cutting torches will be waiting.
---
Previous
---
Return to Home Port or Toronto Marine Historical Society's Scanner
---
Reproduced for the Web with the permission of the Toronto Marine Historical Society.