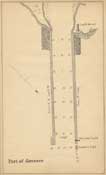 Port of Genesee

The port of Genesee, leading to the City of Rochester, is situated on the W. side of the emboucheur of the Genesee River.

It is protected from the violence of the Lake gales by piers about 2,000 feet long, running N. E. and S. W. into the Lake, and 400 feet apart. The river is narrow and tortuous, rendering it difficult to beat up; but the wharves, when once reached, afford every accommodation and shelter.
LIGHTS.
The beacon light is on the end of the W. pier; the range or main lighthouse is 83 feet high, and built on the hill side; these must be brought in line to shew the direction of the west pier. Both these lights are bright and stationary.
In making this port from the westward, bring the pier light to bear S. S. E., and in running into the harbour, keep the pier light a little more than a vessel's length to the eastward of the lighthouse.
DANGER.
About twenty feet off the end of the W. pier there are some piles and a sunken crib, which must be given a wide berth.
NOTE.-In Owen's and Herbert's Charts, a shoal having only eight feet of water is laid down, midway between Braddock's Point and the pier ends. This supposed danger has no existence, there being plenty of water everywhere to within a short distance of the shore.
COURSES AND DISTANCES.
From Genesee River to Presqu' Isle, N. 1/2 W. 60 miles.
" " Mid-channel between Real and False Ducks, N. E. 75 m.
" " Galloo Island Lighthouse, N. E 2 E. 87 miles.
" " Oswego E. by N. 1/2 N. 66 miles.
" " Braddock's Point, N. W. by W. 10 miles.
From Braddock's Point to Port Dalhousie, first W. by N. till opposite Oak Orchard Creek, then W. by S. 90 miles.
" " Toronto, W. by N. 1/4 W., 110 miles.
" " Cobourg, N. W. by N. 67 miles.
COMPASS.
When off Rochester, allow 1° for variation of compass.
---
Previous
Next
---
Return to Home Port

electronic edition is based on the original in the collection of the Marine Museum of the Great Lakes at Kingston.