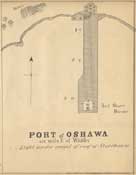 Port of Oshawa

The Port of Oshawa is 6 miles E. of Whitby. It is situated in the bend of a small bay, and consists of a well constructed wharf, running out from the main land into 10 feet water.
LIGHT.
At the south end of the wharf there is a small store-house painted red, and under the angle formed by the roof, is placed a large lamp, which serves the purpose of a lighthouse.
This port is well secured from any wind north if E. or W., but sadly exposed to the Southward of these points.
The west side of the bay of Oshawa is formed by a high clay bank, almost perpendicular towards the Lake, on the extreme point of which stand three or four trees.
DANGER.
The E. point is called Oshawa Island, bearing S. by E. from the wharf: the water here is very shoal, and a reef of large boulders extends into the Lake S. E. for 300 or 400 yards, which must be given a wide berth.
From the point of land about midway between Whitby and Oshawa, there is another reef of large boulders running out E. S. E. into the Lake.
---
Previous
Next
---
Return to Home Port

electronic edition is based on the original in the collection of the Marine Museum of the Great Lakes at Kingston.