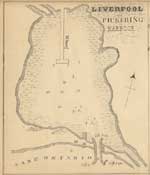 Liverpool or Pickering Harbour

This Port is 26 miles N. E. 1/2 E. of Toronto. It is formed by a deep bay running into the land, and separated from the Lake by a sandy and gravelly beach, through which the Harbour Company have cut a Canal 100 feet wide.
HARBOUR LIGHT.
On the east pier there is a low miserable lighthouse, the light from which cannot be seen five miles in the Lake.
The harbour itself is well sheltered, being completely land-locked, but from the foulness of the bottom (principally from weeds) an anchor will not hold during a hard blow.
DEPTH OF WATER.
The average depth of water inside the bay is 9 feet 6 inches; at the outer mouth between the piers, 11 feet 6 inches ; and at the inner mouth 7 feet 6 inches.
Through this canal a current runs in and out with great regularity, once in about every four minutes.
---
Previous
Next
---
Return to Home Port

electronic edition is based on the original in the collection of the Marine Museum of the Great Lakes at Kingston.