Captain Charles E. Motley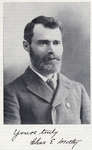 Captain Charles E. Motley

Captain Charles E. Motley was born in Norwalk, Ohio, May 4, 1855, and at the age of twelve years he moved with his family to Alpena, Michigan.

In 1868 he went on the steamer Huron as cabin boy, remained as such one season only, being made steward in the autumn on the same boat. During the winter he obtained his education in Alpena, where he returned for several seasons. After leaving the Huron he went into the fishing business for John Paxton, at Sugar Island, and remained there six seasons. He then engaged in fishing in his own interest for some time near Alpena, and afterward took the management of three tugs owned by S. H. Davis, of Detroit. While on a fishing boat at this time he rescued the crew from the Sunny Side, and schooner Hinkley, which were wrecked and went to pieces soon afterward. This timely assistance was the opening event in a life of assisting and rescuing those who are in danger on the water. He went into the life-saving service on Middle island in 1892, as surfman, and remained there one season. For one year he was in charge of the fishing tugs owned by Averill, of Cleveland, and in April, 1893, was appointed keeper of the life-saving station, where he has been since that time.

Captain Motley was married July 5, 1884, to Miss Alvina Le Groe, and is the father of three children: Celia, born September 4, 1886; Charles, Jr., born August 14, 1888; and Arthur, born January 20, 1898. Special mention is due to Charles, Jr., who showed great bravery in his seventh year by saving the life of a smaller lad who had fallen from the pier while at play. He jumped in the water, and, holding the younger boy's head above the surface, called for help, which duly came, both being rescued. A brother of our subject, Thomas Motley, is employed in the marine work at Detroit; another brother, Eugene, is keeper of the crew at Middle island; George served five years in the army, being with Sherman on the famous march to the sea, and was afterward employed in fishing on the lakes. Captain Motley has proved himself worthy of the esteem of the citizens of Cleveland and all lakefaring people, and stands high in the confidence of his superior officers.
---
Previous
Next
---
Return to Home Port
---
This version of Volume II is based, with permission, on the work of the great volunteers at the Marine Captains Biographies site. To them goes the credit for reorganizing the content into some coherent order. The biographies in the original volume are in essentially random order.
Some of the transcription work was also done by Brendon Baillod, who maintains an excellent guide to Great Lakes Shipwreck Research.