Thomas Monson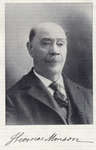 Thomas Monson

Thomas Monson, one of the veteran fish dealers on the lakes, and especially in Cleveland, was born in 1822, in the western part of Ireland, where his father was a sergeant of police.

In 1846 he came to America and settled in Ohio City (now a part of Cleveland), and here for seven years he was employed by Branch & Burgess, a grocery firm. He then engaged in business for himself until 1859, when he sold out and went to Pikes Peak. Returning, however, in 1860, he, on June 1, 1861, enlisted in Company B, Eighth Ohio Volunteer Infantry, and served twenty-four months in the Civil war; was in several noted battles, but fortunately escaped unwounded. Upon his return to Cleveland he went into the fish business, buying out the established trade of Riley Edson. In 1871 he formed a partnership with is son, Thomas, Jr., the firm being known as Monson & Son. The latter was interested in the business until his death, which occurred in Cleveland, March 10, 1895. He was born in that city, June 24, 1850, and in the public schools received his education. For a time he worked in the Cleveland Herald office, but was compelled to give up this line of work on account of his health. He was a Master Mason in Bigelow Lodge No. 243, and enjoyed an enviable reputation for honesty, which is also attached to the name of the firm. In 1885, John, a younger brother, was admitted to the firm, the style thereof becoming Monson & Sons. At first they carried on only a retail market; but the business gradually increased in proportions until they purchased the plant they now operate. At present they also conduct a warehouse and fishery at Rocky River, known as Horn & Co.

Thomas Monson is an esteemed citizen of Cleveland and a respected merchant, and has a large circle of friends. He was married in Montreal, Canada, in 1845, to Miss Jane McElroy. His children all reside in Cleveland: William is foreman of the business of Monson & Sons; George is a furniture dealer, a member of Monson & Myer; Ella E. is married to John Hoffman; emma J. is unmarried and resides at the home of her father; and John, the third son, is a member of the firm.
---
Previous
Next
---
Return to Home Port
---
This version of Volume II is based, with permission, on the work of the great volunteers at the Marine Captains Biographies site. To them goes the credit for reorganizing the content into some coherent order. The biographies in the original volume are in essentially random order.
Some of the transcription work was also done by Brendon Baillod, who maintains an excellent guide to Great Lakes Shipwreck Research.