Captain William G. Jones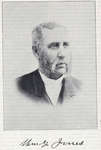 Captain William G. Jones

Captain William G. Jones is a shipmaster who has been well known along the chain of lakes for many years, having been master of vessels over thirty-five years, and sailed considerably over forty years, before he retired to engage in the grocery business, in which he is still interested. He is the son of Gardner and Eunice (Thompson) Jones, natives of Massachusetts and New Hampshire respectively. He was born May 15, 1828, at Orleans, Jefferson Co., N. Y., and there spent his childhood days, obtaining the education afforded by the common schools of that place.

His first sailing was done on the schooner Superior, of Clayton, operating on Lake Ontario in the lumber and timber trade. This boat is one well known to marine men, as the one sunk at Clayton during the war, and afterward raised and put into service. He, then acting as seaman, came on the E. G. Merrick, a boat famous for the fact that it was the first to enter Milwaukee harbor, going upon the same to Chicago when it was a small place with only one hotel. In 1847 he was given command of the Powhatan, and sailed her one season, coming on the William the following year, and then to the Ramsey Crooks, where he remained two years. He then spent a short time on the schooner Whitney and the brig McBride, soon coming on the steamer Diamond, in the same employ. The following season he came on the Grace Greenwood, but remaining only a short time came on the brig General Worth, and later on the bark Vanguard, and schooners George Worthington, S. G. Andrews, Wild Rover and C. H. Johnson.

In 1846 Captain Jones was married to Miss Chloe Gore, of Cape Vincent, N. Y., who died in June, 1889. They had one child, Isabel, who is married to J. P. Winter and resides in Glenville at the present time. Captain Jones has been a member of the town council six years, acted as mayor two years, and is a charter member of Mayflower Lodge No. 679, I. O. O. F.
---
Previous
Next
---
Return to Home Port
---
This version of Volume II is based, with permission, on the work of the great volunteers at the Marine Captains Biographies site. To them goes the credit for reorganizing the content into some coherent order. The biographies in the original volume are in essentially random order.
Some of the transcription work was also done by Brendon Baillod, who maintains an excellent guide to Great Lakes Shipwreck Research.