Matthew Thomas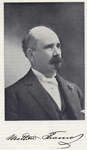 Matthew Thomas

Matthew Thomas was born in Paris, France, June 24, 1849, but at the age of three years was brought by his parents to America, they settling in Cleveland, Ohio, where he attended the public schools. In 1861 he entered the employ of the Globe Iron Works, and learned the machinist's trade, attaining the position of gang-boss, which he held for several years, and he made himself especially useful during the winter months. His ambition to become a marine engineer was soon gratified by an appointment as second on the steamer Prairie State, and afterward on the Plymouth and Peerless in the same capacity. Then followed his appointment as chief engineer on the steamers Rocket, Admiral D.D. Porter, Raleigh, Persian, Cumberland, Townsend, Sparta, Vienna and Aurora. On leaving the Aurora Mr. Thomas was made master mechanic of the Cleveland Stone Company. He also held the position of master mechanic for the rolling mills of the Cleveland Iron Company, the Westerman Iron Company, of Sharon, Penn., and was superintendent of machinery at the Walker Manufacturing Company. In 1888 he purchased an interest in the River Machine & Boiler Co., of which he is now vice-president and general manager.

Mr. Thomas had the honor of being chosen the first grand chief engineer of the Brotherhood of Marine Engineers, and a noteworthy fact connected with his administration is that no strike or evidence of uneasiness occurred during the two years of his incumbency, his logic being that the engineer should always be worthy of his employment, and that if he has to do with a just employer the truth of this will soon manifest itself. During all of Mr. Thomas' term of years as engineer of steamboats and in other capacities ashore, he has always had the pleasure of receiving the approbation of his employers for the prompt and satisfactory manner in which he has met every erratic turn in his machinery, requiring quick comprehension, and the ready resources with which he has met the trouble. It is no stretch of truth to say that he is as good a machinist and engineer as ever engaged in that line of business, and is a representative marine engineer; a man of commanding presence, and one in whom confidence in his own skill and ability never falters, for the reason that he knows how to apply his knowledge. A glance at his robust physical proportions, his clear and intelligent eyes, and rugged, well- marked features will assure one that Mr. Thomas is a person in whom confidence may be placed where knowledge of mechanism is the requisite. In the fall of 1875 he received a gold watch as a reward for valuable services while engineer of the steamer Oscar Townsend. The rudder having been torn away by the force of a storm, he rigged a jury rudder from a portion of a broken mast and other material found on board, so that the steamer reached its destination without further mishap. Socially he is a Royal Arch Mason, a Knight Templar and a member of the Mystic Shrine.

In 1879 Mr. Thomas was united in marriage to Miss Anna While, and nine children have been born to them: Clarence, Edna, Harold, Emma, Arthur, Viola, Jeanette, Ruth and Esther, all of whom are (1898) attending school except the two youngest.
---
Previous
Next
---
Return to Home Port
---
This version of Volume II is based, with permission, on the work of the great volunteers at the Marine Captains Biographies site. To them goes the credit for reorganizing the content into some coherent order. The biographies in the original volume are in essentially random order.
Some of the transcription work was also done by Brendon Baillod, who maintains an excellent guide to Great Lakes Shipwreck Research.