Thomas R. Teare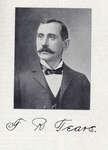 Thomas R. Teare

Thomas R. Teare was born on the Isle of Man, in 1856, came to the United States in 1871, and settled in Cleveland, Ohio. He attended the public schools of that city, and afterward learned business methods at a night school. He is the son of Charles and Anna (Clark) Teare, of Kirk Andreas, Isle of Man. His father was the proprietor of a large agricultural works at that place for sixty years, and lived to be eighty- four years of age; the mother died at the age of sixty-five years.

Thomas R. Teare, after finishing his education, found employment at blacksmithing in the old Cuyahoga Works, where he remained about a year. Being a good workman, and of an ambitious turn of mind, he soon found it possible to start in business for himself, and, uniting with Mr. Burke in 1884, opened a general machine shop on Michigan street under the firm name of Burke & Teare, where he continued two years, when the firm was dissolved. In 1886, he opened up with a more extensive plant at Nos. 171 to 177 River street, corner of St. Clair, taking as a partner Mr. Wight, under the firm name of Teare & Wight.

This connection lasted about two years, Mr. Wight withdrawing from the firm. Mr. Teare then admitted Mr. Thomas into partnership, and in 1890 the firm was incorporated under the firm name of the River Machine & Boiler Co., having in the meantime erected a commodious brick building, especially designed for this business at 108 to 114 River street. Mr. Teare was chosen president and treasurer off the company and Mr. Thomas vice-president and general manager. The company grew steadily in popularity and prosperity, which is due in a great measure to the prompt business methods of Mr. Teare and the good quality of worked turned out under the eyes of Mr. Thomas.

In 1885, Mr. Teare was united in marriage with Miss Eliza Jane Teare, of Cleveland, to which union one son has been born, Allen Clark Teare.
---
Previous
Next
---
Return to Home Port
---
This version of Volume II is based, with permission, on the work of the great volunteers at the Marine Captains Biographies site. To them goes the credit for reorganizing the content into some coherent order. The biographies in the original volume are in essentially random order.
Some of the transcription work was also done by Brendon Baillod, who maintains an excellent guide to Great Lakes Shipwreck Research.